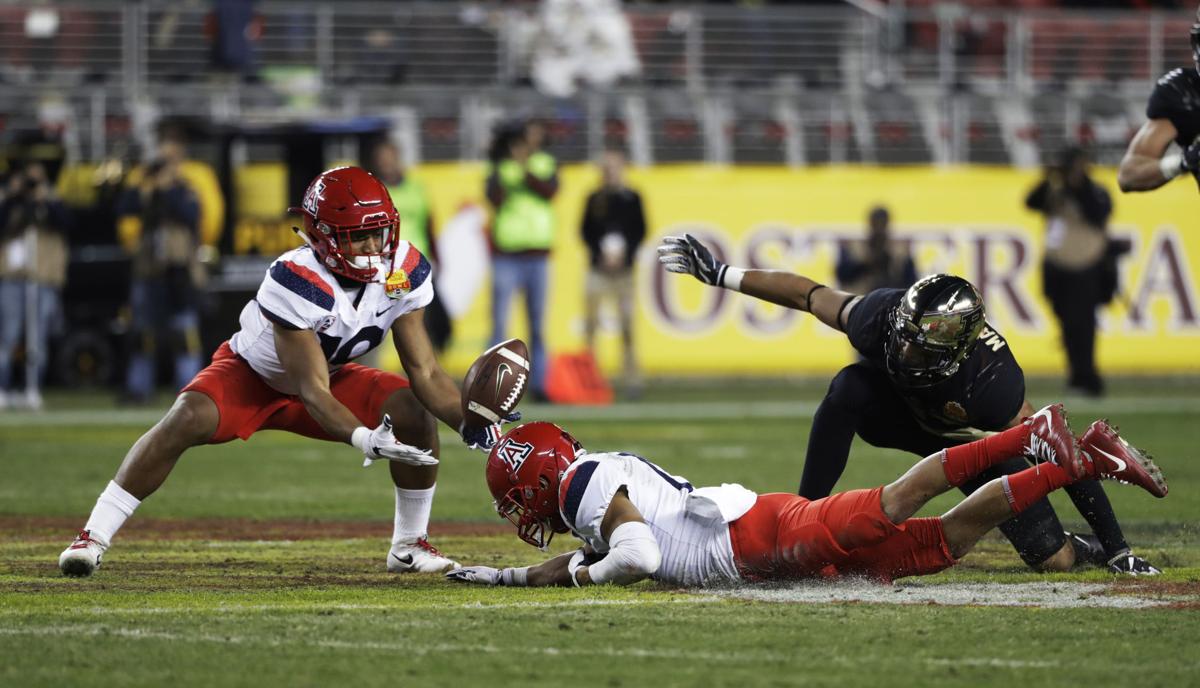 SANTA CLARA, Calif. — For the Arizona Wildcats to achieve the future they believe to be bright — "like these lights up here," quarterback Khalil Tate observed from the Foster Farms Bowl postgame podium — a lot has to happen.
Arizona needs to stay healthy – especially the brilliant Tate. The young players need to continue to grow, mentally and physically. Some newcomers will need to contribute.
In addition to all that, a lingering problem must be solved — one that has plagued the UA defense for the past two seasons.
The unit has improved in multiple ways under coordinator Marcel Yates, who arrived in Tucson in January 2016. Stopping opponents on third down isn't one of them.
Yes, Arizona lowered its defensive third-down conversion percentage this season, from 52.6 to 46.7. But Yates wants that number to be below 40 percent. The Wildcats weren't close.
Arizona actually hit its mark in Wednesday's 38-35 bowl-game loss to Purdue. The Boilermakers converted only 7 of 19 third downs – 36.8 percent. But four of the seven came on third-and-10 — the situation every defense wants to create — and they were all killers:
On Purdue's first possession, after Arizona went three-and-out, Elijah Sindelar connected with Gregory Phillips for 17 yards to the UA 43. Three plays later, Sindelar hit Anthony Mahoungou for 31 yards and the game's opening touchdown.
On Purdue's first possession of the second quarter, the Boilermakers faced third-and-10 at the UA 22. Sindelar connected with Phillips for a touchdown to give Purdue a 21-14 lead.
On Purdue's penultimate possession, the Boilermakers converted two third-and-10s. The first came on a 21-yard pass from Sindelar to D.J. Knox. The second was the game-winning touchdown, a 38-yard strike from Sindelar to Mahoungou.
"That's miserable," Arizona coach Rich Rodriguez said afterward. "It's really frustrating to allow third-and-longs. Our defensive staff will look at it and see where the issue is. We've gotta get more help defensively."
The problems on those plays were multifold. On the first conversion, the Wildcats didn't get enough pressure. One the second, two defenders collided. On the third, Lorenzo Burns missed a tackle. On the fourth, Burns (5-10, 173) lost a jump-ball battle to the bigger Mahoungou (6-3, 210).
Rodriguez is hopeful that players such as Burns, a redshirt freshman, will get better as they get older and gain more experience. Arizona also added size and length in its 2018 recruiting class.
The Wildcats appeared to have solved their third-down issues early in the season. Through four games, they were limiting opponents to a 35.7 percent rate, buoyed by a strong three-game stretch against Houston, UTEP and Utah (27.0 percent).
From that point on, Arizona allowed opponents to convert 51.1 percent of their third downs — basically in line with last year's rate, which ranked next to last in the nation. The Wildcats sat at 119th entering Thursday's bowl games.
The deal with the kneel
A different sort of kneeling controversy erupted at Levi's Stadium on Wednesday.
Arizona players, coaches and fans were grousing about one particular play well after the Foster Farms Bowl had ended.
With 56 seconds left in the first half, Purdue lined up as if to take a knee and run out the clock. Instead, Sindelar handed the ball to the 5-foot-7-inch Knox, who was crouching next to the quarterback. While Sindelar ran to the right, Knox went left and gained 30 yards. The drive ended with a field goal. The Boilermakers ended up winning by three points.
Players and coaches said afterward that the officials told the Wildcats not to engage the Boilermakers' offensive front — standard practice in a situation like that.
"The referee told us it was a kneel," UA linebacker Tony Fields II said. "When the ref tells us it's a kneel, it's really a dead play. We can't do anything. They don't even want us to rush the quarterback. That's an injury-prevention thing. They just got us."
Rodriguez contended that Knox's gain should have been nullified because Arizona was complying with the officials' instructions. Purdue coach Jeff Brohm defended the play, saying it was "very legal." Whether it was sportsmanlike is another question.
Yates warned the players that the would-be kneel-down could be a fake. But it's considered bad form to dive into the line when that particular play appears to be in progress. When the Seattle Seahawks' Michael Bennett did that against Jacksonville a few weeks ago, it nearly precipitated a brawl.
When Purdue snapped the ball, most Arizona defenders weren't in an attacking posture. Some chased after Sindelar, who acted as if he had kept the ball.
It's unclear how the Wildcats could have handled it differently.
Extra points
Arizona finished 7-6 for the second time in the past three seasons. Since going 10-4 in 2014, the Wildcats are 17-21. They are 3-2 in bowl games under Rodriguez.
Purdue limited Arizona to a season-low 128 rushing yards. The Wildcats failed to notch a rushing touchdown for the first time all season; they had at least two in 11 of 12 regular-season games. Arizona also punted a season-high nine times.
Purdue's 38 points was its second-highest total of the season and the most the Boilermakers have scored since a 44-21 victory over Ohio on Sept. 8. Purdue's 555 yards also was its most since that game (558).
Brohm revealed after the Foster Farms Bowl that Sindelar has been playing with a torn ACL since Nov. 11.
Arizona commit Jamarye Joiner, a quarterback from Cienega High School, tweeted Thursday that he has been offered a scholarship by Nebraska.
Joiner opted not to sign with the Wildcats early, though he has been verbally committed since September 2016.
Be the first to know
Get local news delivered to your inbox!