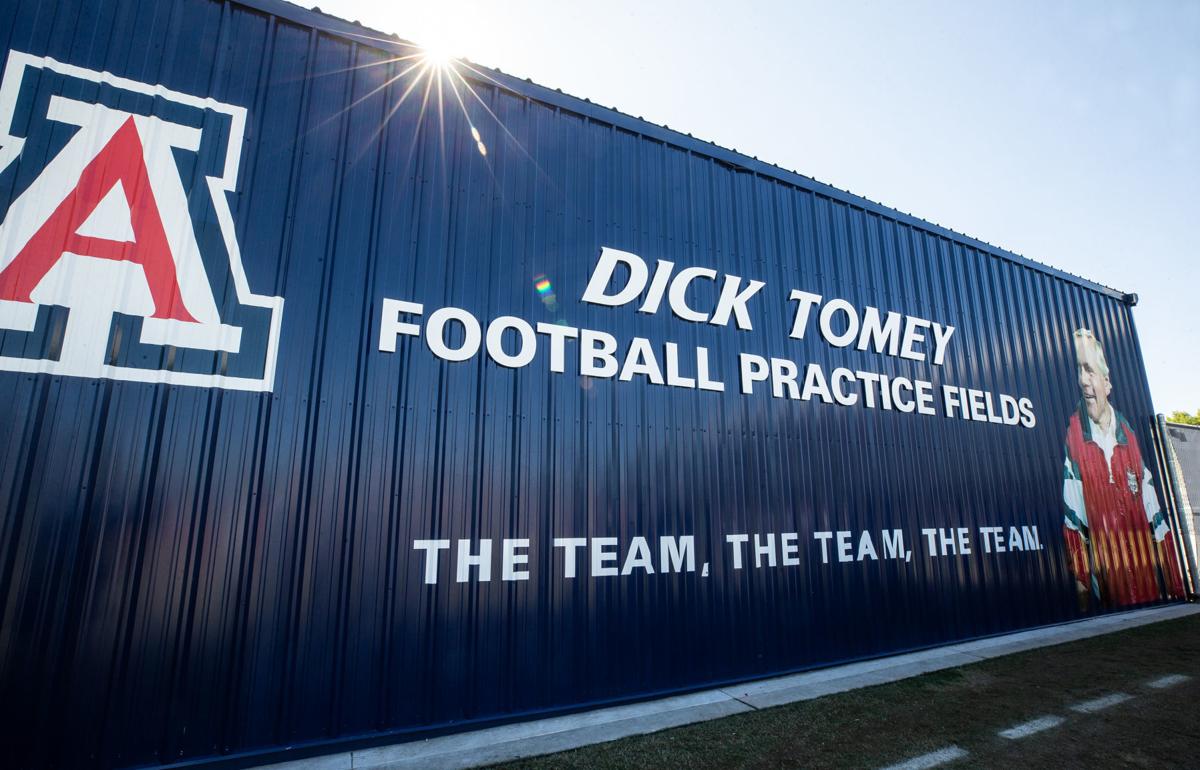 Dick Tomey walked into Lance Briggs' home 20 years ago for a recruiting visit. At the front door, he was greeted by someone would become one of the top linebackers in Chicago Bears history and his mom, Brenda.
Tomey could have easily just shaken hands and gotten down to business, as many coaches did. Instead, he talked about brighter things.
"The first thing he talked about was my smile," Briggs said Friday. "We didn't talk football for the first 15-20 minutes. For the first 15-20 minutes, he told me, 'You have a smile that'll light up a room. That smile is going to carry you in life.' … Nobody talked about my smile.
"Maybe I didn't smile with the other coaches."
Tomey's profession was football. But ask anyone who worked closely with Arizona's all-time winningest head coach, and they'll tell you that his priorities extended well beyond the final score. Yes, he would make his players roll 100-plus yards if they skipped class. Yes, he was tough as a coach. But Tomey, who died in May at age 80, mentored with love.
"He was intense. He was a straightforward guy and I don't think he held any punches. But you could never say there was a loss of love," said Briggs, who played at the UA from 1999-2002 and spent 12 seasons in the NFL. "You always felt love from him and you always felt like he was teaching you something that was greater than just the sport."
Arizona's homecoming weekend, which included a 1990s theme, was in many ways a celebration of Tomey's selfless tenure in Tucson.
Friday, the UA dedicated the Dick Tomey Football Practice Fields in his honor. Dozens of Tomey's former players attended the ceremony, making for a nostalgic moment. Those who knew him best said the practice field was Tomey's sanctuary.
"He loved practice and he loved putting in the work," his son Rich said. "This is where he got after guys the most, but at the same time, he never gave anyone anything. Everyone always had a chance on the practice field.
"That was his mantra — guys, walk-ons, it didn't matter who you were, you always had a chance. That's what makes it so fitting."
A plaque on the gate leading into the fields lists Tomey's accolades: a 95-64-4 record over 14 seasons at the UA, a Pac-10 Coach of the Year award and his role as the man responsible for the "Desert Swarm" defense. A metal structure inside the facility contains a Tomey-ism — "The team, the team, the team" — that was the essence of who he was.
"When you're out there catching the ball, you can't catch the ball by yourself. You didn't throw the ball to yourself. You didn't block," said former Arizona wide receiver Dennis Northcutt. "Coach Tomey always made sure if you wanted to win, it was all about the team. You can't win without the team."
When Arizona was looking to add to its own team two years ago, Tomey stepped in. Kevin Sumlin said Tomey called him during the UA's last coaching search — something university president Robert C. Robbins and athletic director Dave Heeke didn't know.
"We had a conversation about coming to the University of Arizona and Coach Tomey called me and said, 'This is the place you need to be,'" Heeke said. "I was driving down the street somewhere in Texas … and he was somewhere in Hawaii getting ready for a bowl game and said 'Kevin, this is where you need to be,'" Sumlin said. "He went on and on and on about philosophy, things that he did here and what he wanted to see accomplished here."
"When you have that kind of blessing from a man like that, it's a lot. … I don't take that lightly. … He's always going to be a part of this program."