Only two Arizona Wildcats have rushed for more yards in a season than J.J. Taylor did last year.
Yet when asked to assess his 2018 campaign, Taylor said almost dismissively that it could have been better.
Only three Wildcats have gained more all-purpose yards in a season that Taylor did last year. His production earned him third-team All-America accolades.
Yet when asked how he reacted to the news, Taylor basically shrugged.
"If we're not winning games, I don't care about my stats," the redshirt-junior tailback said. "I care about winning games. That's it."
In that sense, last year can't be viewed as a successful one for Taylor — even though he rushed for 1,434 yards, gained 2,107 overall and was Arizona's most valuable offensive player.
The Wildcats finished 5-7. They were painfully close to going 7-5. Taylor, unfortunately, played a central role in a pair of one-point losses. He's determined to make sure it doesn't play out that way again.
Taylor lost a fumble en route to the end zone in what became a 31-30 loss at UCLA in late October. He was involved in a botched exchange against Arizona State about a month later — a crucial mistake that helped the Sun Devils rally for a 41-40 victory.
If there's one individual statistic Taylor cares about, it's fumbles. He had too many of them last year — seven in all, five of which were lost.
As UA spring practice gets underway this week, Taylor's top priority is improving his ball security.
"One of the biggest points of emphasis this year," he said. "Just holding the ball high and tight, not letting it go. Prized possession."
Taylor didn't have a fumbling problem before last season. He had fumbled only twice (one lost) in 201 touches entering 2018.
The majority came in the latter half of the season. Taylor conceded that it got in his head.
"It was more of a mental state," he said. "Started thinking too much. That's just something I've got to get rid of."
Taylor is striving to improve all aspects of his game under new running backs coach DeMarco Murray. The 2014 NFL Offensive Player of the Year already has changed the backs' ball-carrying technique: They're now holding the ball in the outside arm — away from the defender — "no matter what," Taylor said.
"We're working on it," UA coach Kevin Sumlin said. "He's got a new coach. Trust me, that's been brought up."
If Taylor had switched hands against the Bruins, he might have avoided having the ball poked away by trailing defender Darnay Holmes. Taylor was a yard away from completing what would have been a 56-yard touchdown run. Instead, UCLA took possession of the ball.
The fumble against ASU was the result of a missed connection between Taylor and quarterback Khalil Tate. Their timing was ever-so-slightly off on a play they'd run hundreds of times. The turnover landed on Taylor's ledger.
Although upset at the time — "very upset," he said — Taylor insisted he hasn't thought about the Wildcats' fourth-quarter collapse against the Sun Devils since it happened.
"Short-term memory," Taylor said. "Gotta get over it and get ready for next season."
That doesn't mean Taylor has completely forgotten those defeats or his role in them. They remain a prime source of motivation.
"Of course," Taylor said. "Every loss and every mistake is a lesson."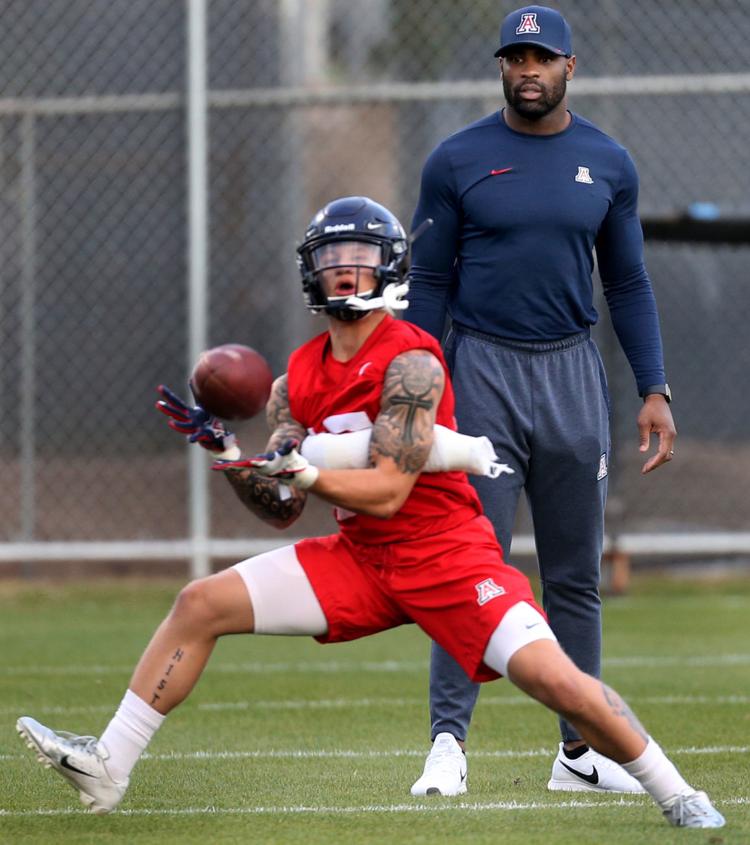 Murray making mark
Even the understated Taylor acknowledged he was "real excited" to learn Murray would be the Wildcats' new running backs coach.
"He has running back experience," Taylor said. "He hasn't been out of the league that long. It's pretty cool."
Murray played his final NFL season in 2017. He spent last year as a college football analyst for Fox Sports. Even though Murray had no prior coaching experience, Sumlin tabbed him to replace longtime confidante Clarence McKinney, now the head coach at Texas Southern.
"You've got a guy that I've known since he was 17," Sumlin said of Murray, whom he helped recruit to Oklahoma. "He was also all-academic All-Big 12. He's a smart guy.
"We interviewed a lot of people. His knowledge of the game, his ability to present the information, was as good as anybody's.
"The first thing we look for is guys that can teach. There's a lot of guys that have knowledge. It's not always what you know — it's what you can convey and what you can get your players or your specific group to understand and execute. That's teaching.
"The other piece, he can speak from experience. It goes without saying he's got a lot of credibility in that room and on this team."
Sick Schooler
Linebacker Colin Schooler played against ASU despite having the flu. He lost about 12 pounds leading up to the game and needed four IV bags to replenish lost fluids.
"And then I started bleeding from the IV line during the game," Schooler said. "It was rough. But that's all background noise when you're in a game."
Arizona held a 40-21 lead entering the fourth quarter. ASU scored 20 unanswered points.
"We totally gave that game away," Schooler said. "We lost that game; they did not win that game. But all we can do is move on and get better from that."
Extra points
Asked to name a player on each side of the ball who's made a jump since last year, Schooler cited defensive end JB Brown and receiver Devaughn Cooper.
Sumlin arrived at practice in a golf cart. He has a swollen ankle after being stepped on and slipping during a drill Monday.
Redshirt junior Jalen Cochran is working with the defensive tackles. Cochran, who had been a defensive end, appears to have added bulk. He's listed at 6-3, 270 pounds. Defensive tackle is one of Arizona's thinnest positions.
Cornerback Jace Whittaker, who missed most of last season because of an elbow injury, is practicing with a brace on his left arm. Linebacker Day Day Coleman, who missed a chunk of 2018 because of a knee injury, has a brace on his right leg. Coleman is working alongside Anthony Pandy with the second-team linebackers.
Murray again worked with the punt returners, who had to keep a towel pinned under their armpits while fielding the ball. Participants included Brian Casteel, Bam Smith, Taylor, Jailen Bailey and Jaden Mitchell.
Receiver Stanley Berryhill III, cornerback Malcolm Holland and offensive lineman David Watson were among the players who were limited because of injuries.
The Wildcats have the day off Wednesday before returning to practice Thursday.