Arizona struck out on the latest round of Salpointe prospects. The Wildcats still have work to do to become serious players in the Phoenix area.
But you can't say the UA has failed to recruit successfully within the state. Just look at the team's projected receiving corps.
Three local players — Stanley Berryhill III, Drew Dixon and Jamarye Joiner — are expected to have sizable roles. Dixon, for one, likes the sound of that.
"I think that would be awesome," said Dixon, a redshirt sophomore who played at Sabino High School. "We're all learning and getting better. I don't see why that couldn't happen."
After playing multiple positions, including quarterback, in high school, Dixon moved to receiver full time at Arizona. He redshirted in 2017 and appeared in seven games last year but did not record a catch.
With the Wildcats in the midst of a major transition at receiver, Dixon is in line for expanded responsibilities. He's still fighting through some inconsistencies, but he's a much more polished receiver than when Kevin Sumlin and his staff arrived in early 2018.
"I'm not perfect," Dixon said. "I've still got stuff I gotta work on. I try to … get better every day, at least 1% — that's our motto. Just try to get better and better. And don't make the same mistake twice."
Dixon's quarterback background has proved useful. He came to the receiver room with an advanced grasp of offensive concepts. He has spent most of his time since working on the technical aspects of the position.
"Just knowing windows, how the quarterback's gonna throw it," Dixon said. "You just understand what you're trying to do, what plays will go with what coverage."
Joiner traveled along a similar track, although he made the switch from quarterback to receiver this summer. Joiner, who starred at quarterback at Cienega High School, sought a clearer path to playing time. He quickly has emerged as a potential breakout performer.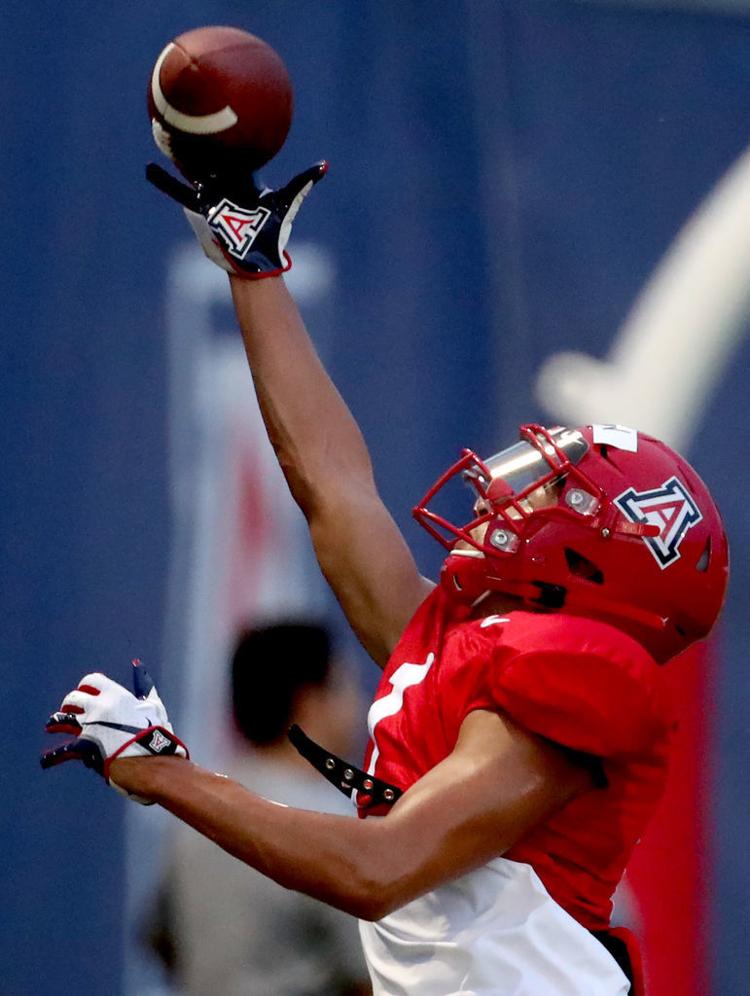 "He has done a great job," said safety Tristan Cooper, who often is assigned to cover Joiner in practice. "And the crazy thing is, he's very physical. You wouldn't think a stereotypical quarterback would be that physical, but he he's strong as heck."
Like Dixon, Joiner has appeared in games for Arizona but has yet to catch a pass in one. Berryhill had 14 receptions last season, third most among returning Wildcats (and second most among wide receivers).
Berryhill came to the UA as a walk-on after playing multiple sports at multiple high schools. Berryhill started out at Mountain View before transferring to Orange Lutheran in California for his senior year. He excelled in baseball as well as football.
Berryhill made an instant impression on the new coaching staff, earning a scholarship last August. After a promising season in a reserve role, Berryhill was limited to side work during spring practice because of an injury. He appears to have fully regained his form during the second week of training camp.
"Stanley has been really, really solid," Sumlin said.
Sumlin and his staff were criticized for failing to land — or even seriously contend for — 2020 Salpointe Catholic prospects Bruno Fina, Lathan Ransom and Bijan Robinson. The UA faced an uphill battle from the get-go with all three because Sumlin didn't arrive in Tucson until January 2018. It typically takes several years to build relationships with recruits; Sumlin and his staff weren't afforded that opportunity.
Sumlin repeatedly has said that in-state recruiting is a top priority. Although Berryhill, Dixon and Joiner were recruited by the previous regime, Sumlin can point to their development as a local-kids-make-good success story.
"They're hometown kids," UA special-teams coordinator Jeremy Springer said. "Why would you not want to root for the hometown kid?
"All three of them (have) great attitudes. They've worked their butts off. They're also setting examples. I'm excited to see what they can do, because I know deep down they want to represent … this city the right way."
Mason's growth jarring
Defensive tackle Trevon Mason turned 21 Friday, and he's starting to turn heads in camp.
Mason, a junior college transfer, has gotten more work with the first-team defense this week after a late arrival and a slow start. Because of academics, Mason didn't make it to campus until right before camp started July 26. He missed summer conditioning, so it has taken him some time to work his way into playing shape.
Mason is listed at 6-foot-4 but appears closer to 6-6. His listed playing weight is 285 pounds, but Sumlin said Mason weighs about 310. If healthy and fit, Mason can provide an inside presence Arizona desperately needs.
"He's transitioning well," defensive coordinator Marcel Yates said. "Whenever you recruit a junior-college kid, you expect them to come in and play early. He was a guy who we wanted to see come in and play."
Yates is hopeful that Mason can become more consistent. He's still learning the defense and what the coaches expect of him. One example: Yates demands that all defensive players run to the ball, no matter how big they are.
"We want to hunt," Yates said. "He might hold his gap, and now the ball is going somewhere else. We're just trying to (teach him), 'Hey man, you gotta run to the ball here."
Mason and fellow tackle Myles Tapusoa, another JC transfer who enrolled in January, appear to be carving out roles along the defensive line. Yates and Sumlin seem seriously committed to cultivating a real rotation.
"During camp, we put in multiple fronts," Yates said. "Coach, he wants depth. He wants at least eight or nine guys that can rotate to keep those guys fresh."
Extra points
• Quarterback Kevin Doyle participated in passing drills Friday, another positive step as he recovers from a minor shoulder injury. It remains to be seen whether Doyle will take part in Saturday morning's scrimmage.
• Two newcomers who could have an impact on special teams: freshman Derrion Clark and transfer Samari Springs. Clark is a linebacker from Dallas who needs to add bulk (6-1, 211) to have a regular role on defense. Springs, the son of former NFL star Shawn Springs, came to Arizona from Richmond. Springs is in the mix at cornerback as well, perhaps prompting the move of Troy Young back to safety. The junior came to the UA as a safety in 2017, briefly moved to linebacker the following offseason and spent last season and this past spring at cornerback.
• Freshman receiver Jalen Johnson, out all week because of a thumb injury, dressed but was limited. Others who were out or limited included receivers Boobie Curry and Jaden Mitchell and safety Chacho Ulloa.
• UA athletic director Dave Heeke attended practice along with his wife, Liz, and his son, Zach.
• Basketball player-turned-motivational speaker Chris Herren spoke to the team Thursday. Herren is a recovering drug addict who gives speeches to students and others about making healthy choices and dealing with substance abuse.