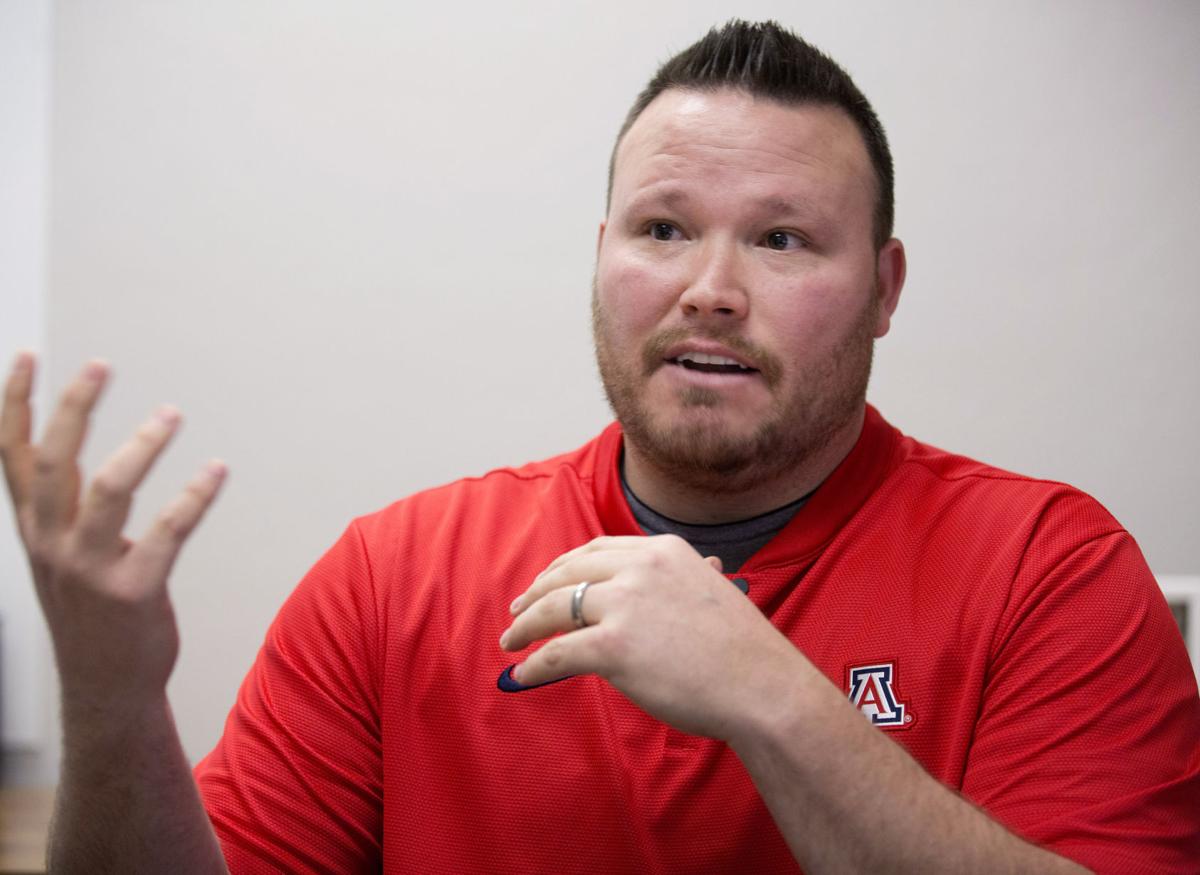 Cody Moore reaches into a cabinet above his desk in the office he occupies at the Lowell-Stevens Football Facility. He pulls out an overstuffed binder to show to a visitor.
The binder contains Moore's blueprint for how to run a recruiting department. The Arizona Wildcats' new senior director of recruiting and high school relations came to Tucson with a plan — everything he has learned, everything he believes in — that he's been assembling for the past 15 years at stops ranging from Abilene, Texas, to Atlanta.
Moore's attention to detail and blue-collar work ethic attracted him to UA coach Kevin Sumlin and his right-hand man, Dennis Polian, the Wildcats' associate athletic director for football.
"When we started looking into him, we got mutual recommendations from people," Polian said. "Then when you go through his background and you see that he's essentially self-made; he's coached, so he's had to recruit; he's GA'd (served as a graduate assistant), so he knows the workload, sacrifice and time you have to commit; and he has worked his way up at every level — we really liked that."
Neither Sumlin nor Polian knew Moore personally, but they knew people who knew him. Everyone had good things to say.
Sumlin and Polian knew they had to move quickly after the departure of Moore's predecessor, Andy Vaughn, in early March. Few positions in the program carry more weight than director of recruiting, especially at this critical juncture in Sumlin's tenure. He has been on the job a little over a year, and the 2020 class in Arizona is being touted as one of the best in state history.
"We had a lot of momentum going in all aspects of the program," Polian said. "That's probably the most important piece — recruiting. You have to recruit them in order to develop them."
Moore, 37, has ample experience in all aspects of college football. He has served as a position coach, a recruiting coordinator and an associate director of player personnel. After serving in the latter capacity at Georgia Tech for about two years, Moore is in charge of recruiting at a Power Five conference program for the first time.
Growing up in the tiny town of Stratford, Texas, in the far northwest corner of the state, Moore would watch — and takes notes on — the NFL draft. He dreamed of becoming a general manager. His favorite part of playing the "Madden" video games? Franchise mode.
Although he was able to play in college — at Oklahoma Panhandle State, an NAIA school where he met his future wife, Kristen — Moore knew his future would be in personnel. He started out as a grad assistant at Hardin-Simmons and spent time at Auburn, Texas A&M, Central Arkansas, Arkansas and Abilene Christian before joining the Georgia Tech staff in 2017.
Wearing a bright red Arizona mock polo and speaking in a thick Texas accent, Moore sat down with the Star earlier this week. He talked about his background, his philosophies and the recruiting outlook for the Wildcats. The conversation has been lightly edited for context and clarity.
Georgia Tech's new coach, Geoff Collins, kept you on staff. Would you have been happy to stay there?
A: "Yeah. I loved Atlanta. But this was a chance for me to put a mark on something myself. Obviously, I've been inputting for years. But to have a chance to have a big input on something was something I really wanted to do."
Once Arizona reached out to you for an interview, what was the gist of your plan? What was your pitch?
A: "Experience, No. 1. This is the eighth stop in my journey. I've been with a lot of great football coaches and learned a lot over my time coaching and in the personnel department. I've taken a little bit of everything from everybody that I've been with.
"I learned a long time ago that you've got to be ready when you're called upon. So I'm not putting everything together (at the) last minute.
"I've got an extensive plan that we went through, very detailed on every aspect. (But) at the end of the day, it's got to match with the head coach. I can have a plan, but I've got to be able to adapt to what Coach Sumlin wants."
Not many kids aspire to be a general manager. Usually they want to be the quarterback. Maybe the coach. What was it about personnel that appealed to you?
A: "I just liked building teams. I knew I wasn't good (as a player). I got into coaching early. I had my own position (defensive line) for six years. Being a recruiting coordinator at some FCS schools, then being on the personnel side, it's helped me. I know what the coaches go through, what they need on the road, what they don't. I get it, because I've done it."
What's the biggest challenge when you're recruiting at smaller schools?
A: "Going in, you've got to find out what your niche is — what you have to sell. And you've got to find out what your issues are. I found this out years ago: Wherever you go, some coaches are going to negative-recruit you on certain things. You've gotta find out what those things are. You've gotta address those things early.
"At small schools, usually it's your budget. You've gotta make sure you're using it wisely. Your plan has gotta be very detailed. You've got a lot more guys you're recruiting at small schools. You don't have the logo on your shirt where you're walking in and you're just going to get everybody.
"Everywhere you go, I think you can build. If you do a good job with your staff of building relationships, I think you can recruit anywhere."
You mentioned having to know your school's niche. What's Arizona's niche? What are you selling here?
A: "Academics. There's a lot of different degrees, plans that guys can get in. You've got a little bit of everything — engineering, business.
"The other thing is our coaching staff. You can sell the success Coach Sumlin has had. We've got NFL coaches on staff that have played and coached in the NFL. That's important. Those guys have done it. They've been to the next level.
"The campus is nice. The weather has been great. And we've gotta sell the town. The mountains are beautiful. We've gotta put it on the map.
"You can sell the facilities (too). The facilities are better than a lot of places I've been."
What's your interpretation of Coach Sumlin's vision for the program?
A: "We want to make sure that we're getting not only the best athlete, but a great person to put in our locker room. We've gotta make sure we're doing a good job of getting the full student in here. He's gotta have great character, work ethic. We want to make sure we're getting the right guy. A lot of guys can play, but it's the other stuff that we really look at.
"We've gotta make sure we're building relationships with our high school coaches in-state and the other states we recruit. We're (going in) the right direction. But we have to be detailed in our work and use our resources wisely."
The state of Arizona has an all-time great class in 2020. How important is it here, or anywhere, to establish strong ties within the state?
A: "It's very critical that you take care of home first. It's gotta be No. 1. No matter where you're at. That's your main footprint. Then you build around where you have ties. You can have ties in other areas, but you've gotta take care of Arizona first."