The Star's Michael Lev and Justin Spears break down some of the most notable storylines heading into the Arizona-Utah contest Friday night.
Arizona Wildcats receiver Devaughn Cooper finds his happy place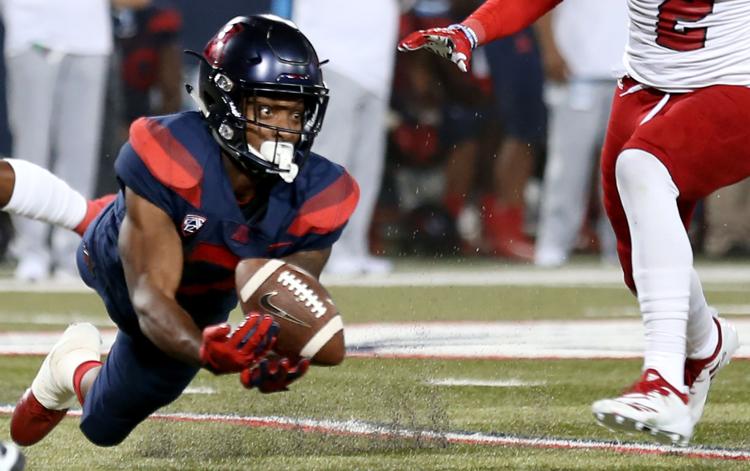 Devaughn Cooper declined to discuss the reasons behind his departure from the Arizona football program in the summer of 2017. Cooper was dealing with some "personal issues," he said this week amid preparations for Friday night's game at Utah.
It was a rare instance in a seven-minute interview when Cooper wasn't smiling.
Make no mistake: Whatever happened a year ago is in the past. Cooper returned to the program, he's contributing to the team and he's happy to be here.
Cooper's exuberance was evident after the biggest play of his Wildcats career: a 53-yard reception against Southern Utah on Sept. 15. The redshirt sophomore wide receiver outran two defenders and made a diving catch. Cooper sprung to his feet and made the first-down signal with his right arm.
"I just felt a lot of joy," Cooper said. "I was just happy to get back on the field and make some plays."
After missing most of his freshman year because of a hand injury and playing a minimal role last season, Cooper has become a rotation regular.
Seniors Shun Brown, Shawn Poindexter and Tony Ellison get the most targets and receptions. But they'll be gone after this year. Cooper already has made a positive impression. His six catches for 100 yards are both career highs.
Cooper's talent never was in question.
A three-star prospect from Narbonne High School in Los Angeles, Cooper had an impressive offer list: Arizona State, Colorado, Michigan, Washington, Washington State and Kansas. He impressed UA coaches and teammates immediately with his speed and shiftiness.
But injuries derailed Cooper's freshman year. Then came his withdrawal from the program, which came to light in late July of 2017.
A little over two weeks later, then-UA coach Rich Rodriguez — who had left the door open for Cooper's return — announced that Cooper was back with the program.
Asked why he changed his mind and returned to Tucson, Cooper said: "It was a few things. I kind of really don't want to get into that right now. When they took me back, I just realized this is where I need to be."
Cooper had plenty of support in the UA football facility, from Rodriguez and road-trip companion J.J. Taylor to the rest of the Wildcats' receiving corps.
"That's what we're here for," fellow receiver Cedric Peterson said. "We're all supposed to be brothers.
"Maybe he didn't want to talk to a coach about it. Maybe he can't even talk to his family about it. We're all here for each other. We're all here for the same reason. We try to make sure that everybody gets through it."
Like so many who play this sport, Cooper dealt with his share of adversity and came out stronger on the other side. He only looks back now when he's tracking the football.
"I learned there's a lot of other people trying to get where I'm trying to get," Cooper said. "So just put in that work.
"I love football. It's just fun. It takes my mind off everything going on outside."
Latest safety initiative is working for UA defense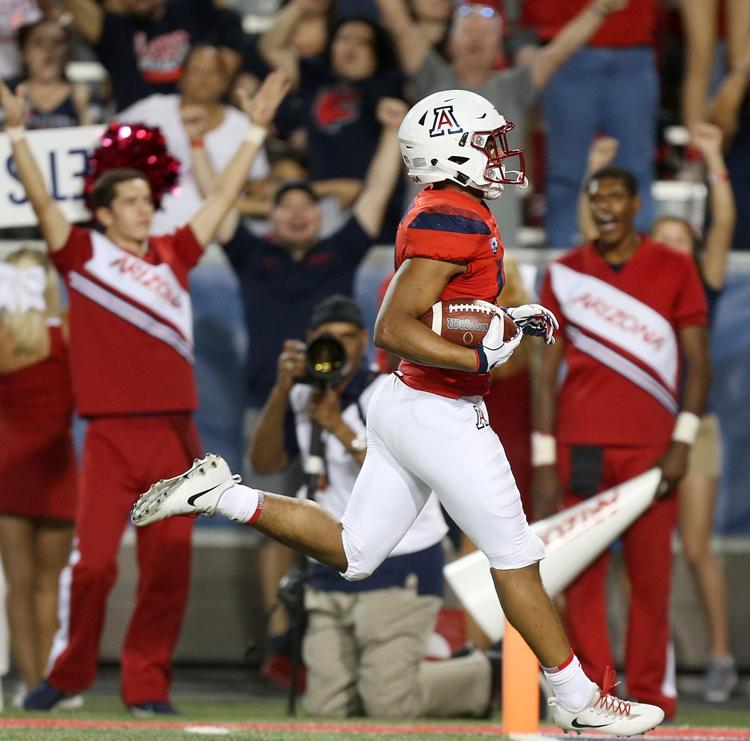 Arizona's recent defensive resurgence coincided with the return of massive, athletic defensive lineman PJ Johnson, who has made everyone around him better.
But the Wildcats also made a subtle change in their secondary that seems to be having a positive effect.
The coaching staff moved Scottie Young Jr. to "Spur" safety, Jarrius Wallace to "Bandit" and Demetrius Flannigan-Fowles to free. That trio started in those spots the past two games — the first time this year Arizona has had the same safety configuration two weeks in a row.
Wallace recorded nine tackles in each game. Flannigan-Fowles had seven stops against USC and deflected a pass against Cal that led to one of Young's pair of interceptions. He returned the second one for the clinching touchdown.
"Every day we've been working on trying to take the ball away, getting takeaways at practice," Young said after the game. "Strip the ball, whether it's punching it out, picking it off. Just having a see-ball, get-ball mentality. We've had that the last few weeks."
Arizona's defense has forced seven turnovers the past two weeks after producing just one in the first four. That was an interception by Wallace in Week 3. Safeties have accounted for three of the Wildcats' four picks.
After trying various combinations at safety because of injuries and other factors, Arizona appears to have found the right mix. It helps that all three players have played at least one of the other safety spots.
"You know where this person is going to be," Wallace said, "so you know where you need to be."
Wallace began the season as the backup free safety, a position Young manned for most of last season. Wallace then moved to Bandit, where he has started the past four weeks.
Flannigan-Fowles, who had been the Bandit, came off the bench for the first two of those. He then shifted to free safety and has played much better of late after a rough start to the season.
You could say the trio has good chemistry, something Wallace knows a thing or two about. He was majoring in chemical engineering before shifting to general studies when his schedule became too burdensome. He's still interested in science and math and plans to go back into engineering when his playing days are done.
In the meantime, Wallace is helping Arizona build something in its defensive backfield.
"It's really about us communicating," Wallace said. "We're all on the same page. We all know what we're doing, where we're supposed to be at. It works. It fits."
In Chase Hansen, Utah has linebacker who can play in space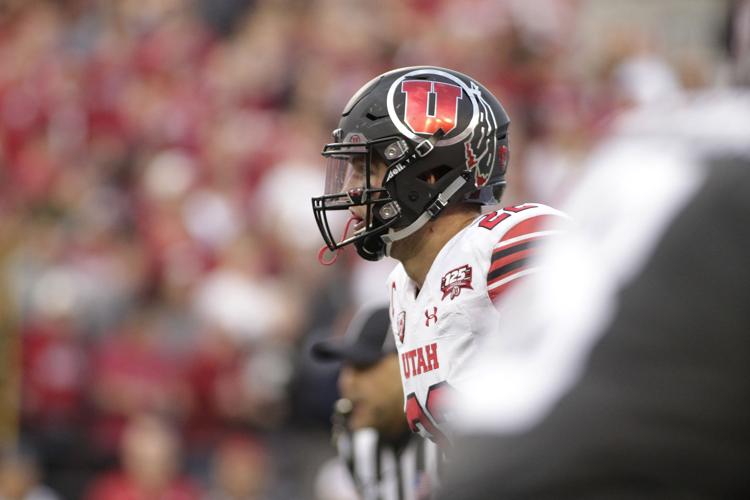 As football increasingly becomes a sideline-to-sideline sport, players who used to be big safeties are morphing into mobile linebackers.
Utah's Chase Hansen is Exhibit A of a player making that transition seamlessly.
Hansen earned honorable-mention All-Pac-12 recognition as a strong safety in 2016 and spent most of last season there as well. But Utah's personnel, Hansen's skill set and the changing nature of the sport prompted a switch this offseason.
"The move was kind of inevitable," Hansen said at Pac-12 Media Day in August. "I knew we had two really good safeties in the program (Corrion Ballard and Marquise Blair). There was a gap to be filled at linebacker. I was a bigger safety. I was kind of ready for it."
The 6-foot-3-inch Hansen bulked up to 230 pounds and has excelled at Utah's rover linebacker position. He leads the team with 43 tackles, including 10 stops for losses. He trails only Arizona's Colin Schooler (11.5) in that category.
Hansen is just as valuable to the Utes as Schooler is to the Wildcats.
"Chase Hansen is a beast," Utah coach Kyle Whittingham told reporters after Hansen was named Pac-12 Defensive Player of the Week following a 12-tackle, two-sack, pick-six performance against Northern Illinois on Sept. 8.
"He was all over the place. His transition to linebacker has been exactly what we hoped it would be."
Hansen was an ideal candidate to make the move. When he played safety, he spent considerable time near the line of scrimmage.
"I was kind of that third 'backer most of the time," Hansen said.
Said Whittingham: "It was not new to him in that respect. He has the size and the strength, and he has great speed. He is prototypical for what they look for in that position at the next level.
"I am not trying to paint the picture that it is an easy transition, because not everybody can do it. But he has the skill set and the makeup to be successful there. It has helped us as a defense and made us faster."
Utah has the top-ranked defense in the Pac-12. Hansen has done a little bit of everything for it from his new spot.
There's a side benefit for him as well.
"Just being involved in every play," Hansen said, "without having to sprint 30-plus yards."
Kevin Sumlin, staff pushing to land several JuCo linemen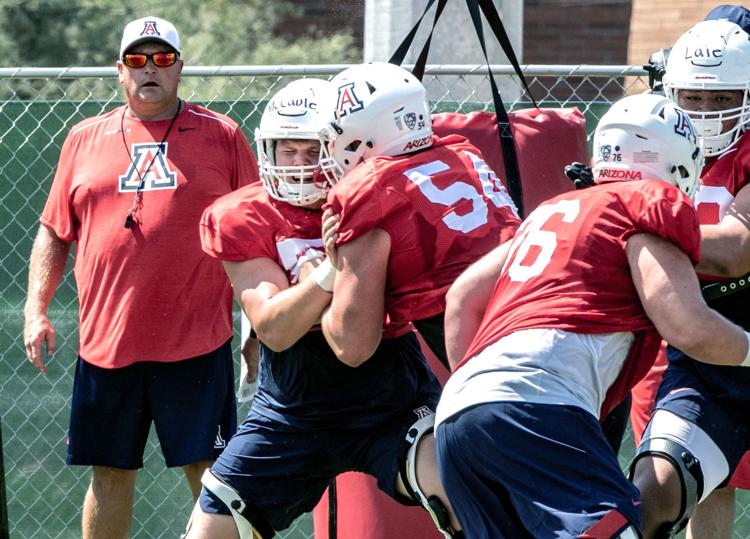 Arizona's offensive line was in trouble before the 2018 season began. The team's only returning starter, senior left tackle Layth Friekh, was suspended for the first two games of the season after the NCAA granted him an additional year of eligibility. Center Nathan Eldridge, another veteran returner, hasn't played this season because of a leg injury.
That left freshman Donovan Laie, Michigan State transfer Thiyo Lukusa, Alex Kosinksi, Josh McCaulley and Michael Eletise to pick up the slack.
And when Friekh graduates?
Well, Arizona's depth will be even further challenged — unless something changes.
UA coach Kevin Sumlin said earlier this week that the depth of the offensive line isn't where the coaching staff wants it to be.
"We are recruiting the best players at a position of need, and what does that look like? It depends on a lot of different things, and obviously looking at our offensive line situation, our numbers are not where they need to be," Sumlin said.
The Wildcats' defensive line could use both depth and impact players in 2019.
This could explain why Sumlin and his staff are hitting the junior college market in full force. In late September, UA offered a scholarship to 6-foot-7-inch, 355-pound Josh Cooper from Navarro College in Texas. Arizona also offered Cooper's teammate, the 6-4, 285-pound defensive tackle Trevon Mason. It doesn't stop there: Arizona has also sent offers to 6-6, 327-pound offensive tackle Paiton Fears from Hutchinson Community College in Kansas and 6-6 defensive end Nickolas Figueroa from Riverside Community College in California. Every one of the aforementioned players were offered within one week of each other.
Why recruit JuCo linemen? Size and, most importantly, game experience against college talent.
"A coach told me a long time ago, 'The closer you get to the football, there's grown men in there playing,'" Sumlin said. "So it's hard for 17,-18-year-olds to come in and play at a high level on the offensive and defensive line. And maturity does matters, strength matters, size matters, and a lot can happen to a guy two years into playing junior college from a size, strength and maturity standpoint. We're working around to find the best guys we can recruit to have the ability to help us immediately."
Utah to wear Ute Pride helmets as part of annual tradition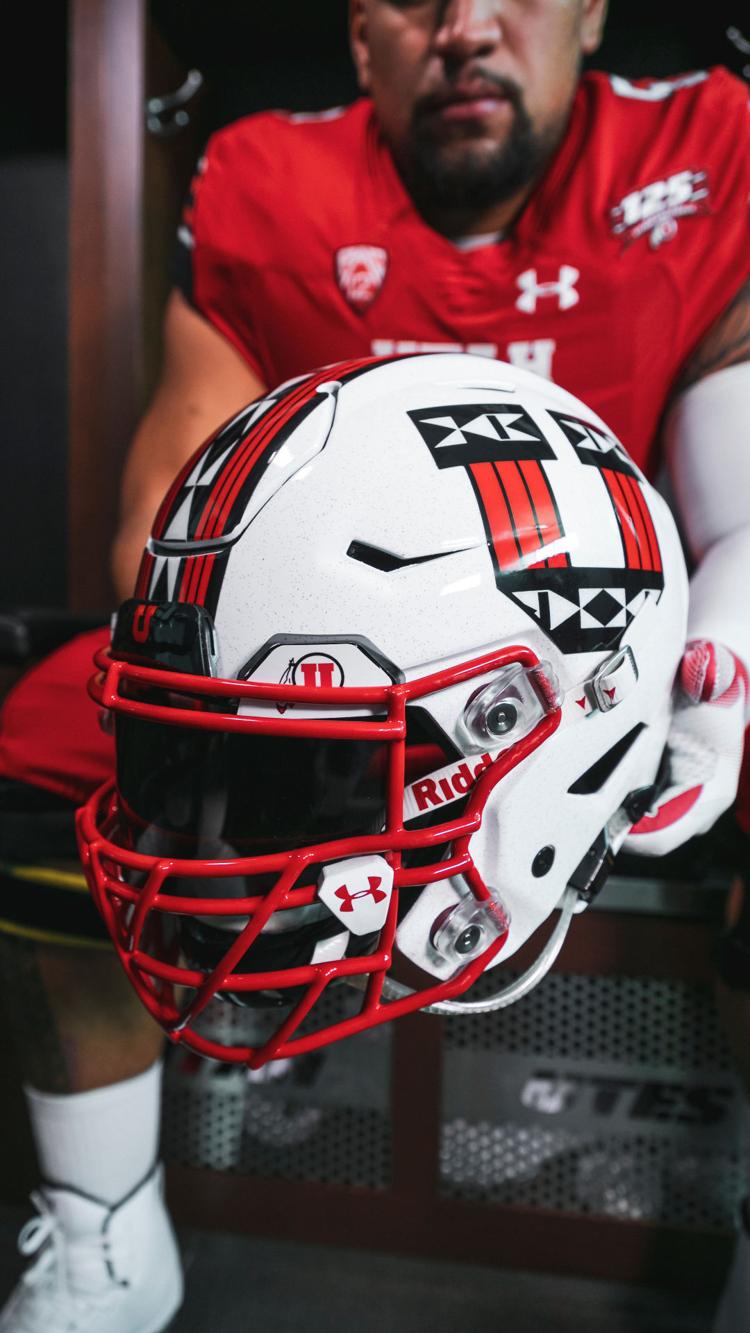 Arizona has mixed up its uniform scheme this season, alternating helmets, jersey-and-pant combinations and, more recently, face mask colors.
Friday night, Utah will take it one step further.
The Utes will wear a while helmet featuring a Native American tribal pattern logo, a matching helmet stripe and a red face mask.
There's a reason: Friday night marks the fifth-annual Ute Proud game, which honors people of the Ute tribe, who have lived in the west for centuries. The tribe owns 597,288 acres of trust land and 27,354 acres of fee land throughout Utah, Colorado and northwestern New Mexico.
At halftime, members of the tribe will be honored and the Ute Pow Wow committee will perform a cultural demonstration on the Rice-Eccles Stadium field. The university is selling Ute Proud t-shirts, and all proceeds go to the Ute tribe's scholarship and youth programs.
Utah is celebrating its 125th season as a football program. Utah long ago received permission from the tribe to use Utes as a nickname.