The Star's Michael Lev breaks down the big storylines heading into Saturday's game between Arizona and Washington in Seattle. The Pac-12 showdown kicks off at 6 p.m. and will air on Ch. 11, 1290-AM and 107.5-FM.
---
Play Freeburg! Starting assignment for Arizona Wildcats doesn't change passionate walk-on's approach
For Rourke Freeburg, playing in a mostly empty Arizona Stadium last week felt familiar.
Before the 2020 opener against USC, most of Freeburg's opportunities to make plays for the Arizona defense had come in practice – at a mostly empty Arizona Stadium.
Freeburg appeared in 15 games over the previous two seasons, mainly on special teams. He had one career tackle before last Saturday.
The role Freeburg played against the Trojans was decidedly unfamiliar. The walk-on made his first career start, opening at the Sam linebacker position. He recorded five tackles, including two behind the line of scrimmage. One came on a fourth-and-1 play late in the third quarter.
"He's not as big as you want, but the guy's been a tough guy since we've been here," UA coach Kevin Sumlin said of Freeburg, a redshirt junior who's listed at 6-2, 204 pounds.
"He's been a great scout-team player and really has made a name for himself on special teams. Playing 40-50 snaps out there Saturday, he showed that he's a Division I football player."
Freeburg fills a need for the Wildcats, who face Washington on Saturday in their first road game of the season. New defensive coordinator Paul Rhoads had to shuffle the linebacking corps because of offseason departures. Senior Anthony Pandy, originally slated to play the Sam spot, had to move to the inside. Redshirt freshman Kwabena Watson was listed atop the depth chart at Sam, but the coaches decided he'd be more effective as a pass rusher in the nickel package.
The Sam linebacker has to be able to play in space. Freeburg fits that mold. He played safety earlier in his UA career.
Asked after the USC game whether he was surprised to have ascended to the starting lineup, Freeburg said he wasn't. He always has believed in himself.
"That's the mentality I show up with every day," Freeburg said. "I'm gonna work hard. I'm gonna earn that spot.
"But at the same time, I understand I'm a walk-on. There's not a lot walk-ons that are starting in the Pac-12 or across the country. ... I take a lot of pride in being a walk-on that's starting on this defense."
Freeburg came to the UA from Scottsdale Desert Mountain High School. He missed much of his senior season in 2016 because of a broken collarbone and didn't have any Division I scholarship offers despite earning all-state recognition as a junior.
He knew nothing would be handed to him in college.
"Being a walk-on," Freeburg said, "I understood it was going to take hard work, showing up every day, busting my butt to earn a role on this team."
Freeburg has athletic genes. His father, Ryan, played baseball at Grand Canyon and was a fifth-round draft pick of the Colorado Rockies in 1992. The elder Freeburg played three seasons in the minor leagues.
Ryan Freeburg, Rourke's girlfriend and one of his younger brothers attended the opener. They'll have to watch the game in Seattle from afar. UW's offensive scheme is nothing like USC's. It won't change the way Rourke Freeburg plays.
"I'm a passionate guy," he said, "who cares about this game and cares about this team and wants to win."
---
Arizona RB Gary Brightwell impressing fellow Wildcats, foes alike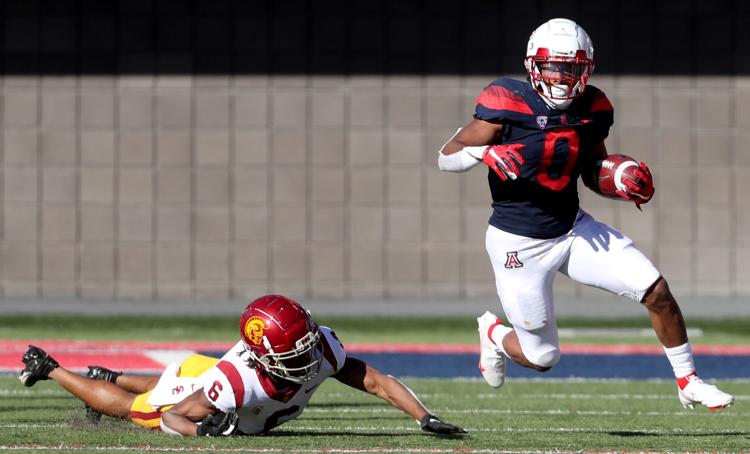 Gary Brightwell is Michael Wiley's biggest impediment to playing time. They are Arizona's top two running backs. There's only one football.
But Brightwell played so well against USC last week that Wiley didn't mind taking a backseat.
"He played great," Wiley said. "There was a drive where it was pretty much him. I can't complain."
In his first outing as the lead back following the graduation of J.J. Taylor, Brightwell registered a career-high 24 touches. The senior rushed for 112 yards and had 132 from scrimmage.
The drive Wiley was referring to happened in the second quarter. It began with Brightwell's 34-yard rush. He caught a pass for 15 yards on third-and-15. Then he rushed for 10 yards and another first down.
"I've been talking about Gary Brightwell since we started practice," UA coach Kevin Sumlin said. "He's had a great fall practice. Coach (AJ) Steward talks to the running backs about the extra 2 yards. ... He's got top-end speed but also can move the pile, and we're going to need him to do that."
Brightwell, who rushed for 915 yards the past two seasons as Taylor's primary backup, has emerged as one of the top backs in the Pac-12. He's built similarly to one of his competitors for that distinction, Oregon State's Jermar Jefferson, who enjoyed great success against Washington last week.
Jefferson, who's listed at 5-10, 217 pounds, carried 23 times for 133 yards and a touchdown against the normally stout Huskies defense. Brightwell is listed at 6-0, 218.
"This guy's a good football player, and what really makes him dangerous is the style of offense," Washington coach Jimmy Lake said. "This team that we're playing this week is going to be all spread out, and you're going to have to defend all these wide receivers – these fast guys – out on the perimeter. Then when you stretch out and put everybody out there, they're going to hand the ball off to this big running back to try to slice through your front.
"We've got another really good player on our hands that we have to stop, and we have to do better than we did last week."
---
Grant Gunnell to Stanley Berryhill III: Anatomy of a bubble screen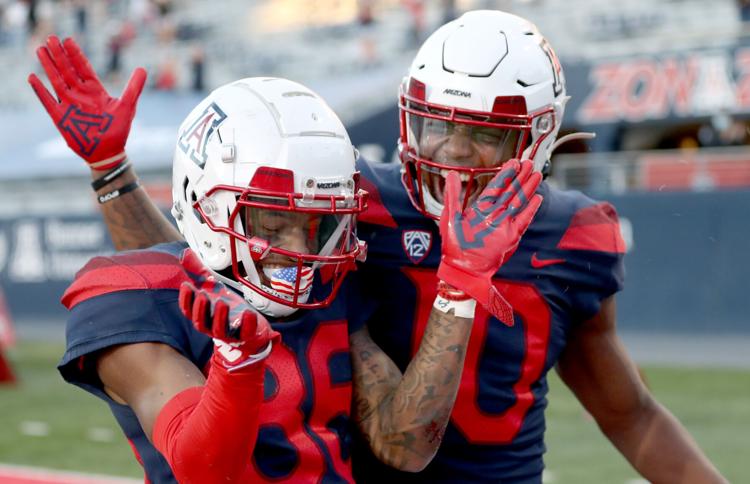 It could have been a program-changing touchdown.
It was still an exquisitely executed play.
Arizona took a 30-27 lead over No. 20 USC with 1:35 to play last week when Grant Gunnell connected with Stanley Berryhill III for a 6-yard score. The Trojans responded with a touchdown of their own to secure a 34-30 victory.
We had a chance to speak with Berryhill this week, and the redshirt junior helped us break down the play.
"It's an RPO," said Berryhill, who had a career-high eight catches for 70 yards against USC. "It could be a run or a pass. I just know that I gotta execute on the bubble screen, and hopefully I can get a block or two."
The ball was set on the left hash mark with 1:41 remaining. Berryhill motioned from right to left to create a three-man bunch to the left side.
Gunnell faked a handoff to Gary Brightwell. Trojans defensive back Greg Johnson blitzed from the offense's left.
Gunnell fired the ball to Berryhill over the leaping Johnson. UA receiver Jamarye Joiner blocked safety Talanoa Hufanga toward the sideline. Safety Isaiah Pola-Mao took a false step in that direction.
"Normally, it's to flow outside," Berryhill said of the post-catch action. "But they all flowed outside quick, and Gary got that block on the lineman that was pulling out. I just saw a hole, and I took it."
Berryhill darted inside. As USC lineman Connor Murphy closed in from Berryhill's right, Brightwell – who had jogged through the line, carrying out his fake – peeled back and leveled Murphy.
"Gary came up to me," Berryhill said. "He's like, 'Did you see my block?' I was like, 'Yeah, I saw it.' But I didn't really see it. We watched it on film, and I was like, 'Oh dang, that was a good block.' I gave props to him after I saw him at practice that day."
Pola-Mao made a last-ditch lunge. It was too late. Berryhill skipped across the goal line.
---
Will fourth downs again prove critical for Wildcats, Huskies?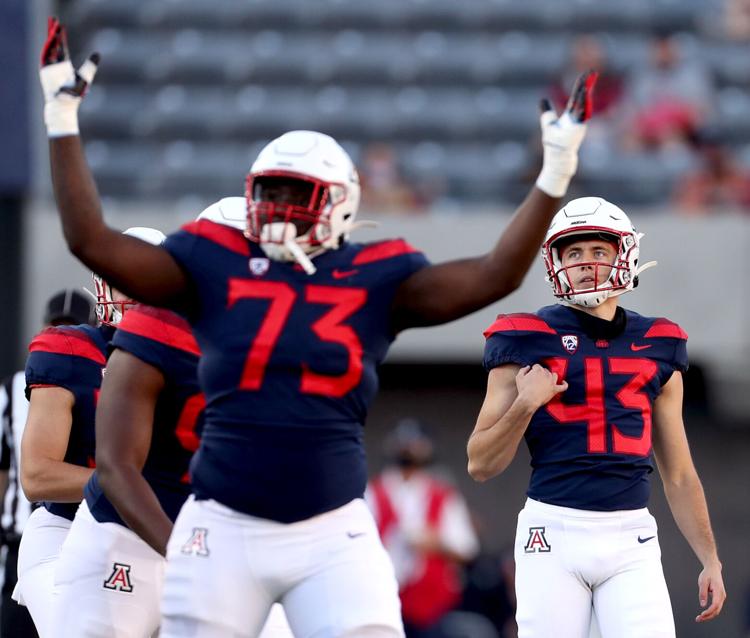 Fourth downs played a pivotal role in Arizona and Washington's games last week.
The UA converted its only attempt vs. USC. But Wildcats coach Kevin Sumlin left himself open to second-guessing because of two instances in which he didn't go for it.
The first came in the second quarter. Arizona faced fourth-and-2 at the USC 6. Sumlin elected to kick a field goal. Lucas Havrisik's 25-yarder knotted the score at 10.
"It was longer than fourth-and-2," Sumlin said. "It was closer to 3."
If Fox Sports' scrimmage and first-down lines are to be believed, the Wildcats needed at least 2½ yards to gain the first down.
"At that point, with where the game was, there's a big difference between fourth-and-2 and fourth-and-almost-3," Sumlin said. "So the field goal made sense there."
Arizona again faced fourth-and-2 in the fourth quarter, this time from the USC 33. It's hard to tell from the broadcast whether the Wildcats again needed more than 2 yards, but it looked closer to 2½ on the previous play, which resulted in a gain of 0 yards by Gary Brightwell.
Havrisik made a 51-yard field goal to give Arizona a 23-20 advantage. The Wildcats eventually lost 34-30.
"I thought the best thing to do was to take the lead at that point," Sumlin said.
He noted that he had gone for it earlier in the drive, from the UA 46. On fourth-and-1, Grant Gunnell lined up under center and executed a quarterback sneak for the first down.
Washington converted two fourth-and-1 plays against Oregon State. The first, at the OSU 6, led to a touchdown. The second, at the OSU 35, led to a field goal, giving UW a 27-21 lead. (That turned out to be the final score.)
The Huskies stopped the Beavers on a controversial and critical fourth-and-1 at the UW 5 early in the fourth quarter. OSU running back Jermar Jefferson appeared to have gained the first down. The officials spotted him short, and the call stood. Instead of a tying field goal or go-ahead touchdown, the Beavers came away empty.
"That was huge," Huskies coach Jimmy Lake said. "What a big-time deal."
---
Wildcats haven't jumped for joy often in Seattle since 1998 'Leap'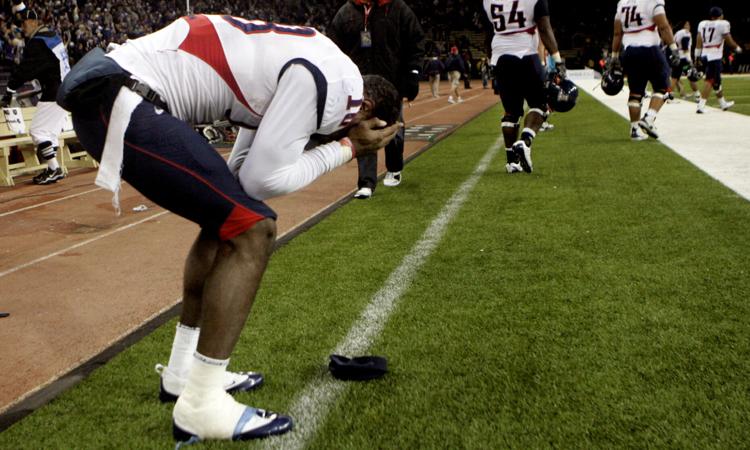 Since the "Leap by the Lake" in 1998, Arizona has played Washington in Seattle nine times. The Wildcats have won only twice.
With the passage of time, the margins have grown. Starting with the '98 game, six of seven contests were decided by seven or fewer points. After a three-point loss to the Huskies in 2009, the Wildcats have lost by 11, 18 and 46 points.
Here are the results of every post-Leap UA-UW matchup in Seattle:
Contact sports reporter Michael Lev at 573-4148 or mlev@tucson.com. On Twitter @michaeljlev