Just as summer approaches, Arizona filled another position in the recruiting department. 
Lauren Vossler, who recently graduated from the UA, was named the new coordinator of on-campus recruiting Wednesday morning. Vossler replaces Christina DeRuyter, who left for a similar job at Texas Tech. 
Vossler becomes the latest addition to Arizona's recruiting staff. In April, Cody Moore was hired as senior director of recruiting and high school relations after his predecessor, Andy Vaughn, left for a similar position at Miami.
Arizona's post-spring depth chart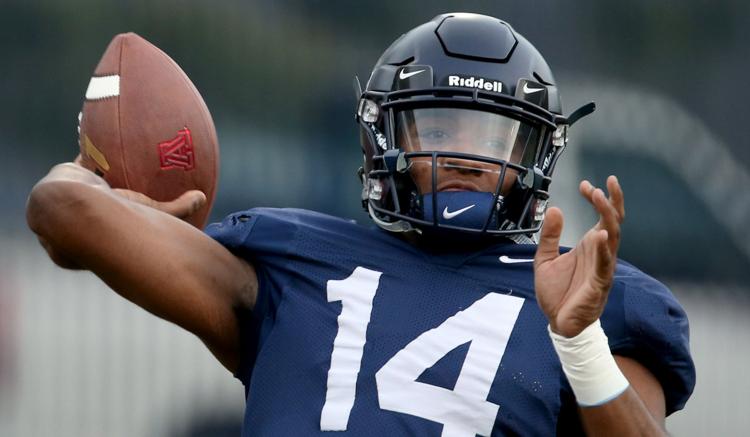 The Arizona Wildcats did not release a depth chart at the end of spring practice, and we probably won't get one until the week of the Aug. 24 opener at Hawaii.
But who can wait that long?
Here's our stab at a post-spring two-deep (three in some spots) for the UA offense and defense, based on practice alignments during periods open to the media and interviews with coaches.
The depth chart includes early enrollees. Newcomers are considered players who haven't arrived on campus yet.
QUARTERBACKS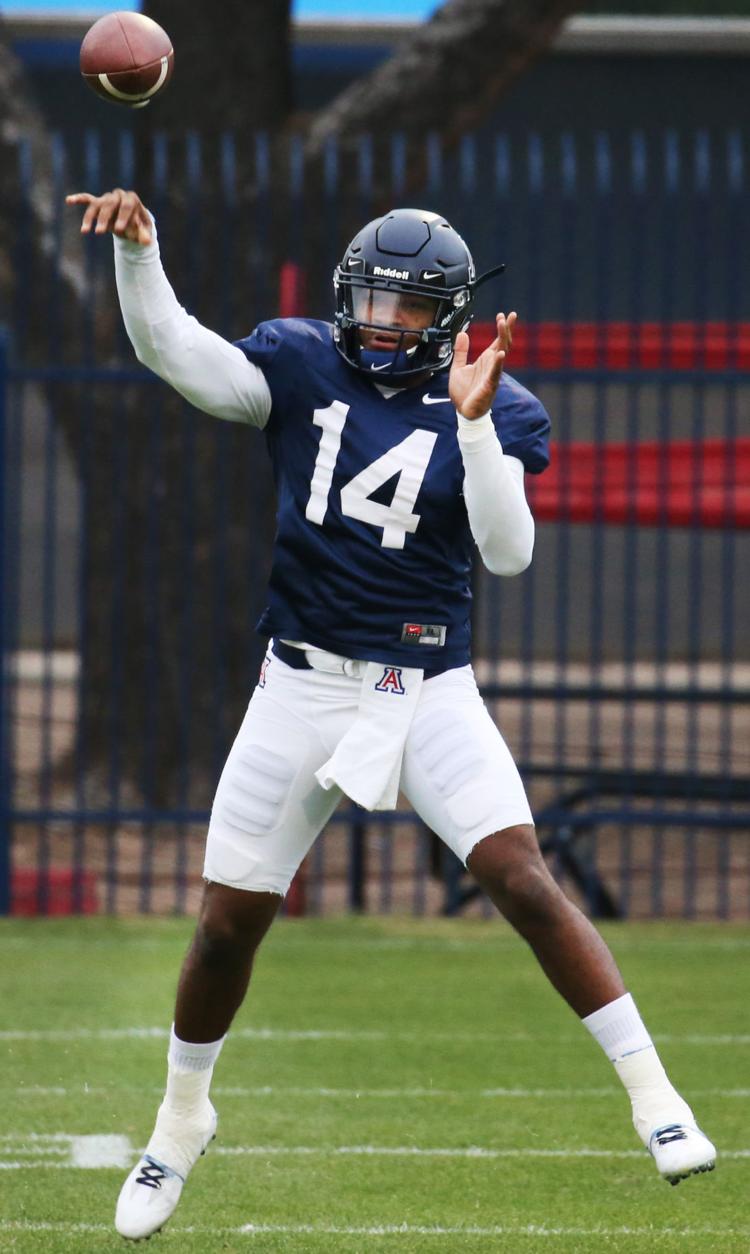 1. Khalil Tate (6-2, 215, SR)
2. Grant Gunnell (6-5, 222, FR) / Kevin Doyle (6-3, 205, RS FR)
Comment: Tate seemed to solidify his starting spot in spring. The identity of his backup remains a big lingering question. Junior Rhett Rodriguez took the second-team reps in the spring game, but the guess here is that the coaching staff would like one of the youngsters (Gunnell, Doyle, Jamarye Joiner) to secure that job.
RUNNING BACKS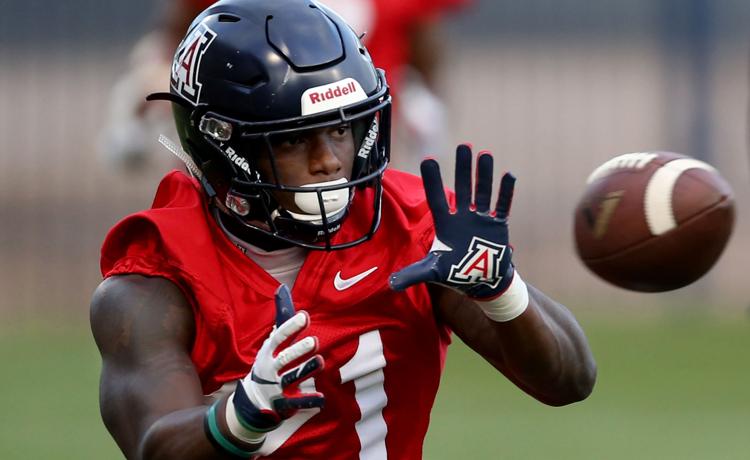 1. J.J. Taylor (5-6, 184, RS JR)
2. Gary Brightwell (6-1, 206, JR)
RB newcomer to watch: Michael Wiley (6-0, 190, FR)
Comment: We know Taylor and Brightwell will get most of the work. Bam Smith and Nathan Tilford are competing for the No. 3 job at Arizona's deepest position. Barring injuries — or unless he blows them away in camp — Wiley probably will be put on the redshirt track.
WIDE RECEIVERS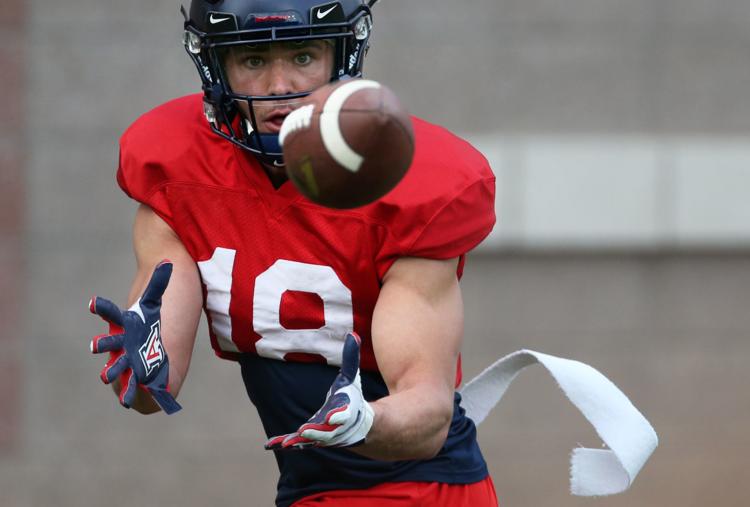 Outside receiver
1. Cedric Peterson (5-11, 195, RS SR)
2. Tre Adams (6-3, 195, RS FR)
Slot receiver
1. Brian Casteel (6-0, 195, RS SO)
2. Zach Williams (6-3, 215 RS FR)
Slot receiver
1. Stanley Berryhill III (5-9, 172, RS SO)
2. Jaden Mitchell (5-9, 175 FR) / Thomas Marcus Jr. (6-2, 205, RS FR)
Outside receiver
1. Boobie Curry (6-2, 206, FR)
2. Drew Dixon (6-3, 215, RS SO)
WR newcomer to watch: Jalen Johnson (6-3, 183, FR)
Comment: Lots of uncertainty here still — but many promising options. The surest thing is Peterson — the only upperclassman in the group with Devaughn Cooper having been dismissed from the team. We project Berryhill to have a sizable role despite missing most of spring because of injury. Look for Arizona to rotate extensively at the receiver spots.
TIGHT ENDS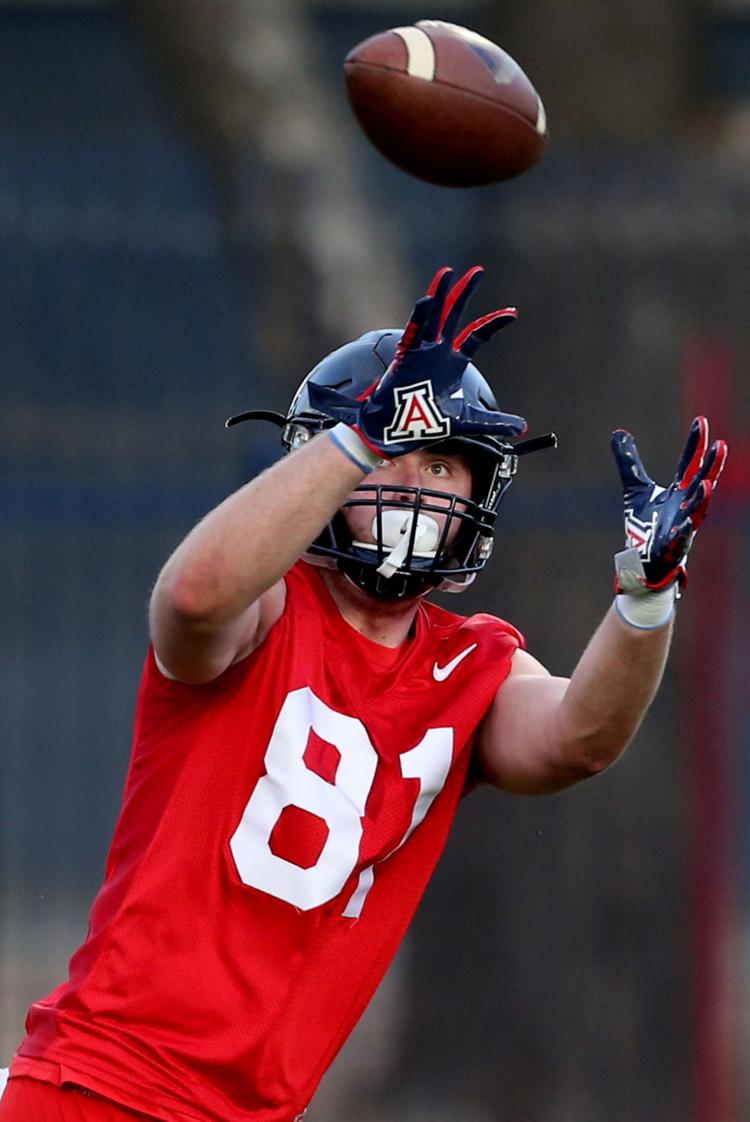 1. Bryce Wolma (6-3, 245, JR)
2. Jake Peters (6-4, 230, RS FR)
TE newcomer to watch: Zach Lord (6-9, 272, JR)
Comment: Wolma missed a large chunk of spring because of a broken elbow that should be healed by training camp. Peters is the clear No. 2 with Williams becoming a hybrid WR-TE. Lord is a fascinating project who could end up at OT or DE.
OFFENSIVE LINEMEN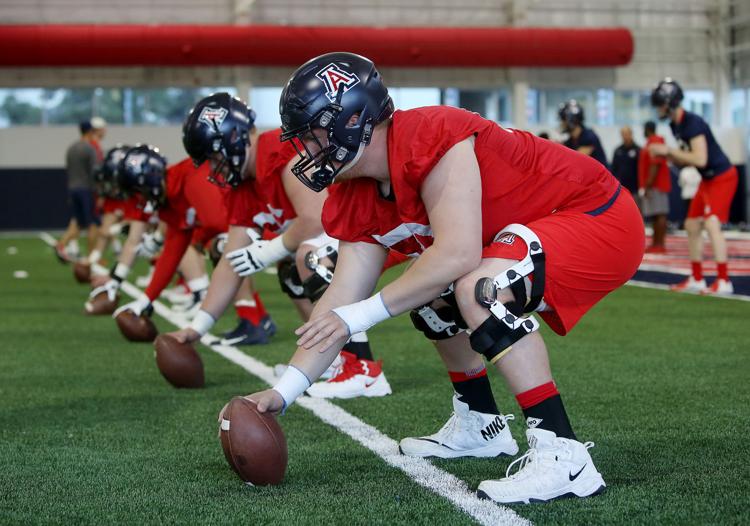 Left tackle
1. Donovan Laie (6-4, 315, SO)
2. Tyson Gardner (6-3, 295, RS SO)
Left guard
1. Josh Donovan (6-5, 317, JR)
2. Jon Jacobs (6-4, 305, RS JR)
Center
1. Josh McCauley (6-3, 292, RS JR)
2. Steven Bailey (6-3, 312, RS JR)
Right guard
1. Cody Creason (6-4, 295, RS SR)
2. Bryson Cain (6-4, 306, RS JR)
Right tackle
1. Paiton Fears (6-5, 308, SO)
2. Edgar Burrola (6-5, 295, RS SO)
OL newcomer to watch: Jordan Morgan (6-5, 270, FR)
Comment: Neither of the JC transfers, Donovan and Fears, was running with the ones at the end of spring. But UA coach Kevin Sumlin implied they'll have major roles, so we're projecting them to start. It'll be interesting to see whether freshmen Morgan and Jamari Williams can crack the rotation. Ideally, both will redshirt.
INTERIOR DEFENSIVE LINEMEN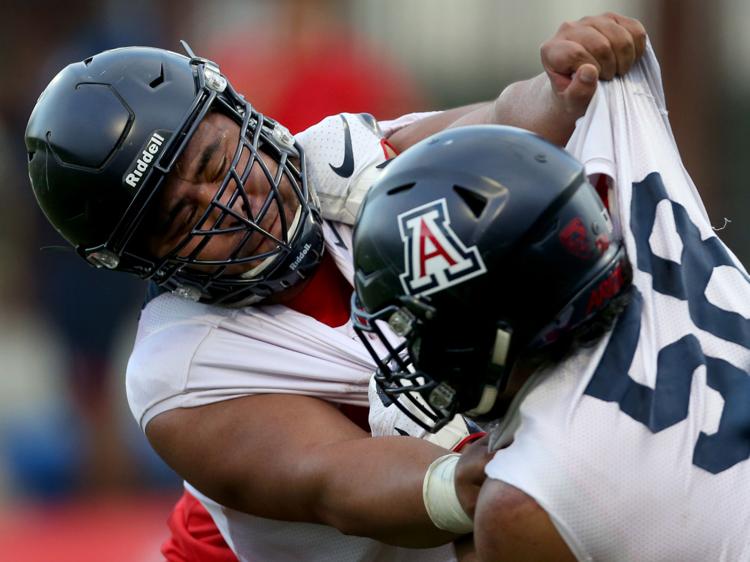 Defensive tackle
1. Finton Connolly (6-5, 305, RS SR)
2. Jalen Cochran (6-3, 270, RS JR)
Nose tackle
1. Myles Tapusoa (6-1, 330, JR)
2. Nahe Sulunga (6-2, 265, RS FR)
DT newcomer to watch: Trevon Mason (6-5, 280, JR)
Comment: This remains the Wildcats' most worrisome position. They just don't have the depth or experience they need at this point. Mason will be counted on to contribute immediately alongside fellow JC transfer Tapusoa. Freshman Kane Bradford will be given every opportunity as well to bolster the rotation.
EDGE RUSHERS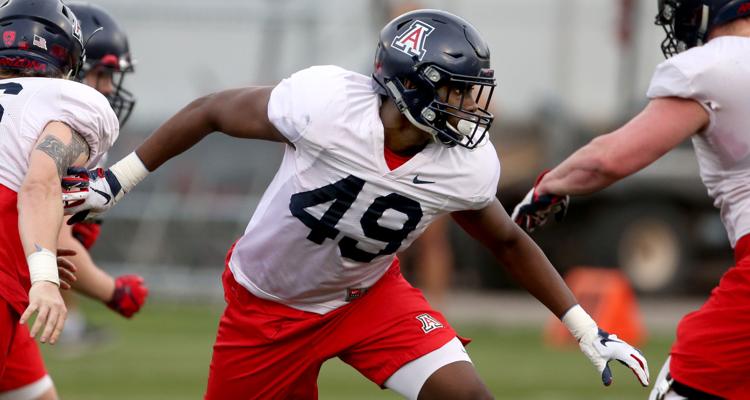 Defensive end
1. JB Brown (6-3, 258, JR)
2. Justin Belknap (6-3, 245, RS SR)
Stud
1. Jalen Harris (6-4, 242, RS SO)
2. Kylan Wilborn (6-2, 248, JR)
Edge newcomer to watch: Kwabena Watson (6-2, 225, FR)
Comment: Brown got extensive looks at defensive tackle in spring, but ideally that's part of a third-down package, not a permanent move. Harris could be on the cusp of a breakout. If Belknap and Wilborn — who have ample starting experience — are your backups, that's a pretty good place to be.
LINEBACKERS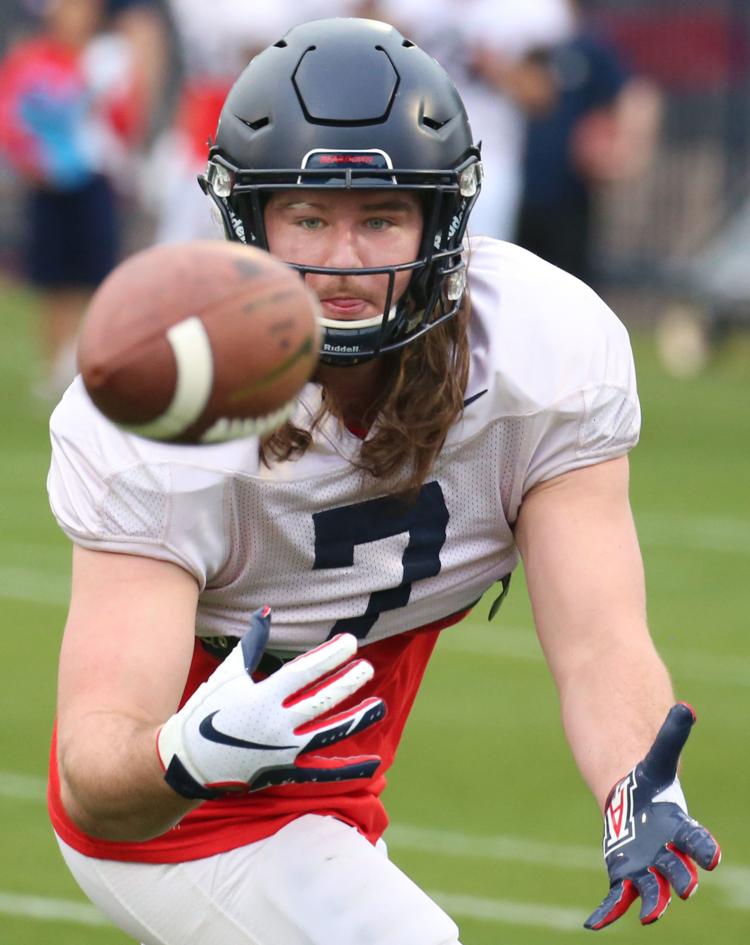 Mike linebacker
1. Colin Schooler (6-0, 236, JR)
2. Day Day Coleman (6-2, 220, RS FR)
Will linebacker
1. Tony Fields II (6-1, 230, JR)
2. Anthony Pandy (6-0, 225, JR)
LB newcomer to watch: Derrion Clark (6-1, 220, FR)
Comment: The starters are unquestioned. The staff feels better about the depth with Pandy continuing to progress and Coleman shifting here from safety. As much as the Wildcats rely on Schooler and Fields, both would be more effective if relied upon a little less.
CORNERACKS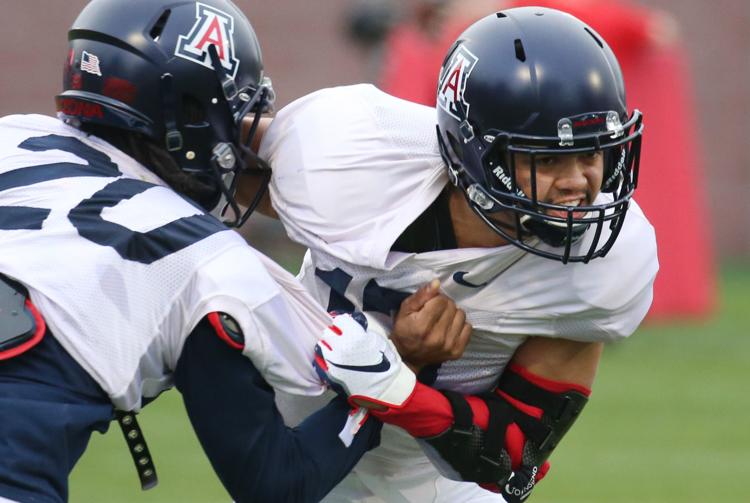 Field cornerback
1. Jace Whittaker (5-11, 195, RS SR)
2. McKenzie Barnes (6-1, 185, SO)
Boundary cornerback
1. Lorenzo Burns (5-10, 181, RS JR)
2. Christian Roland-Wallace (5-11, 198, FR)
CB newcomer to watch: Bobby Wolfe (6-2, 170, FR)
Comment: A position decimated by injuries last season could become a team strength if everyone stays healthy. Roland-Wallace has the look of a future star. Barnes was one of the stars of the spring game. We ran out of room for junior Troy Young, who will contribute on defense and special teams. Wolfe should as well.
SAFETIES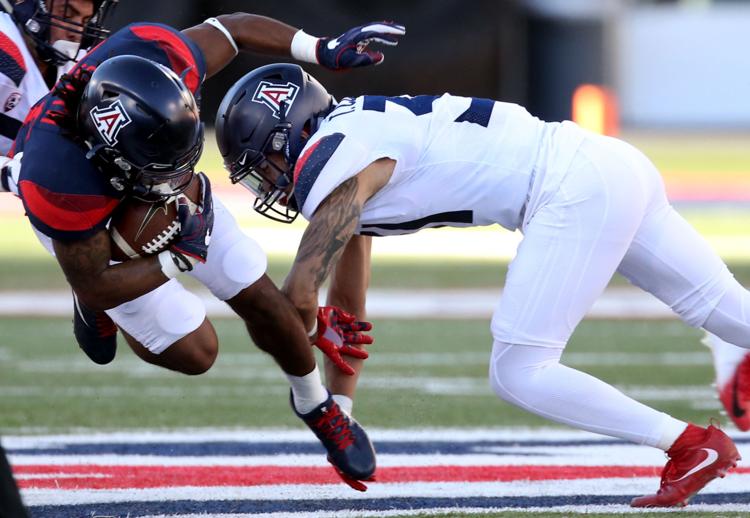 Spur
1. Tristan Cooper (6-1, 195, SR)
2. Xavier Bell (6-2, 196, RS SO)
Bandit
1. Christian Young (6-1, 209, SO)
2. Chacho Ulloa (5-11, 197, SR)
Free safety
1. Scottie Young Jr. (5-11, 200, JR)
2. Jarrius Wallace (6-1, 180, RS JR)
Safety newcomer to watch: Jaxen Turner (6-2, 185, FR)
Comment: All three of the projected starters have shown playmaking ability at various times and in different ways. It wouldn't be surprising to see the group as a whole elevate its play with defensive coordinator Marcel Yates now in charge of the safeties.