Arizona Wildcats DT Dereck Boles wouldn't let high ankle sprain keep him out of Territorial Cup
Wildcats defensive tackle Dereck Boles suffered a sprained ankle the week before Arizona's rivalry game with Arizona State. Here's what motivated him to play anyway, plus more notes and takeaways from Saturday's practice.
By Michael Lev / Arizona Daily Star
Do it for the team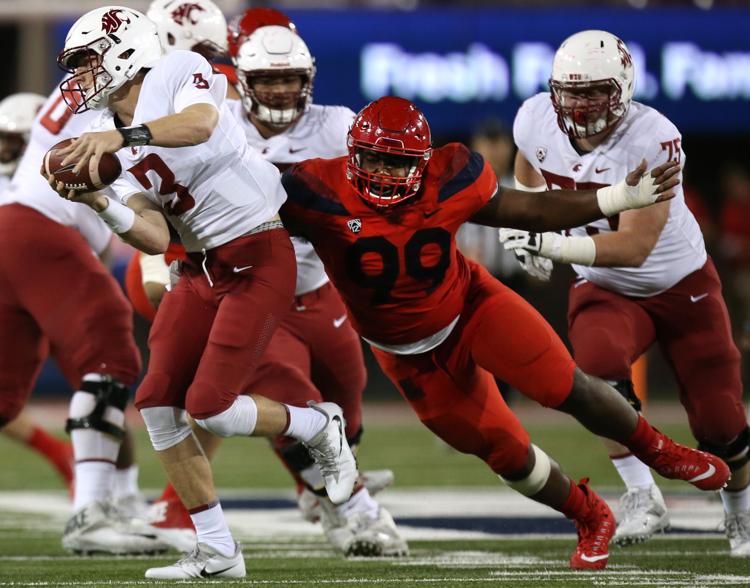 Dereck Boles became an Arizona Wildcat about halfway through summer. The defensive tackle was born in Jamaica, grew up in Florida and played previously in Idaho and Kansas. He had no concept of the Territorial Cup.
But when Boles suffered a sprained right ankle the week before the game — a high ankle sprain at that — he had no intention of sitting out. He insisted on playing. He couldn't let his teammates and coaches down — even though, by his estimation, his ankle was "less than 50" percent healthy.
"I wanted to be out there," Boles said Saturday.
"I knew how big of a game this was for our team. Being around that whole week, watching how everybody acted, watching how everybody's demeanor was, you felt the urgency of the game. I wanted to be a part of that."
Boles barely practiced that week. A season-long starter, he didn't start against Arizona State. He recorded only one tackle, tying his season low.
But the fact that Boles was willing and able to contribute — especially with fellow defensive line starters Luca Bruno and Justin Belknap out — resonated with his fellow Wildcats.
"It means the world to me and his teammates," defensive line coach Vince Amey said. "He battles. I'm happy to have him for another year."
'He's a tough guy'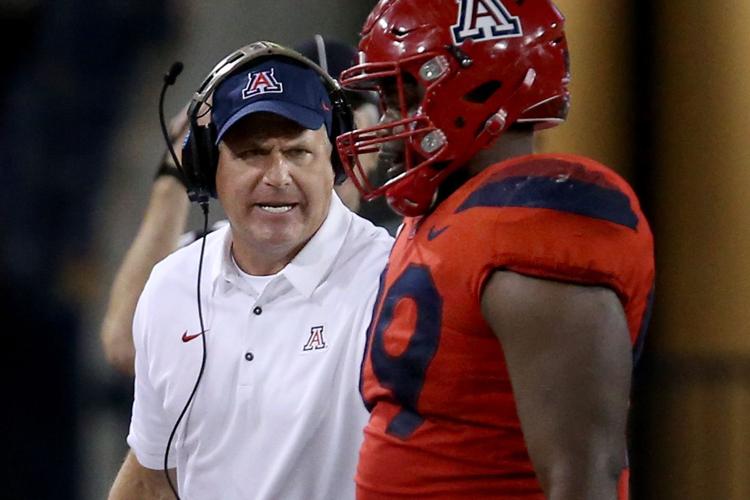 UA coach Rich Rodriguez, among others, is bullish on Boles' upside. He didn't officially join the team until right about the time training camp started in late July after transferring from Coffeyville (Kansas) Community College.
Despite the late start, playing through the flu in the season opener and hurting his ankle vs. Oregon, Boles leads all interior defensive linemen with 39 tackles. He also has 1.5 stops for losses and two pass breakups.
"He's a tough guy," Rodriguez said. "He loves football. He's got a great attitude. He's an athletic big guy, which we need.
"He's given us some good football. It's his first year. It's almost like he's a freshman. I expect a big year out of Dereck next year."
Boles, who began his college career at Boise State, has one more year of eligibility. He's looking forward to another season at Arizona — and getting another crack at ASU.
"I can't wait to play them again," Boles said. "I'm glad I've got another year here. That's big for me. I feel like I'm in the best position of my life right now, and I'm excited for the opportunity."
Two-way Trevor?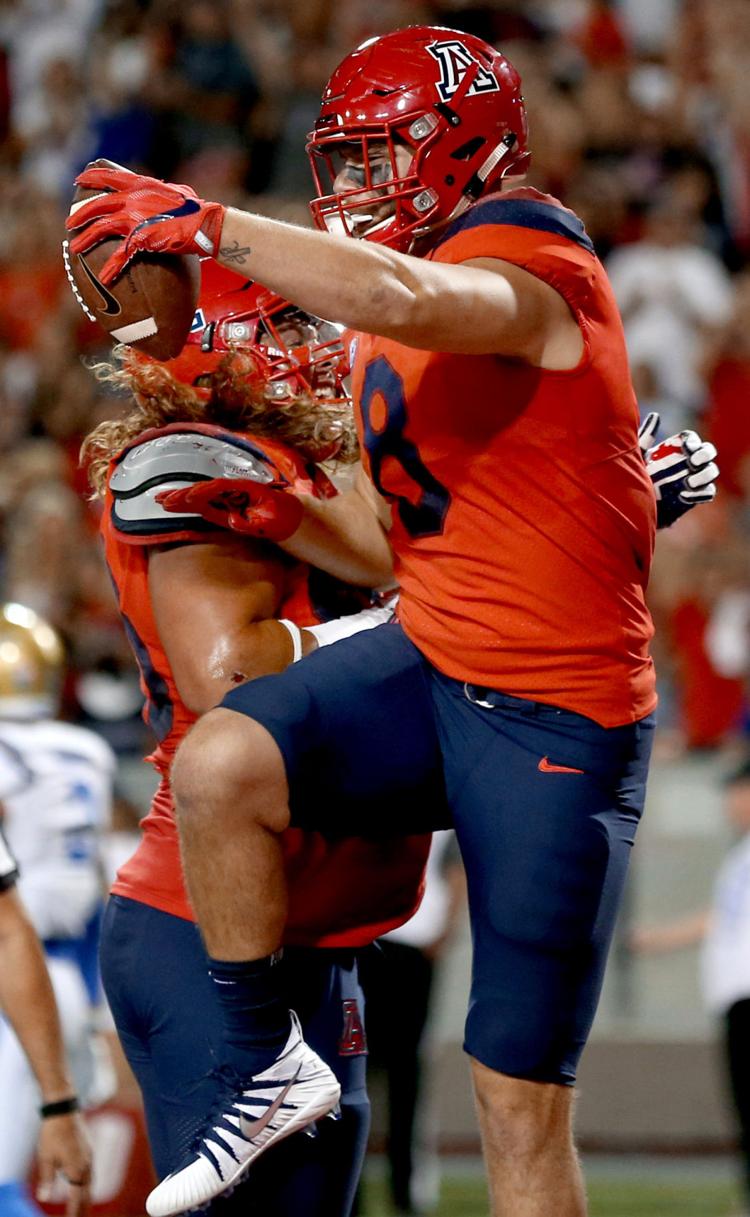 Injuries forced Arizona to get creative along the defensive line in the Territorial Cup. The Wildcats shifted tight end Trevor Wood to defensive end in a move that was considered temporary.
It might not be.
Wood continues to practice at defensive end heading into the Dec. 27 Foster Farms Bowl against Purdue. He currently is working with the first unit while Belknap recovers from a knee injury.
"We like what we've seen over there," Rodriguez said.
But here's the real twist: Wood hasn't stopped playing tight tend. He is taking reps on both sides of the ball, a rarity in modern college football.
"It's fun," Wood said. "Whatever position they want to put me in to help out the team, that's what I'm gonna do."
Wood is spending more time on defense because he's still playing catchup there. But the son of former Arizona defensive lineman Dave Wood possesses natural pass-rushing skills. Trevor Wood also brings much-needed size — he's 6-6 and 265 pounds — to the defensive front.
Wood enjoys playing defense because it requires less thinking.
"You know your assignment," he said. "You know where you've gotta be. You just go. You just gotta beat the guy in front of you."
Wood barely missed tackling ASU's Manny Wilkins on a quarterback draw in the first quarter. Wood also got a hand on one of Wilkins' three touchdown passes.
Wood is open to playing both ways against Purdue and in his final year at Arizona.
"I guess we'll see how it goes," said the redshirt junior, who also has served as a short snapper this season. "I'll just it take it game by game."
Said Rodriguez: "Trevor's willing to do anything and everything. He just wants to play. I've been encouraged by that. He's athletic enough and smart enough to do both. I can envision where he has a role on both sides."
Extra points
Senior guard Jacob Alsadek and safety Dane Cruikshank have been invited to the East-West Shrine Game. The all-star showcase for draft prospects takes place Jan. 20 in St. Petersburg, Florida.
Junior cornerback Jace Whittaker made Pro Football Focus' All-Pac-12 second team.
Rodriguez said freshman quarterbacks Donavan Tate and Rhett Rodriguez did not participate in Friday's "Rookie Bowl I" but will in the next one, which could be Sunday. Rich Rodriguez said both are "in tune" with the offensive scheme because they've been on the travel squad all season.
The seniors handled the coaching in the rookie scrimmage. Rodriguez got a kick out it. "They took a lot of ownership," he said. "I questioned a lot of play calls. We had a couple delay-of-game penalties, which was really bad coaching."
Rodriguez continues to believe Dec. 20 will be the signing day for Arizona and others. "We're projecting most of our class to sign on the 20th," he said. And if someone doesn't? "He ain't committed to us," Rodriguez said.
Arizona has 11 official visitors this weekend, the majority prospects who already have committed. The UA won't have nearly as many as usual in January if most of the class is signed already, as Rodriguez projects.
Rodriguez's old boss, former UA athletic director Greg Byrne, was in town for Saturday night's basketball game against Alabama. "He's probably wearing the wrong colors," Rodriguez said. "You can be seen with him, but not cajoling too much with the enemy, so to speak."
The 2017 season is still playing out, but the Star's Michael Lev is already taking a look at Arizona's 22 starters for next year.