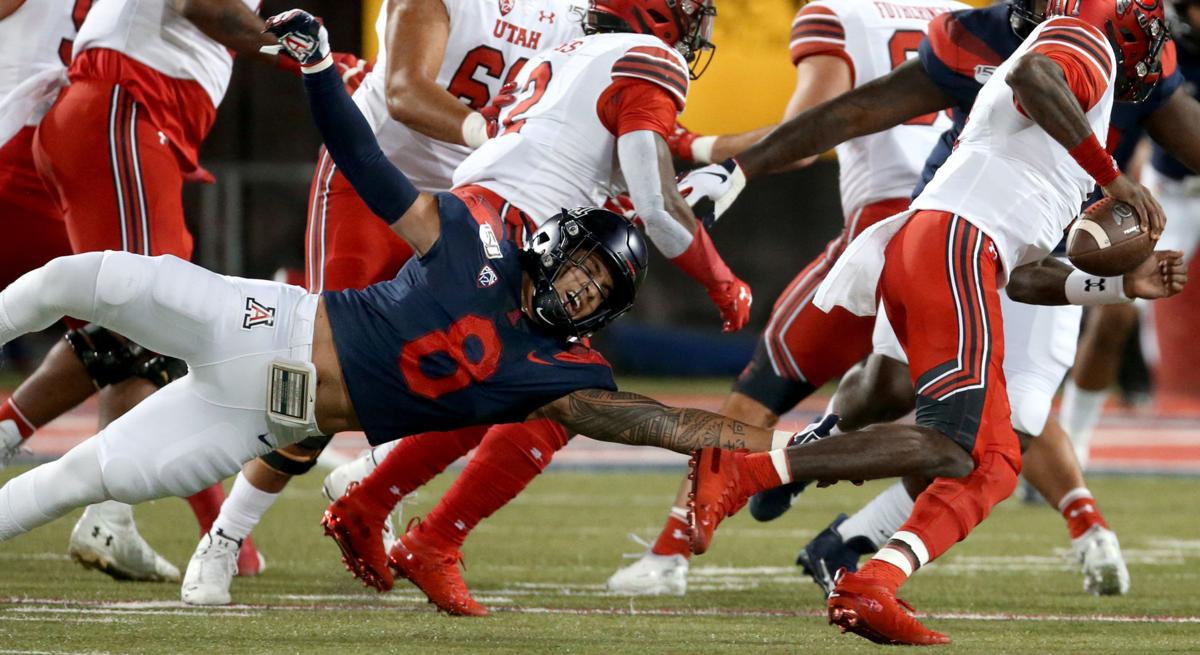 Editor's note: Leading up to the start of Arizona football training camp on Friday, the Star will ask and answer five pressing questions about the Wildcats.
"Safety first" wasn't just the Arizona football program's approach to the coronavirus pandemic – it was a description of how the initial phase of the Wildcats' offseason unfolded.
The situation on that side of the ball only worsened as the pandemic persisted. Linebacker Tony Fields II, a three-year starter, announced he was entering the NCAA transfer portal July 15 – about two weeks before Arizona originally was supposed to open training camp. It's unlikely he would have left had the season remained on track.
Losing those four safeties was one thing; losing Fields and Colin Schooler — the anchors of the defense — was quite another. Together, the departures ruptured the middle of Arizona's defense.
That's where we're headed next in our examination of the Wildcats' personnel entering the delayed start of camp. It is likely to begin without third-year coach Kevin Sumlin, who has tested positive for COVID-19.
Camp question No. 2: Can Arizona progress defensively despite a dearth of linebackers and safeties?
Paul Rhoads didn't sign up for this. Oh, he knew he had a rebuilding project on his hands when he became Arizona's defensive coordinator in December. The Wildcats ranked last in the Pac-12 in yards and points allowed last season and haven't finished higher than ninth in either category since 2014, when they were sixth in points allowed.
But Rhoads at least figured he'd have Fields and Schooler on board for one year to help facilitate the transition. Neither had missed a game in three seasons. Fields had started 37 in a row, Schooler 33. They combined to make 599 tackles — 22.7% of the team's total from 2017-19. They were indispensable.
The original projected starting four in Rhoads' 3-4 scheme featured senior Anthony Pandy at outside linebacker. He could have to move inside now. Either way, he'll be on the field just about every snap and will have a ton of responsibility as a leader and playmaker.
Pandy showed considerable promise as a junior last year, totaling 66 tackles, including five stops for losses, plus an interception and a forced fumble. Unfortunately, he can't play more than one position at a time.
One player who's almost assured of a sizable role at one of the inside linebacker spots is sophomore Derrion Clark. Clark made a good initial impression last year, earning the Wildcats' Special Teams Player of the Year award. His playing time on defense was limited, and he'll be asked to take a big leap this year. Also, his listed weight of 202 pounds is on the light side for a linebacker.
Freshman Jabar Triplett would have been in line for significant playing time if he hadn't suffered a torn Achilles' tendon in April. He announced at the time that he wouldn't be able to play this season. It's unclear whether the pushed-back schedule changes that. The typical recovery timeline for an Achilles' tear is at least 4-6 months.
The other scholarship newcomer at linebacker, Derick Mourning, was projected to play on the outside. That could change – as could Rhoads' initial plan for the defensive scheme, depending on his staff's assessment of the personnel.
The depth wasn't great when Fields and Schooler were still in the fold, and it's worse now. Even if Arizona avoids major injuries and COVID issues – far from a sure thing – walk-ons almost certainly will have to contribute.
The projected starters are senior Jarrius Wallace and junior Christian Young. Both have had their moments but have been plagued by inconsistency.
Sophomore Jaxen Turner also should be in the mix. Turner was a special-teams contributor last season before missing the final six games because of a shoulder injury.
Junior-college transfer Isaiah Mays' role hasn't been defined. He has safety size at 6-1, 190, but his best position is believed to be nickel cornerback.
The Wildcats might very well take the "best four" (or "best five") approach to the secondary. On their online roster, every member of the defensive backfield is listed as a "DB." No distinction is made between corners and safeties.
New secondary coach Greg Burns never got a chance to work with the players on the field in spring, so he'll be learning on the fly in camp. Rhoads got four practices in with the defense, but some of the personnel already has changed.
He'll need to be resourceful to make this work before reinforcements arrive. The good news? The only way to go is up.
Contact sports reporter Michael Lev at 573-4148 or mlev@tucson.com. On Twitter @michaeljlev