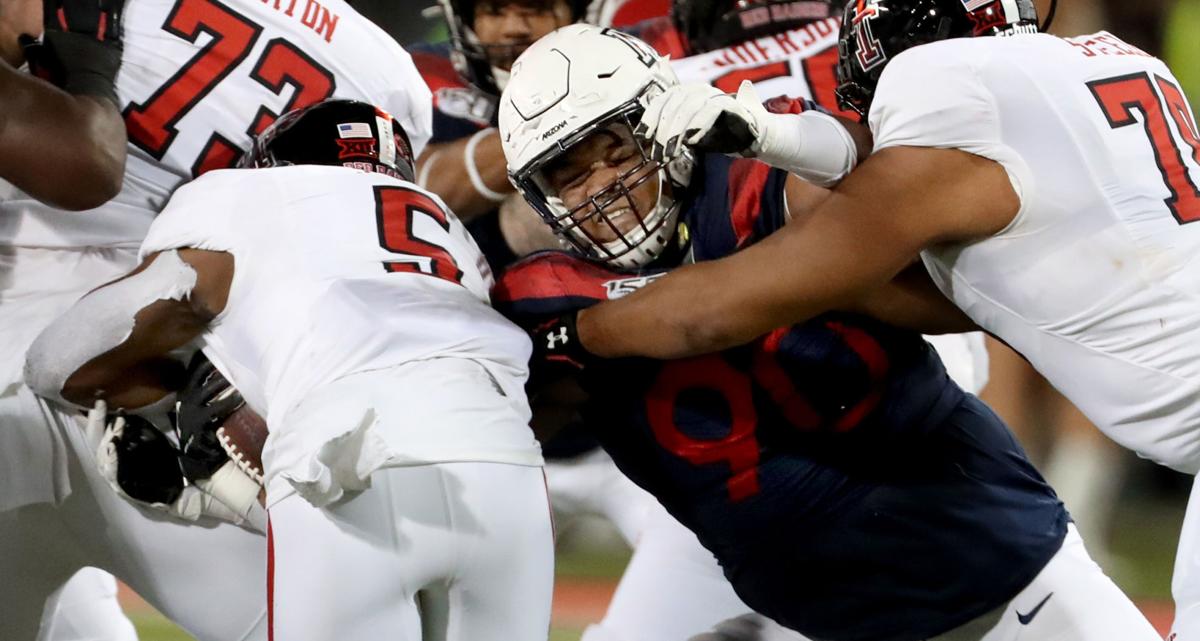 Editor's note: Leading up to the start of Arizona football training camp on Friday, the Star will ask and answer five pressing questions about the Wildcats.
Transfers have depleted the Arizona defense at inside linebacker and safety. As a result, the Wildcats' defensive linemen, edge rushers and cornerbacks will have to perform at a high level for the overall unit to be effective.
The edge-rush group has a breakout candidate in Jalen Harris. The cornerback room boasts a pair of all-Pac-12 possibilities in Lorenzo Burns and Christian Roland-Wallace.
Yet the defensive line might be the best, deepest position group on that side of the ball.
Defensive line hasn't qualified as a definitive team strength around these parts in a long time. Before junior-college transfer P.J. Johnson, who played one season at Arizona, was picked in the seventh round of the 2019 NFL draft, a Wildcats D-lineman hadn't been selected since 2011.
It's unclear whether, or when, that will change. But there's no question the state of the defensive line has improved since Kevin Sumlin became coach in January 2018.
Sumlin inherited a pair of playmaking defensive tackles in Johnson and Dereck Boles, and an intriguing chess piece in JB Brown. Now the D-line has depth, at least on paper.
In the past two signing classes, Arizona has added nine defensive linemen – 10 if you include redshirt freshman Eddie Siaumau-Sanitoa, who's listed as a lineman but could project to outside linebacker.
Whether that investment will pay dividends this year remains to be seen. It's the latest topic we're exploring with the opening of camp just one day away.
Camp question No. 4: Can the UA defensive front mask deficiencies elsewhere on that side of the ball?
Even if you're feeling bullish about the defensive line, it's a tough ask. But the additions to the roster and the development of some of the players already on it provide a sense of hope.
Let's start with the key incumbents. Defensive tackle Trevon Mason joined the team last year from Navarro Community College. He started the final 11 games and finished with 44 tackles, including six for losses, and two passes defensed. By season's end, Mason (6-5, 305) looked like a potential all-league performer.
Myles Tapusoa, another JC transfer, wasn't quite as impactful, finishing with 12 tackles. But he became more effective after getting in better shape and can occupy blockers to make life easier for linebackers and safeties. Tapusoa is listed at 6-1, 345.
The UA staff has high expectations for sophomore Kyon Barrs, who notched 13 tackles in 11 games — including a career-high four in the season finale at Arizona State. Barrs was a late addition to the class of 2019 and has natural size at 6-2, 304. He seems to fit the mold of what new defensive coordinator Paul Rhoads wants in his base 3-4 scheme.
Where Brown fits isn't quite as clear. Originally an inside linebacker, Brown (6-2, 267) played inside and on the edge last year and wasn't as effective as the previous season. But Sumlin said Wednesday that the goal is to "get our best players on the field" — possibly superseding preconceived schematic concepts — and Brown easily could be among the top 11.
Arizona added size and experience through the graduate-transfer market this offseason. Aaron Blackwell (6-3, 293) played for UA defensive line coach Stan Eggen at New Mexico, compiling 42 tackles (7.5 TFLs) in 24 games. Roy Lopez (6-2, 318) had 136 tackles (19.5 TFLs) in 39 games at New Mexico State. Both players are coming off of injuries and should benefit from the delayed start to the season.
Arizona has several other veteran options, plus four freshmen who arrived this summer. The listed sizes for three of them — Regen Terry (6-4, 289), Dion Wilson (6-4, 276) and Paris Shand (6-5, 272) — suggest they conceivably could contribute to the rotation.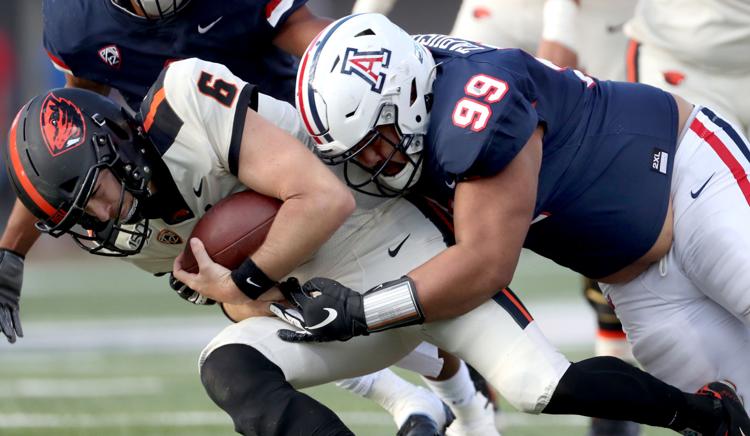 UA coaches have paid lip service to that concept in the recent past; the Wildcats now have the personnel to attack opposing offensive lines in waves.
Contact sports reporter Michael Lev at 573-4148 or mlev@tucson.com. On Twitter @michaeljlev