It took until the second half of the third game for the Arizona Wildcats to start looking like the team they were projected to be.
That it took so long, and happened against an FCS opponent, can't be ignored. But the Wildcats were desperate for something positive to happen, and they finally found their groove late Saturday night.
Arizona defeated Southern Utah 62-31 in front of an announced crowd of 41,493 at Arizona Stadium. The victory was Kevin Sumlin's first as UA coach.
Sumlin came to Tucson with massive expectations. He has won everywhere he has coached, and quarterbacks have thrived under his tutelage. Sumlin inherited a supremely talented one in Khalil Tate, who — among many other Wildcats — struggled in the first two games.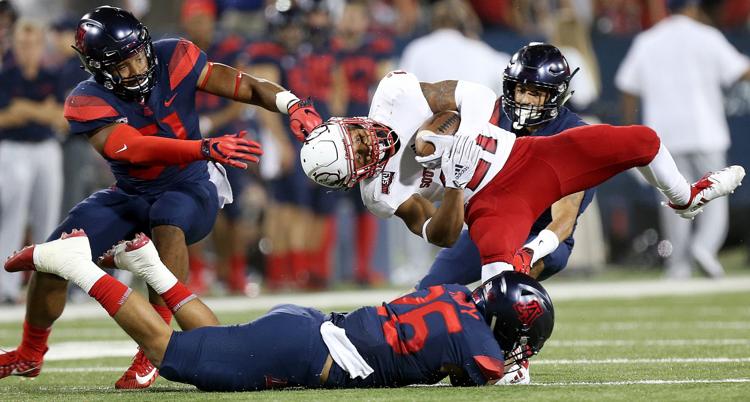 Tate caught fire in the third quarter of Game 3. The rocket-armed junior threw three touchdown passes in the period and finished with five, tying his career high. He also set a personal best with 349 passing yards.
Tate, who played through an ankle injury last week at Houston, didn't run much. He didn't need to. Whether scrambling or standing tall in the pocket, Tate threw the ball with uncommon accuracy down the field. He connected with four receivers for four passes of 50-plus yards, including a 65-yard touchdown to Shun Brown and a 75-yard TD to Shawn Poindexter.
Both scores came in the third quarter, when Arizona turned a 24-17 game into a 48-17 landslide. The onslaught continued in the fourth quarter, as the UA topped 60 points and 600 yards.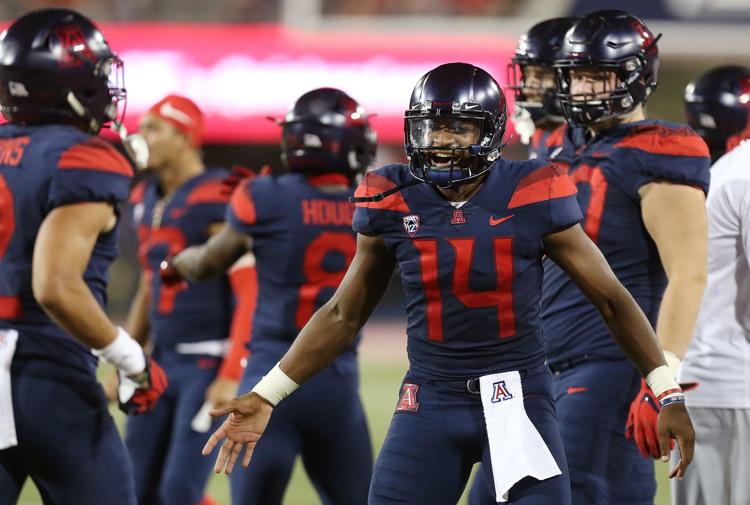 The Wildcats have something to build on entering Pac-12 play. Arizona visits Oregon State next Saturday. The Beavers blew out these same Thunderbirds last week — before losing earlier Saturday at Nevada.
Arizona's 0-2 start looked a little less discouraging Saturday afternoon when BYU upset No. 6 Wisconsin in Madison. The Wildcats lost to the Cougars 28-23 in Week 1.
Arizona struggled in all phases against Houston, especially on defense. Sumlin promised changes, and they came in the form of a new lineup. The Wildcats had six new starters on defense.
The unit still had issues against Southern Utah (0-3), especially in the first half. But at least Arizona got on the board in two areas where they had been blanked: sacks and turnovers.
Anthony Pandy registered the Wildcats' first sack of the season. Kylan Wilborn added another.
Jarrius Wallace recorded Arizona's first takeaway, an interception off a deflection in the fourth quarter.
The first half wasn't exactly artistic — or encouraging if you're a UA supporter.
Arizona led 24-17 at the break, but Southern Utah controlled the ball and the clock. The Thunderbirds had four drives consisting of at least 11 plays that covered 55 or more yards.
Southern Utah ran 51 plays in all in the first half and possessed the ball for 22 minutes, 6 seconds. The Thunderbirds outgained the Wildcats 242-233 over the first 30 minutes.
Southern Utah converted 6 of 12 third downs and 2 of 2 fourth downs in the first half. The fourth-down conversions came on the same possession in which Arizona forced two fumbles but couldn't recover either of them. The drive ended with Jay Green's 10-yard TD run.
After a Lucas Havrisik field goal, Southern Utah drove 75 yards in 13 plays. QB Chris Helbig's 2-yard scramble tied the score at 17.
Arizona responded with an eight-play, 67-yard TD drive. Tate capped it with his second touchdown pass of the night, a scrambling 11-yarder to Brown.
Arizona's biggest first-half highlight was an 84-yard kickoff return for a touchdown by J.J. Taylor, who gave new meaning to the term "scoop and score."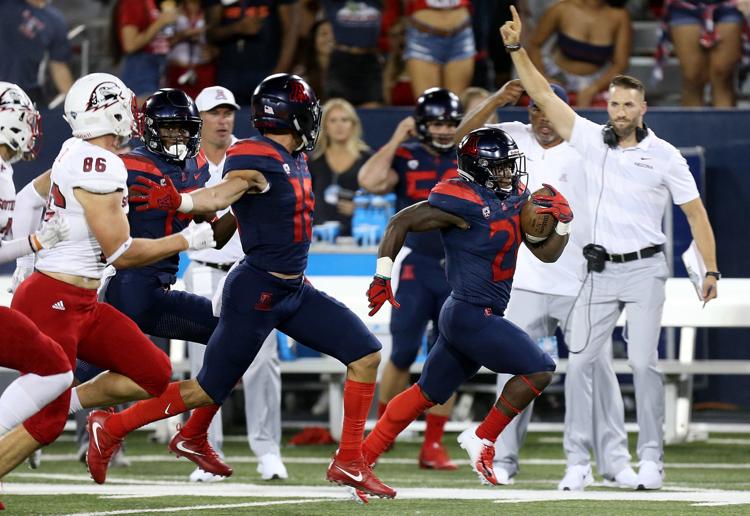 After a field goal made it a 7-3 game early in the second quarter, Southern Utah tried a squib kick. Taylor fielded it like a shortstop, bolted to his left and raced down the sideline. It was Arizona's first kickoff return for a touchdown since 2014 — and its first on a non-onside kick since 2010.
Sumlin was seeking consistency from his team, saying earlier in the week that the goal was "to put together a complete game."
The Wildcats were far from perfect. But they won — and won big. It's a start.
Extra points
• Sophomore defensive end JB Brown made his first career start in place of Justin Belknap, who could miss the rest of the season because of a broken left foot. Belknap, who has started most of the past two-plus seasons, suffered the injury during practice Thursday. He is scheduled to have surgery Monday and will be out 8-12 weeks.
• Defensive backs Jace Whittaker and Scottie Young Jr. made their first starts of the season for Arizona but were unable to finish the game. Whittaker came out on the first series. Young did not have a helmet late in the second quarter, which could indicate he suffered a head injury. ESPN reported last week that both players had hamstring injuries.
• Freshman Dayven Coleman made his first career start at the "Spur" safety position but appeared to hurt his knee late in the second quarter.
• Walk-on defensive tackle Abraham Maiava made his first career start. Maiava and Finton Connolly opened at the DT spots, Arizona's third different combination in as many games. PJ Johnson and Dereck Boles started in Week 1. Boles and Connolly were the starters last week. Johnson (ankle) has missed the past two games.