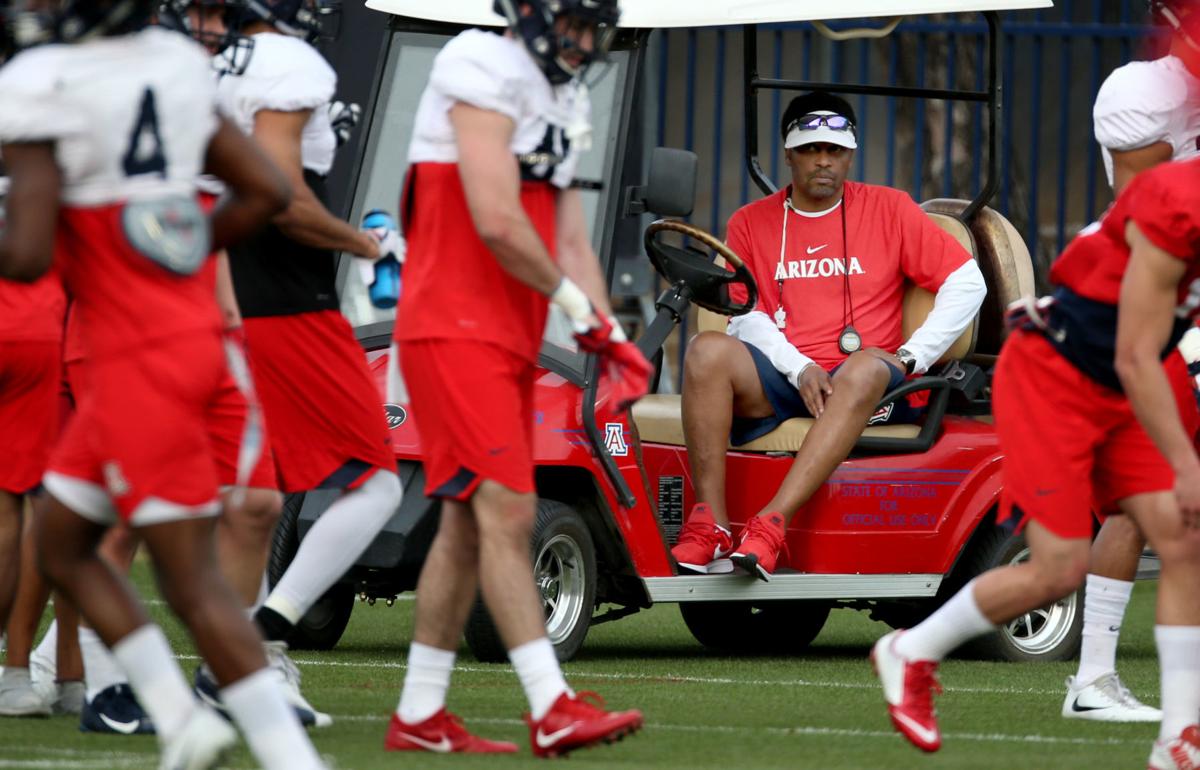 Before addressing the media Saturday, Kevin Sumlin greeted a throng of youngsters on hand for a KidCats Club event being held at Arizona Stadium.
The boys and girls were excited to meet the Arizona Wildcats' head coach, of course. But he wasn't the one they were most excited about.
"They want to see DeMarco," Sumlin said with a smile, referring to new running backs coach — and recent NFL star — DeMarco Murray.
Make no mistake, though: Sumlin is the one calling the shots.
He and his team have one more week of spring drills, which conclude with the spring game next Saturday. For Sumlin and his staff, the final four practices are their last opportunity to evaluate a team that went 5-7 last season. It was a disappointing outcome to a year that began with great expectations.
But it wasn't all bad: Arizona led the Pac-12 in total offense and rushing. It didn't translate into as many wins as it should have, and that's an area the coaches tried to address Saturday with a 78-play scrimmage emphasizing specific situations.
That was the starting point for Sumlin's chat with the press corps. He also talked about newcomers, including impressive freshman cornerback Christian Roland-Wallace, and the situation at defensive tackle, where depth is lacking. Portions of the conversation have been lightly edited for context and clarity.
What was your biggest takeaway from the scrimmage today?
A: "We worked some situations. Just trying to be a smarter football team. We're just trying to put guys in situations that are critical to win close games, something we didn't do last year. Setting goals instead of just playing football, and the communication that goes with that.
"We're trying to put these guys, particularly these guys who haven't played a lot, in positions to really evaluate them. That's the goal here, and we'll continue that (next) week."
How are the newcomers coming along?
A: "Pretty good. We're trying to get those guys going, particularly the O-linemen (junior-college transfers Josh Donovan and Paiton Fears). Those guys are battling.
"A lot of the younger guys are getting snaps and playing, the receivers in particular. A bunch of these guys should be going to prom next week. You forget about that. They're out here playing against guys who've started games and are veteran players.
"Every time we've come in here, into the stadium to scrimmage, they have gotten better. They were a little wide-eyed the first couple days. They were a little bit better today. We've got another week, then we've got all summer when the other guys come. It's certainly an advantage for the guys who got here early."
We've heard a lot of good things about Christian Roland-Wallace. What have you seen out of him?
A: "He doesn't look like he should be going to the prom next week. He's got a different body. He's athletic. And the thing that's really surprised everybody – he's been playing corner, he can run, he can jump – he really has some return value too. He's been catching punts as well as anybody.
"We were kind of concerned this year because we didn't have our punt returners returning. He's really surfaced in the mix. We feel better about our return situation than we did coming into spring."
Are you planning to keep the quarterback rep structure the same, where it's been about equal for everybody, for the rest of spring and into training camp?
A: "I'll tell you what we've been doing. It's been a little bit different. We're keeping track, not just the quarterbacks' reps, but everybody's reps, and then the grading system applies to that. There's immediate feedback. When we meet the next day, here are the reps you had (and) here's your grade. Everybody on this team is getting graded every practice.
"When we get through spring … we're going to talk about what we're going to do in the fall. We'll meet with all the individuals, not just the quarterbacks, about goal-setting, where they are right now, what we expect of them throughout the summer and where we're going to go in the fall. We're gonna have double-digit new guys here, across the board, which will help."
How big a concern is the interior of the defensive line?
A: "It's a concern. We've still got some guys that we're counting on getting in here that aren't here right now (JC transfer Trevon Mason and incoming freshman Kane Bradford). That's an added piece.
"We're still recruiting. We're still looking at guys. This grad-transfer market has turned into a pretty competitive deal. We're still in that market right now."
Is that something you look at once everyone has concluded spring practice?
A: "No. We're looking right now. We've been on the phone. We've had some guys visit. It's pretty competitive all over the country.
"We have numbers where we want to be at every position. Along with that comes the talent level. Just because it says you have so many at that position, maybe some of them aren't ready to play. So that number can change. We'll readjust where we are. We know where we want to be.
"The question you had about the interior of the defensive line, those numbers don't match up with where we want to be right now."
Moving defensive end JB Brown inside, is that something you want to do on a long-term basis or is it more of a package thing?
A: "It's a package deal. He can rotate in and out. JB being able to move in and out gives us some flexibility. He's got some quickness in there.
"Finton Connolly has been doing a nice job as a 'shade.' He's 300 pounds. We're kind of playing around in there with those guys.
"Nahe (Sulunga) is young, but he's 255, 260 pounds. He's got the ability to move in and out too. He's kind of the wild card right now. He's a young guy, but he's got strength and he's playing a lot. He's really helping us."
Extra points
Junior tight end Bryce Wolma has a broken bone in his elbow and will miss the rest of spring, Sumlin said. Wolma, who has appeared in every game in his first two seasons, is expected to be back for training camp.
Defensive tackle Myles Tapusoa attended practice, Sumlin said. Tapusoa has been out since the second spring workout while dealing with injury and conditioning issues.
Freshman receiver Jaden Mitchell, who has had a strong camp, banged up his hand during the scrimmage, which was closed to media observation.
Edge rusher Jalen Harris practiced despite recently losing seven pounds because of a flu bug that has swept through the team.
Arizona continued to limit veteran tailback J.J. Taylor's participation in "live" team work, but linebacker Colin Schooler played more than he has been and made a noticeable impact, Sumlin said.
Kicker Lucas Havrisik connected on a 50-plus-yard field goal.
Spotted at practice: Lincoln Kennedy, who will be calling the spring game for Pac-12 Networks, and former UA offensive lineman Gerhard de Beer.