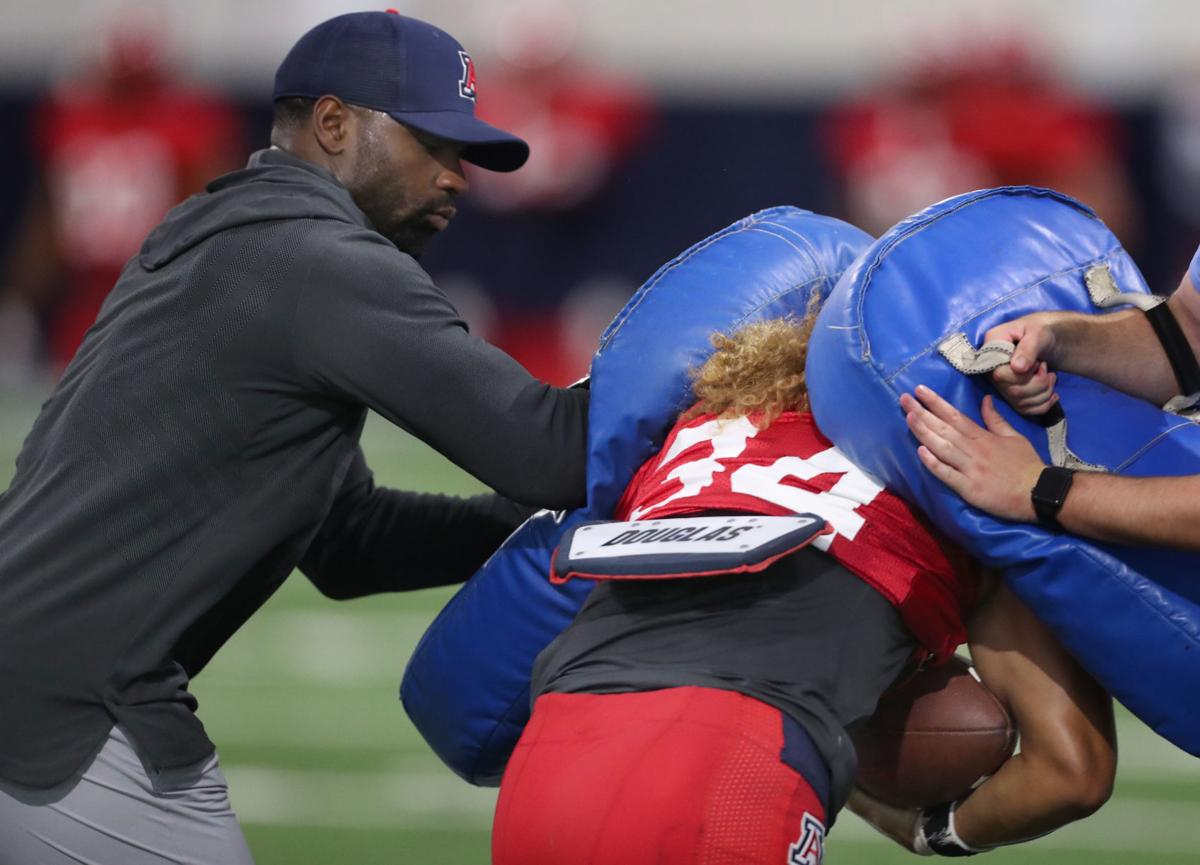 Recent happenings related to Arizona Wildcats football, gathered from various sources:
Arizona put the finishing touches on its 2020 coaching staff earlier this month, but as we know, the coaching carousel never stops spinning.
Schools still have openings for assistants. One spot that remained open as of this writing: running backs coach, Oklahoma.
You can probably guess where this is headed.
Our understanding is that Oklahoma at the very least has reached out to Arizona in regard to Murray, who starred for the Sooners before becoming an All-Pro with the Dallas Cowboys. It's unclear if that contact was anything more than exploratory. Murray has been on the road recruiting along with the rest of the UA staff.
Murray just finished his first season as Arizona's running backs coach. One could make a case that he was the Wildcats' most effective assistant. Despite multiple injuries to running backs and offensive linemen, Arizona averaged 174.0 rushing yards per game and dramatically reduced its fumbles.
If Oklahoma did extend an offer to Murray, it's hard to imagine him passing it up. Besides the lure of coaching at his alma mater, Murray likely would get a significant raise in Norman. His base salary last year was $235,000, per USA Today's database. The lowest-paid Oklahoma assistant made $375,000.
Arizona obviously doesn't want to lose Murray, who also has proved to be an effective recruiter. But the UA is preparing for that possibility.
---
Mock draft projects J.J. Taylor as fourth-round pick; is that too high?
We're big fans of former UA tailback J.J. Taylor, who has everything you could want in a running back except size.
Taylor eschewed an additional year of eligibility to enter the 2020 NFL draft. WalterFootball.com recently projected him to be selected in the fourth round by the Baltimore Ravens.
That would be a tremendous landing spot for Taylor, who would provide a different type of weapon for presumptive 2019 MVP Lamar Jackson. But despite all of Taylor's attributes – intelligence, toughness, elusiveness, selflessness, productivity – we're skeptical he'll be picked that high.
The best comp for Taylor is probably Tarik Cohen, who was a fourth-round pick. But Cohen ran a 4.42 40-yard dash at the scouting combine. Is Taylor that fast? Will he get a chance to prove it on that stage?
Again, we're big believers in Taylor around here. He's good enough to play in the NFL. But given his size and how the league values running backs these days, the fourth round seems a bit high.
---
Gunnell-Tate duo earned high marks from Pro Football Focus in 2019
Author Cam Mellor reserved most of his praise for Gunnell, writing that the freshman "was the significantly better passer of the duo." Wrote Mellor:
"Tate still dominated with his legs but went four games without a passing touchdown and just one game against Power Five competition with a passing grade above 71.2. On the ground, Tate eclipsed 500 yards with 254 yards on 42 designed carries and another 308 on scrambles, breaking 17 tackles in the process.
"Signaling the future is in good hands, however, was Gunnell as he had a passing grade of at least 72.2 in every single outing this season, compared to Tate's three games with such grades. He (Gunnell0 wasn't just dinking and dunking either as he finished the year with a mark of 27 completions of 10 or more yards downfield for five scores and no interceptions. He was the only quarterback in the country to attempt at least 20 passes on throws 10-plus yards downfield and not commit a turnover-worthy pass."
That last part seems especially notable. The perception of Gunnell is that he possesses every positive trait except a powerful arm to push the ball downfield. He might be more adept at those types of throws than most think.
Here's how the rest of the Pac-12 stacked up, per PFF's grading system (with primary QB listed):
6. Oregon (Justin Herbert)
18. Washington (Jacob Eason)
19. Oregon State (Jake Luton)
22. Washington State (Anthony Gordon)
58. Colorado (Steven Montez)
72. Arizona State (Jayden Daniels)
86. UCLA (Dorian Thompson-Robinson)
90. Stanford (Davis Mills)
Perhaps the most interest note about the other conference quarterbacks is that Daniels, for all the promise he showed, finished as the Pac-12's least accurate passer, per PFF. The site had the freshman throwing an accurate pass only 48.4% of the time.
---
Will Arizona staff's late, ambitious recruiting push bear fruit?
Arizona coaches have been all over the country – check that, the continent – since last weekend, working to enhance the Wildcats' 2020 recruiting class.
Since the December signing period, the UA has added two graduate transfers: receiver Brenden Schooler and defensive tackle Aaron Blackwell. Arizona also has received two verbal commitments from Houston all-purpose back Frank Brown and Canadian offensive lineman Leif Magnuson.
The UA is set to host several visitors this weekend, including three-star Alabama defensive end Eddie Watkins, who seemed excited about coming out of west:
Like Watkins, almost every known Arizona target is a front-seven defender. That makes sense. Only three of the 12 signees the UA announced in December were defensive players: two linemen and a cornerback.
Linebacker Jabar Triplett is expected to officially sign Feb. 5, but the Wildcats are still light at linebacker, where the majority of their top players are upperclassmen. They need more young talent in the pipeline, especially if they're committing to a base 3-4 defense.
If Arizona can land a few more prospects, the gloom from December – when the numbers weren't good – just might lift.
---
How Arizona DL coach Stan Eggen won over Von Miller at Texas A&M
It's about the hundreds of hand-written letters Eggen sent to Miller while recruiting him to Texas A&M. Although he eventually became a first-round pick and Super Bowl MVP, Miller was a three-star recruit coming out of high school.
Eggen was undeterred, and he pursued Miller like the pass rusher the coach envisioned the young player could become.
"I got them all," Miller said of the letters, per For The Win. "Coach Eggen. That's really like 40% of the reason I went to Texas A&M. Through the whole recruiting process, he was the only one who hand wrote me every single letter. I thought that was great, mixed in with what Texas A&M brought and everything it stood for. I felt they wanted me there just because of all the time and effort that he put into it.
"He did it every week. Everything that he told me in those letters, that I was going to be able to do and be able to achieve at Texas A&M, I did."
Arizona is hopeful Eggen's determination and eye for talent will help him land the next Von Miller.
Contact sports reporter Michael Lev at 573-4148 or mlev@tucson.com. On Twitter @michaeljlev