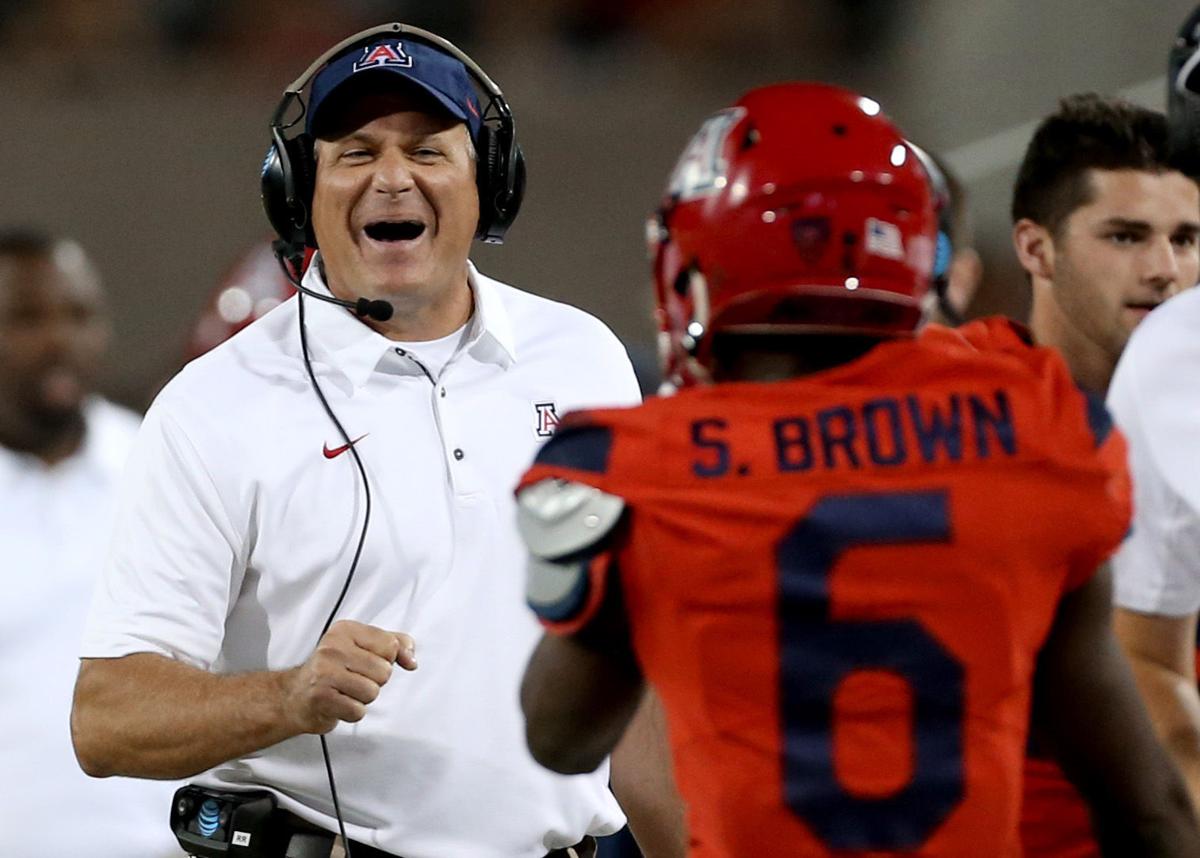 In the immediate aftermath of Arizona's stirring victory over UCLA, Wildcats coach Rich Rodriguez delivered a simple but essential message to his team: "Stay humble, stay hungry."
Rodriguez knew he had to set a tone, and set it right away. Because most of his players were in the midst of experiencing something new: winning.
Winning makes everything better. It makes practice seem less grueling. It makes meetings seem less tedious.
"You can just feel it," senior safety Dane Cruikshank said. "It's a very different vibe around here. A lot of positive vibes."
Arizona has won two in a row heading into Saturday's game at Cal. The Wildcats are 4-2. They already have more wins than they had last season, which was filled with frustration and futility.
Winning is the cure-all … but it's an antidote that must be handled delicately. As quarterback Khalil Tate put it: "We're feeling good, but we can't be complacent. As easy as it is to get up, it's easy to get knocked down."
Look no further than the rest of the Pac-12. The conference's lone remaining unbeatens, Washington and Washington State, fell in stunning fashion last weekend. Cal demolished WSU, and that might turn out to be a good thing for Arizona. The Golden Bears immediately got the Wildcats' attention.
Rodriguez liked the way his players approached their Sunday-evening walk-through.
"They were ready to get back to work," he said, "and understand how big this game is. As I tell them, 'The more you win, the more is at stake.' There is certainly a lot at stake for this one coming up."
Arizona is tied with Arizona State for second place in the Pac-12 South. The Wildcats want to keep their momentum going — to avoid taking two steps forward and one back.
They should be prepared for whatever Cal throws at them, from a huge homecoming crowd to the array of defenses that discombobulated Cougars quarterback Luke Falk. Arizona knows what it's like to go on the road and pull out a win in a hostile environment, having done so two weeks ago at Colorado.
As monumental as the UCLA victory felt, the win at Colorado represented something even more significant: It showed the Wildcats that they could win close games. Last year's first four games mirrored this year's: two relatively easy wins and two excruciating losses. But then, with injuries mounting, Arizona fell into complete disarray, losing seven more in a row. None were competitive in the fourth quarter.
The Colorado game required resilience and determination, and Arizona displayed both. The Wildcats answered every Buffaloes charge and proved something to themselves. The victory emboldened them.
"We had all these close games, and we kept fighting until the very end," senior guard Jacob Alsadek said. "Now stuff is starting to click at the end of games. We're finishing the game instead of just falling off.
"Last year we almost beat Washington. Then we hit a downfall. This year we kept fighting. We hit that uphill (slope), and we're still climbing it."
Of course, the Colorado game also gave birth to Tate the Great. The sophomore entered the lineup during the first series, and UA football hasn't been the same since.
No one embodies the "stay humble, stay hungry" credo more than the electrifying quarterback. Tate has accumulated nearly 900 yards of offense in less than two full games, often maneuvering through multiple defenders. Yet he consistently defers to his teammates, crediting their blocking and support.
"You'd expect that," Rodriguez said. "I don't know if I've ever heard a quarterback go out there and say, 'Hey, it's all about me. They didn't block anybody or make any catches.'
"But it is good to recognize it, because he understands how important they are. He's got a lot of yards rushing, but he's had some really good blocking on all levels."
Tate didn't necessarily have it on his 71-yard touchdown run against the Bruins. After Tate bobbled the snap, UCLA's Osa Odighizuwa burst into the backfield. The 275-pound Odighizuwa got a piece of Tate but couldn't corral him. Tate drift to his right, stuck his right foot in the turf and took off past Jaleel Wadood en route to his sixth rushing touchdown in two weeks.
Pretty spectacular, right? Well, this was Tate's postgame summation of the play: "I just kinda juked him."
"He knows he's good," Cruikshank said. "He doesn't have to tell anybody. You can just see it.
"That's how it's supposed to be. If you know you're good, you go about your business. You just come to work and come to get better every day."
The generally happy-go-lucky Tate understands when he needs to be serious, Rodriguez said. As much as backups talk about approaching their jobs the same way starters do, there's something different about being in that position.
Teamwide, the suddenly winning Wildcats seem to be embracing their roles. Senior Zach Green is the No. 3 tailback behind Nick Wilson and J.J. Taylor, used primarily in short-yardage situations and blowouts.
But when Arizona needed a closer against UCLA, Rodriguez summoned Green from the bullpen. He carried six straight times for 27 yards as Arizona ran out the clock.
"The atmosphere in the locker room is great," Green said. "Everybody is playing their role on offense and defense. Nobody is selfish, and it's showing out there on the field. We're all just clicking together."
The UCLA game marked the second in a row in which Arizona consumed more than five minutes at the end of the fourth quarter and never gave the ball back to the other team. Now the Wildcats need to finish the season the way they finished those games.
"We're certainly disappointed that we've stubbed our toe a couple of times, but you can't get those back," Rodriguez said. "Now we know we're right in the middle of a long stretch of really good football teams. Hopefully we'll play good football and be in the mix at the end of the season."