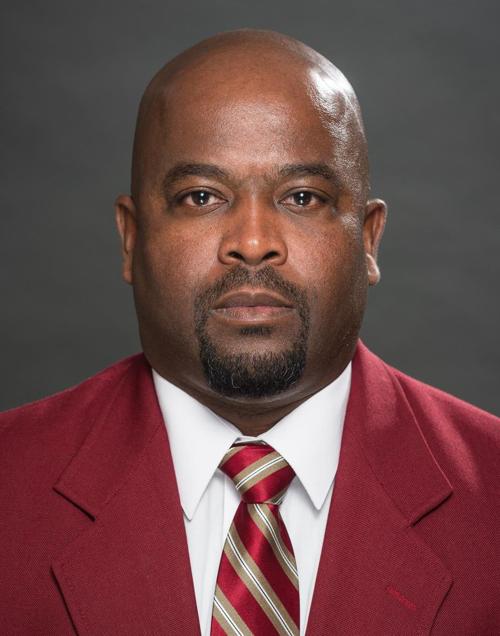 The Arizona Wildcats have named longtime Pac-12 assistant Greg Burns as their new defensive backs coach.
Burns coached last season at USC, where he also was the secondary coach from 2002-05. The Trojans won the national championship in 2003 and '04.
"We are obviously in a very unique time, and the importance of surrounding ourselves with men such as Greg is crucial in the development of our student-athletes on and off the field," UA coach Kevin Sumlin said in a news release. "He brings more than 20 years of experience coaching in the secondary with a successful track record in recruiting and development.
"His Pac-12 experience, professionalism and passion for the game will be a great addition to our staff. He is more than qualified to help lead our student-athletes."
Like the rest of the sports world, Arizona football is on hiatus until further notice because of the coronavirus pandemic. The team began spring football March 2 and completed four practices before taking last week off for spring break. During that time the NCAA and the Pac-12 shut down all sports indefinitely.
Burns officially joined the program on March 9 and already has begun his responsibilities to the extent that he can.
Burns spent the 2018 season at Oregon State and was Cal's secondary coach from 2014-16. He also spent four seasons at Arizona State (2008-11) and one with the Tampa Bay Buccaneers (2006), among other stops.
Burns, 47, replaces Demetrice Martin, who joined the Colorado staff just before the start of spring practice.
Burns played defensive back at Washington State from 1991-95. Sumlin was a graduate assistant for the Cougars from 1989-90.
Burns began his coaching career at Idaho in 1997. He spent the next four seasons at Louisville before joining Pete Carroll's staff at USC. Burns coached several future NFL players at USC, including 2020 Pro Football Hall of Fame inductee Troy Polamalu.
Burns' return to USC was short-lived as embattled head coach Clay Helton purged his defensive staff. Sumlin did the same, although Martin left on his own volition.
The hiring of Burns completes the turnover on the defensive side of the ball. It began with the hiring of Paul Rhoads as defensive coordinator and inside linebackers coach in December. Andy Buh is coaching outside linebackers, and Stan Eggen is coaching the defensive line.
Arizona also hired LaChelle Stanley as coordinator of on-campus recruiting. She served in a similar capacity last year at West Virginia.
Contact sports reporter Michael Lev at 573-4148 or mlev@tucson.com. On Twitter @michaeljlev
Be the first to know
Get local news delivered to your inbox!