Arizona won its second consecutive game after the Wildcats held off Colorado 42-34 Friday night. 
Khalil Tate finished the night completing 17 of 22 passes for 350 yards and five touchdowns. Tate set a career-high in yards breaking his 349-yard performance against Southern Utah earlier this season.
Arizona running back J.J. Taylor set a career-high in carries with 40 for 192 yards. 
To start the fourth quarter, Tate rushed for a 25-yard run, which is a season-high. Two plays later, Tate found Cedric Peterson for a 57-yard touchdown, which gave Arizona a 42-34 lead. 
On the ensuing drive, the Wildcats stopped Colorado on fourth-down inside the red zone, but Tate threw an interception with 7:22 left in the game. However, Troy Young picked off Colorado's Steven Montez and Arizona ran out the clock to secure the win. 
Arizona advances to 5-5 overall with a 4-3 record in conference play. Wildcats will take a week off before traveling to Washington State on Nov. 10. 
---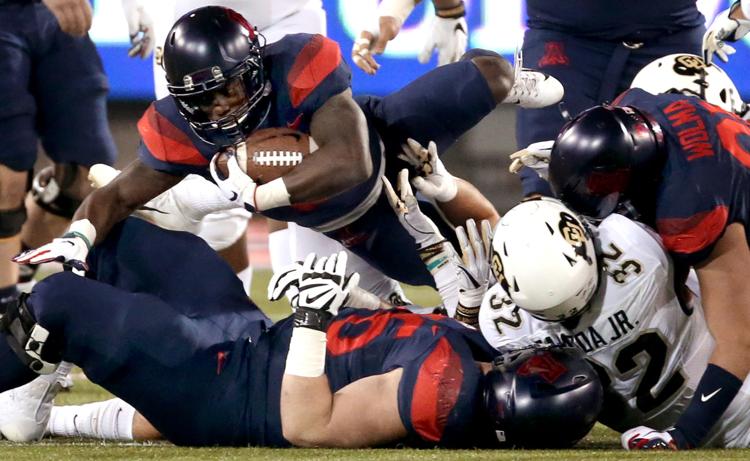 The Arizona Wildcats lead Colorado 35-34 entering the fourth quarter of their game Friday night at Arizona Stadium.
Khalil Tate's fourth touchdown pass, a 39-yard heave to Shawn Poindexter, put Arizona in front 32-31 with 7:11 left in the third quarter. The Wildcats went for two and couldn't convert.
Colorado had gone ahead on Steven Montez's 20-yard TD pass to Tony Brown. Brown slipped between UA defensive backs Jarrius Wallace and Azizi Hearn in the right corner of the end zone. The pass capped an 11-play, 75-yard drive.
After a rare defensive stop, Arizona padded its lead to four points on Josh Pollack's 41-yard field goal. J.J. Taylor did most of the heavy lifting on the drive, in the process topping 100 yards for the third straight game.
Colorado answered with a field-goal drive. Tyler Francis' 48-yarder on the final play of the quarter made it a one-point game.
Arizona has 10 penalties for 99 yards.
Tate is 14 of 18 for 281 yards. Montez is 21 of 31 for 277 yards and three touchdowns. Taylor has 124 yards on 28 carries.
---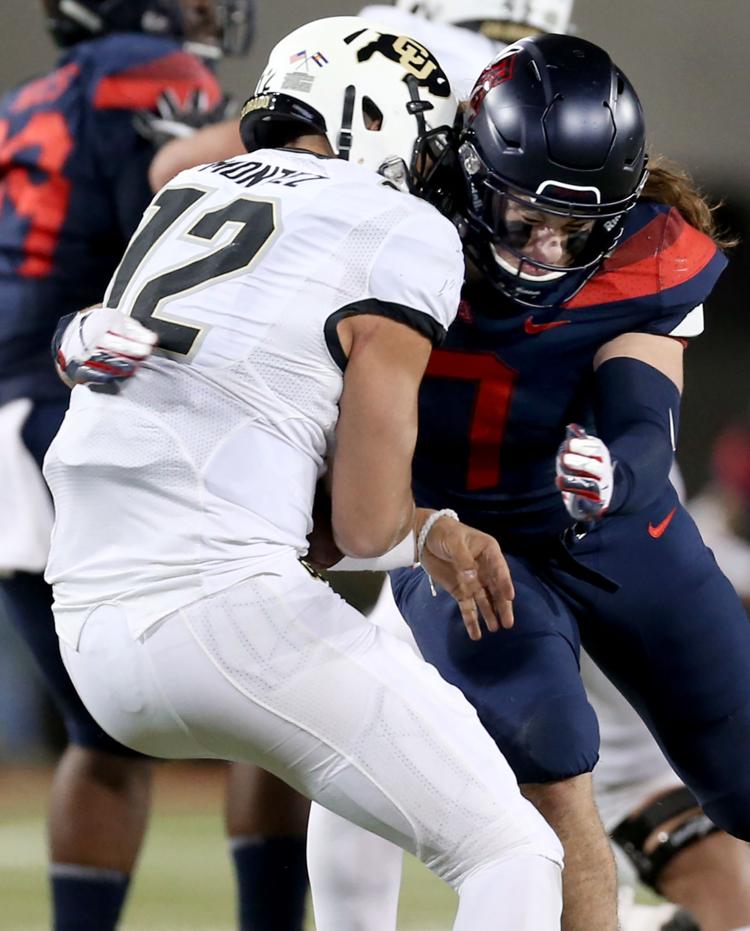 The Arizona Wildcats lead Colorado 26-24 at halftime of their game Friday night at Arizona Stadium.
Arizona rebounded from a sluggish start, lost the lead on a last-minute defensive breakdown and regained it on Lucas Havrisik's 55-yard field goal at the halftime buzzer.
Quarterback Khalil Tate — who rushed for a record 327 yards against the Buffaloes last season — has thrown three touchdown passes. He's 13 of 16 for 242 yards. Tate has two rushing attempts for minus-13 yards. On both occasions he stepped out of bounds when he could have thrown the ball away without losing yardage.
Tate's third TD pass, a 12-yarder to Shun Brown, gave Arizona a 23-17 lead with 59 seconds left in the half. Josh Pollack missed the extra point.
The Wildcats gave the lead right back. On second-and-8 from the UA 43, Jarrius Wallace sized up a Steven Montez pass and went for the interception. Wallace missed the ball, which landed in the arms of Travon McMillian, who cruised down the left sideline for a 57-yard touchdown. Wallace entered the game for Scottie Young Jr., who got hurt earlier in the quarter.
Montez is 13 of 18 for 209 yards and two touchdowns. Arizona's J.J. Taylor has 77 rushing yards on 19 attempts. The Wildcats have equaled their season high with four sacks.
Arizona began the second quarter at the Colorado 24-yard line, facing third-and-18. Despite Tate stepping out of bounds for a loss of 7 yards on the next play, the Wildcats came away with a field goal. Havrisik, who lost the starting placekicking job a month ago, drilled a 49-yarder to make it 10-3.
After the defense held — thanks in large part to a sack by Colin Schooler on a slow-developing flea-flicker — Arizona scored its first touchdown. Tate connected with Stanley Berryhill III from 40 yards out. Berryhill fought through Colorado cornerback Delrick Abrams Jr. in the end zone to make the catch.
After a CU three-and-out, the Wildcats struck again. Tate's perfectly placed 33-yard pass to Devaughn Cooper advanced the ball to the Colorado 4. Three plays later, Tate hit Shawn Poindexter for a 1-yard touchdown pass.
The Buffs responded with a brisk nine-play, 89-yard TD drive. It ended with Montez's 17-yard TD pass to Kyle Evans, who was uncovered leaking out of the backfield down the left sideline.
---
Unable to recapture the initial burst of energy they displayed last week, the Arizona Wildcats trail Colorado 10-0 entering the second quarter of their game Friday night at Arizona Stadium.
The UA offense went three-and-out on its first two drives and lost a fumble on its third. The special-teams unit also has had issues.
Colorado struck first, going 66 yards on 11 plays on its second possession. The Buffaloes converted a pair of third downs. K.D. Nixon finished the drive with an 8-yard touchdown run on a pitch to the right side.
The Wildcats faced adversity just minutes into the game.
Colorado's Ronnie Blackmon — who wears the same number as injured star receiver Laviska Shenault Jr. — returned the game's first punt 59 yards to the Arizona 14-yard line. But the Wildcats held.
On fourth-and-2, Steven Montez handed the ball to Nixon on a jet sweep. Demetrius Flannigan-Fowles stoned Nixon, forcing him to fumble. PJ Johnson recovered for Arizona.
The UA offense put the defense in a bind again later in the quarter. After Stanley Berryhill III misplayed a kickoff, J.J. Taylor lost a fumble at the Arizona 7. Montez missed an open Kabion Ento on a fade pass on third-and-goal. Colorado had to settle for Tyler Francis' 25-yard field goal, which made it 10-0.
Arizona will have the ball at the CU 24 to start the second quarter, although the Wildcats face third-and-18.