The NFL Draft concluded on Saturday, and the Arizona Wildcats only had one draft pick. Defensive back Dane Cruikshank was selected by the Tennessee Titans No. 152 overall in the fifth round and became Arizona's highest draft pick since Ka'Deem Carey in 2014. 
Following the draft, two UA offensive linemen struck deals as undrafted free agents. According to Star writer Michael Lev, Jacob Alsadek will sign with the Green Bay Packers. 
The 6-foot-7, 317-pound Alsadek was a three-year starter at Arizona will now join his former teammate, defensive end Reggie Gilbert, in Green Bay. Alsadek finished his senior season at Arizona as an All-Pac-12 honorable mention and was named to the Athlon Sports First-Team All-Pac-12. 
Per NFL agent Brett Tessler, South African native Gerhard de Beer will be signing with the Buffalo Bills. De Beer originally signed to UA to throw for UA track and field, but joined the football team and played under Rich Rodriguez for five seasons.
Before coming to Arizona, de Beer never played a down of football in his life and didn't know how to put on pads. Now he gets to coin himself an NFL player. 
"If I look back at it, five years ago, six years ago, I never would have dreamed about being at this position, doing what I am now," de Beer said after Arizona's Pro Day in March. "For me, it's been a great experience. I just want to thank everyone that got me here."
---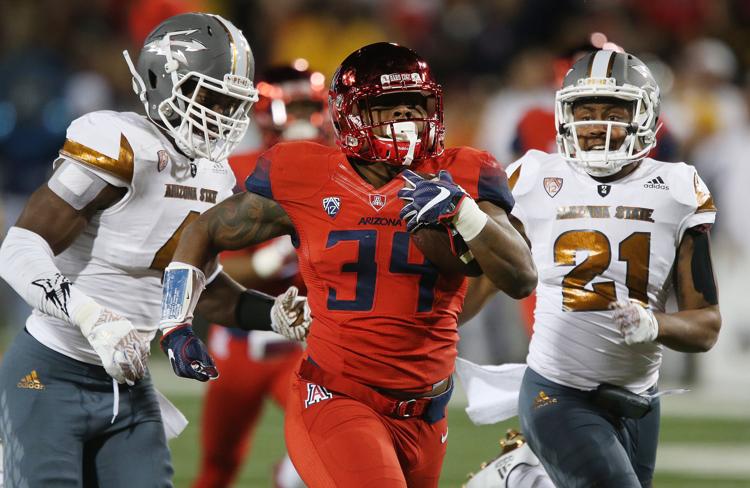 The latest one to sign with an NFL team is running back Zach Green. 
Green released a tweet indicating that he's signing with the Cincinnati Bengals.
The 5-foot-10 Green was never Arizona's primary back, but played in all but one of the games last season, contributing 310 yards and 11 touchdowns. Green was most known for his 2016 performance against ASU, rushing for 126 yards, which helped the Cats break the UA single-game rushing record.   
In 2017, Green's most notable game was on at Cal when the senior went off for 130 yards and two touchdowns in a double-overtime victory.
Green will join a running back group of Giovani Bernard, Joe Mixon, Brian Hill and Tra Carson.