The Arizona Wildcats began their second set of spring football practices under Kevin Sumlin on Monday, and man, did it feel different.
Sure, the UA had new players and coaches. But the biggest change involved their surroundings.
The Cole and Jeannie Davis Sports Center was open for business, and Arizona utilized it for its pre-practice walk-through, stretching and other drills. The players and coaches moved into and out of the new building through garage doors on the east side that opened to a pair of 70-yard grass playing fields.
Unlike last year — when the Davis Center was under construction and the grass fields felt cramped and claustrophobic — the Wildcats had room to roam.
"It's been great," Sumlin said after a no-pads practice that ran about 90 minutes. "We utilized it last week when it was a little rainy and cool. The players have been in it for some PRPs (player-run practices). We've done some conditioning in here when the weather was a little iffy. It's a great-looking facility."
Weather wasn't an issue Monday evening; the conditions were perfect for football. But it will be when the Wildcats return in late July for training camp. Sumlin grew frustrated at times last summer when the monsoons disrupted the team's schedules.
The players seemed happy to be able to use the Davis Center before and after practice Monday. Their energy and enthusiasm were palpable.
"I got to watch it from the ground up," veteran tailback J.J. Taylor said. "To see it be built so fast was pretty cool. To be able to work in it for the first spring practice was pretty cool."
A change that Sumlin is seeking that he hasn't seen quite yet involves leadership. When asked about his goals for spring, that was the first thing he mentioned.
"We've gotta find some leadership," Sumlin said. "We didn't really have that last year."
Arizona didn't have a huge senior class last season, when it finished 5-7. It doesn't have one this year, either. Taylor didn't seem to think that should matter.
"I personally feel everybody should be a leader on the team," said Taylor, who will be a redshirt junior this year. "Everybody should take initiative to hold everybody accountable for the things that we do."
Sumlin was asked specifically about the leadership skills of quarterback Khalil Tate, who's entering his senior season. Teammates have said Tate has made significant progress in that area. But Sumlin made it sound as if Tate still has a way to go.
"You have to continue to work at that," Sumlin said. "Not that he's not there, but that's always a work in progress, particularly when you're playing that position."
Sumlin said Tate and Rhett Rodriguez took the bulk of the snaps, while redshirt freshman Kevin Doyle got the most among the young quarterbacks. Redshirt freshman Jamarye Joiner and true freshman Grant Gunnell should get more snaps Tuesday, Sumlin said.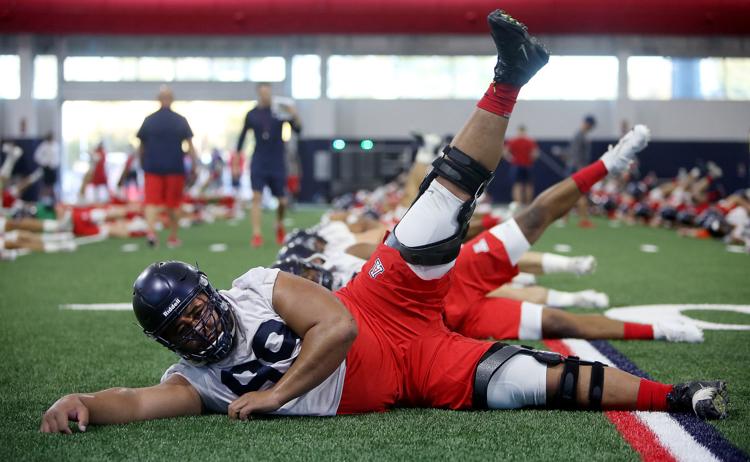 Roster update
Arizona officially updated its online roster Monday afternoon, adding eight midyear enrollees and numerous walk-ons. Some players changed positions and numbers. Here are some of the most pertinent personnel notes:
Two second-year players changed their names to reflect commonly used nicknames: Darrius Smith is now Bam Smith, while Dayven Coleman is now Day Day Coleman.
Coleman is one of four players — all redshirt freshmen — who have changed positions. Coleman went from safety to linebacker; Issaiah Johnson went from linebacker to defensive end; Mykee Irving went from defensive tackle to offensive line; and Zach Williams went from tight end to wide receiver.
Regarding Coleman's move, Sumlin said: "Depth at linebacker is a big deal. He'll be a great special-teams player for us like he was last year. But we also need to be able to get (Colin) Schooler off the field some more. If we can get him (Coleman) to come along, now we've got an athletic rotation that's physical and big enough to play in this league."
Sumlin said the team is looking at Williams "both ways." He's listed at 6-3, 215 pounds, and could line up as a wing in formations that also include traditional tight end Bryce Wolma.
Two veterans changed numbers: Linebacker Anthony Pandy went from 26 to 8, while safety Scottie Young Jr. went from 19 to 6.
The eight midyear enrollees will wear the following numbers: receiver Boobie Curry, 2; cornerback Christian Roland-Wallace, 4; quarterback Gunnell, 17; defensive back Maurice Gaines, 28; offensive lineman Josh Donovan, 56; offensive lineman Paiton Fears, 74; receiver Jaiden Mitchell 87; and defensive tackle Myles Tapusoa, 99.
The new walk-ons include tailback Bryce Coleman, who played at Tucson and Mountain View high schools. Coleman is a transfer from Eastern Arizona College and is a cousin of ex-Wildcat Demetrius Flannigan-Fowles.
The 14 players who have transferred or announced they were transferring are no longer on the roster.
'We need them to play'
Sumlin didn't temper expectations regarding Arizona's four junior-college transfers.
"They came here to play," Sumlin said. "We recruited them to play, because we need them to play. We've gotta get those guys going."
Donovan and Fears worked with the first-team offensive line, at left guard and right tackle, respectively. Tapusoa is one of only three true defensive tackles available for spring camp. Fellow JC transfer and defensive tackle Trevon Mason is expected to arrive in summer after graduating in May, Sumlin said.
"They'll have a significant impact on our success next fall," he said. "We need to leave spring football having an idea of where they stand and them having an idea of what to do and how to do it."
Extra points
New running backs coach DeMarco Murray also is working with the return men, Sumlin said. Mitchell was among the players fielding kicks.
The other first-team offensive linemen were last year's returning starters: Donovan Laie (left tackle), Josh McCauley (center) and Cody Creason (right guard).
Offensive linemen Edgar Burrola, Bryson Cain and Robert Congel were among the players who were limited because of injuries.
The team hosted at least two dozen unofficial visitors and their families.