Arizona Wildcats must improve in these 3 areas to avoid consecutive losses
For Arizona Wildcats, desperate times call for a measured approach. The Wildcats face Houston at 9 a.m. Saturday in a game shown locally on Ch. 9. 
UA trying to avoid 0-2 start Saturday morning
HOUSTON — The Arizona Wildcats are not panicking.
Sure, they're 0-1 and underdogs against Houston on Saturday. If they were to fall to 0-2, it would mark the first time that has happened since 1981 — before some of the current coaches were born.
The Wildcats can't afford to panic. There are too many problems to fix and precious little time to fix them.
That's why UA coach Kevin Sumlin and his players took a strictly-business approach to their weeklong preparation. Despite losing to BYU in the opener, their sense of urgency is the same as it was last week.
"Win or lose, you put that game away. The goal is always to be 1-0," Sumlin said. "On Monday we go through everything and try to improve the things that didn't work, correct the mistakes. That's the mentality we've had. There's a sense of urgency every week with that, no matter what happens the week before."
The players spoke almost matter-of-factly about the task they face: Figuring out what went wrong against BYU and making sure it doesn't happen again.
"We're all right," senior receiver Tony Ellison said. "We're going to get it fixed. We're ready to go down to Houston and beat them."
In keeping with that pragmatic approach, here are three ways Arizona can improve in Week 2 — one for each phase of the game.
Offense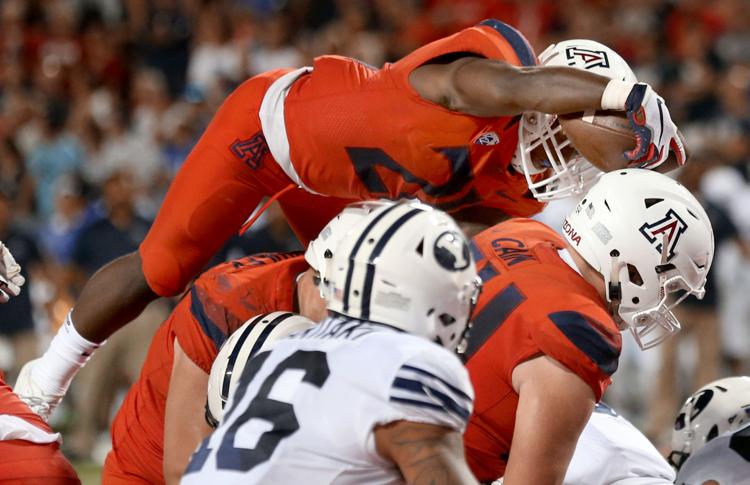 Objective: Find a better sense of balance.
That doesn't mean running and passing the same number of times. It doesn't mean turning quarterback Khalil Tate into a pseudo-tailback (although more Tate rushes would help).
It means using all your weapons and all parts of the field.
Whether it was the game plan or Tate's desire to rally the team, he threw far too many low-percentage, downfield passes against BYU. After starting the game 6 of 6, Tate went 11 of 28 the rest of the way.
As a result, Arizona's offense was literally hit-or-miss. Six drives lasted seven plays or longer; four were three-and-outs.
Those 12 plays netted 7 yards. Seven were incomplete passes. Consecutive three-and-outs in the third quarter robbed the offense of whatever rhythm it had established.
"We didn't score a lot of points in the third quarter," Ellison said – none, to be precise. "We didn't get that many play. A lot of three-and-outs. That's not what we're about."
Because the attack wasn't multidimensional enough, some of its better players didn't get enough looks. Ellison, who plays out of the slot, had four receptions, but only one after halftime. Shun Brown, Arizona's leading receiver last season, had just one catch. Tight ends Bryce Wolma and Jamie Nunley had none and only one target between them.
All those players, including Tate, are veterans. The same can't be said of the offensive line, which featured four players making their first career starts. They should be more comfortable this week, even on the road.
"It was a lot of new people on the field," tailback J.J. Taylor said. "You've gotta get a feel for playing in this environment for the first time."
Defense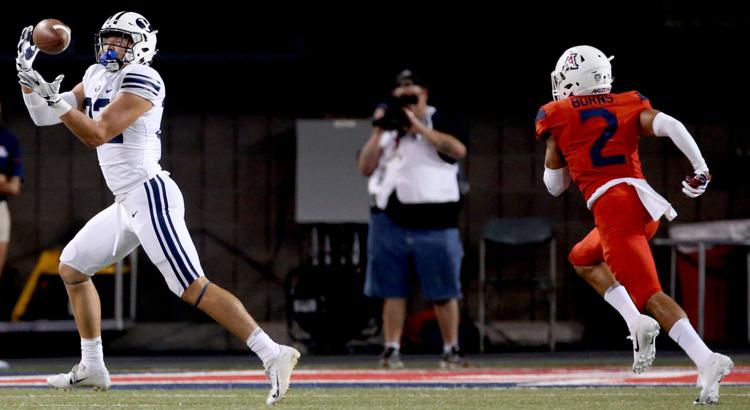 Objective: Get. Off. The. Field.
A familiar problem re-emerged in the second half against BYU: The Wildcats couldn't stop the Cougars on third down.
After limiting BYU to 1 of 5 on third down in the first half, Arizona allowed four conversions in seven attempts in the second. Of BYU's five successful conversions, two were of the third-and-long variety — absolute killers.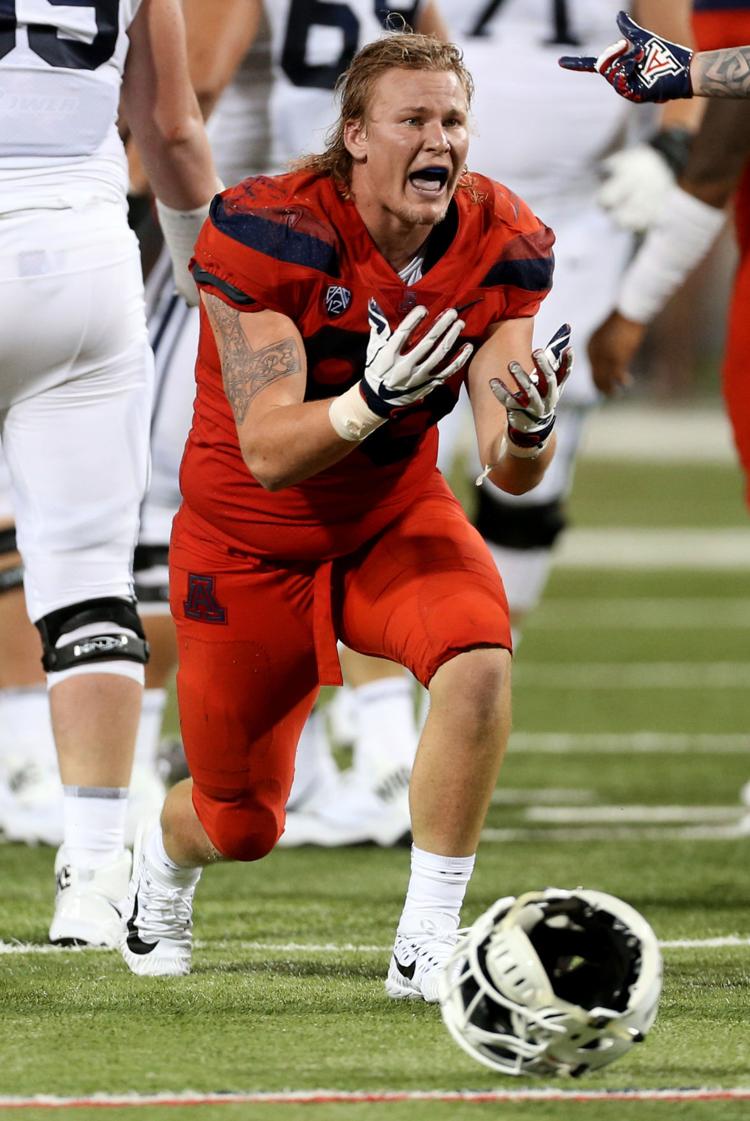 "It's very demoralizing," cornerback Tim Hough said. "But you've gotta keep playing. After it happens … next play."
The Wildcats didn't adhere to that mantra after allowing a third-and-12 conversion in the third quarter; on the next play, BYU scored a touchdown.
The other third-and-long conversion came in the second quarter. BYU gained 30 yards on third-and-10. Three plays later, the Cougars scored to make it 7-0.
Even when they technically got a stop in the nightmarish third quarter, the Wildcats didn't make it hard enough on BYU.
On their third possession of the half, the Cougars faced third-and-9 at the UA 11-yard line. BYU gained 8 yards. On the next play, fourth-and-1, Squally Canada powered into the end zone.
After trimming its deficit to 28-23, Arizona needed to get a stop to give Tate and the offense a chance to complete the comeback. On third-and-2, Canada rushed for 5 yards. On third-and-7, he gained 9. That was the last play of the game.
"We've just got to study harder for those third-down plays," linebacker Tony Fields II said. "Three or four of them — two of them for sure — could have won us the game."
Special teams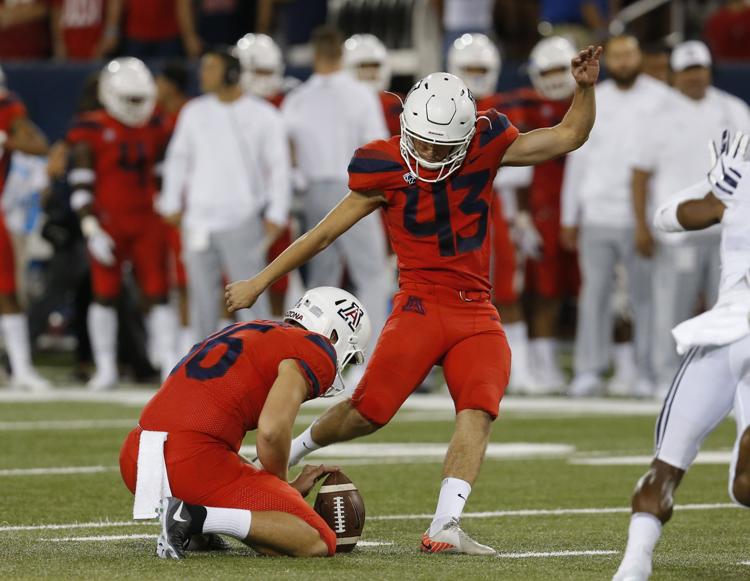 Objective: Be the ones to make the big play.
Arizona's special teams were supposed to be vastly improved this season with a full-time coordinator (Jeremy Springer) and a new punter (Dylan Klumph). That might very well turn out to be the case.
But in Week 1, it was BYU that made the momentum-shifting plays on special teams.
The first was a blocked field goal, which ended Arizona's promising first drive with a thud. Lining up on the edge of an overloaded side, Michael Shelton — all 5-foot-8 of him — got a piece of Lucas Havrisik's 43-yard attempt, sending it wide left.
In the fateful third quarter, after Arizona's second straight three-and-out, Shelton returned a punt 37 yards to the UA 36. Five plays later, BYU had a third straight touchdown and a 28-10 lead.
It appeared that a Wildcat or two might have been held on the punt return. Hough, who was on the coverage team, said: "Fatigue, I think, got us. That's it."
Whatever the cause, the play worked in BYU's favor. It was the last thing Arizona needed at that juncture.
The Wildcats know how valuable a long return can be. Brown returned two punts for touchdowns last season; Arizona won both of those games.
A third TD return, against Arizona State, was negated by a questionable penalty call. If it hadn't been, the Wildcats might have won that game too.