Leadership continues to be a talking point for the Arizona Wildcats. Everyone agrees that it was lacking at times last season. What's not as clear: where it's going to come from in 2019.
Three defensive players might be positioned to step into that void.
Cornerback Jace Whittaker's return for a fifth season is a boon in multiple ways. In addition to being an all-conference-caliber player, Whittaker provides intangibles that are hard to come by.
Injured players weren't allowed on the UA sideline during games until the regular-season finale last year, but an exception was made for Whittaker.
Still, it wasn't the same as having him on the field.
"He was probably the leader of the defense," defensive coordinator Marcel Yates said. "Losing him, I thought, hurt us as a unit. He knows the defense. He's consistent."
Whittaker missed all but one series last season because of hamstring and elbow injuries. He is fully participating in spring practice, albeit with a brace on his left arm.
Linebacker Colin Schooler described Whittaker as a "field general" — a term not often used to depict cornerbacks. "He just takes control back there," Schooler said.
Schooler is striving to grow in that area. He became the starting Mike linebacker as a freshman. The job requires frequent communication with other defenders. While he improved in that area as a sophomore, Schooler said he didn't do — or say — enough.
"The thing I've most tried to improve on is being more vocal," Schooler said. "I tried to lead by example; sometimes that doesn't get it done. Last year wasn't really (good); I feel partly to blame because I could've talked more.
"I feel like it's my part to get out of myself, get out of my comfort zone more, be more vocal and lead the team."
Yates also suggested that safety Scottie Young Jr., could step into a leadership role now that he's an upperclassman.
"He needs to be a leader," Yates said.
As Yates noted, this is the first spring practice in which Young has participated; he was suspended from team activities for most of last offseason because of an off-the-field incident.
The safety group lost one of its top leaders when Demetrius Flannigan-Fowles ran out of eligibility. Young is now donning Flannigan-Fowles' No. 6 jersey. Young also is working closely with Yates, who shifted from linebackers to safeties in the offseason.
Yates believes the leadership void was most evident when Arizona played on the road last season. The Wildcats were 1-4 away from Arizona Stadium, and three games — Houston, Utah and Washington State — were never competitive. Arizona went 4-3 at home, with the losses coming by a total of 10 points.
"We lost four road games, and three of them weren't even close," Yates said. "You need those guys to step up, help you out and get guys ready to go."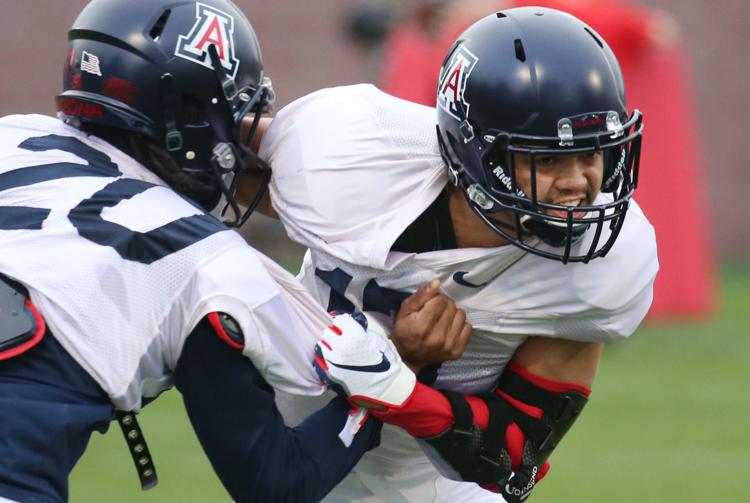 New apprentice
Schooler has a new understudy in redshirt freshman Day Day Coleman.
Coleman came to Arizona as a safety and started a game at the Spur position, which often placed him near the tackle box. Coleman hurt his knee and ended up redshirting.
The coaches moved Coleman to middle linebacker, where Schooler could use some help. One candidate for the backup role, Jacob Colacion, is no longer on the team. Another, Lee Anderson III, is a better fit as an edge rusher.
"Depth at linebacker is a big deal," UA coach Kevin Sumlin said. Coleman "will be a great special-teams player for us like he was last year. But we also need to be able to get Schooler off the field some more.
"If we can get him to come along, now we've got an athletic rotation that's physical and big enough to play in this league."
Coleman has the frame to develop into a linebacker; he listed at 6-2, 220 pounds. He also seems to have the drive.
"He's always wanting to learn, always in the film room, going over (things) on the chalkboard, getting extra work in," Schooler said. "He played safety, so he knows a lot about coverages. He's talked to me a lot about what the safeties are doing, what they're looking for in their keys.
"It works hand in hand. I teach him some stuff; he teaches me some stuff too."
Yates on Wilborn
While Schooler upped his production as a sophomore, classmate Kylan Wilborn slumped and eventually lost his starting job at Stud.
Yates cited two factors: Wilborn playing too many snaps as a freshman, resulting in his body being "banged up"; and opponents having a scouting report on him in Year 2.
"The first year, teams didn't know about him," Yates said. "You come back, and teams know about you."
Wilborn has been running with the second team behind redshirt sophomore Jalen Harris, who started the final four games at Stud last season.
Asked what Wilborn needed to do to return to his 2017 level of play, Yates said: "Just keep working. Just be more consistent."
Extra points
Arizona practiced in full pads for the first time this spring. The players, including the quarterbacks, spent the early portion working on basic tackling fundamentals.
The offense worked a hurry-up drill during the open portion of practice. The first-team receivers were Cedric Peterson, Devaughn Cooper and Boobie Curry. Curry, the impressive-looking freshman from Houston, also worked with the return men in a punt-catching drill.
Peterson on Curry: "He's already kinda like an older dude. He's always ready to work. He has a bunch of tools in his toolbox already."
Slot receiver Brian Casteel has dropped about 25 pounds since his freshman year, inside receivers coach Theron Aych said. Casteel, who missed all of last season, is moving more fluidly as a result. The redshirt sophomore is listed at 6-0, 195.
Aych said freshman receiver Jaden Mitchell would be in the mix if Arizona had a game this week. Mitchell, who hurt his knee in fall 2017 and delayed his enrollment until January '19, has made a positive early impression.
Arizona will have a new snapper and holder this season. Geno Albini and Matt Aragon handled those duties during field-goal drills.
Arizona again hosted several recruiting visitors, including sought-after safety Lathan Ransom from Salpointe Catholic High School.