Training camp is only a week old. The Arizona Wildcats just held their first full-contact scrimmage. A lot can change over the next three weeks.
But even now, with the Aug. 24 opener at Hawaii still off in the distance, Arizona's quarterback hierarchy is starting to come into focus.
Returning starter Khalil Tate seems to be in a better place mentally and physically, having stepped up as a leader and found common ground with offensive coordinator and quarterbacks coach Noel Mazzone. Freshman Grant Gunnell has taken a step forward, putting himself in the running for the No. 2 job alongside trusted veteran Rhett Rodriguez. And redshirt freshman Kevin Doyle is playing catch-up, slowed by an injury that has prevented him from throwing.
Those were the biggest takeaways from Mazzone's first media session of camp Thursday night. He was in a chipper mood, citing a pair of highlights from the practice field: getting to hang out with grandson Roman, a toddler who happily leapt into grandpa's arms during stretching and "a couple throws Khalil made."
Tate looked sharp in individual drills during the portion of practice open to the media. Afterward, Mazzone echoed what others have said about the senior: He really seems to have made a concerted, sincere effort to improve as a leader and communicator.
Asked if he and Tate are on the same page now after an at-times bumpy first season together, Mazzone said: "We're in the same chapter."
As for Tate's ability and inclination to communicate with his coaches and teammates, Mazzone said the quarterback has made a "night-and-day" improvement.
"I think he feels more comfortable with us, we feel more comfortable with him, and he feels more comfortable with the offense," Mazzone said. "He's really decided to take ownership."
Mazzone mentioned Tate taking an interest in others' responsibilities within the offense; that should give him a deeper understanding of the scheme.
Center Josh McCauley said Tate has been "more vocal" this offseason.
"He's holding a lot of guys accountable," tight end Bryce Wolma said. "If guys aren't on their stuff, or they're not doing the right thing, he's the first one to go up there and tell them what to do and how to face this in a certain scenario."
Tate didn't play poorly last year, finishing with 2,530 passing yards, 26 touchdown tosses and only eight interceptions. But he failed to live up to the standard he set as a dual threat the previous season, hobbling through an ankle injury and struggling to adjust to a new system and heightened expectations.
"It was hard for him," Wolma said. "So much hype. I think that kind of weighed on his shoulders a little bit. But he's definitely handled it well and bounced back."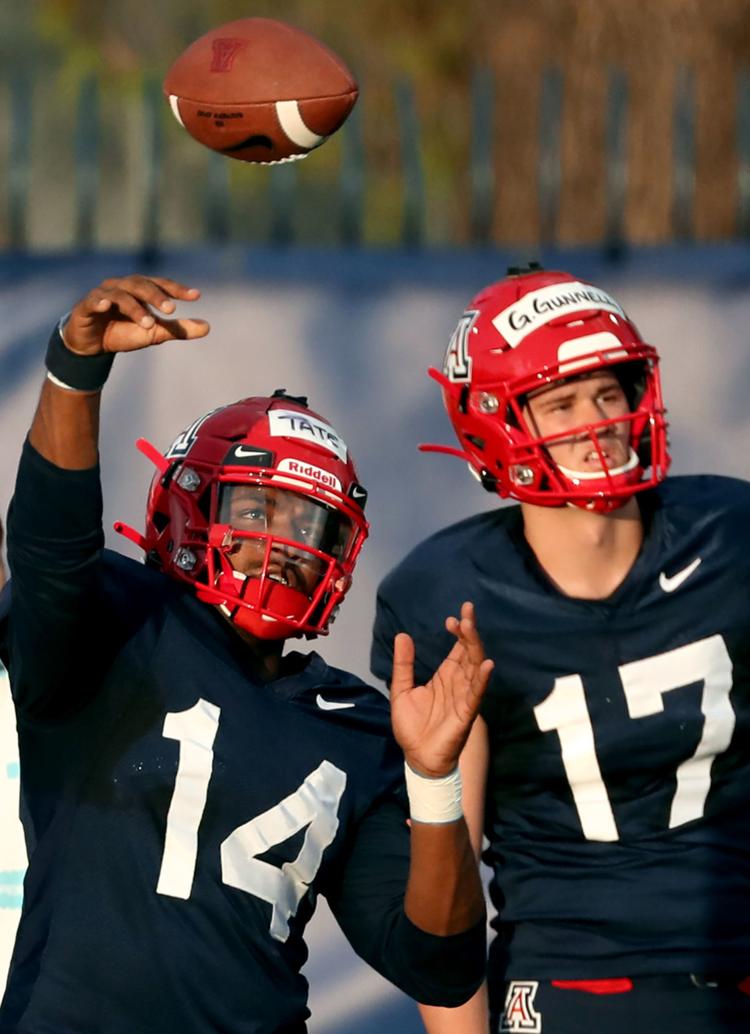 Mazzone wouldn't commit to a specific running plan for Tate. When asked if he expected Tate to run more this season than last, Mazzone said: "I hope so. He's fast."
Ideally, it'll happen organically.
"Let the game come to him," Mazzone said. "He's obviously got a lot of ability with his legs, which is another weapon for us. I think he feels a lot more comfortable with what we ask our quarterback to do in the run game. He's really done a nice job with it so far."
The battle to be Tate's backup appears to be a two-man race, at least for the time being. Mazzone said he'd have "no qualms" playing Tate, Rodriguez or Gunnell in a game. That's only a headline-worthy statement pertaining to Gunnell, who arrived on campus in January.
Mazzone said Gunnell is "way ahead of the curve" as freshmen go. Through the first five practices, he had completed about 70% of his passes.
"He has his moments," Mazzone cautioned. "But he's 6-7, so he sees the field well. He's got a really high football IQ. And he's a perfectionist, which I like. He likes doing things right."
Gunnell also drew praise, from veteran linebackers Colin Schooler and Tony Fields II. Both dubbed Gunnell the offensive newcomer who has impressed them the most.
"He came in very mature for a young guy," Fields said. "You don't really see a lot of mental errors from him."
Gunnell has moved ahead of Doyle, although it hasn't been a fair fight. Doyle suffered a shoulder injury while training earlier this summer and hadn't been able to throw in practice entering this weekend. The coaches and training staff are being cautious with Doyle's injury; they don't want to turn what seems to be a minor injury into a major problem.
"Obviously, when you miss all the reps, it's a setback. There's no way around that," Mazzone said. "But it's not worth it to make a two-week injury a two-month injury because you come back too early.
"What I've found with quarterbacks is, whenever there's an issue with a throwing motion, the only thing you can do is rest them. If not, it just throws everything out of whack. I would expect him back here pretty soon."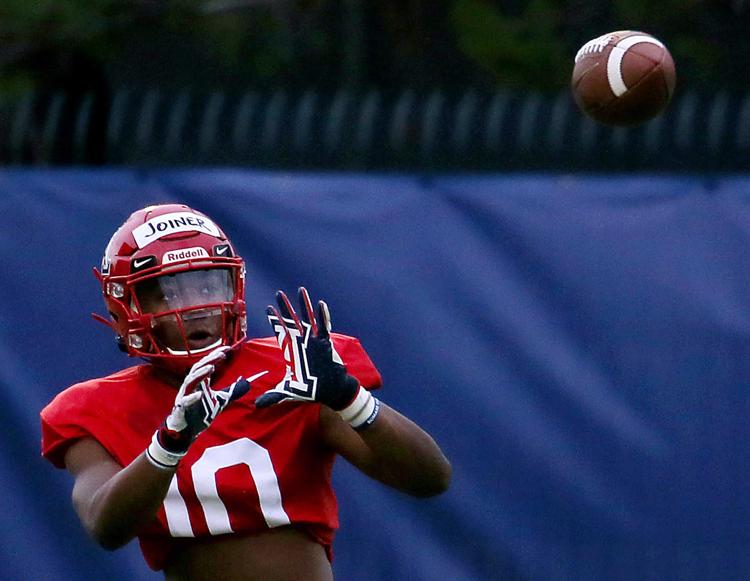 New WR Joiner excels
The quarterback room shrunk by one this summer when Jamarye Joiner shifted from quarterback to wide receiver. Mazzone had nothing but positive things to say about the redshirt freshman from Cienega High School.
"Oh my gosh, love that guy," Mazzone said. "My respect for him is off the charts. Because he saw a need. He kind of saw the big picture of our team and our offense and where we could use some help. He definitely was very selfless and put the team in front of himself."
What makes Joiner a good fit at receiver?
"Well, other than he's big, he's fast, he can run and he can catch, I don't know," Mazzone joked. "He was a quarterback for a year. He knows the offense. He understands how things are all supposed to fit together. So he's been a really pleasant surprise."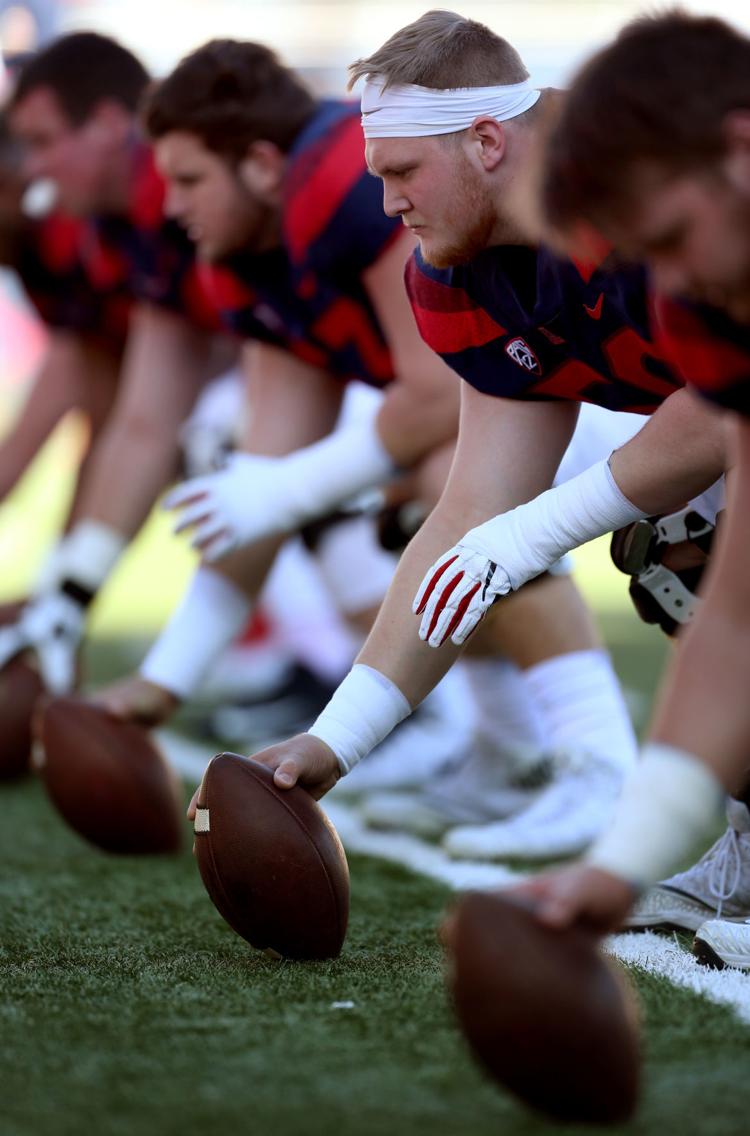 McCauley's moment
McCauley wasn't expecting the surprise that Kevin Sumlin delivered at the end of the final team meeting in spring: The walk-on center who had started every game in 2018 would be put on scholarship. While his teammates exploded in celebration, McCauley took a moment to let it all sink in.
"You just kind of sit there and read it," he said. "Double-check. Make sure it's like, actually, your name."
McCauley joined the celebration. He then called his parents, who were in Tucson for the spring game, to relay the long-awaited good news.
Like others before him, McCauley vowed his change in status won't alter his approach.
"That's really not who I am," the redshirt junior said. "I just play it play by play and day by day and do my job."
Extra points
The Wildcats conducted a short practice Friday night that focused mainly on special teams. They are scheduled to scrimmage Saturday morning.
Joiner worked with the punt and kickoff returners. He was the first player up on punt return.
Freshman Eddie Siaumau was excused by Sumlin from the past two practices to attend to a personal matter. Siaumau is expected to return soon.
Receiver Cedric Peterson and cornerback McKenzie Barnes again were limited to side work.