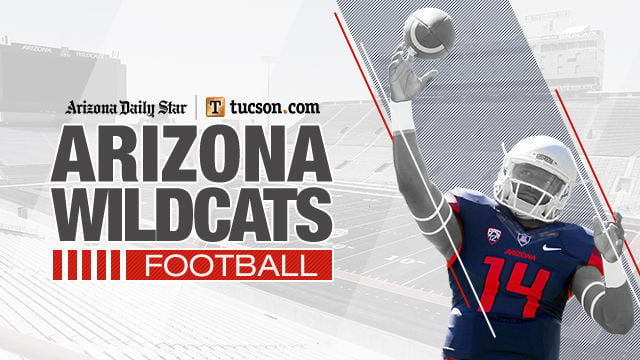 Arizona Wildcats quarterback Khalil Tate on Monday became the first player to win four straight Pac-12 Offensive Player of the Week awards.
Tate passes for a career-high 275 yards in Arizona's 58-37 victory over then-No. 15 Washington State on Saturday night. Tate also rushed for 146 yards – his fourth straight game topping 100 – and accounted for three touchdowns.
Former USC QB Matt Barkley is the only player to win the award four times in a season, but he didn't do it consecutively. No. 23 Arizona (6-2, 4-1 Pac-12) visits USC (7-2, 5-1) this Saturday.
UA freshman kicker Lucas Havrisik was named Pac-12 Special Teams Player of the Week. Havrisik tied the school record with a 57-yard field goal. He also registered nine touchbacks in 10 kickoffs.
---
Here are some additional notes and takeaways from UA coach Rich Rodriguez's weekly news conference at the Lowell-Stevens Football Facility:
* Rodriguez likes the fact that Tate and the team are getting more attention – which is good for the program – but said it's "far down the list of things that are important."
* Rodriguez attributed Tate's improved accuracy this season to experience and improved timing within the system and with his wide receivers.
* Rodriguez said he knew Washington State would bring its safeties into the box, so he had more shot plays in the game plan. He expects future opponents to do the same.
* Rodriguez said the team's demeanor hasn't changed much despite several tight games over the past month. "If you have young guys you worry about them panicking," Rodriguez said. "I haven't seen any of that this season."
* You weren't alone in thinking pass interference should have been called on the Cougars when Tate's pass to Shawn Poindexter got intercepted in the third quarter. "I thought he got hit early," Rodriguez said. "So did our receiver. Nothing on film changed my opinion."
* Rodriguez wasn't pleased with the pass rush, or lack thereof, vs. the Cougars. "We did not affect the quarterback," he said. "We didn't touch him."
* The rush needs to be more effective vs. USC's Sam Darnold, who hasn't quite lived up to expectations this year but whom Rodriguez considers "one of the best players in the country."
* Rodriguez said one of the downsides of late starts is that it cuts into the players' down time the following day. With the USC game starting at 7:45 p.m., the Wildcats likely won't get home until 2 or 3 in the morning.
* Rodriguez on freshman linebacker Colin Schooler, who seems to make a big play every week: "Some guys just have a knack for the game."
* Redshirt-freshman guard Michael Eletise made a brief appearance against WSU and played well. Rodriguez said Eletise has a great work ethic and attitude. "He's going to be a good player," Rodriguez said.
* Rodriguez said TE Jamie Nunley's breakout game (2-116-1) gives Arizona a third option at the position when Trevor Wood (concussion) returns. Nunley was a wide receiver in high school and is the best open-field runner Arizona has at tight end.
* Rodriguez on USC tailback Ronald Jones II: "He's a freak athletically. He gets to full speed in a hurry. His fast is fast. I think he's one of the best in the country."
* Rodriguez said safety Jarrius Wallace's performances the past two weeks have earned the trust of the coaching staff. If/when Scottie Young Jr. comes back, Wallace should still have a role.
* Rodriguez said the Wildcats' recent success has produced "a little uptick" in recruiting. "I don't know how many we're gonna sign," he said, "but we're having a lot more interest now all of a sudden."
* No one has come up with the perfect nickname for Tate yet, including Rodriguez, who was asked if perhaps something he calls Tate in practice might work: "The things I've called him in practice? Oh no, we don't need to go there."