Every Monday throughout the season, we'll take a look back at the Arizona Wildcats' previous game after re-watching it via the TV broadcast and present five key takeaways. Here are the five from the UA's 49-28 victory over Oregon State on Saturday night: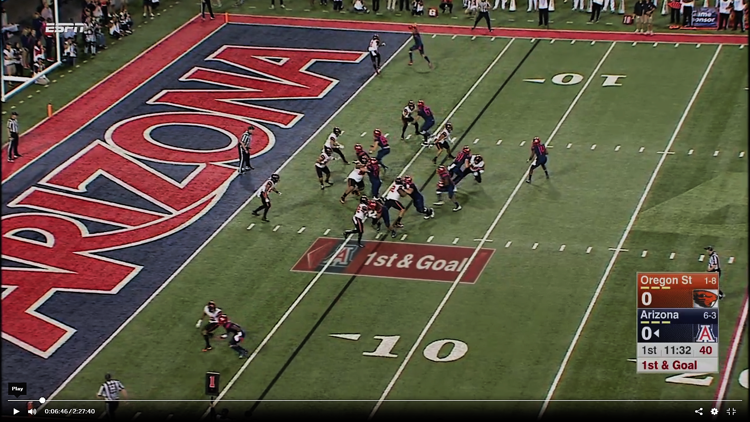 I've been doing this exercise for almost two seasons. I can't recall ever jotting down more names after the words "key block by." This was an absolute exhibition in blocking execution. The Wildcats got hats on hats on hats. Even Nick Wilson – the oft-injured tailback – got in on the act. He served as the lead blocker on quarterback sweeps by Khalil Tate and Brandon Dawkins, delivering hard blows each time. Every member of the offensive line did his part, as I detailed here. All three tight ends – Trevor Wood, Bryce Wolma and Jamie Nunley – helped spring big runs. Receiver Tony Ellison touched the ball once; he blocked on several successful plays. Receiver Shawn Poindexter got penalized for blocking a Beaver out of bounds. (It didn't look like a penalty to me; Poindexter deserves an "A" for effort regardless.) What this signifies is that the entire offense has bought in to what Rich Rodriguez is preaching. If you're going to play for Arizona, you might get the ball; you might not. But you're going to block for your teammates no matter what.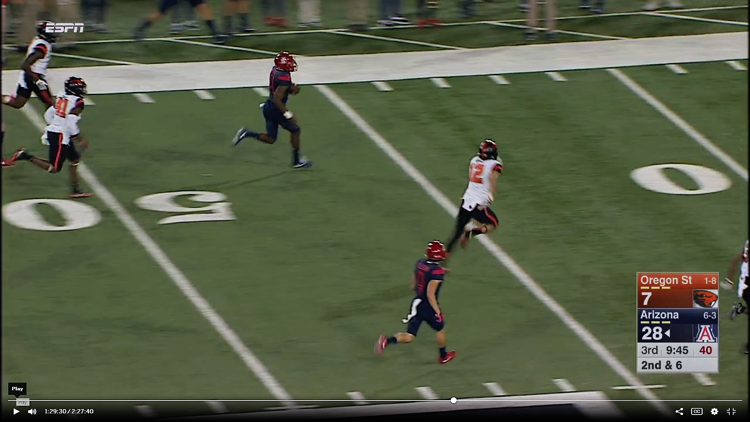 What makes Tate such an effective runner? His physical gifts are obvious: He's both strong and fast. But Tate's feel for the game is just as important. He has the ability shift gears at a moment's notice. When he's sifting through traffic, Tate glides and slithers. When he sees an opening, he slams on the gas. Add Oregon State to the growing list of teams that couldn't handle him. Everyone knows he's strong and fast, but it seems as if they can't prepare for it. Take Tate's 71-yard touchdown run, for example. It looked as if as many as two Beavers had an angle on him. Tate spotted them, ever-so-briefly glanced to his right, then somehow started running even faster. (When I suggested to Tate after the game that one guy did have an angle, he responded with a smile: "What guy?" Wise guy.) Tate should not have scored on his 19-yard TD run. OSU safety David Morris had him stopped. But Tate kept churning, and the next thing you knew he was dragging another defender across the goal line. I was surprised at how often OSU deployed a deep safety. Priority 1 has to be stopping Tate's runs, if such a thing is possible.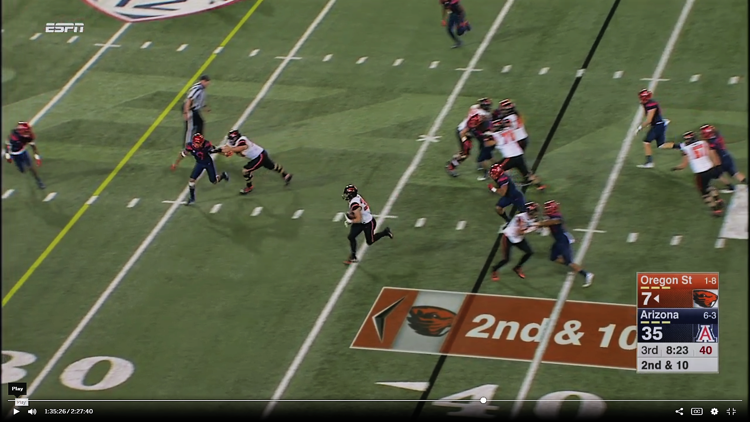 As it was happening – and upon further review – I couldn't understand why Oregon State waited until the second half to start running downhill against Arizona. That's clearly the weakness of this UA defense. OSU has two hard-charging backs in Ryan Nall and Thomas Tyner. Once the Beavers started doing it – in conjunction with using more two-tight-end sets – it worked and opened up the rest of their offense. Now, there's no doubt that the halftime score (28-0) contributed to the Wildcats' defensive drop-off in the second half. It's hard to maintain the same intensity when you're up four touchdowns. But that's what great defenses do, so consider the second half a teachable moment for Arizona's young defense. It also will serve as blueprint for Oregon; expect a heavy dose of Royce Freeman in Eugene on Saturday. One thing that absolutely must improve is the tackling by the defensive backs. There were way too many arm tackles and flat-out whiffs against Oregon State. This is where the Wildcats really miss freshman safety Scottie Young Jr., who did not play against the Beavers for undisclosed reasons. He's the surest tackler and most physical player among the current crop of safeties.
4. This time it's personnel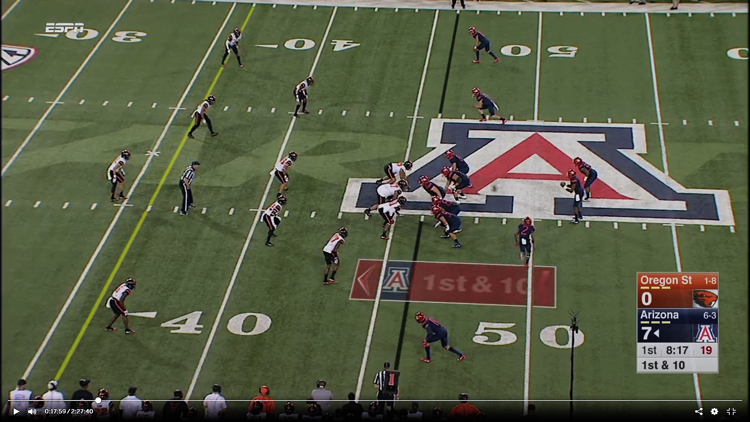 Every week we provide some notes on individual players, so here goes … Wilson looked as fresh and healthy as he has all season. … J.J. Taylor has gotten better each week. It's easy to forget that he's coming off a broken ankle. … Nathan Tilford finally got a carry, and he made a nifty jump cut to gain 5 yards. He's going to be good. Be patient, Wildcat fans. … RB Branden Leon also got one carry late, and he made a sharp cut off a Levi Walton block to gain 14 yards. … It was nice to see WR Cedric Peterson come back for the ball to make a first-down catch in the first quarter. He had been fighting it a bit. … A postgame adjustment turned Kylan Wilborn's sack into a shared one (with Justin Belknap), but Wilborn got two additional pressures by my count (one negated by penalty). … DE Larry Tharpe Jr. hasn't made the impact many were expecting, but he got into the backfield twice against OSU to disrupt plays. … Freshman LB Anthony Pandy had a PBU and a TFL playing rush end in the dime package. His explosiveness is intriguing … Safety Jarrius Wallace is among the DBs who needs to improve his tackling technique.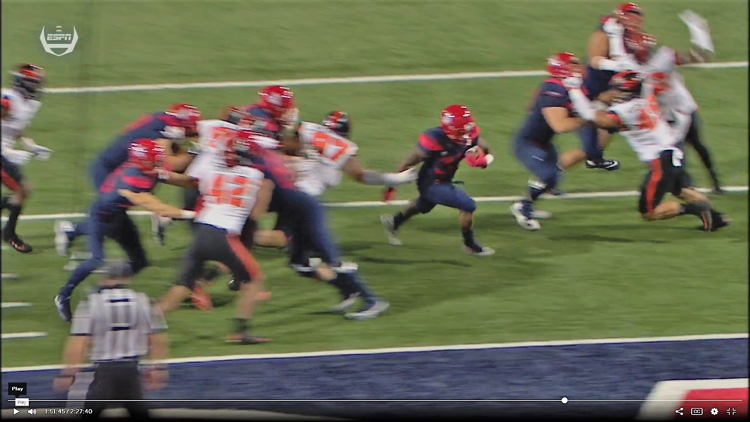 Two games left, both on the road, both winnable. If the Wildcats can split them, their season should be considered a rousing success. But why aim so low? As long as Tate is healthy, and the line is blocking the way it is, Arizona can score on anyone. The question is whether the Wildcats can get enough stops to beat teams that have as much or more talent than they do away from the friendly the confines of Arizona Stadium. Home-field advantage still means something; just ask all the Pac-12 teams that have lost or struggled in weeknight road games. Arizona has played six games since Tate took over at quarterback: three at home, three on the road. The Wildcats are 3-0 at home, winning by an average margin of 20 points. They're 2-1 on the road, with the wins coming by a total of four points. It's going to be cold, rainy and loud at Autzen Stadium. Arizona State will be out for blood in the Territorial Cup. Is Arizona ready for this? With Tate, the possibilities seem boundless.