Every week throughout the season, we'll take a look back at the Arizona Wildcats' previous game after re-watching it via the TV broadcast. Here are five key takeaways from the UA's 42-10 loss to Utah on Friday:
Emblematic of Arizona's defensive performance in the first half: Tony Fields II has Tyler Huntley ... and then he doesn't. (Fields also got blocked in the back.) pic.twitter.com/kivRqQJ7M3

— Michael Lev (@MichaelJLev) October 13, 2018
Whether it was the short week, the altitude or the matchup, Arizona's defense was off for much of the night. Even its best player, linebacker Colin Schooler, who so often is in the right place at the right time, misread plays and got himself out of position. What was really weird about Utah's first two possessions — the early knockdown blows from which the Wildcats never recovered — is that the UA defense actually made several positive plays. Case in point: On the 11th play from scrimmage, defensive end JB Brown sized up Utah's tight end counter run and tackled Brant Kuithe for a 2-yard loss. On second-and-12, Lorenzo Burns recognized that a quick slant was coming when Utah's lineman cut-blocked out of an empty-backfield set; he immediately corralled Demari Simpkins for a 4-yard gain. That set up third-and-8. Tyler Huntley threw a bubble screen to Britain Covey. Troy Young, part of the dime defense, had Covey in his tracks 3 yards short of the first down. But Covey slipped Young's grasp and got the first. Utah scored two plays later. Missed tackles were a running theme. Many were the result of Utah ball-carriers — especially tailback Zack Moss — simply overpowering UA defenders.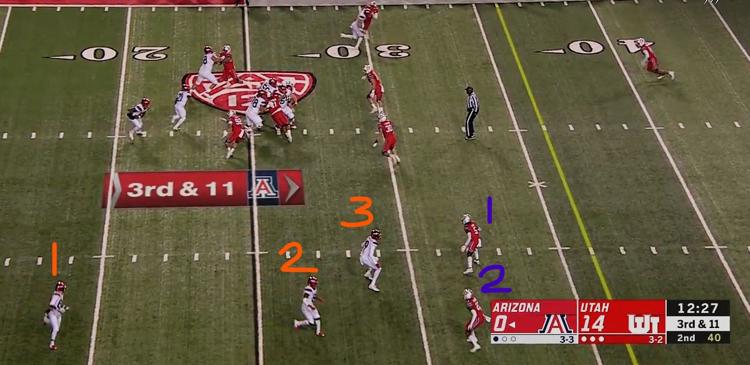 2. IF YOU HAVE THREE QUARTERBACKS …
Arizona ended up using three quarterbacks. Observations on all three upon further review: As Kevin Sumlin noted after the game, Khalil Tate was hurt worse than in previous instances. Utah's Chase Hansen not only grabbed Tate's left leg while chasing him from behind but landed on it. The prudent move was to pull him. … Jamarye Joiner probably would have played the third series anyway. He showed off his athleticism by scampering for a first down on a third-and-1 keeper. But he looked raw as a passer. He was skittish in the pocket, fleeing at the first sign of danger, and had trouble reading the field. Joiner might be a competent college quarterback in time, but Friday night he didn't look ready for all that entails. … Rhett Rodriguez has the smarts and intangibles to get the job done. He generally gets the ball out on time, he's calm in the face of pressure and he makes good decisions. He doesn't have great size, athleticism or arm strength, however, and that showed up at times, especially when he was hurried; Rodriguez's 18 incomplete passes included seven throwaways. What's the QB plan for UCLA? TBD.
Quarterback obviously is an issue for Arizona. But it isn't the only thing holding back the offense. The offensive line remains a major problem. Sumlin and others hailed the return of Layth Friekh from NCAA limbo in Week 3, and he made an immediate impact. His inability to stay on the field since the Oregon State game has hurt the unit as much as he previously helped it. The Star has confirmed ESPN's in-game report that Friekh has been battling injuries to both ankles. One play in particular showed that he just isn't right. Joiner took off to the right on a QB counter in the second quarter. Friekh pulled and was supposed to be the lead blocker, but he couldn't keep his balance and ended up tumbling to the turf. Joiner gained just 2 yards. Friekh left the game soon after and didn't return, basically putting the line back at square one. Friekh's absence did give redshirt sophomore Michael Eletise an extended opportunity. He showed the inconsistency that's kept him from earning a bigger role. Eletise displayed strength and power in the run game. But he struggled to move laterally against quicker defenders in pass protection. He remains a work in progress.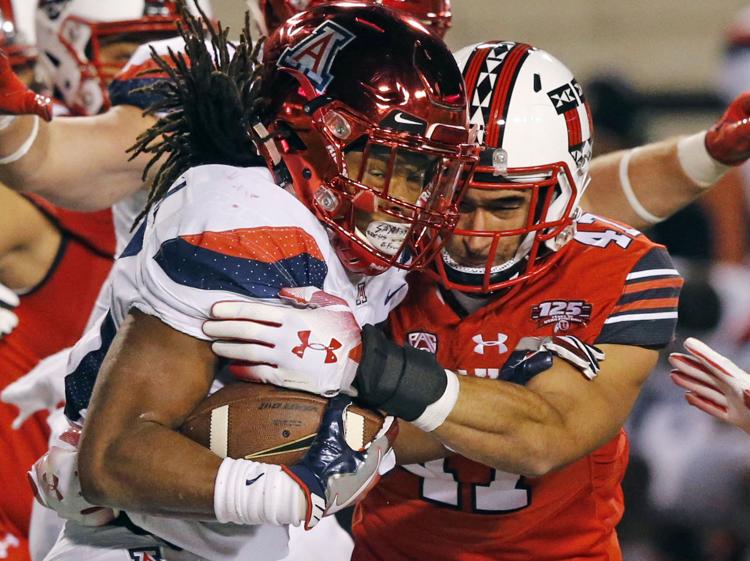 4. THIS TIME IT'S PERSONNEL
Each week we provide some notes on individual players, so here goes … The stats don't show it, but RB Gary Brightwell ran decisively and niftily when given the chance. … Backup tight end Jamie Nunley returned from injury and made the key block on J.J. Taylor's 29-yard kickoff return in the first quarter. … Cody Creason played left guard and right tackle and struggled at both spots against Utah's relentless defensive line. … PJ Johnson made plays deep into the fourth quarter, but he's playing too many snaps for Arizona's depleted defensive line. … Cornerback Tim Hough continued to struggle with penalties; he would have been called for two for the second game in a row if one hadn't been declined because he surrendered a touchdown. … After playing well in recent weeks, safety Jarrius Wallace had a rough night. He had particular trouble tracking and timing the ball on deep throws. … Freshman safety Dayven Coleman, playing with a brace on the right knee he injured vs. Southern Utah, was among the first Wildcats downfield on a first-half punt by Dylan Klumph. … Josh Pollack is just 2 for 4 on field goals since regaining the placekicking job, but both misses were well struck.
Arizona is in a precarious position. The Wildcats are still bowl-eligible at 3-4. They're also at a point where it might make sense to give some younger players some extended run — especially at quarterback. The question is whether you can do that while still trying to win. It's hard to imagine Sumlin surrendering with five games left and a bunch of seniors on his roster who deserve to play a 13th game. Sumlin faces a particularly thorny decision next week with Tate, who's returning home to face the team he grew up rooting for. Would Sumlin sit Tate in L.A., even if it's in his and the team's best long-term interest? Arizona also seems to be catching UCLA at the wrong time. After a strong performance in a loss to Washington, the Bruins finally won their first game under Chip Kelly. They appear to be trending upward. Where these Wildcats are headed is anyone's guess. Although three of the final five games are in Tucson, they aren't likely to be favored in any of them. Arizona needs three more wins to qualify for a bowl. That feels like a long shot at the moment.