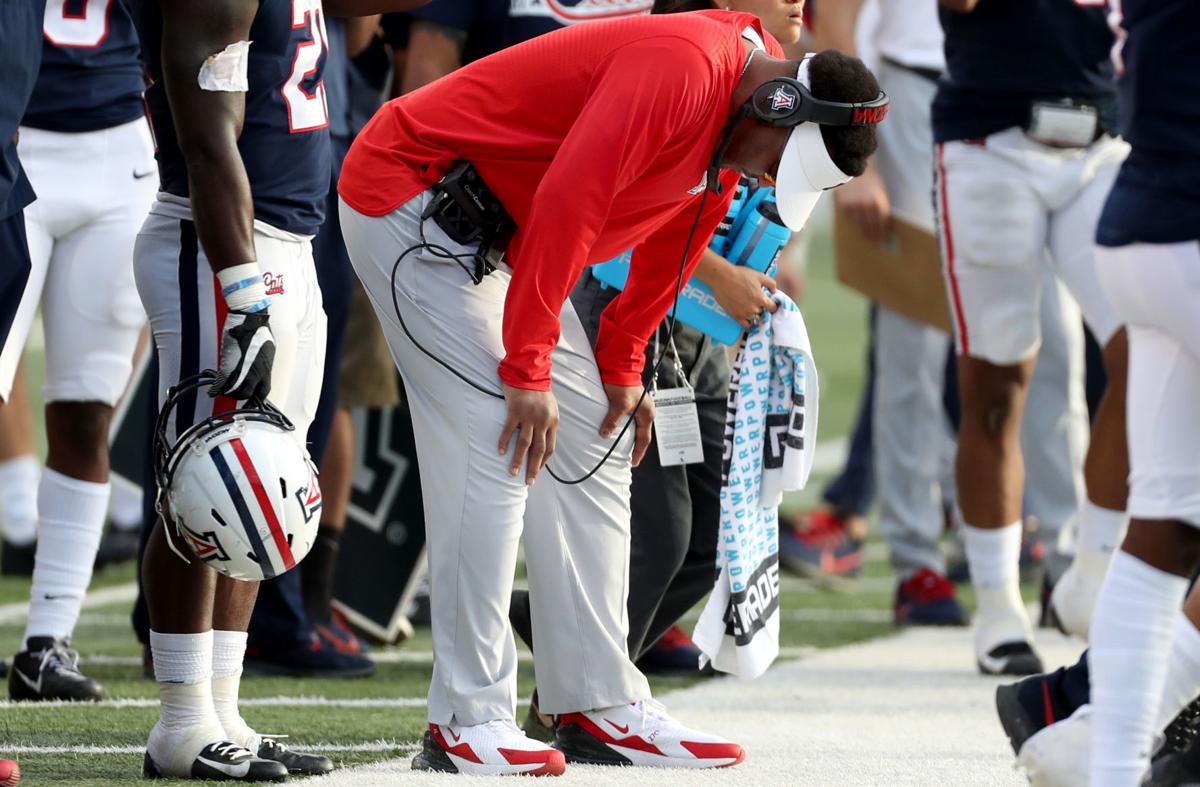 A season that once looked so promising for the Arizona Wildcats has disintegrated.
Less than a month ago, Arizona pulled off a rare road win at Colorado to improve to 4-1. The Wildcats were 2-0 in the Pac-12. They were in sole possession of first place in the South Division.
Now? Arizona is in trouble.
The Wildcats lost their fourth game in a row Saturday afternoon. It wasn't the most lopsided loss during the skid, but it was the most disheartening.
Arizona fell to Oregon State 56-38 in front of an announced crowd of 36,939 at Arizona Stadium. Despite homecoming festivities and "Desert Swarm"-inspired throwback uniforms, the crowd was the smallest of the season. By the end of the game, the stadium looked deserted.
Kevin Sumlin had made some recent moves to try to turn things around, including firing defensive coordinator Marcel Yates on Sunday. Sumlin still isn't ready to give up, even though Arizona faces an uphill climb to qualify for a bowl game. The Wildcats are 4-5, 2-4 in the Pac-12, and face perhaps the toughest part of their schedule after a bye next week.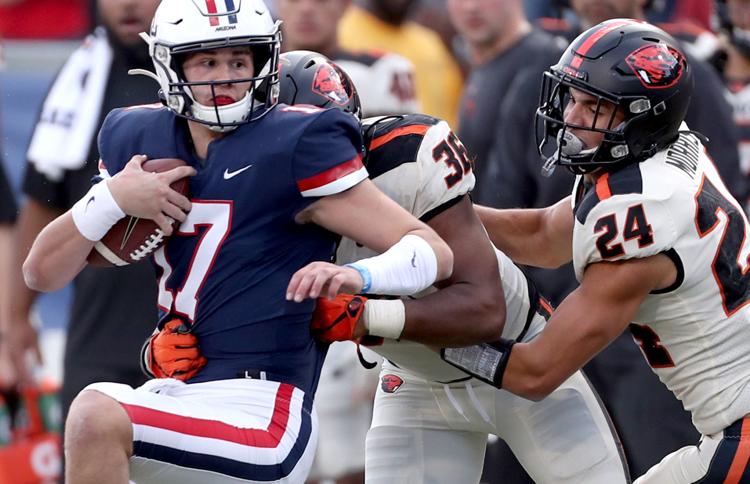 "When things go well, it's easy for everybody," Sumlin said. "When things happen the way they've happened the last few weeks, it's important to stick together and be a team.
"When you're in a deal like we are right now, what's important is what's said in this building and what's said in that locker room.
"You've got really one choice, and that's to keep fighting. The way to keep fighting is to stay together."
It's been easy to point the finger at one side of the ball or the other in any given week.
All parties have been guilty of breakdowns. Against Oregon State, the defense took another step backward.
Playing under new coordinator Chuck Cecil for the first time, the unit couldn't stop the run or pass. Two OSU running backs eclipsed 100 yards. Receivers found open swaths in the Arizona secondary.
Oregon State (4-4, 3-2) scored touchdowns on six of its first seven possessions. Less than five minutes into the second half, the Beavers had a 42-19 lead.
"We couldn't stop the run, particularly on the perimeter, on the edges," Sumlin said. "Then we cut loose a couple guys wide open, some miscommunication in the secondary. So it was a combination of a couple things."
Oregon State finished with 572 yards — the most Arizona has surrendered since the season opener at Hawaii (596). The Beavers became the fourth team in a row to score more than 40 points against the Wildcats.
"We definitely needed that win," senior defensive tackle Finton Connolly said. "It's bitter, and it definitely leaves a sour taste in your mouth."
Arizona actually had three sacks, a season high. But OSU quarterback Jake Luton generally had plenty of time to throw. He completed 20 of 26 passes for 328 yards and three touchdowns. Two went to Isaiah Hodgins, the Pac-12's leading receiver, who finished with seven catches for 150 yards.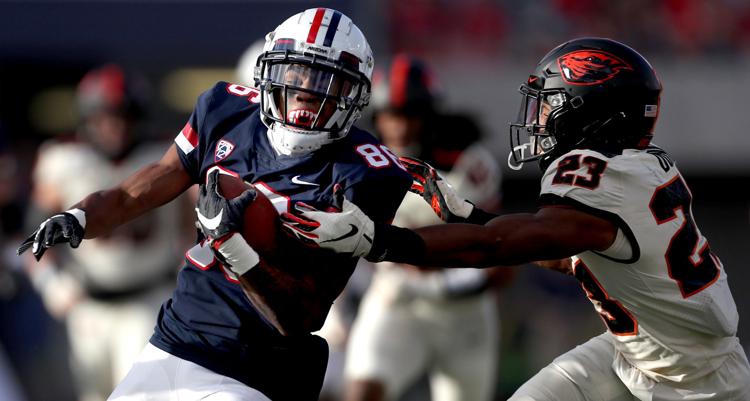 Despite all the issues they were having — which also included stalled drives and missed two-point conversion attempts — the Wildcats had a chance to make it an eight-point game late in the third quarter.
However, kicker Lucas Havrisik missed a 39-yard field-goal attempt. He earlier missed an extra-point try. Sumlin said after the game that Havrisik wasn't 100% healthy.
Sumlin said the missed field goal "kind of deflated us." Oregon State responded with another touchdown drive to make it 49-31. Luton and Hodgins again were the perpetrators, hooking up for a 25-yard touchdown with 7:58 remaining.
Arizona countered with a TD drive, capped by J.J. Taylor's 2-yard run. The Wildcats attempted an onside kick afterward, but the ball bounced out of bounds before crossing the 10-yard threshold.
All five UA touchdown drives were led by freshman quarterback Grant Gunnell. As happened last week against Stanford, Gunnell rotated with starter Khalil Tate in the first half.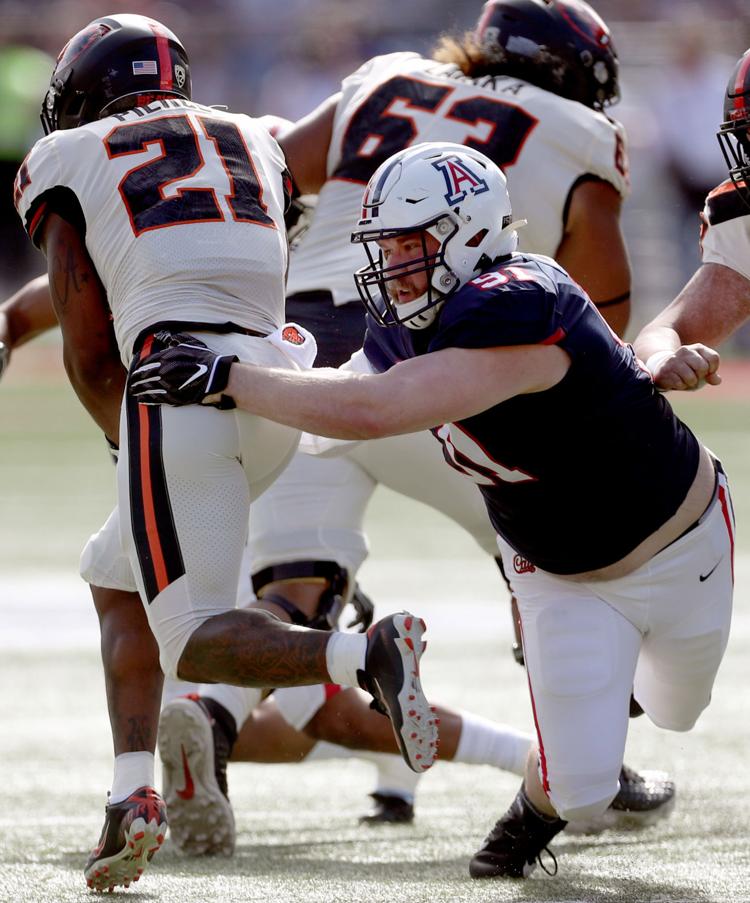 Tate started the second half, but after a three-and-out possession, Gunnell played the rest of the way.
He finished 19 of 29 for 269 yards and two touchdowns. Tate went 7 of 12 for 109 yards.
"We feel good about both those guys," Sumlin said.
He didn't make any definitive declarations about who would start in Arizona's next game, at Oregon on Nov. 16. Sumlin did say "we've gotta make some decisions" about personnel and schemes over the next two weeks
The Wildcats have a lot of soul-searching to do.
"We're gonna go into this bye week, and we're going to fix it," senior receiver Cedric Peterson said. "We'll keep fighting, keep doing what we do, put our head down and grind it out."
---