Arizona Wildcats season review: 3 lingering questions about the offense
Looking back at the UA's offensive performance in 2018 — and a peek at what lies ahead in '19.
Cats overcame injuries, inconsistency to post big numbers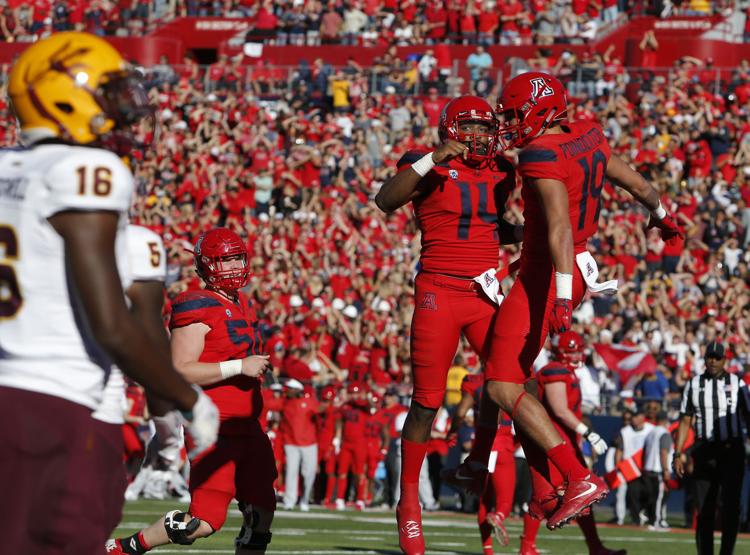 Editor's note: This is the first in a three-part series looking back at the 2018 Arizona Wildcats football season and ahead to next year. Today's installment: offense.
The Arizona Wildcats' season ended earlier than anyone expected. The offense didn't look quite like what anyone envisioned.
Despite a banged-up offensive line and an at-times spotty connection between the coaching staff and quarterback, Arizona still ranked among the Pac-12 leaders in scoring and total offense.
Whether the unit has a different look at the most important position in 2019 remains to be seen. That's the most logical place to start as we ask and answer three lingering questions about the Arizona offense:
Will Khalil Tate be Arizona's starting quarterback next season?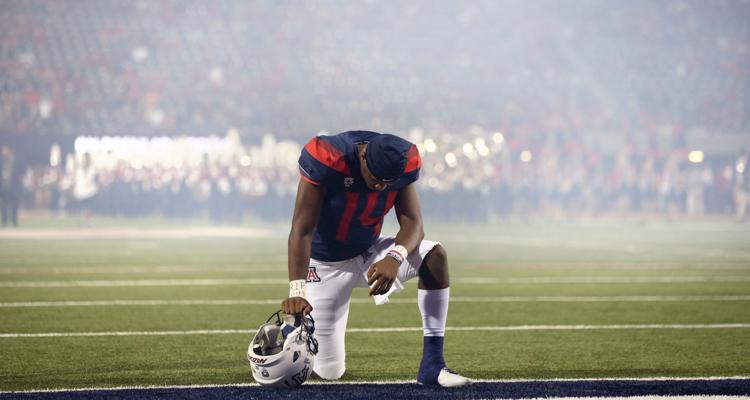 Rumors swirled early in the week that Tate would transfer. That remains a possibility.
The topic did not come up in initial discussions between Tate and UA coach Kevin Sumlin, who is expected to conduct season-ending interviews with players in the coming days. Asked after the Nov. 24 season finale against Arizona State whether he planned to be part of the program next season, Tate replied: "Next question."
Tate and offensive coordinator Noel Mazzone, who doubles as the quarterbacks coach, didn't always see eye to eye in their first season together. Still, Tate passed for a career-high 2,530 yards and 26 touchdowns with only eight interceptions.
Tate didn't run as much or as often as he did in 2017, when he rushed for a team-high 1,411 yards. Part of the drop-off stemmed from an ankle injury Tate suffered in Week 2; part of it stemmed from Mazzone's system, which doesn't have as many designed QB runs as Rich Rodriguez's scheme; and part of it stemmed from Tate's desire to become a more polished pocket passer.
Tate's options include returning, transferring or declaring for the NFL draft. In order to play immediately next season at another FBS school, Tate would have to graduate by spring. It's not known whether he's on track to do that.
Tate isn't close to being an NFL-caliber quarterback at the moment, but he could raise his stock by returning to Arizona for his senior season, finding a middle ground with Mazzone and improving his leadership skills, body language and post-loss comportment. Tate possesses rare talent, and Sumlin has noted that Tate is capable of making throws that few others can.
If Tate were to move on, Arizona likely would open 2019 with a quarterback who has little, if any, college experience. The candidates would include holdovers Rhett Rodriguez, Jamarye Joiner and Kevin Doyle, plus incoming freshman Grant Gunnell.
Rodriguez will be a junior next year and doesn't possess the upside of the others. Joiner, who made brief appearances in two games, and Doyle will be redshirt freshmen. Gunnell leaves St. Pius X High School in Houston as the all-time leading passer in Texas prep history.
Who will be on the receiving end of Tate's — or someone else's — passes?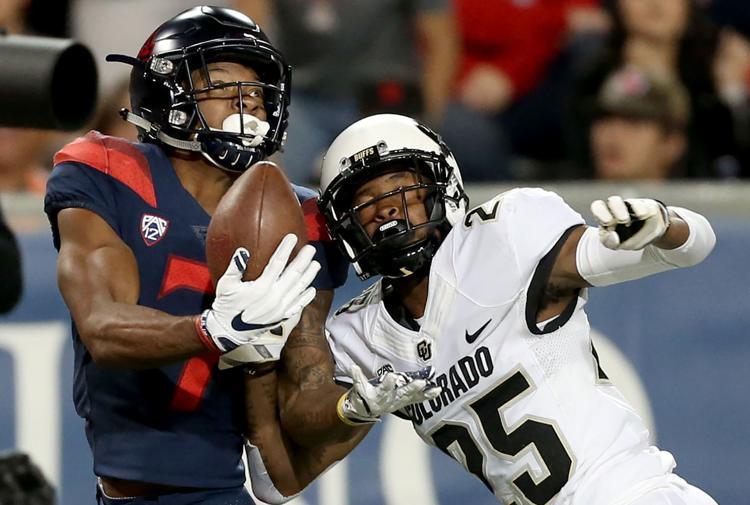 Unless Tate leaves and Gunnell starts, no position will undergo a bigger transformation next season than wide receiver.
Departing seniors Shun Brown, Shawn Poindexter and Tony Ellison accounted for 62.5 percent of Arizona's receptions, 63.3 percent of its receiving yards and 79.3 percent of its receiving touchdowns. They provided stability and reliability in a season of transition for the program.
The good news is, Arizona has plenty of talented players to throw at the problem.
Devaughn Cooper, who will be a redshirt junior next year, tied for fourth on the team with 18 receptions and averaged a UA-best 20.4 yards per catch. Cedric Peterson, who will be a fifth-year senior, also had 18 grabs and scored four touchdowns.
Stanley Berryhill III, who earned a scholarship in training camp, is a top candidate to take Brown's role as the No. 1 slot receiver. Berryhill will face competition from Brian Casteel, who flashed as a freshman but missed this past season because of a back injury.
None of the returnees listed above is taller than 6 feet. Size comes in the form of youngsters Drew Dixon (6-3), Tre Adams (6-3) and Thomas Marcus (6-2). Incoming recruit Jalen Johnson is listed between 6-2 and 6-3. Mazzone and Sumlin helped transform the 6-5 Poindexter from project to potential NFL draft pick.
The receiving corps unquestionably will have a different look next season, but the unit's production might not fall off as much as you think – if at all.
How different will the offensive line look in 2019?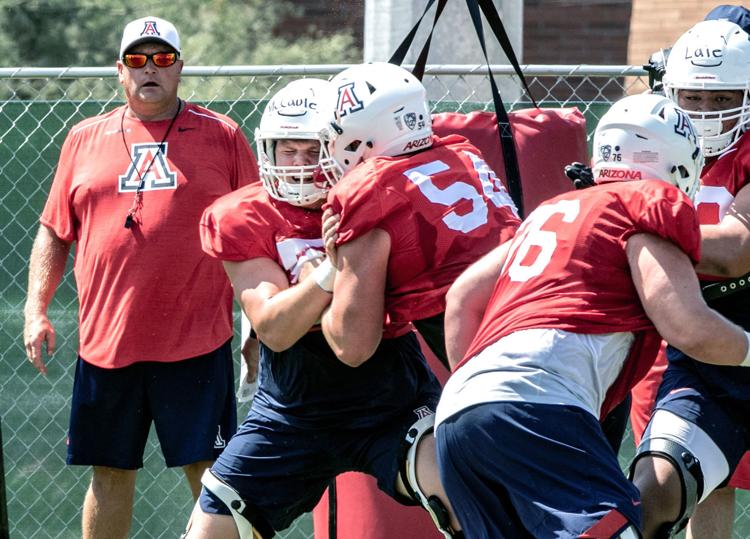 Technically, this group loses only one starter – left tackle Layth Friekh. The unit should have much greater continuity entering next season after being patched together this summer.
But that doesn't mean the coaching staff is standing pat. The line didn't have enough depth this season. That, in turn, made it hard to create legitimate, sustained competitions for spots.
Of Arizona's 18 verbal commitments for 2019, four are offensive linemen. Two of them are from junior colleges.
There's no guarantee any recruit will pan out. But in the trenches, it's more likely that a JC transfer will contribute sooner than a freshman. The staff wouldn't be pursuing JC players along both lines if it didn't believe that.
So it's entirely possible that Josh Donovan or Rocky Aitogi (if his academics are in order) will compete for immediate playing time at tackle. It's highly likely that Robert Congel will do so at center or guard.
Congel transferred last summer from Texas A&M but had to sit out the season. He probably would have started at center had he been eligible. Now Arizona has at least two viable options — Congel and Josh McCauley, who was pressed into duty and started all 12 games.
The veteran anchor of next year's line will be senior-to-be Cody Creason, who can play guard or tackle. Donovan Laie, who started all 12 games as a true freshman, should man one of the tackle spots. Guard Michael Eletise also proved he can be part of the rotation.
What Laie did was highly unusual. Most big-time programs prefer to redshirt freshman offensive linemen so they can add the bulk needed to hold up in Division I football. Arizona didn't want to play Laie, but for a variety of reasons, he became the best (young) man for the job.
Ideally, with improved recruiting and depth, the Wildcats won't find themselves in that position again anytime soon.
Arizona's 2018 offense at a glance
Offensive MVP
RB J.J. Taylor
Taylor didn't have a perfect season – too many fumbles – but he had an undeniably excellent one, totaling 1,434 rushing yards at 5.6 yards per attempt. Taylor rushed for six touchdowns, caught 16 passes and upended countless blitzers with vicious blocks.
Report card
Quarterbacks
Grade: C+
Comment: Khalil Tate was a victim of his own expectations; even though he threw almost twice as many TD passes this year (26) as last (14), the drop in his rushing output hurt his overall effectiveness. Rhett Rodriguez performed capably in relief but did not look like a long-term solution.
Running backs
Grade: B+
Comment: Fumbling was a problem – 10 in all, seven lost – but the overall production was irrefutable. Despite a makeshift line and Tate not running as often or as effectively, tailbacks Taylor, Gary Brightwell, Darrius Smith and Anthony Mariscal combined for 2,142 yards.
Receivers/tight ends
Grade: B
Comment: The wideouts exceeded most people's expectations; seniors Shun Brown, Shawn Poindexter and Tony Ellison provided production, effort and leadership. Primary TE Bryce Wolma wasn't featured as much in the passing game and remains a work in progress as a blocker.
Offensive linemen
Grade: B-
Comment: This unit performed admirably despite a plethora of injures and a dearth of experience. One area where the line struggled at times: short-yardage/goal-line situations.