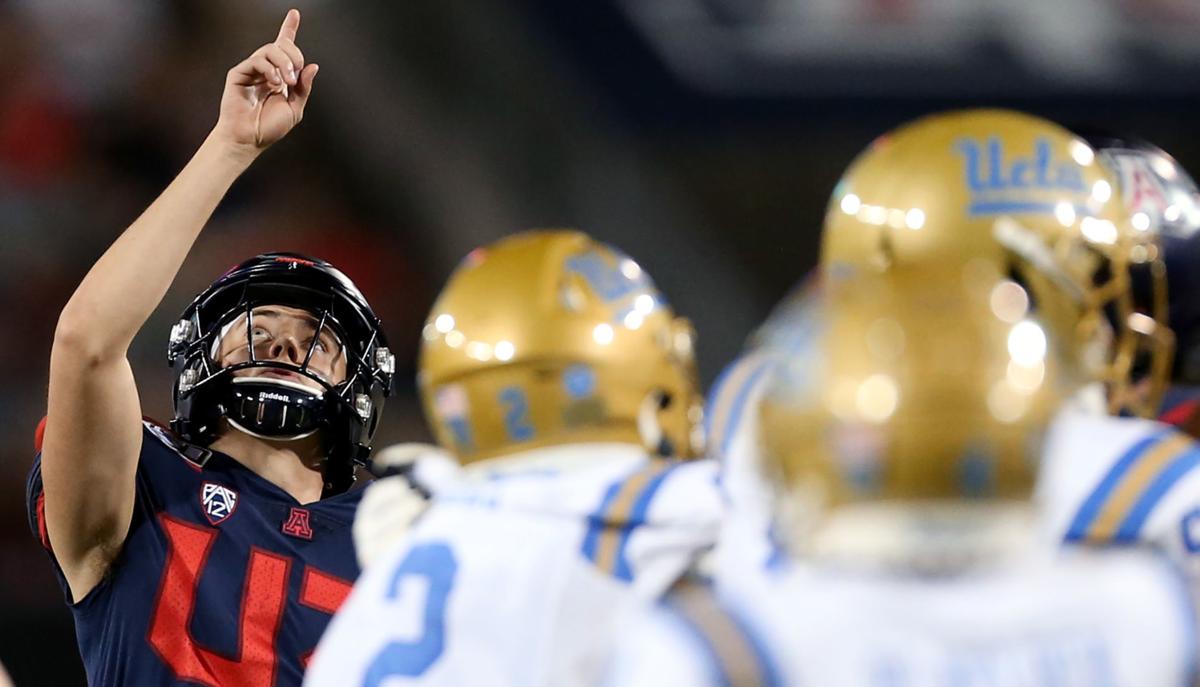 Editor's note: This is the first in a three-part series looking back at the 2019 Arizona Wildcats football season and ahead to next year. Today's installment: Special teams.
The Arizona Wildcats' season did not go as planned. Despite Kevin Sumlin emphasizing consistency from the outset, the Cats were plagued by inconsistency.
Arizona lost its opener, won four straight, then lost seven in a row to end 2019 with a 4-8 record.
Sometimes it was the defense that struggled. Sometimes it was the offense. More often than not, the special teams did not provide adequate support.
Where did things go wrong? How can they get better?
As we head into another premature offseason for Arizona, here are three lingering questions — and answers — about the UA special-teams units:
---
1. Can Arizona's special teams reach their potential with Jeremy Springer as their coach?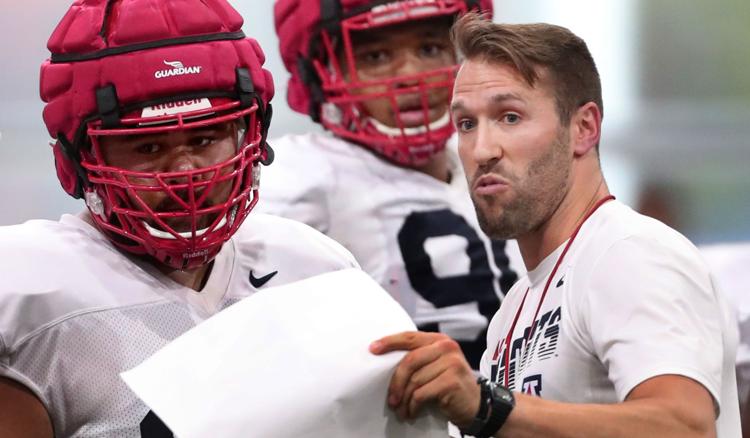 The 2018 season was the first in which FBS teams could have 10 full-time assistant coaches. That enabled Arizona and most other schools to hire a full-time special-teams coach.
Sumlin tabbed Springer, who previously had worked for him as a special-teams quality-control coach at Texas A&M.
Springer played linebacker at UTEP, where he also began his non-playing football career as an assistant in football operations and then a graduate assistant coach. The UA special teams showed improvement last season, especially the punting.
That area took a step backward this season, and talented placekicker Lucas Havrisik also had another up-and-down year. Springer doesn't have a background as a kicking specialist. It isn't a prerequisite for the job. But given Arizona's needs and the composition of the staff, it's fair to wonder if Springer is the ideal fit in this role.
The Wildcats' return and coverage units have been adequate the past two years, although it was somewhat hard to gauge the punt coverage this season because the punting was so erratic. New running backs coach DeMarco Murray worked extensively with the return specialists during the preseason practices open to the media, lending his expertise to that unit.
But it's the kicking specialists, clearly, who need the most coaching. Springer is energetic, organized and hard-working. He has recruiting ties in Texas. He seems earnest.
Can Springer coach up the UA kickers who have talent but lack consistency? He has yet to prove it.
---
2. What's keeping Havrisik from being more consistent as a placekicker?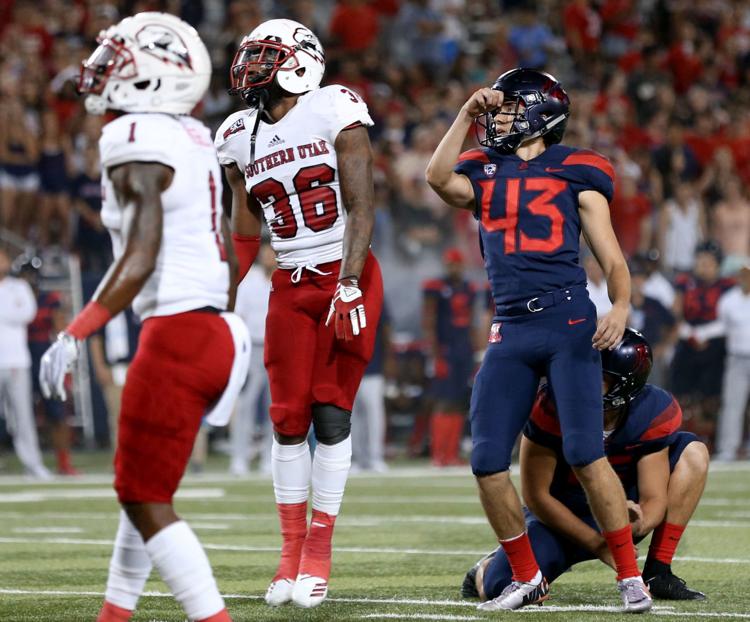 This one is a mystery, because, as mentioned, Havrisik has ample talent.
He remains one of the top kickoff specialists in the nation, registering a touchback rate of 77.4% this season, in the range of his 2018 mark of 81.1%. He made 3 of 4 field goals in the 40- to 49-yard range and 2 of 5 from 50-plus. That's pretty darned good for a college kicker.
Inexplicably, Havrisik had nearly as many misses (three) from inside 40 yards with one fewer attempt. Additionally, he missed two extra-point attempts for the second straight year.
As most kickers will tell you — including Havrisik — the mental side matters more in their discipline than the physical. That's certainly what Havrisik's statistical profile suggests. He possesses the physical ability to make field goals from long distances, including a 55-yarder last year and a 53-yarder this year.
Havrisik seems to lack the focus and concentration, at times, to make the kicks most would deem "routine" — the latest and final example of 2019 being a 26-yard field goal he pushed wide right in the fourth quarter against Arizona State.
Contrast that with Havrisik's first attempt of the season. He nailed a 53-yarder in the opener at Hawaii after three consecutive UA penalties pushed the kick back 15 yards. Havrisik showed how mentally strong he's capable of being that night on Honolulu.
Havrisik will be a senior next season. He will enter 2020 with a career success rate of 59.4%, which isn't befitting of his natural ability.
Havrisik undoubtedly is aware of what he needs to work on in the offseason. Maybe it'll all come together for him as a senior, when players tend to feel a heightened sense of urgency.
If not, his career will feel incomplete.
---
3. Is there any hope that Arizona's punting situation can improve?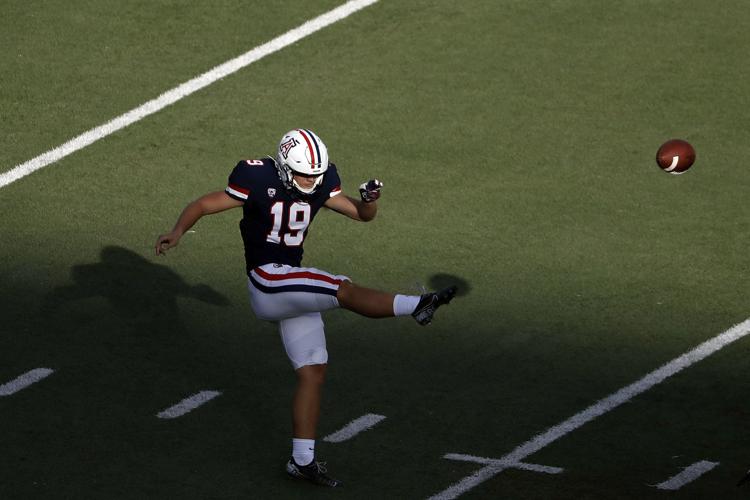 Definitely. As ugly as it looked at times this season, let's remember that Kyle Ostendorp was a true freshman. In an ideal world, he would have redshirted while senior Matt Aragon handled the job.
Aragon won the starting spot coming out of training camp, but he struggled in the opener. Unfortunately, those struggles would persist throughout the season.
Aragon and Ostendorp ended up sharing the role, and both finished with gross averages under 40 yards. The Wildcats' net punting average of 34.54 yards ranks 125th in the nation.
Other factors contribute to this, but Arizona had worse average starting field position than its opponent in 11 of 12 games this season. The average difference: 7 yards.
That's hard for any team to overcome, let alone one lacking an identity and quality depth.
So yes, we can acknowledge there was a problem. Springer, to his credit, patched it the previous year by bringing in grad transfer Dylan Klumph from Cal. Springer thought he had a long-term solution in Ostendorp, who came aboard via scholarship (a decision people above Springer's pay grade have to sign off on, by the way).
That might still be the case. We just haven't seen it yet. Ostendorp was just as inconsistent as Aragon. But there were some encouraging signs.
Ostendorp had five punts of 50-plus yards in 21 attempts — a higher percentage (23.8) than Klumph managed last season (22.4). Yes, the sample size is much smaller, but that's the point: Ostendorp has plenty of room to grow.
Be the first to know
Get local news delivered to your inbox!