Arizona Wildcats season review: 3 lingering questions about the defense
Looking back at the UA's defensive performance in 2018 and taking a peak at what lies ahead in '19.
Wildcats struggled to make big gains in 2018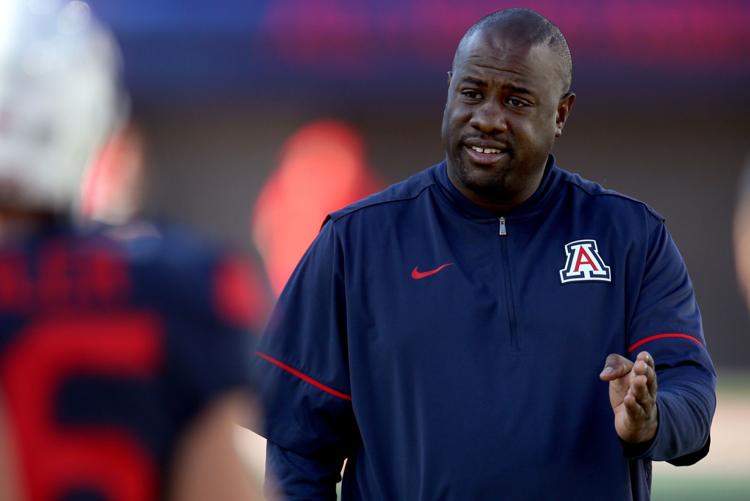 Editor's note: This is the second in a three-part series looking back at the 2018 Arizona Wildcats football season and ahead to next year. Today's installment: Defense. Click here to read our review of the offense. 
Arizona's defense did not take the leap many expected.
It looked good on paper. The Wildcats returned nine starters, many of whom were freshmen in 2017. New coach Kevin Sumlin elected to retain defensive coordinator Marcel Yates, ensuring continuity on that side of the ball.
But Arizona couldn't escape the bottom third of the Pac-12 in most meaningful statistical categories. The defense performed well in stretches; the unit allowed almost 40 fewer yards per game than last season. However, blowout losses at Houston, Utah and especially Washington State had some UA fans pining for a coordinator change.
It doesn't appear that one is forthcoming. Regardless, here are three lingering personnel-related questions — and answers — as we take stock of the UA defense.
How can Arizona get more production and stability from its cornerbacks?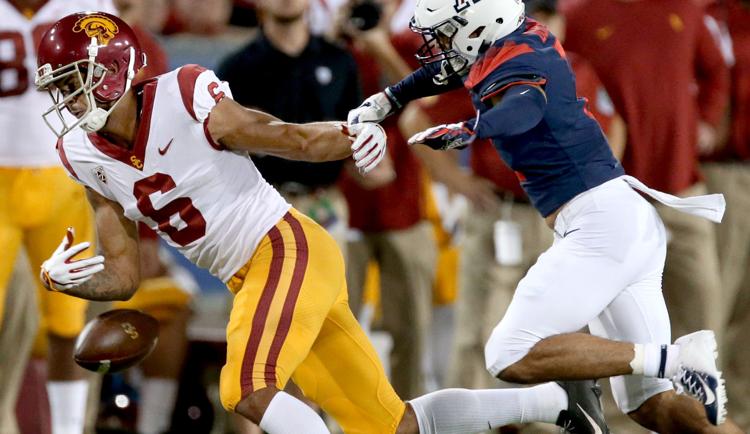 At one point in time in 2018, the Wildcats' top three cornerbacks were projected to be Jace Whittaker, Lorenzo Burns and Tony Wallace. Possible reserves included veterans Sammy Morrison and Malcolm Holland.
Only one of those players — Burns — played more than one series for Arizona this season.
Whittaker, one of the Wildcats' top players and leaders, suffered a hamstring injury in training camp and missed the first two games. He came back for Week 3 against Southern Utah but suffered a season-ending elbow injury while making a tackle on the first defensive series.
Wallace, an uber-athletic sophomore, had academic issues and ended up at Independence (Kansas) Community College. Morrison and Holland also suffered season-ending injuries in August.
That left Burns and a rotating cast to contend with a series of prolific passing offenses. Burns started 10 games, missing two because of injuries. Five players started at the other cornerback spot, including graduate transfer Tim Hough, who arrived in August and left the team in mid-October.
The good news is that young players such as Azizi Hearn, Troy Young, Christian Young and McKenzie Barnes got valuable playing time. Troy and Christian Young (no relation) moved to corner from safety; Troy Young even dabbled at linebacker earlier in the offseason. The coaching staff now must determine whether cornerback is their best position moving forward.
If so, a position that was decimated in 2018 might be in decent shape in '19. Burns will be entering his redshirt-junior year. Whittaker is expected to return for a fifth season. Arizona has one cornerback committed for 2019 (Maurice Gaines) and is in hot pursuit of four-star prospect Bobby Wolfe.
Stack all those players up, and it looks pretty promising. Of course, we had similar thoughts at this time a year ago and it all fell apart. Arizona needs a good plan and equally good fortune to get better play from its corners.
Will the Wildcats generate more pressure off the edge in 2019?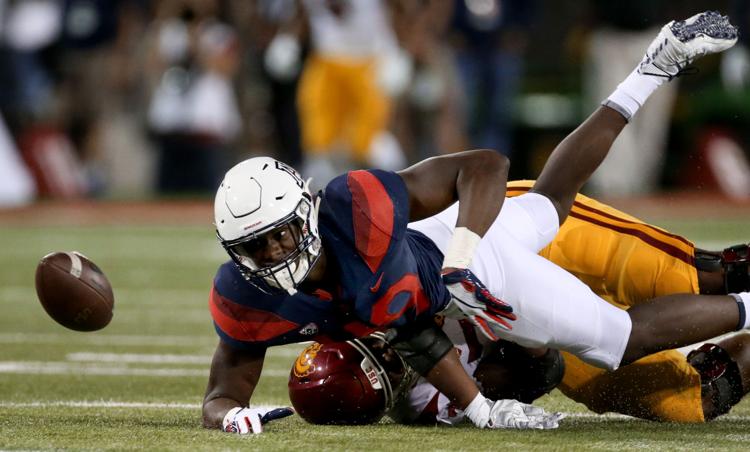 They better, or Yates might not survive to see Year 5.
Sacks aren't the be-all, end-all measurement of pass-rushing success, but there's no disputing that Arizona didn't have enough of them. The Wildcats managed 23 in 12 games, down from 31 in 13 games last season. This year's Pac-12 leader, Washington State, had 35.
Arizona's co-leaders in sacks — linebacker Colin Schooler and defensive end JB Brown — had just 3.5 apiece. That simply isn't enough.
One of the biggest complaints about Yates is that he didn't blitz enough, too often sending three rushers and dropping eight players into coverage. The thing is, it's not as if the Cats were getting home regularly when Yates did blitz.
Hope stems from the progress made by Brown and fellow edge rusher Jalen Harris, who supplanted Kylan Wilborn at the "Stud" position and finished with three sacks. Brown and Harris showed great promise, combining for 57 tackles and 11.5 total stops for losses. Even better, both were second-year players who played sparingly in 2017.
If they continue to progress, Arizona might have something. The situation would look even brighter if Wilborn were to rebound. It isn't inconceivable.
After a breakout freshman season that included 7.5 sacks and a conference-leading four forced fumbles, Wilborn endured a sizable sophomore slump. He had only 14 total tackles, two sacks and one forced fumble in 11 games.
What happened? Some theorize that Wilborn put on "bad weight," causing him to lose his quickness. Maybe opposing offensive coordinators figured him out. Or perhaps Wilborn was playing through an undisclosed injury.
Whatever the reason, Wilborn wasn't as effective. But it's too soon to consider him a lost cause. The talent that helped Wilborn produce as a freshman still exists.
With Wilborn and Harris at Stud, and Justin Belknap returning to team up with Brown at defensive end, Arizona has the makings of an improved pass rush. Two of Arizona's top-rated recruits – Sylvain Yondjouen and Kwabena Watson – also are edge rushers.
Fixing that problem remains a major priority.
Schooler and Tony Fields II already do a lot, but can they do even more?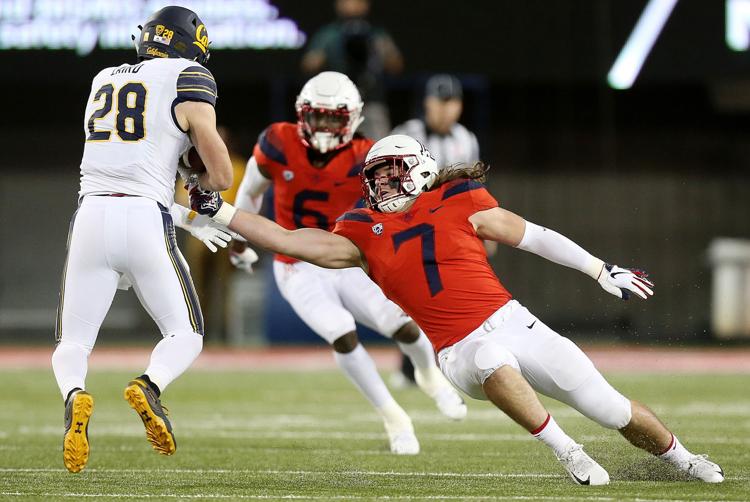 Schooler is Arizona's defensive leader by any metric. Fields is his trusted sidekick. It's scary to think where Arizona's defense would be without them.
But they would be the first to tell you they're capable of playing even better.
Schooler makes a ton of tackles, many in opponents' backfields. But there were times he struggled to play in space – particularly in the season finale against Arizona State.
On the final play of the third quarter – one long forgotten after Arizona's fourth-quarter collapse, though probably not by Schooler – ASU quarterback Manny Wilkins rushed for 13 yards on fourth-and-8. Schooler had him in his sights, but Wilkins dodged him and got to the sideline.
Schooler tied his season low with five tackles vs. the Sun Devils. He missed some tackles he normally would make.
Schooler never would concede to being fatigued – or make any excuse of any kind – but he looked a bit worn down. Yates and his fellow defensive coaches need to make a more concerted effort to rotate at all positions, even if it means taking the unit's best player – Schooler – off the field at times. It's in his and the team's best interest.
Schooler should focus on improving his lateral and overall quickness in the offseason. He has everything else.
Fields played some of his best football down the stretch – perhaps because he didn't play as many snaps as Schooler. Overall, though, Fields didn't have as many total tackles, TFLs or sacks as he did as a freshman.
As accomplished as he is – Fields has started every game, 25 straight, since arriving on campus – there's still room for growth. Fields and Schooler have the ability and work ethic to get to another gear.
2018 UA defense at a glance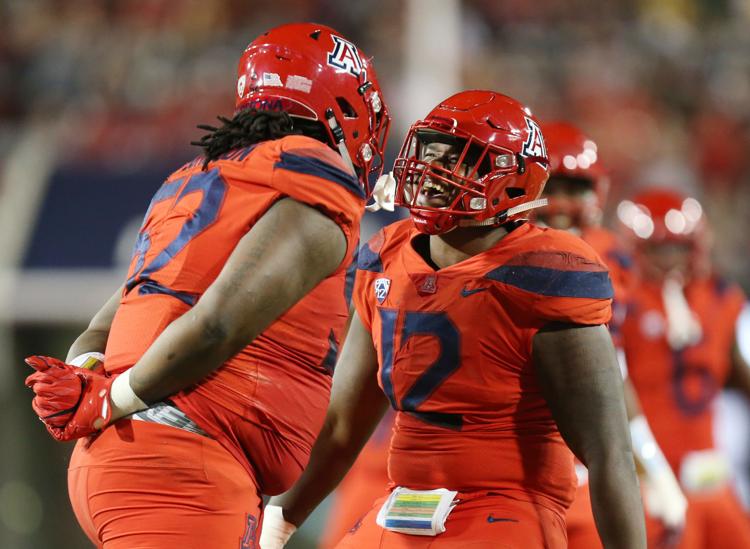 Defensive MVP
LB Colin Schooler
Schooler was the Pac-12 Defensive Freshman of the Year in 2017, and he was even more productive in '18. Schooler led Arizona with 119 tackles, including more than twice as many stops for losses (21.5) as any other Wildcat. He also had two interceptions, which ranked second on the team.
Report card
Defensive tackles
Grade: B
Comment: Junior-college transfer PJ Johnson was a revelation, compiling 8.5 tackles for losses, including three sacks, in just 10 games. Dereck Boles (five TFLs, 1.5 sacks) also played well down the stretch, but both players would have benefited from a deeper rotation.
Edge rushers
Grade: C
Comment: Second-year players JB Brown and Jalen Harris showed potential, combining for 11.5 TFLs, including 6.5 sacks, and two forced fumbles. The grade falls because of the mysterious falloff of sophomore Kylan Wilborn, who had 7.5 sacks as a freshman but only two this season.
Linebackers
Grade: B-plus
Comment: If Schooler is the Batman of the defense, fellow LB Tony Fields II is the Robin; he ranked second on the team with 89 tackles, including 4.5 TFLs. Fellow sophomore Anthony Pandy showed potential as a third wheel (25 tackles, three TFLs), but, similar to defensive tackle, this is a position where more rotating would benefit all parties.
Cornerbacks
Grade: D-plus
Comment: Because of injuries and other issues, Arizona simply did not get the production out of this group that it needed. Lorenzo Burns, the one constant, led the team with 11 pass breakups in only 10 games, but he didn't have an interception; the corners managed just one, by converted safety Troy Young.
Safeties
Grade: B-
Comment: Demetrius Flannigan-Fowles finished his UA career with a solid senior season, ranking third on the team with 56 tackles and leading the squad with two forced fumbles. Senior-to-be Tristan Cooper looked the part of a "Spur" down the stretch, and free safety Scottie Young Jr. again showed playmaking chops when healthy and available (team-high three interceptions).