HOUSTON — The Arizona Wildcats stumbled around TDECU Stadium for two-plus quarters Saturday. The game started at 11:06 a.m. Central time, seemingly without them.
At times, it looked as if the Cats were sleepwalking. The previous game was supposed to have served as their wake-up call. Instead, they hit the snooze button.
Another sluggish start led to another disheartening loss. Arizona fell behind and couldn't catch up. The UA lost 45-18 to Houston to fall to 0-2 for the first time since 1981.
This wasn't how the "New Era" of football under Kevin Sumlin was supposed to go.
"It's not good," Sumlin said afterward. "We had a good week of practice. But it's really kind of the same story as last week."
Similar, but not exactly the same. Sumlin lamented Arizona not having a bigger lead over BYU before its third-quarter collapse. But it was 10-7, Wildcats, at halftime.
These Cougars, as UA receiver Shun Brown put it, hit the Wildcats in the mouth. Houston (2-0) scored touchdowns on each of its first three possessions. By halftime, the Cougars were up 31-0. Three minutes into the second half, it was 38-0.
"We just got outplayed," said Brown, who took no satisfaction in catching nine passes for 73 yards.
Brown was more involved in the offense, which was one of Arizona's Week 2 objectives. Sumlin also mentioned getting quarterback Khalil Tate more involved as a runner. That didn't happen, for reasons that aren't entirely clear.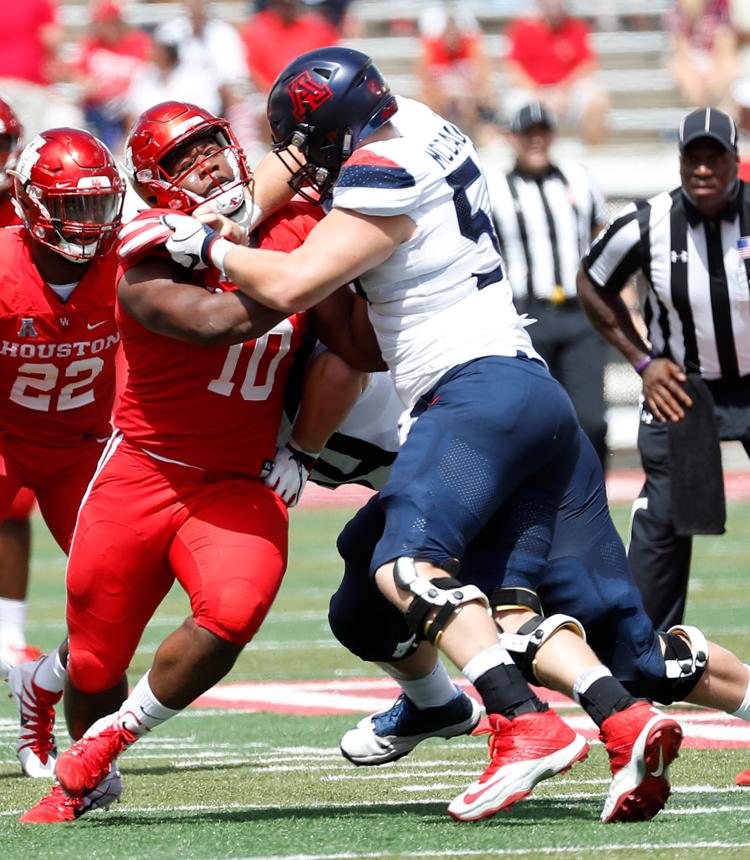 What is known is that Tate injured his left ankle early in the first quarter. On Arizona's fifth offensive play, Tate went down without being touched. He said he got hurt on a previous play on an "aggressive" tackle by Houston.
Tate downplayed the severity of the injury, saying it didn't have a significant effect on his performance.
"It's a football injury," Tate said. "Things happen. You get bumps and bruises. It's all about how you bounce back from it."
On the next play, Tate threw an interception. He didn't come out of the game until late in the fourth quarter.
But Tate had a chance to extend several plays only to take a few steps and throw the ball away. He didn't look like himself after the injury and finished with 8 yards on seven carries — his second game in a row with minimal rushing yardage.
"Something wasn't right," Sumlin said. "He communicated that on the sideline."
Tate got his left ankle and lower leg heavily taped after the interception. Sumlin said he and offensive coordinator Noel Mazzone had to alter the game plan because Tate wasn't able to execute the running plays they had added to it.
"Early in the game, the game plan was a little bit different for him, getting him to run," Sumlin said. "The conversation with him on the sideline was that he wasn't comfortable with that.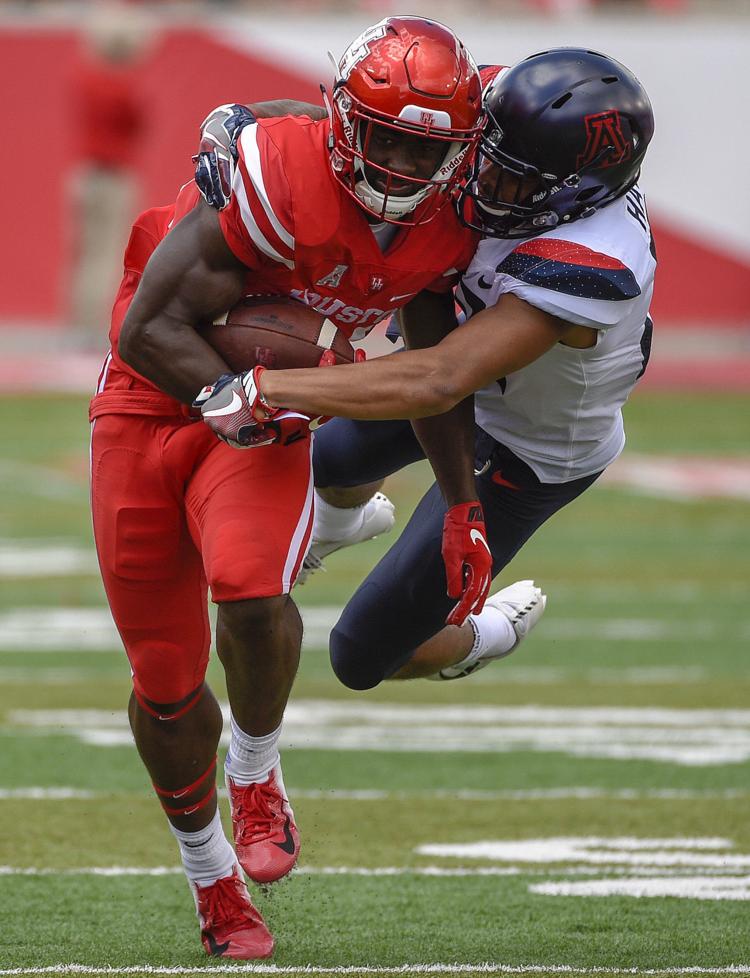 "We talked every series about it. He wanted to play. I thought he did some good things in the second half."
Tate said there was never any serious discussion about him coming out of the game, even when Arizona trailed by 38 in the third quarter.
"Nah," Tate said. "It was a little tweak, a little bruise. I have heart. I'm not just going to tap out."
Arizona finally awakened late in the third quarter. Over the final 18-plus minutes, the Wildcats outscored the Cougars 18-7.
File that under too little, too late. Arizona did most of its damage against Houston's reserves. The Wildcats finished with 531 yards – including 334 in the second half – but their two touchdowns weren't nearly enough.
"Everybody expects to be 2-0 starting the season," said linebacker Colin Schooler, who had three tackles for losses and a safety. "I don't care where you're from or who you play. I didn't expect to be 0-2."
If there was a bright spot to be found on a muggy, partly cloudy afternoon it was that Arizona didn't surrender. Despite losing several defensive players to injuries, the Wildcats kept battling. Schooler's safety cut the deficit to 20 points with 6:35 remaining.
"Trust me: We had that conversation at halftime, about what football is going to look like from us in the second half," Sumlin said. "Because it didn't look very good in the first and second quarter. If there was a positive, it was that: The team did respond to that challenge at halftime."
Said Schooler: "With games like that, you really find out what kind of team you have. When we're down by 30-something points and we still have guys fighting, still playing their hardest and trying to make plays, that's a positive. That's something that we can take away from this game."
Brown said Sumlin's message after the game was "continue to fight." The Wildcats don't have a choice. They should beat Southern Utah next week. Then Pac-12 play begins.
"It's early on," said Tate, who finished 24 of 45 for 341 yards with two interceptions. "We haven't even hit Pac-12 play yet, which is a blessing in disguise. There's growing pains. Things are going to happen when you have a new coach and basically five linemen that haven't played college football yet."
Arizona will get its most experienced blocker, Layth Friekh, back next week. Whether the various injured defenders return remains to be seen.
The Wildcats didn't have their best personnel or the requisite energy to hang with the up-tempo Cougars on Saturday. Maybe waking up at 6:30 a.m. — the equivalent of 4:30 in Tucson — had something to do with it.
Schooler wasn't buying it.
"It's game day," he said. "If you don't wake up excited, jumping out of bed, I don't know what you're doing."