Kevin Sumlin's final press briefing of training camp came a week and a half before next Saturday's opener against BYU. He was asked how he felt about his squad.
"Better than I did a week and a half ago," the first-year Arizona Wildcats coach said.
Sumlin seemed more upbeat and optimistic than earlier in camp, when he remained entrenched in the getting-to-know-you phase with his new team. But if there's one area that remains a concern — or at least an unknown — it's the offensive line.
The process of figuring out that group, Sumlin said, is "still ongoing." The experimenting might linger into the season as Arizona searches for the right combination to protect Khalil Tate and open holes for the running game.
Whatever you thought the line might look like in spring — or even as recently as July — won't be what it looks like against BYU. Only one of its current members, right tackle Cody Creason, has previous starting experience in a Division I game. Creason, a redshirt junior, has seven career starts.
The other four starters likely will come from a pool of players that includes two walk-ons (Jon Jacobs, Josh McCauley), two transfers (Tshiyombu Lukusa, Steven Bailey) and a true freshman (Donovan Laie). Two of the scholarship holdovers (Bryson Cain, Edgar Burrola) have yet to appear in a game for Arizona.
Entering 2018, Arizona had two full-time returning starters: left tackle Layth Friekh and center Nathan Eldridge. The two started every game the past two years.
But Friekh has to sit out the first two games because of an NCAA ruling that enabled him to be eligible for a fifth season. And Eldridge has missed significant practice time because of injuries.
Another veteran lineman, Alex Kosinski, who has appeared in 15 games, also has missed time this month. Asked if Eldridge and Kosinski are part of the rotation, Sumlin said: "Not right now."
Arizona had hoped that Texas A&M transfer Robert Congel — a strong candidate to start at center — would be eligible this season. But that situation remained unresolved as of Friday.
With Friekh out for two games, Congel's status up in the air and various players missing practice time, first-year line coach Joe Gilbert has tried multiple groupings. The surest bets appear to be Creason at right tackle, Lukusa at left guard and McCauley at center. Lukusa appeared in eight games at Michigan State as a freshman in 2016 before sitting out last season.
The candidates to start the opener at left tackle include redshirt sophomore Michael Eletise, who appeared in 11 games last season as a reserve guard.
"It's been a little bit of everything," Sumlin said. "It's been more of a rotation at different positions to try to find the right pieces.
"A lot of times people think in terms of five guys. But when you're a little bit thin at that positon, and you've got a guy that's out for a couple games (Friekh), you can't just find the five. You've got to have a what-if plan. That rotation has been about that too."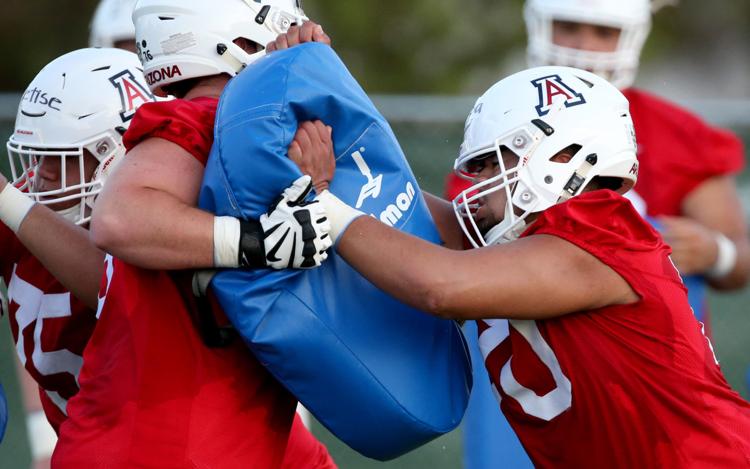 'Do your job'
Last season, Arizona forced 11 more turnovers than the previous year. The Wildcats jumped from a tie for 104th in the nation in takeaways to a tie for 25th.
Is a similar leap possible this year for other aspects of the defense?
Arizona ranked 83rd and 85th, respectively, in run defense in coordinator Marcel Yates' first two seasons. The Wildcats ranked 115th and 118th in total defense.
But if you ask Yates how much Arizona can improve in those categories, well, you're asking the wrong question. He wants his players to focus more on the day-to-day process than the final results.
"You have to be realistic," Yates said. "The margin from seven to 10 points is very small. It's a matter of a guy fitting his gap where you don't give up a big run. Or a guy dropping an interception.
"What we're trying to teach these guys is you have to be disciplined, and you have to do your job. If you have 11 guys doing their job, now you're making the other team beat you."
Yates attributed the uptick in takeaways to several factors, including the secondary having the wherewithal to play with "zone eyes." Cornerback Lorenzo Burns, whom Yates inserted into the starting lineup, had a team-high five interceptions. Fellow corner Jace Whittaker and safety Dane Cruikshank (who's now in the NFL) each had three.
Other new starters also made a significant impact. Linebackers Tony Fields II and Colin Schooler and safety Scottie Young Jr. — all true freshmen in 2017 — combined for four interceptions. "Stud" Kylan Wilborn, another freshman, led the Pac-12 with four forced fumbles.
Arizona forced multiple turnovers in eight of 13 games. The Wildcats went 5-3 in those contests. When they had one or fewer takeaway, they were 2-3.
Extra points
BYU named senior Tanner Mangum its starting quarterback for the opener.
The Wildcats participated in a pep rally for students Friday evening at McKale Center. The scheduled speakers included Sumlin, UA athletic director Dave Heeke and men's basketball coach Sean Miller.
Sumlin said Arizona would conduct a mock game Saturday. It is closed to the media.