Game-day breakdown by the Star's Michael Lev, Justin Spears and Ryan Finley.
On the field, Arizona DT Abraham Maiava seeks sacks; off it, he handles bags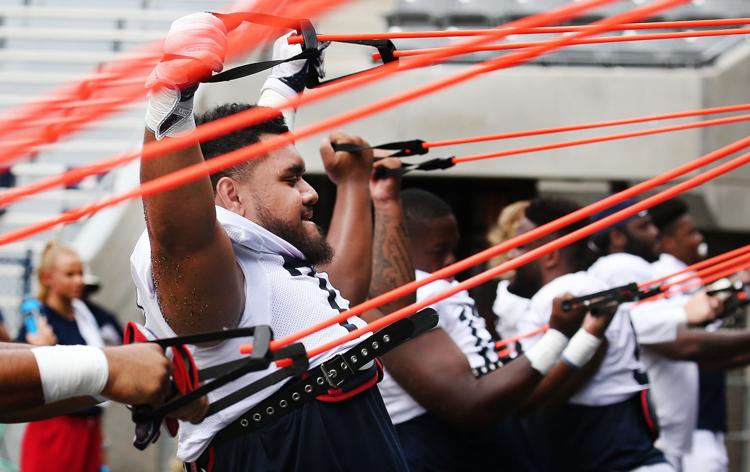 Looking for something, or someone, to root for during this trying start to the Arizona football season? Look no further than Wildcats defensive tackle Abraham Maiava.
Like older brother and former UA offensive lineman Lene Maiava, Abraham came to the United States from American Samoa to pursue his football dreams.
Unlike Lene, Abraham did not take a direct route from Fagatogo to Tucson. The younger Maiava is a walk-on who played two seasons at the New Mexico Military Institute. He made the UA roster last year through a tryout — after a year out of football rehabbing a torn ACL.
"I just didn't know where to go from there. I was kinda lost," Maiava said this week. "Luckily, God stuck by me. He gave me all sorts of opportunities, which led me here."
To help make ends meet, Maiva got a job loading and unloading luggage at Tucson International Airport. He still works there part time, usually on Friday, Saturday and Sunday nights.
He's kinda busy on Friday and Saturday nights during the football season. Fortunately, his sister, Nerisa, is able to take some of his shifts. After Arizona faces Southern Utah on Saturday night, Maiava will be on the job at 5 p.m. Sunday, toiling until about 1 a.m. Then his weekly grind — school/football/work — starts anew.
Maiava views it all as a "blessing."
"Coming from a small island, we didn't really have much resources," he said. "All we had was family and faith."
Like his older brother, Maiava played offensive line in high school. But Abraham, at 6-2, didn't have Lene's height (6-5) or growth potential. The best he could do was a military junior college in Roswell.
Toward the end of his JC career, Maiava hurt his knee. He had a handful of offers from FCS schools but didn't take them.
UA analyst Davy Gnodle, who has deep ties in the Polynesian community, invited Maiava to walk-on tryouts. He made the squad and served as one of Arizona's top scout-team offensive linemen last season.
Maiava switched positions after the UA changed coaching staffs. He knew new defensive line coach Iona Uiagalelei was Polynesian. Maiava had to play for him.
Maiava entered the season buried on the depth chart. But hard work and injuries to others created an unforeseen opportunity. Maiava played 30-plus snaps last week at Houston, recording three tackles.
"I was really nervous," Maiava said. "It was my first game in a long time, especially on this big stage.
"But the guys really helped me get through it. They just said, play your first snap and all the nerves will go away. Plus, our motto for that game was just do your job. That's what I decided to do."
Maiava played with the scrappiness one would expect from a walk-on trying to keep his spot on the team – or, if things really work out, earn a scholarship.
"It's motivation for all of the walk-ons here at U of A, especially myself, having to still work at the airport and do this," Maiava said. "I just thank God for the strength that he's been giving me."
Nick Reinhardt's job for Arizona is a snap – which doesn't mean it's easy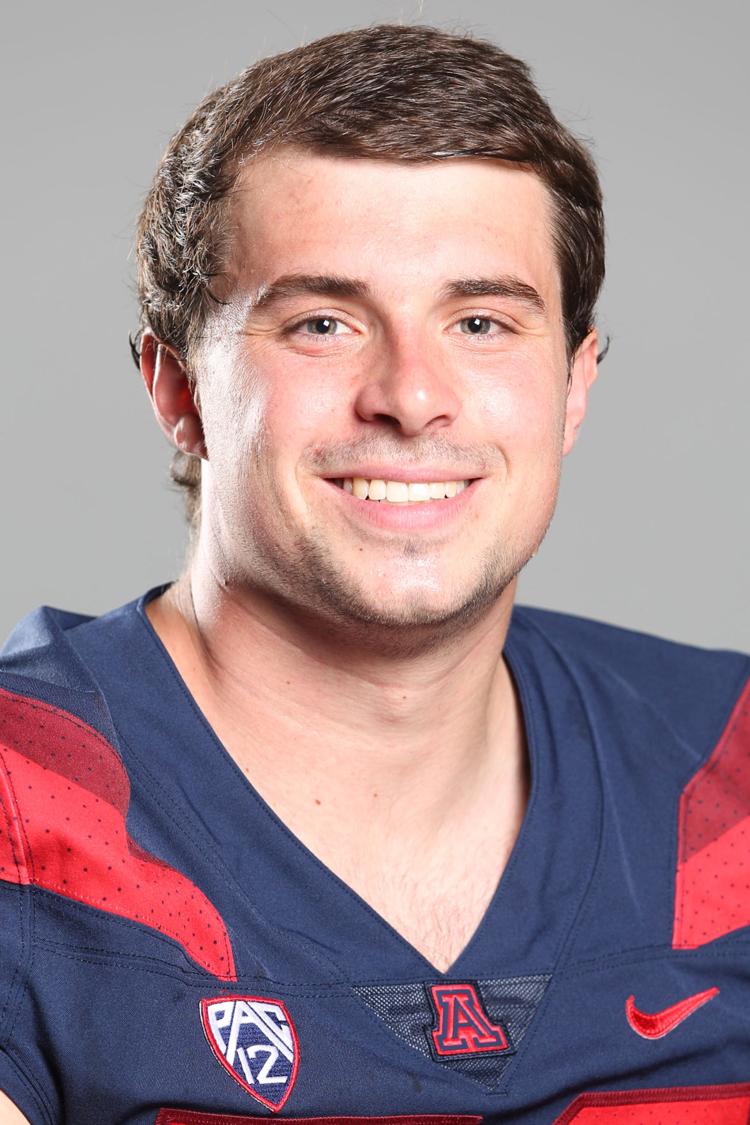 About halfway through his junior year of high school, Nick Reinhardt's life literally turned upside down.
Reinhardt knew he was too small to play offensive line in college. A family friend put him in touch with a long-snapping coach.
"I decided to give it a shot," Reinhardt said. "I just fell in love with it — perfecting the art of the long snap."
Reinhardt has proved to be a reliable asset for Arizona. When healthy, he has handled most of the snapping duties since 2015. When he was hurt last year, his absence was noticeable; the Wildcats struggled to find his replacement.
Reinhardt found it frustrating to watch wayward snaps undermine field-goal and punt attempts. But he made a difficult decision in September, and he had to live with it.
Reinhardt conceivably could have played through the torn ACL he suffered in the first quarter of the 2017 opener against NAU. He did, in fact, play the rest of that game.
But Reinhardt would like to earn one of those 32 long-snapping jobs in the NFL. That won't happen with a damaged leg. He had season-ending surgery on Sept. 21.
"It really sucked seeing some plays that maybe I could have been a part of, could have made easier," Reinhardt said. "But at the end of the day, I've gotta do what's best for myself. Wearing a knee brace, playing with no ACL, I might have wrecked my knee a little bit more and I wouldn't even be here."
Bouncing back from a knee injury was no big deal for Reinhardt, who comes from a football family. His dad, John, was a walk-on defensive tackle at Nebraska. Two uncles, Ed and Tom, played at Colorado. Another, Mark, was a tight end at Oregon.
Ed suffered a horrific head injury while being tackled in a game 34 years ago. He was in a coma for more than two months.
Ed Reinhardt remains partially paralyzed. His parents, Nick's grandparents, take care of him.
"He's doing good," Nick Reinhardt said. "It's hard to live with something like that. He does the best he can."
Nick honors the Reinhardt legacy through his play. He recorded his first career solo tackle after snapping on a punt in the opener against BYU.
Through UA predecessor Chase Gorham — whose father has known Reinhardt's dad for years — Nick began working with renowned Phoenix-area long-snapping coach Ben Bernard.
The product of Scottsdale Notre Dame Prep won a snapping competition and earned a spot in the 2014 Under Armour All-American Game. Reinhardt caught the attention of then-UA special-teams coach Charlie Ragle, who recruited Reinhardt away from Arizona State.
Reinhardt redshirted in '14 and took over the full-time snapping duties during the '15 season. After missing most of last season, he was fully cleared at the end of spring ball.
Although he has fired countless perfect spirals to holders and punters, returning to game action had Reinhardt on edge.
"I was really nervous, because it's been a long time since I played a football game," he said. "Once I finally got back on the field, it's like, 'I'm back now.' "
Ex-Cat Kelvin Hunter took Dick Tomey's lessons to heart, became a coach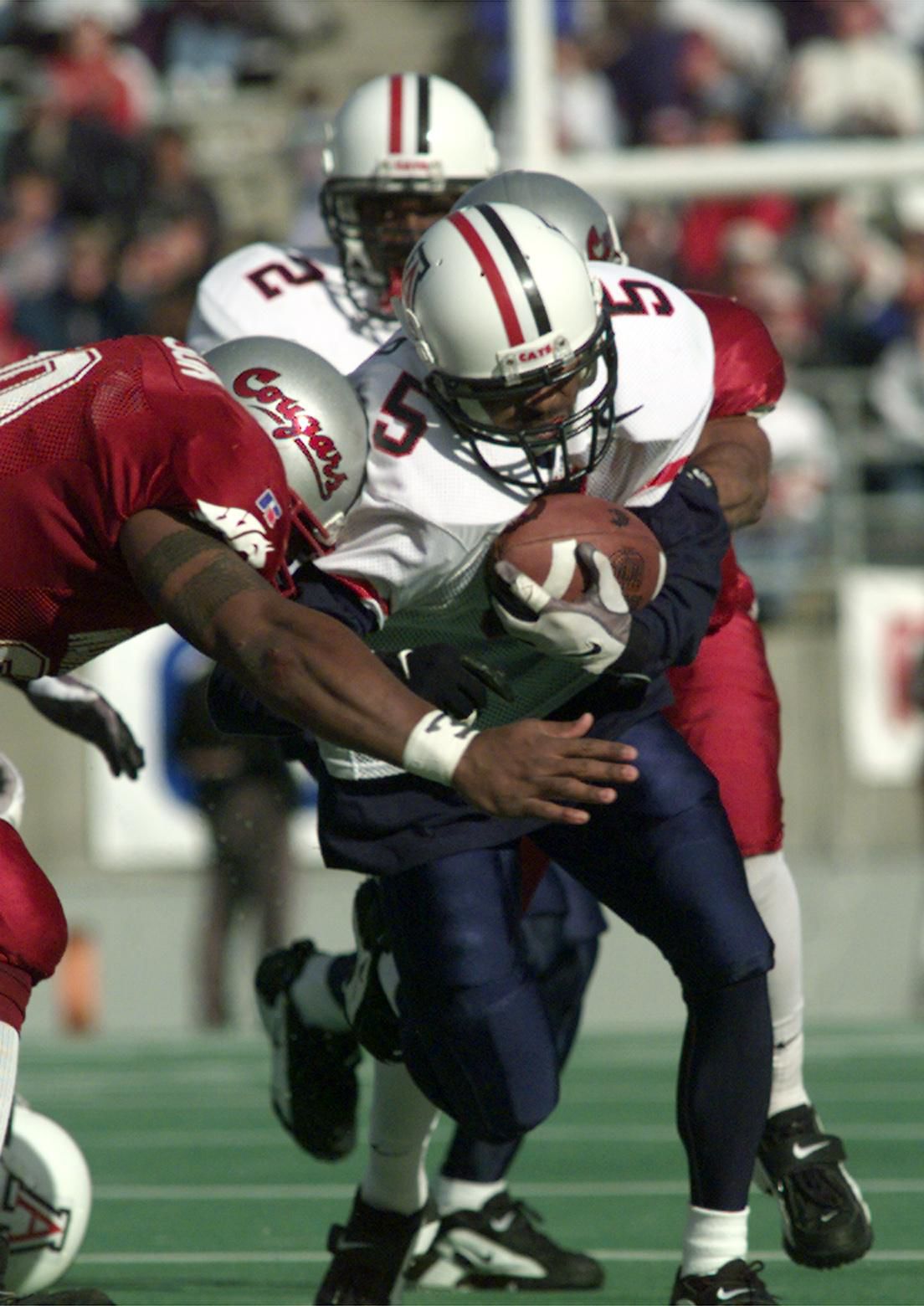 Twenty years ago, the Arizona Wildcats posted the best season in program history, going 12-1 and beating Nebraska in the Holiday Bowl. 
Cornerback Kelvin Hunter was one of the key players on the UA's stout defense, finishing with 45 tackles and two interceptions. His 14 PBUs were one less than future NFL star Chris McAlister's 15. 
"That season was special because we just had a bunch of guys that just loved to play football," he said. "We all grew as a team in the summer, we loved one another, we played for one another and we didn't want to let each other down. It was just one of those types of seasons. If you made a mistake, you didn't want to make that mistake again, because you didn't want to let your brothers down. That's what kind of team we were."
Hunter was back in town Friday night, but he couldn't stay long. Hunter is the defensive coordinator at Gilbert Williams Field, which played at Marana. His boss, Williams Field coach Steve Campbell, is a former ASU quarterback. 
The Star talked to Hunter about coaching, Dick Tomey's philosophy and of course, this year's Wildcats. Here's what he had to say … 
On Kevin Sumlin: "I never had a chance to formally sit down and talk to him, but I'm excited about the hire. From his past experiences on knowing how to recruit California and Texas, I think he's going to do a great job."
On coaching high school football in Phoenix: "I coached one year at McClintock High School with (Campbell), he played quarterback at ASU. (Chuckles) Some fun nights. And then he brought me over to Williams Field when he left McClintock. It's coaches divided. You know like the house divided? Well it's the coaches divided. … When we played against them in '97, he came in for (starter) Ryan Kealy."
On whether he uses Tomey's lessons when coaching: "All the time. The way he cared for his players, man, he was a players' coach. Some of the philosophies he used to help me grow as a man, I still use when I'm coaching. Holding each other accountable and being hard on them, but still loving them at the same time. Any day and every day. I still use a lot of his quotes."
On his favorite Tomey quote: "'Who you are speaks so loudly, I can't hear what you're saying.' They just come to my mind and I say them. I still use his quotes in our gameplan and everything."
On his favorite memory Tomey memory: "When I broke my ankle in the bowl game in '97, he came to visit me and that right there showed how much he cared about me. That right there was just one of those defining moments. When the coach comes and checks on you to make sure you're OK, that right there showed me he was down for me. For me, that changed my whole perspective because at that time, I was a mean knucklehead."
Eight quick facts about Southern Utah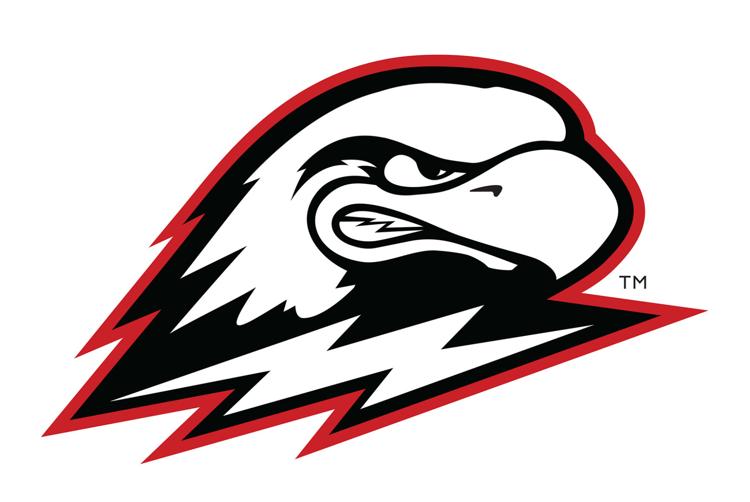 Impress your friends with these eight facts about Arizona's Week 3 opponent: 
• Where it's at: Southern Utah is located in Cedar City, Utah, which — the school notes — is a half-day's drive from virtually everywhere fun. A graphic posted on SUU's website explains that it's (deep breath) 20 minutes to Zion National Park, two hours to Las Vegas, 2 1/2 hours to the Grand Canyon, 3 1/2 hours to Salt Lake City's Temple Square, six hours to both Disneyland and Hollywood, 6 1/2 hours to both Huntington Beach and Phoenix and 7 1/2 hours to Sea World. The middle of nowhere? More like the middle of everywhere. (We may have stolen that last line from the school's marketing department.)
• Who goes there? SUU's enrollment topped 10,000 students for the first time in 2017. SUU graduated a record 2,175 students, 61 percent more than in 2007. The majority of SUU students — 79 percent — hail from Utah, while the rest primarily come from Las Vegas and Southern California. The Thunderbirds' football team is notably more diverse: 37 players hail from Utah, followed by 27 from California and seven each from Hawaii and Nevada and five from Arizona. 
• OK, but who went there: Retired U.S. senator Harry Reid, for one. He graduated in 1959. 
• Naming rights:  Southern Utah was founded in 1897, 12 years after the UA. It was known as the Branch Normal School and Branch Agricultural College until 1953, when it was rechristened College of Southern Utah. The school went by Southern Utah State College from 1969 to 1990 before settling on its current name.
• 'Birds: SUU was originally known as the Branch Aggies, a nod to their overseers at what is now Utah State in Logan. The school's decision to start a football program in 1946 led to a new nickname: the Broncos. However, the name was put down after 15 years. Why? According to the school, "many other schools of similar agricultural roots found the bronco a befitting mascot, and the strength of its good luck charms felt muddled when pitted against a fellow bronco herd." SUU became the Thunderbirds in 1961, six years after Ford introduced its famed car and three years before a national ad campaign for cheap wine introduced a slogan — "What's the word? Thunderbird" — to the masses.
• Movin' on up: SUU joined the Big Sky Conference in 2012. The Thunderbirds won their first conference title in 2015, beating Northern Arizona 49-41 in their finale to finish 8-3. The team tied "Beehive Bowl" rival Weber State for the conference championship in 2017, and the teams then squared off in the Division I FCS quarterfinals. Weber State won 31-12. 
• The coach: Demario Warren is in his third season as the Thunderbirds' boss. He replaced Ed Lamb, who bolted following the 2015 season to become the assistant head coach at BYU. Warren is 15-10 during that time; Arizona, by comparison, is 10-17. 
• The players: Think SUU will be intimidated by its second game against a Power 5 Conference opponent in as many weeks? Nah. The Thunderbirds' roster includes transfers from ASU, Washington State, BYU, Utah and Fresno State. Mark Kruger, the Utah transfer, comes from a football family. His father played at Oregon State, and his three older brothers — Paul, Dave and Joe — all played collegiately at Utah. Paul was a second-round pick of the Browns who played eight seasons in the NFL. Joe was a seventh-round pick of the Eagles in 2013.
Add USC to list of schools wooing Marana's Jordan Morgan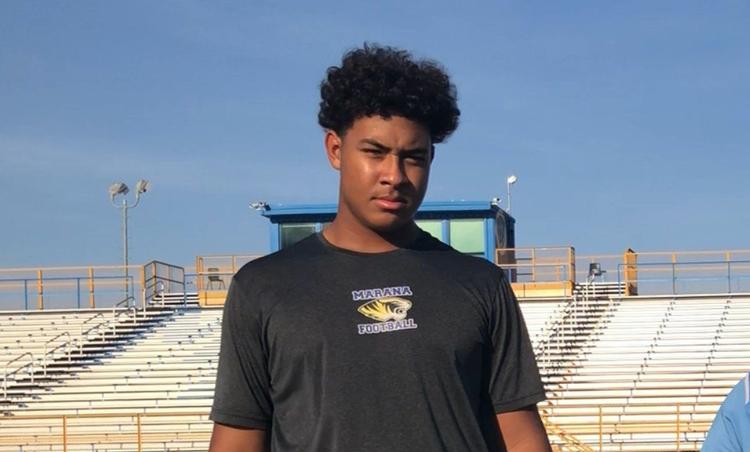 Arizona and USC won't play each other for another three weeks. But the Wildcats and Trojans are already competing.
USC has offered a scholarship to Marana High School offensive tackle Jordan Morgan, a 2019 recruit who has already committed to the Wildcats.
Congratulations to Jordan Morgan on receiving a full athletic scholarship offer from USC!!#FightOn | #TigerPride🐯 pic.twitter.com/xwmJSQDCHg

— Marana Tiger Football (@MaranaFB) September 14, 2018
The 6-foot-5-inch, 270-pound Morgan verbally committed to UA in June. He told the Star earlier this month that he's close with Joe Gilbert, the Wildcats' position coach.
247Sports.com lists Morgan as a three-star recruit and the 144th-best tackle in the country.
"We've been talking back and forth like once a week, and I like that because we stay in touch, and he makes me feel like I'm a part of the team already," Morgan told the Star.
Up until Marana's third game of the season, Morgan played right tackle. He switched to the left side after UA coaches reached out to Tigers coach Louie Ramirez, and said they were planning to play Morgan on the left in college.
Morgan is the only offensive lineman committed to Arizona for the 2019 class. He's been an under-the-radar player and that could partially be from not having any social media accounts, which is a key tool in recruiting for exposure and socializing.