J.J. Taylor was the best player at Centennial High School in Corona, California. There was nothing he couldn't — or wouldn't — do for Huskies coach Matt Logan.
Taylor was the team's star running back. He played on every special-teams unit. He played defensive back. He even played … defensive end.
Bear in mind, Taylor is 5 feet 6 inches . He weighed, at most, 160 pounds at the time.
"He was leading our team in sacks at one point," Logan said by phone this week. "He'll do anything you ask him to do. And he'll do it to the best of his ability."
Kevin Sumlin is learning what Logan already knew. Taylor is Arizona's starting tailback and kickoff returner. The redshirt sophomore led all FBS players with 1,579 all-purpose yards entering this week. He ranked third at 175.4 yards per game.
Taylor also might be the humblest star player in America.
"He's a great example to our younger players, just how he approaches his daily life on and off the field, the way he approaches the game," said Sumlin, whose team hosts Colorado on Friday night. "He's a very intelligent young man. He's a guy that's a leader but also is a guy who can push other people. He's a great example for this program and for what we want."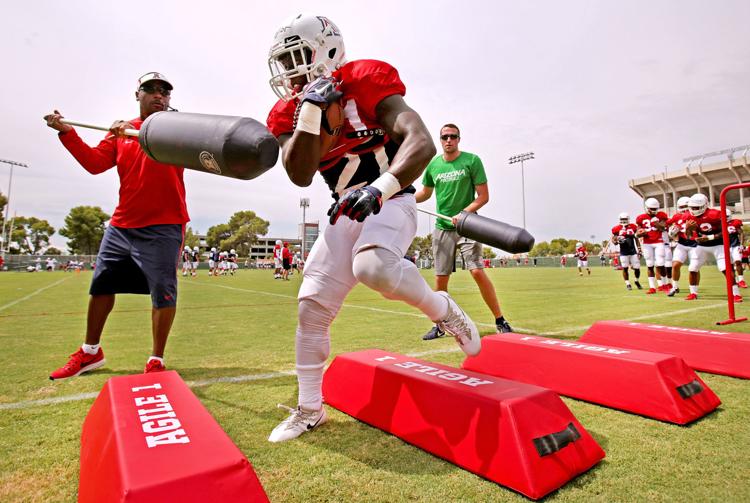 Sumlin and special-teams coordinator Jeremy Springer chose Taylor to be the kickoff returner because he was the best man for the job — and because he wanted the responsibility. Taylor rose to the top of the depth chart at tailback because he can run, catch and pick up a blitz.
Taylor has shared those duties with sophomore Gary Brightwell. Before last week, Taylor had a 64 percent cut of their carries. When Brightwell suffered an ankle injury in the second quarter, Taylor gladly took on a bigger workload. He finished with a career-high 30 carries for 212 yards and two touchdowns.
"We had to get him out. He wasn't coming out," Sumlin said. "He's got so much pride. He cares so much. Particularly when Gary left the game. He knew what was at stake, and he said, 'I'll be fine.'"
The performance was Taylor's second 200-plus-yard outing of the season. It was his second straight with more than 150. It also put him over 1,000 yards for the year.
Taylor had little interest in discussing those personal accomplishments after the game.
On his overall effort: "Gary went out early. I told him we were going to finish the game off for him. I didn't think about anything else but my teammate."
On whether eclipsing 1,000 yards was a goal of his: "The only goal I have … is to be successful as a team and win games."
Unlike so many of his peers in the selfie generation, Taylor has no desire to bring attention to himself. Asked what was working for him after his 284-yard game against Oregon State on Sept. 22, Taylor replied: "The offensive line. We just worked as a unit."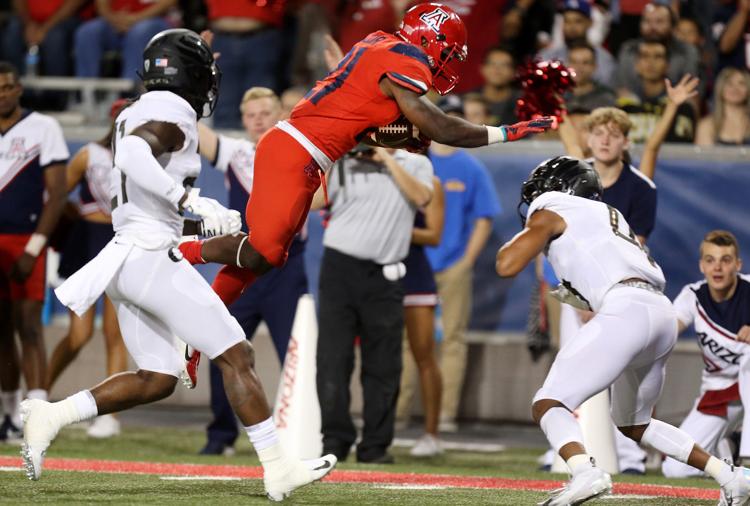 He's a gamer
Taylor is the guy you want as your teammate, whether it's football or video games. He is a supremely skilled gamer, his fellow Wildcats say. He also is unfailingly unselfish, according to Brightwell, one of Taylor's Fortnite partners.
"If I die, he won't even worry about going to kill the rest of the guys," Brightwell said. "He'll come get me right on the spot. He's a team player. Other people we play with, they just leave us there."
Senior tackle Layth Friekh corroborated Brightwell's account.
"His skill level is way beyond me," Friekh said of Taylor's Fortnite prowess. "He was helping me out, trying to get me a couple wins.
"He'll give you all his supplies. He's a good guy."
Taylor used to carpool to Southern California with receiver and classmate Devaughn Cooper. Cooper was going through some personal issues at the time. He found Taylor to be "an easy person to talk to." It stands to reason that someone who speaks so few words would be a good listener.
While recounting those times, Cooper casually mentioned that Taylor "was just at my house helping my roommate fix his tire."
"He's just helpful," Cooper said. "He's that type of guy."
Taylor helped linebacker Tony Fields II without even trying. When he first started practicing against Taylor, Fields would leave his feet and lunge at the elusive running back. Needless to say, that tactic didn't work.
"He's helped me learn how to break down and tackle," Fields said. "If you do a two-feet takeoff with that dude, you're going to miss completely. You've gotta drive through. He's too quick, too fast."
At Centennial, the Huskies wrap up spring practice with a flag-football game. If you played there from 2013-15, you wanted to have Taylor on your side.
"It was so crazy," Logan said. "You talk about making guys miss. He would make guys completely miss."
Overlooked, Underestimated
Everything Taylor is doing now, Logan witnessed first-hand at Centennial. As a senior, Taylor rushed for 2,149 yards and 41 touchdowns. Cal-Hi Sports named him the top offensive player in the state.
However, Taylor had only two offers from Power Five schools: Arizona and Washington State. That had everything to do with his lack of size.
"I understand it. I get it," Logan said. "At the same time, I knew what he brings to the table.
"I used to sell him as a Darren Sproles — smaller in stature but a big-time ballplayer. Then everything else he brings, his character. It's always nice when your best player is your hardest worker."
Taylor committed to Arizona in July 2015 and enrolled about a year later. He rushed for 168 yards in his third college game, against Hawaii. The following week, against Washington, Taylor had 97 yards before suffering a season-ending broken ankle late in the third quarter.
The injury happened early enough for Taylor to preserve his redshirt year. Last season, he was named Pac-12 co-Offensive Freshman of the Year after rushing for 847 yards and five touchdowns.
Taylor already has surpassed those totals. His sixth touchdown came on a 19-yard run near the end of the Oregon game. Taylor, who participated in gymnastics as a youth, finished the run with a somersault over cornerback Thomas Graham Jr.
UA receiver Shawn Poindexter wasn't surprised. Taylor has leaped over the 6-5 Poindexter to snatch a rebound in pickup basketball.
"It takes a little shot at your pride," Poindexter said. "No one's around, and all of a sudden J.J. is towering over me. What? It doesn't make any sense."
We finally might have found an area where Taylor shows a hint of selfishness: If he wants a rebound, he'll stop at nothing to get it.