Arizona bounced back from its two-game skid with a worry-free win over No. 19 Oregon 44-15 on Saturday night.
Wildcats quarterback Khalil Tate returned to the starting lineup at Arizona Stadium after missing last week's game against UCLA. Tate finished the night completing 19 of 33 passes for 189 yards, three touchdowns and one interception. 
Tate's top target was senior wide receiver Shun Brown, who set a career high with 10 receptions for 96 yards. Arizona's defense held Oregon quarterback Justin Herbert to 24 of 48 passing for 186 yards, two touchdowns and one interception.  
UA sophomore J.J. Taylor became the first running back since Nick Wilson (2014) to rush for more than 1,000 yards in a season, racking up 212 yards on 30 carries.
Wildcats forced three takeaways with Scottie Young Jr.'s first-half interception, Chacho Ulloa's blocked punt and P.J. Johnson's forced fumble.
Arizona keeps its bowl eligibility alive as the Wildcats advance to 4-5 (3-3 Pac-12) on the season, while Oregon lost its second straight game and falls to 5-3 (2-3).
---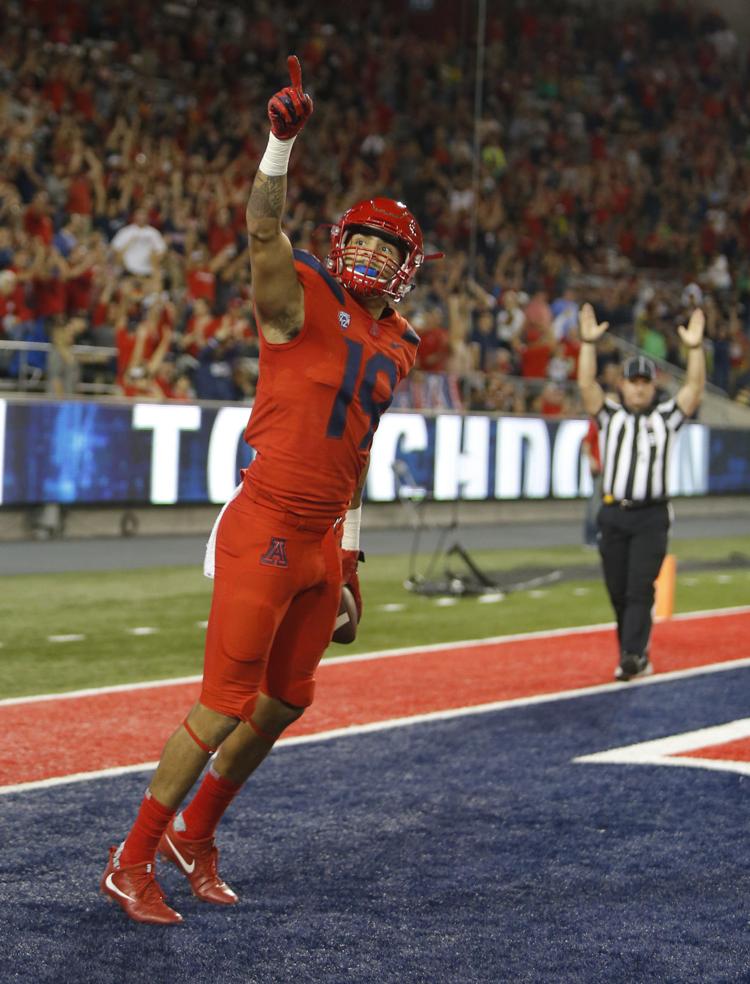 The Arizona Wildcats are 15 minutes away from a major upset and their biggest victory of the season.
Arizona leads No. 19 Oregon 37-8 entering the fourth quarter of their game Saturday night at Arizona Stadium.
Leading 23-8 at halftime, the Wildcats outscored the Ducks 14-0 in the third quarter. Both scores came on Khalil Tate touchdown passes — an 8-yarder to Shawn Poindexter and a 27-yarder to Shun Brown.
Even when things went wrong for Arizona, they turned out right. A punt by Dylan Klumph hit Oregon's Charles Sudduth, deflecting to the Wildcats' Lorenzo Burns. That gave Arizona the ball at its 48. Five plays later, Tate hit Brown to bump the lead to 37-8.
Arizona is trying to follow in the cleat prints of the 2013 and '14 Wildcats, who upset ranked Ducks squads as double-digit underdogs. The line for this game closed at Oregon minus-7.5.
Tate is 19 of 32 for 189 yards with three touchdowns and one interception. J.J. Taylor has rushed for 157 yards on 23 carries.
---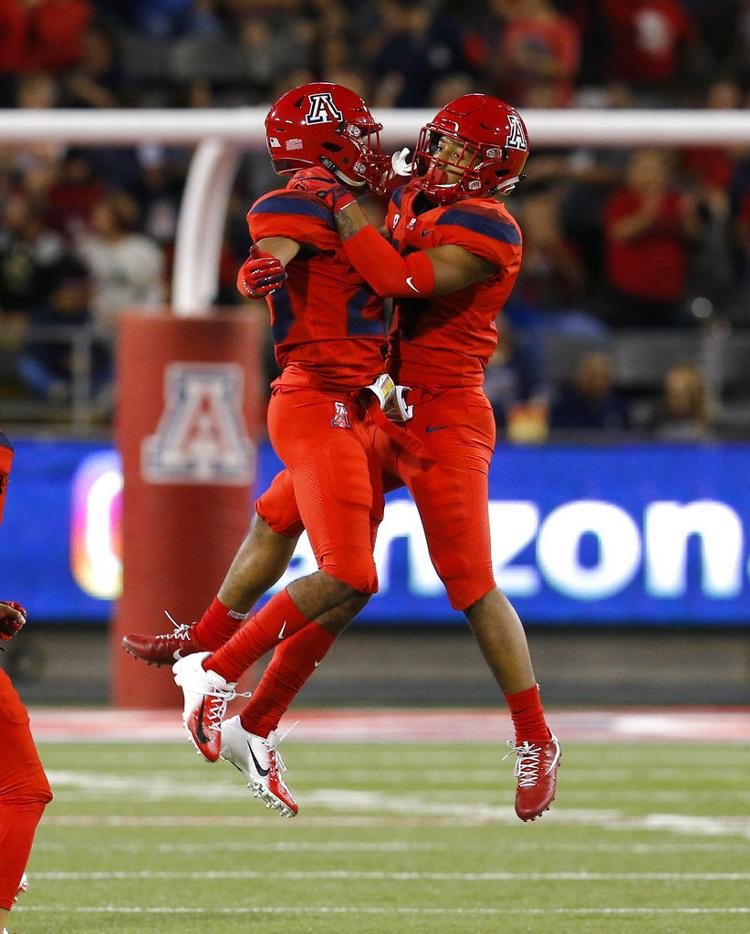 Are the Arizona Wildcats on their way to another upset of Oregon?
The Cats lead the No. 19 Ducks 23-8 at halftime of their game Saturday night at Arizona Stadium.
Arizona's defense has limited Oregon to 124 total yards and seven first downs. Ducks quarterback Justin Herbert is 11 of 23 for 87 yards with one touchdown and one interception.
Khalil Tate, back in the lineup after sitting out against UCLA, hasn't put up eye-popping numbers but hasn't put the ball in harm's way. Tate is 13 of 24 for 126 yards. He has rushed two times for 6 yards, including a 5-yarder that gained a first down.
Leading 16-8, Arizona put together an epic 18-play, 88-yard touchdown drive. J.J. Taylor converted a fourth-and-1 and later scored from the 1 to bump the lead to 15 points. Taylor has 65 yards on 16 carries.
The second quarter began with Josh Pollack's second field goal, a 32-yarder that made it 13-0. It followed Scottie Young Jr.'s interception, which gave Arizona the ball at its 49-yard line late in the first quarter. The drive stalled at the 14. Tate couldn't hook up with a well-covered Tony Ellison in the end zone on third-and-6.
Arizona's defense continued to stymie Oregon on the next possession, forcing its fifth three-and-out of the first half. The Wildcats' special teams then stepped up. Chacho Ulloa blocked a punt. Kylan Wilborn scooped up the ball, setting Arizona up at the Oregon 6.
The Wildcats again couldn't turn their good fortune into a touchdown. Two incomplete passes followed a 1-yard Taylor run. Pollack's 23-yard field goal made it 16-0.
Oregon finally got something going on its next drive. Herbert scrambled 20 yards for a first down on third-and-9. He then hit Dillon Mitchell for a 29-yard touchdown. Herbert dove across the goal line for a 2-point conversion to make it 16-8.
Arizona tailback Gary Brightwell suffered an apparent left ankle injury in the second quarter and did not return.
---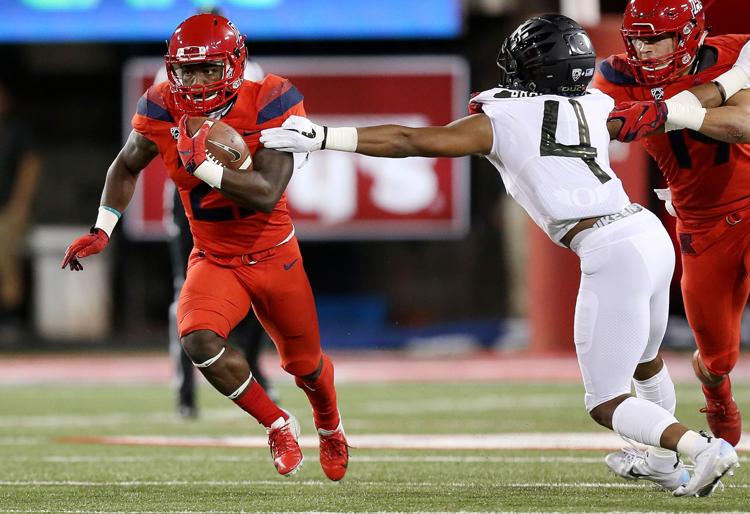 Behind an inspired defensive effort, the Arizona Wildcats lead No. 19 Oregon 10-0 entering the second quarter of their game Saturday night at Arizona Stadium.
The Wildcats have limited the Ducks to one first down and 42 total yards. Senior safety Demetrius Flannigan-Fowles has a pair of pass breakups. Sophomore Scottie Young Jr. has an interception. PJ Johnson forced a fumble that Christian Young recovered.
Despite excellent field position, Arizona has managed only 10 points. Khalil Tate, back in the lineup after sitting out against UCLA, has completed 5 of 12 passes for 76 yards. J.J. Taylor and Gary Brightwell have combined for 59 yards on the ground.
Fast starts have been few and far between for the 2018 Wildcats. They couldn't have started any faster tonight.
The defense forced a three-and-out on the opening possession — the first of three straight. Colin Schooler's tackle of Dillon Mitchell 1 yard short of the line to gain brought out the punt unit.
Arizona then put together a crisp seven-play, 75-yard touchdown drive. Taylor's 21-yard run over left tackle got things going. The drive ended with Tate's 22-yard TD pass to an uncovered Shawn Poindexter. Oregon ran a cornerback blitz from the offense's left, and no one slid over to guard Poindexter.
After a series of three-and-outs, Johnson and Christian Young created a one-and-out. Johnson forced Travis Dye to fumble. Young recovered the ball at the Oregon 21.
But the best Arizona could do was a field goal. Josh Pollack's 34-yarder made it 10-0.
The Wildcats got the ball back late in the quarter when Scottie Young intercepted Justin Herbert near midfield.