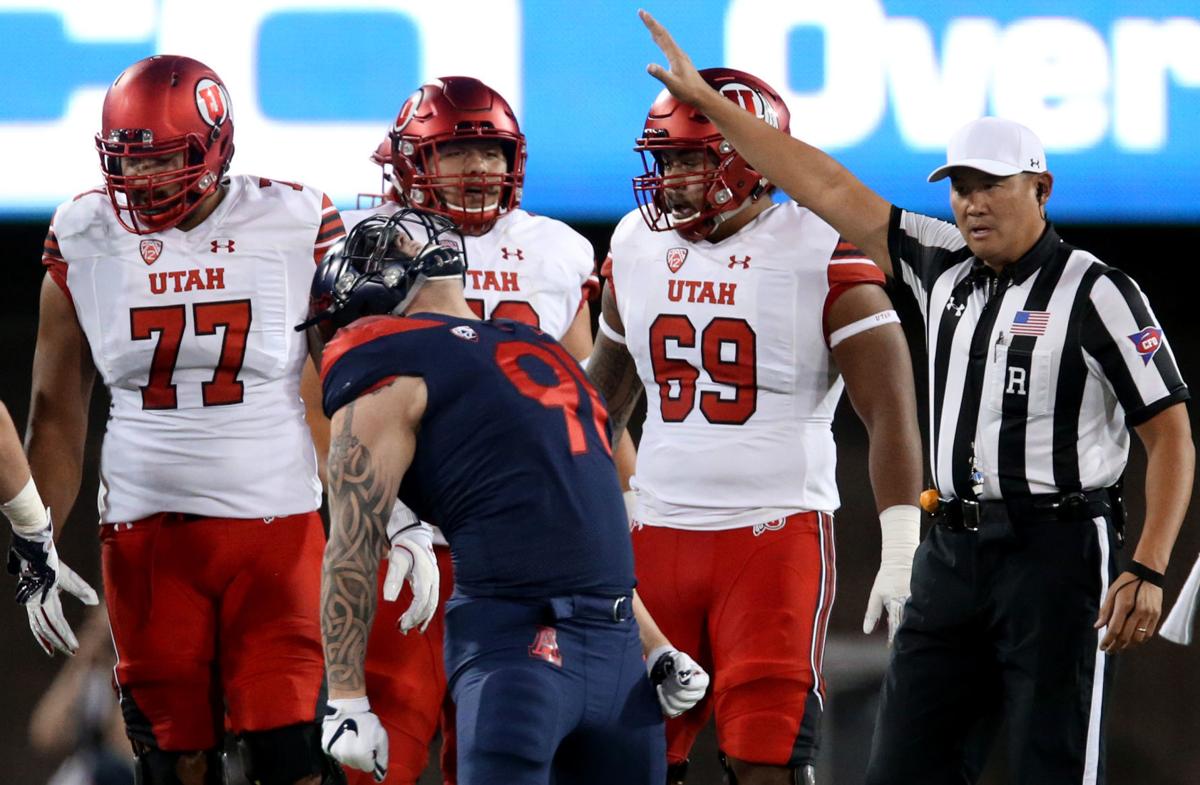 The Arizona Wildcats are set to open their first training camp under Kevin Sumlin on Friday. Each day this week, we'll ask — and answer — a key question about the 2018 Cats heading into camp.
Camp question No. 4: The defensive line will be bigger, but will it also be better?
This much we know: The broadcast networks televising UA games no longer will be able to run graphics depicting how undersized the defensive line is.
Of the seven scholarship defensive tackles on the roster, five are listed at 300-plus pounds: Finton Connolly (301), Dereck Boles (306), PJ Johnson (335), Mykee Irving (337) and Sione Taufahema (339).
Last year's roster had three 300-pound D-linemen. The year before that, Arizona had just two.
Size isn't everything, of course. The weight has to be "good weight." The players still have to be able to move and hold up over 60 minutes for 12-plus weeks.
But it's reasonable to assume that with added size comes added strength. Bigger bodies up front should make the Wildcats more effective against the run, keeping blockers off of playmaking linebackers Colin Schooler and Tony Fields II.
"They help me out so much," Schooler said. "You look at those guys and it's, 'OK, I want to be behind those guys.'"
Arizona's run defense improved slightly last year, but the Wildcats still ranked ninth in the Pac-12 for the third year in a row. Here are the numbers from the past three seasons:
2017: 185.1 ypg/4.6 ypc
2016: 194.2 ypg/4.7 ypc
2015: 198.6 ypg/4.5 ypc
(Oddly, Arizona was way better at stopping the run in 2014 — allowing 169.8 yards per game and 4.1 per carry — yet ranked 11th in the league.)
The defense really struggled against the run in November, allowing an average of 303.7 rushing yards in road losses to USC, Oregon and Arizona State. The Trojans and Ducks, in particular, steamrolled the Wildcats, amassing 331 and 353 yards, respectively. It's no coincidence that Arizona managed just one sack and one interception in each of those games; it all works together.
Boles returns as the anchor on the inside, and Johnson emerged in spring as the favorite to start alongside him. The massive JC transfer appears to have the requisite athleticism; a recently posted video shows him dunking a basketball.
The Wildcats also appear to have enough big bodies to form a robust rotation. Connolly showed promise last year, as did then-freshman Kurtis Brown, who checks in for camp at a relatively svelte 291 pounds (up from 285 last year).
Taufahema, back from a knee injury that cost him last season, also could push for meaningful playing time. Freshmen Irving and Nahe Sulunga, who were teammates in high school, could be the DT duo of the future.
All of it looks good on paper. Whether it translates into dominance on the field remains to be seen. If the defensive line can just be decent, it would make a sizable difference.
Be the first to know
Get local news delivered to your inbox!