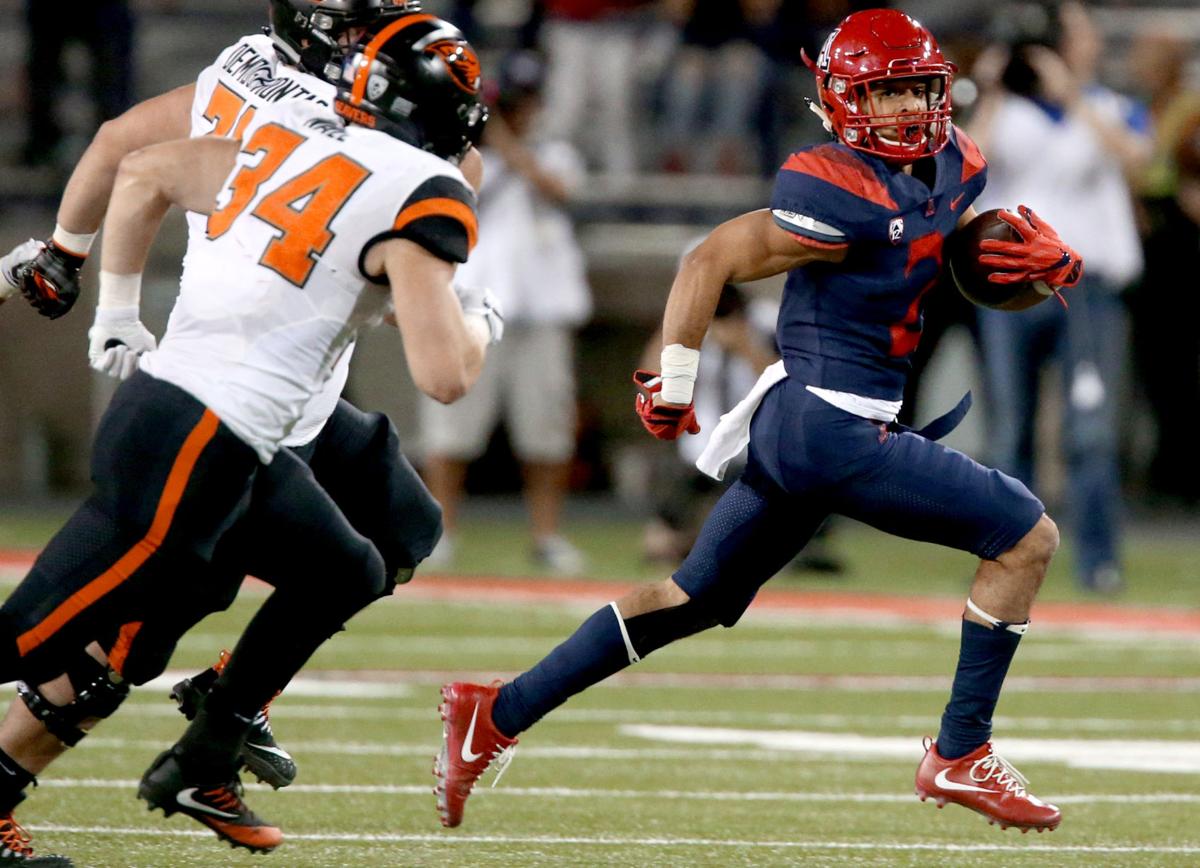 The Arizona Wildcats are set to open their first training camp under Kevin Sumlin on Friday. Each day this week, we'll ask — and answer — a key question about the 2018 Cats heading into camp.
Camp question No. 2: What will the secondary look like entering the season opener?
For a unit that has some of the team's most experienced and productive players, there are a surprising number of unknowns.
Atop the list after Monday's roster reveal is the identity of the players who will man the Nos. 3 and 4 cornerback spots.
Senior Jace Whittaker is ensconced at one starting position; with Tony Wallace no longer on the team, Lorenzo Burns seems secure on the other side. Beyond them, it's anyone's guess.
The candidates include veterans, newcomers and some players who are kind of in between.
Malcolm Holland, Sammy Morrison and Antonio Parks at least have game experience. So does grad transfer Tim Hough, who the Star reported is set to join the team via UNLV. The only true-freshman corner is McKenzie Barnes, who offers intriguing length (6-foot-1) but might not be strong enough yet (178 pounds).
Redshirt freshmen Malik Hausman and Azizi Hearn — a walk-on whom the coaches like — are about as unproven as Barnes.
At least two players from that group will have to emerge as reliable options, because it's unrealistic to expect Whittaker and Burns to play every snap — and to remain healthy and available every game for the second year in a row.
The Wildcats are set at the "Bandit" safety position with senior Demetrius Flannigan-Fowles, who has 26 career starts. It's a little more muddled at the other safety spots.
Hard-hitting junior Tristan Cooper enters camp as the favorite to succeed Dane Cruikshank at "Spur." But it's hardly a sure thing.
Redshirt freshman Xavier Bell will push Cooper, as might true freshman Dayven Coleman. It's also possible that one of the projected free safeties will be shifted to another position if Scottie Young Jr. is reinstated, which would create a logjam at that spot.
Young started nine games at free safety as a freshman and recorded 53 tackles, including 3.5 for losses. He was arrested and charged with a misdemeanor in connection with a domestic-violence incident in late September but didn't miss any game time. Young was suspended for spring practice. It's unclear if there's a connection between the arrest and the suspension.
If Young is reinstated for fall camp, he'll push for the starting job, just as he did last year. Arizona has another capable free safety in heady redshirt sophomore Jarrius Wallace. And the Wildcats welcome back Isaiah Hayes, who started as a freshman in 2016 before sitting out last season because of shoulder surgery.
There are other safeties we didn't even mention. The point is, defensive coordinator Marcel Yates, cornerbacks coach Demetrice Martin and safeties coach John Rushing have a lot to sort out — maybe more than anyone anticipated — between now and the Sept. 1 opener against BYU.