As spring breaks, here's a look at how the Arizona Wildcats line up
The Star's Michael Lev runs through the Wildcats' key concerns in a position-by-position preview of Arizona's 2019 college football season. Spring practice kicks off March 18.
QUARTERBACKS
Key returnees: Kevin Doyle (6-3, 210, RS FR), Jamarye Joiner (6-1, 210, RS FR), Rhett Rodriguez (6-0, 201, JR), Khalil Tate (6-2, 215, SR)
Key newcomers: Grant Gunnell* (6-6, 228, FR)
(*-midyear enrollee)
The big question: What can Tate do to take his game to a higher level?
If Tate had the season he had last year without having had the season he had the year before, hardly anyone would have complained.
Tate threw 26 touchdown passes and only eight interceptions. In 2017, he threw 14 TD passes and nine INTs.
Tate threw for almost 1,000 more yards in the same number of appearances. His efficiency rating of 149.8 ranked second in the Pac-12, ahead of Gardner Minshew, Jake Browning, Justin Herbert and Manny Wilkins.
Yet by any objective measure, Tate's 2018 campaign has to be considered a disappointment.
Tate entered the season on the short list of Heisman Trophy contenders, quickly fell off it and never resurfaced. He hurt his ankle in the second week of the season and wasn't quite right until late October. His rushing numbers plummeted from 1,411/9.2/12 to 224/3.0/2.
Whether we ever see the 2017 version of Tate again remains to be seen. Opponents began to limit his perimeter opportunities late that season and continued to do so last year. Tate also seemed less inclined to run, preferring to develop his skills as a passer and move the ball downfield that way.
Which is fine. But Tate can improve significantly in how he goes about doing that.
A lot of Tate's success last season came on plays where he improvised. If he didn't find something on his initial read, he'd buy time and use his athleticism and arm strength to chuck the ball downfield. He's incredibly good at it, and it led to a plethora of big plays.
But it's not exactly an efficient form of offense, as evidenced by Tate's completion percentage dropping from 62.0 to 56.3. Those types of plays are a perfectly acceptable Plan B; they shouldn't be Plan A. So if you're going to start anywhere with a Tate improvement plan, it's becoming better at operating the offense as it's designed.
Not doing so might have been the source of the rumored friction between Tate and offensive coordinator Noel Mazzone — a frequent message-board topic that never has been verified on the record by either party or UA coach Kevin Sumlin. Interestingly, when asked recently what he wanted to see from Tate this spring, Sumlin mentioned film study and leadership. Those are undoubtedly areas where Tate — like most young quarterbacks — has room for growth.
Asked whether there would be a legitimate QB competition this spring — which was not the case last year — Sumlin referred to Tate as a returning starter. But Sumlin quickly added that on a 5-7 team, "everything's open."
It would benefit the team — and Tate — if one or more of the younger quarterbacks pushed him. Tate didn't seem to have the same hunger last year as in 2017, when he was still trying to establish himself. If he felt that his job was in jeopardy, it might fuel him to work that much harder on his deficiencies. That would be the preferred outcome, anyway.
There's no clear-cut No. 2 entering spring camp. Joiner's skill set most resembles Tate's. Gunnell is as studious and sharp a freshman as you'll find, but he might not be quite ready physically for Division I ball. Doyle might have the best combination of athleticism and acumen. All are unproven.
Rodriguez returns as a short-term safety net. Sumlin and Mazzone likely would go with one of the younger quarterbacks if Tate suffered a long-term injury — or if he decides to hit the ejection button in late summer and leave as a grad transfer (not a likelihood … but not an impossibility either).
The best-case scenario? Tate fully embraces the responsibilities inherent in his senior-QB status, holds off the competition and becomes the player he's capable of being.
RUNNING BACKS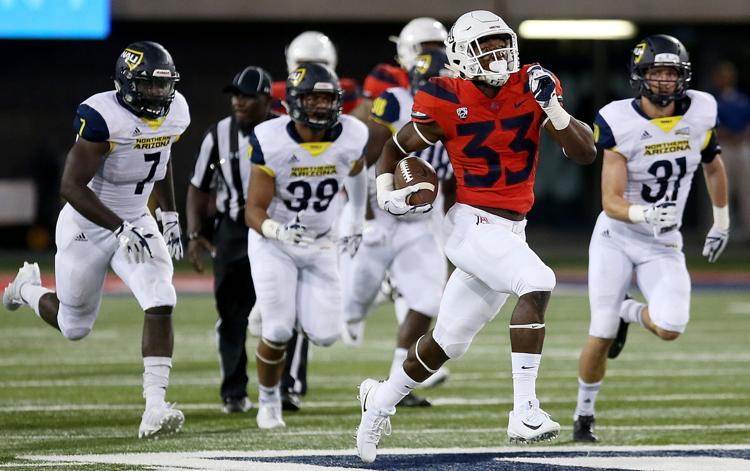 Key returnees: Gary Brightwell (6-1, 206, JR), Darrius Smith (5-9, 175, RS FR), J.J. Taylor (5-6, 184, RS JR), Nathan Tilford (6-2, 202, RS SO)
Key newcomers: Michael Wiley (6-0, 190, FR)
(*-midyear enrollee)
The big question: What will it take for Tilford to crack the rotation?
Arizona has gotten incredible production from its 2017 recruiting class. Linebackers Tony Fields II and Colin Schooler are multiyear starters and leaders of the defense. JB Brown and Jalen Harris are emerging pass-rush threats. Scottie Young Jr. and Troy Young should be key members of the secondary. Kicker Lucas Havrisik has an NFL leg.
It's easy to forget that the highest-rated member of that class was Tilford.
The four-star recruit from Colony High School in Ontario, California, showed promise as a freshman. He appeared in 10 games, mostly on special teams, and gained 121 yards on 13 carries. He scored two touchdowns and had a 65-yard run.
Arizona then changed coaching staffs, and Tilford became a non-factor.
Tilford's second season consisted of one game and one carry (for 1 yard). He failed to make a positive impression on new running backs coach Clarence McKinney, who's a stickler for all-around play — running, receiving and blocking. As he should be.
From what we've seen of Tilford in practice, there's little doubt he can run the ball. He also has shown promise as a receiver. The blocking part is harder to gauge in those settings. He obviously didn't show enough to McKinney to earn a role.
Tilford's best hope might be that McKinney is now the head coach at Texas Southern. Tilford gets a second chance to make a first impression.
New RB coach DeMarco Murray played under Kevin Sumlin at Oklahoma, so their criteria for quality tailback play undoubtedly overlaps. But Murray isn't McKinney. Murray and Tilford have no history.
So this spring affords Tilford an opportunity to wow his new position coach — to prove he can be just as effective as Taylor and Brightwell (another productive member of the '17 class).
It's going to take a stellar spring for Tilford to make a move. Running back is probably Arizona's strongest position.
Taylor is entrenched as the starter after rushing for 1,434 yards and earning third-team All-America honors as an all-purpose back. Brightwell is an explosive slasher (5.8 yards per carry) who also has earned the trust of Sumlin and offensive coordinator Noel Mazzone. Smith flashed big-time feel, vision, patience and change-of-direction during a freshman campaign truncated by injury.
Those are the top three entering spring camp. It's unrealistic to think Tilford can surpass all of them. Frankly, he's a long shot to crack the top two. But there's enough work available for three backs to be in the mix. Tilford possesses the ability to at least crack the rotation.
If anyone can draw it out of him, it might be Murray. Murray's listed playing dimensions were 6-1, 220. Tilford is listed at 6-2, 202. Murray knows what a bigger back needs to do to run — and block — with leverage and power
If he's unable to move up the depth chart, Tilford conceivably could be a candidate to transfer. The upside of his minimal participation last year is that it counts as a redshirt season under the new NCAA rules. So even if he had to sit out 2019, he'd have two more years of eligibility.
One more thought on Tilford: If running back doesn't work out, it might make sense to give him a look on the other side of the ball. Some recruiting sites listed Tilford as an "athlete" coming out of high school with the potential to play offense or defense. Arizona actually has a greater need at linebacker, where depth is minimal.
This idea isn't based on insider information. It's just a logical alternative for a talented player who hasn't found his niche yet.
RECEIVERS/TIGHT ENDS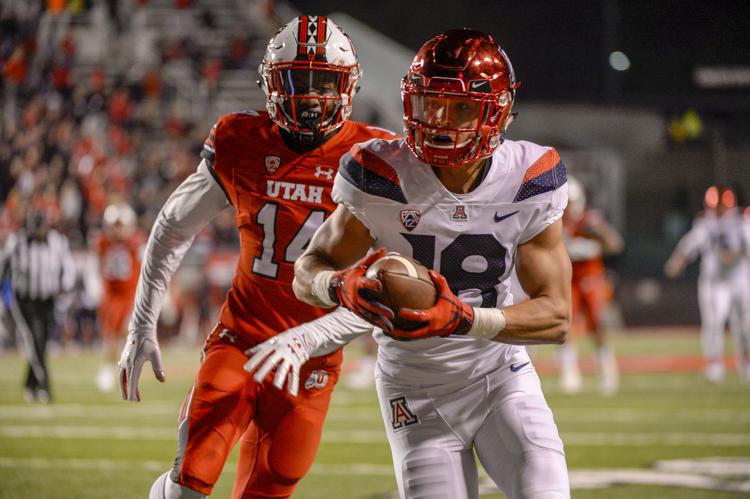 Key returnees: Tre Adams (6-3, 190, RS FR), Jailen Bailey (5-10, 163, RS FR), Stanley Berryhill (5-9, 172, RS SO), Brian Casteel (6-0, 210, RS SO), Devaughn Cooper (5-10, 175, RS JR), Drew Dixon (6-3, 210, RS SO), Thomas Marcus Jr. (6-2, 203, RS FR), Jake Peters (6-4, 222, RS FR), Cedric Peterson (5-11, 193, RS SR), Zach Williams (6-3, 224, RS FR), Bryce Wolma (6-3, 252, JR)
Key newcomers: Boobie Curry* (6-2, 197, FR), Jalen Johnson (6-3, 183, FR), Jaden Mitchell* (6-0, 180, FR)
(*-midyear enrollee)
The big question: Is wide receiver truly an area of concern, as it appears to be on paper?
Lots of turnover here, and lots of inexperience in its wake.
We listed 11 wide receivers — 12 if you include Williams, who came to Arizona as a tight end but got looks at wideout in practice. Six of them — seven with Williams — are freshmen or redshirt freshmen. And it's not as if redshirt sophomores Casteel (who missed 2018 because of injury) or Dixon have much in the way of game reps.
Arizona's receiving corps was stocked with veterans a year ago: redshirt seniors Shun Brown, Tony Ellison and Shawn Poindexter, plus redshirt junior Peterson. They combined for 153 receptions, 2,207 yards and 27 touchdowns. They were productive and reliable.
With all but Peterson having used up their eligibility, it's fair to ask: Now what?
The receiving corps will have a different look, no doubt. The lack of experience is a tad worrisome. But it's not as if the position is devoid of talent.
Peterson isn't a burner, but he has a connection with Khalil Tate and sneakily averaged 14.9 yards per catch last year while converting four of his 18 receptions into touchdowns. He's going to do his job, and do it well.
The coaching staff obviously likes Berryhill, who was awarded a scholarship in training camp. Berryhill was the only receiver besides the four veterans to catch a TD pass last season. He finished with a 14-218-2 line — and came within inches of hauling in a Tate pass in the waning moments against Arizona State that would have changed the outcome of that game and the tenor of the offseason. (It was a difficult, contested catch in the end zone but one Berryhill could have made.)
Berryhill is the most likely successor to Brown as the primary slot receiver. The Tucson product possesses similar quickness and twitchiness.
As for the Poindexter role, Curry is the closest thing in terms of size and physicality. The Wildcats' highest-rated high school recruit, Curry put up insane numbers as a junior when he was fully healthy: 122 receptions, 1,576 yards and 18 touchdowns. He has the potential to be a No. 1 outside receiver, if not now then soon.
Cooper isn't a classic "X" receiver at 5-10, 175, but he has the speed to get over the top. Cooper averaged a team-best 20.4 yards on 18 receptions. Like Peterson, Cooper appears to have good chemistry with Tate. Cooper, who battled injuries and other issues earlier in his UA career, could be poised for a breakout campaign.
Admittedly, there are a lot of questions here. Peterson never has been a primary receiver. Berryhill and Cooper are unproven as starters. Curry might look the part, but it remains to be seen whether that will translate against bigger, better defensive backs.
Fortunately, they aren't the only candidates to fill the roles vacated by the veterans. Arizona has multiple options of varying sizes and skill sets. It wouldn't be at all surprising if one — or more — of the younger players impressed in spring and cracked the rotation.
The 2019 Wildcats have many holes to fill. Several positions are in need of reinforcements. Receiver belongs on that list, but it shouldn't be atop it.
OFFENSIVE LINEMEN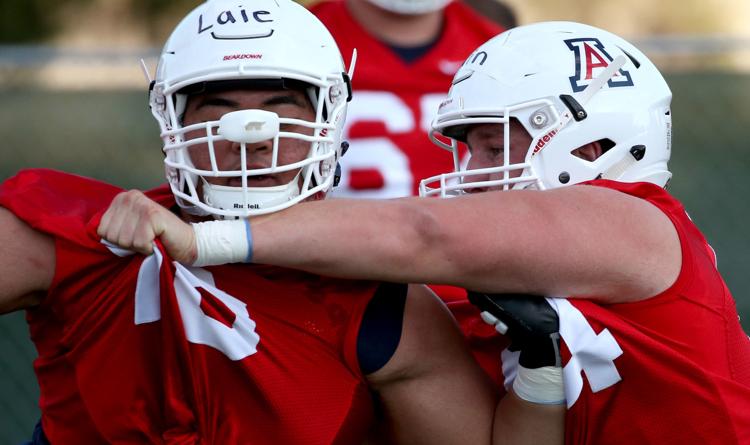 Key returnees: Steven Bailey (6-3, 318, RS JR), Edgar Burrola (6-5, 287, RS SO), Bryson Cain (6-4, 306, RS JR), Robert Congel (6-3, 315, RS SO), Cody Creason (6-4, 294, RS SR), Donovan Laie (6-4, 318, SO), Josh McCauley (6-3, 292, RS JR), David Watson (6-5, 307, RS FR)
Key newcomers: Josh Donovan* (6-6, 310, JR), Paiton Fears* (6-6, 320, JR), Jordan Morgan (6-5, 270, FR), Jamari Williams (6-3, 310, FR)
(*-midyear enrollee)
The big question: With their new additions, have the Wildcats adequately addressed their depth issues up front?
In a word … no.
Despite directly and aggressively tackling a major team need with two JC transfers and two high school recruits, Arizona remains several bodies short of the desired 15 scholarship offensive linemen.
To put it in simple mathematical terms: The Wildcats have added as many linemen as they've lost (at least as of this writing).
Besides the four newcomers listed above, we're putting Congel in that category. He transferred to Arizona last year but had to sit out the season per NCAA rules. He's eligible for 2019.
Meanwhile:
The Wildcats lost starting left tackle Layth Friekh to graduation.
Former starting center Nathan Eldridge, who sat out last season because of injuries, transferred to Oregon State.
Michael Eletise, a former four-star recruit who started three of the final four games last season, transferred to Hawaii.
Tshiyombu Lukusa, who started the first two games, reportedly has entered the NCAA transfer portal.
And Alex Kosinski, a veteran with experience as a reserve who didn't play last season, has graduated and elected not to use his remaining eligibility.
That's five in … and five out. Which leaves Arizona with 12 viable linemen. And that number includes a player who hurt his knee late in the season (Cain) and two true freshmen at a position where physical development is paramount and redshirting is preferred.
Were some of the departures preventable? Perhaps. But the truth is, the previous regime did not sufficiently supply the roster with a stockpile of linemen. It was always going to take multiple recruiting classes to solve that problem.
Arizona conceivably could add a graduate transfer or two. There are still plenty of linemen available on the market, according to GradTransferTracker.com. Whether any of them are any good isn't quite as clear, but a case could be made that the Wildcats just need some additional bodies, especially if the investment is short term.
Arizona has the makings of a good starting unit. Laie showed he could play either tackle spot, and he should only get better. Creason has been through the wars at tackle and guard. McCauley — who started every game at center, the only UA linemen to open every game at the same position — proved he's worthy of a scholarship.
Add Congel, Donovan and Fears to that group, and you've got six physically developed candidates for the five starting jobs. If one or two of the younger players develops, you've got a decent rotation. But if multiple injuries hit … trouble.
That's the situation new line coach Kyle DeVan inherits. He comes to Tucson with impressive credentials as a player and coach. He has worked under/with some of the sharpest offensive minds in the sport.
The Arizona offensive line was coached up in a major way last season by Joe Gilbert, with help from analyst Harold Goodwin. Both are part of the Tampa Bay Buccaneers staff now, Gilbert as the OL coach, Goodwin as the assistant head coach/run-game coordinator.
Gilbert and Goodwin showed you can overcome depth issues and other problems with expert coaching and personnel management. Despite a makeshift line, Arizona led the Pac-12 in rushing yards and total offense.
The Wildcats didn't have 15 scholarship linemen a year ago, and they got by. It's just not a formula for sustained success.
INTERIOR DEFENSIVE LINEMEN
Key returnees: Finton Connolly (6-5, 301, RS SR), Mykee Irving (6-3, 337, RS FR), Nahe Sulunga (6-2, 270, RS FR)
Key newcomers: Kane Bradford (6-5, 270, FR), Trevon Mason (6-5, 280, JR), Myles Tapusoa* (6-2, 326, JR)
(*-midyear enrollee)
The big question: Can anyone replace the production of PJ Johnson, who eschewed a sixth year of eligibility to enter the NFL draft?
It's going to be a sizable challenge.
Johnson was among the Wildcats' most pleasant surprises in 2018.
A transfer from City College of San Francisco, Johnson became a force in his one and only season in Tucson. Johnson's 8.5 tackles for losses ranked second on the team. His three sacks tied for third. He also had two fumble recoveries, one forced fumble and a safety — all while missing two games.
Despite weighing well over 300 pounds, Johnson played defensive end at times. He even rushed from a two-point stance on occasion. He forced opposing offenses to account for him.
There's no obvious candidate to fill that role. But it's important to remember where things stood a year ago: No one knew how good Johnson would become.
His credentials were intriguing, to be sure. The fact that he ran with the ones from the start of spring camp suggests the coaches had some inkling of what he could do. But it's not as if Johnson came to the UA as a can't-miss pro prospect.
The only known quantity among the six players listed above is Connolly, who has proved he can be a productive rotation player at the very least. Everyone else is a mystery.
The newcomer whose profile most resembles Johnson's is Tapusoa. He's listed at 326 pounds. He's slated to participate in spring ball. He was credited with 56 tackles, including 11.5 TFLs, in his sophomore year at Eastern Arizona College (which finished with the best record among all the Arizona JCs). That's tremendous production, at any level, for an interior defensive lineman.
But you never know how it will translate to Division I. For every PJ Johnson there's a Sione Taufahema, another 300-plus-pound JC transfer who never could stay healthy and never saw the field for the Wildcats.
Arizona is going to need at least two others, maybe three, to emerge alongside Connolly. Besides Johnson, the Wildcats also must replace sidekick Dereck Boles, who piled up 35 tackles, including five TFLs, two fumble recoveries and one forced fumble last season.
As with the offensive line, defensive line is a position where Arizona might look to add a player or two via the graduate-transfer market. The problem is, those are the hardest guys to find. One such candidate, Roe Wilkins of Rice, is headed to rival Arizona State.
Although Johnson put up numbers, the primary responsibility for the interior defenders in Marcel Yates' scheme is to occupy blockers and keep the linebackers clean. The presence of Johnson and Boles helped Colin Schooler and Tony Fields II combine for more than 200 tackles.
But it sure is nice when the big guys can make plays too. Johnson has that ability. It's rare.
The Wildcats unearthed one of those gems a year ago. Perhaps they can do so again.
EDGE RUSHERS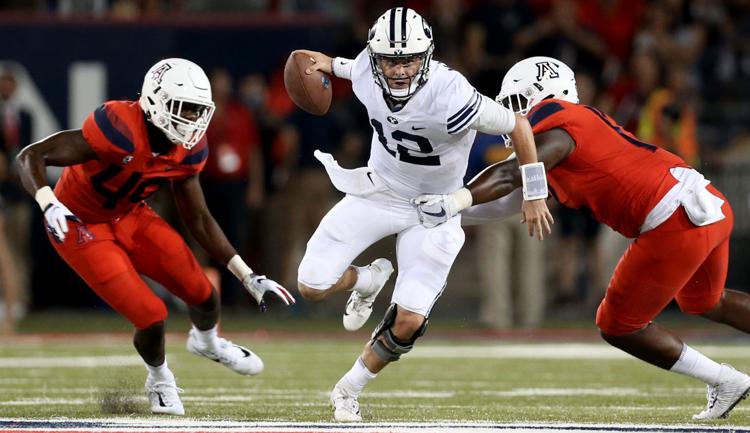 Key returnees: Justin Belknap (6-3, 259, RS SR), JB Brown (6-3, 263, JR), Jalen Cochran (6-3, 263, RS JR), Jalen Harris (6-4, 230, RS SO), My-King Johnson (6-4, 227, RS SO), Kylan Wilborn (6-2, 248, JR)
Key newcomers: Eddie Siaumau (6-3, 215, FR), Kwabena Watson (6-2, 225, FR)
(*-midyear enrollee)
The big question: If someone in this group doesn't surpass last year's leading sack total of 3.5, is the UA defense in trouble?
Sacks aren't the end-all, be-all when it comes to measuring the effectiveness of a pass rush. Hurries and knockdowns can have just as big an influence.
Pro Football Focus' "Pass Rushing Productivity" rating measures pressure created on a per-snap basis, with weighting toward sacks.
Per PFF, Harris ranked sixth among Pac-12 edge rushers in 2018 with a PRP of 8.0. (The league leader, Porter Gustin of USC, had a PRP of 10.0.) PFF credited Harris with five sacks (two more than his official count), six QB hits and 20 hurries in 231 pass-rush snaps. Not bad.
But if you asked Harris or any other UA defender about their 2018 sack totals, they'd say they didn't have nearly enough.
While imperfect as a statistic, sacks still matter. They literally can end drives or change games.
As a team, Arizona ranked ninth in the Pac-12 in sacks (23) and sacks per game (1.92). Those numbers were down from 31 (in 13 games) and 2.38 the previous season.
(Sack fun fact: Washington — which allowed the fewest yards and points per game in the Pac-12 — had one fewer sack than Arizona in one more game last season.)
If you've spent any time watching the UA defense under Marcel Yates, you know the Wildcats would benefit from a more consistent pass rush — especially in those maddening third-and-long situations.
Four Wildcats had three or more sacks last season. One of them, linebacker Colin Schooler, who tied with Brown for the team lead at 3.5, is a part-time pass rusher who has many other responsibilities. Another, PJ Johnson, was primarily an interior lineman. He's now prepping for the NFL draft.
The two others who hit that threshold were Harris and Brown. They're two of the top three candidates to boost Arizona's sack total. All three are entering their third seasons. They can still get better.
Harris might be on the cusp of a breakout. He has everything you want in a pass rusher — quickness, speed, length and desire. He's just constantly waging the battle of the bulk. If Harris can come anywhere close to his stated goal of 260 pounds (245 would suffice, honestly) without losing any of that burst, he'd be a force.
While Harris eventually became the starter at "Stud," Brown emerged on the opposite side after Belknap suffered a season-ending foot injury in September. Although he isn't blessed with Harris' seemingly endless arms, Brown has developed into an effective rusher. Not only did his 3.5 sacks tie for the team lead, his 7.5 total tackles for losses ranked third.
Considering that he moved from middle linebacker during his freshman season, Brown still has upside. Arizona has the makings of a nice DE rotation with Brown, Belknap and Cochran (if he can stay healthy, which has been a problem).
Surprisingly, Brown ranked lower in PFF's PRP metric (31st among Pac-12 edge rushers) than Wilborn (26th). The latter's drop in production remains one of the biggest lingering mysteries of the 2018 season.
Wilborn looked like a budding star as a freshman, when he recorded 7.5 sacks and led the Pac-12 with four forced fumbles. He appeared to be continuing his ascent during training camp. Then, when the games started, Wilborn all but vanished.
Wilborn finished with two sacks and one forced fumble. He had only 14 total tackles in 11 games (Brown had 30, Harris 27).
Did opponents figure out Wilborn's game? Did he add "bad weight," as message-boarders have theorized, diminishing his quickness and agility? Did he have injuries that never became public?
Whatever the case, Wilborn wasn't the same player in 2018. He still has time to rediscover his freshman form. A re-emergence of the '17 Wilborn — combined with the continuing development of Brown and Harris — could make all the difference for the UA defense.
LINEBACKERS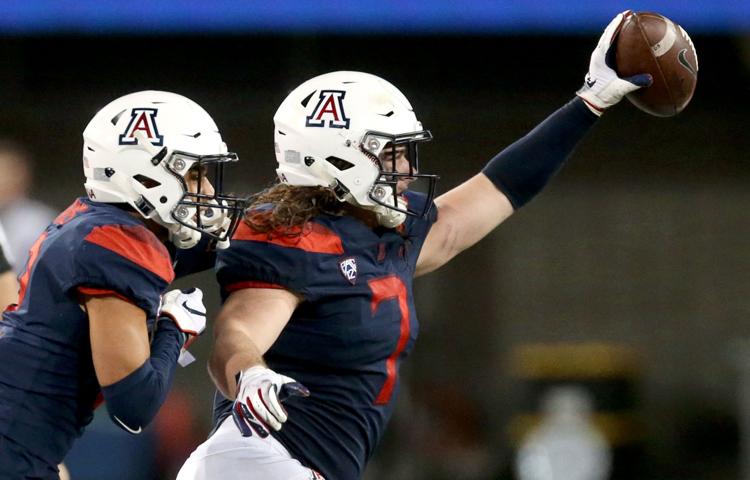 Key returnees: Lee Anderson III (6-1, 243, SR), Dayven Coleman (6-2, 216, RS FR), Tony Fields II (6-1, 230, JR), Issaiah Johnson (6-1, 235, RS FR), Anthony Pandy (6-0, 225, JR), Colin Schooler (6-0, 236, JR)
Key newcomers: Derrion Clark (6-1, 220, FR)
(*-midyear enrollee)
The big question: With yet another new position coach, can Arizona's linebackers reach their potential?
Fields, Pandy and Schooler are about to play for their third coach in as many years. This isn't an uncommon occurrence at Arizona, or anywhere in college football.
The Wildcats' safeties are in the same boat. As are their running backs. And their offensive linemen.
While continuity obviously is preferred, evolving leadership isn't an absolute deterrent to improvement. College-aged kids are used to change. They're quick to adapt.
The difference in this particular situation is that the new linebackers coach, John Rushing, has no known experience as a linebackers coach.
Rushing played defensive back at Washington State and primarily has coached defensive backs during his 20-plus years in the business. That includes last season at Arizona, when he served as the safeties coach.
Rushing spent eight seasons in the NFL with the Green Bay Packer and L.A. Rams. He was a quality-control coach on both sides of the ball. He coached defensive backs, running backs and receivers.
None of which is to say he can't do it. Rushing has been around the game for a long time. He's been part of some highly successful defensive staffs. He can learn.
It just seems like a strange way to configure this defensive staff. Earlier in the offseason, Rushing and defensive coordinator Marcel Yates — who coached linebackers in 2016 and '18 — switched positions. UA coach Kevin Sumlin felt the pieces fit together better that way.
Yates had no experience coaching linebackers before coming to Arizona, and he seemed happy when he got to coach cornerbacks — his wheelhouse — in 2017. Scott Boone served as the LB coach that year. He had 10 years of experience coaching the position.
Boone wasn't retained by Sumlin, who added Rushing to the staff as the safeties coach and moved Yates back to linebacker. Rushing had a history with Sumlin at WSU and is close friends with Yates. The move allowed Yates to work and communicate directly with defensive leaders Schooler and Fields. Both had productive second seasons.
Schooler made 24 more tackles and eight more stops for losses — 21.5 in all — in one fewer game. Fields' numbers slid a bit, but he still had 89 tackles, 4.5 TFLs and two sacks. He also did his best work at the end of the season (3.5 TFLs, two sacks in last four games).
Pandy, meanwhile, flashed explosiveness in limited duty (25 tackles, three TFLs). His physical tools are on par with Schooler and Fields. Pandy's best days appears to be in front of him.
Fields (at the start of the season) and Schooler (at the end) suffered through bouts of inconsistency last year, so one easily could argue they haven't peaked either. The question is whether Rushing is the right man to draw it out of them.
Fields and Schooler are self-motivated worker bees who push each other and are determined to make a lasting imprint on the program. But even established NFL veterans benefit from quality coaching — or stagnate when it's average or below.
For the UA defense to be the best it can be, Fields and Schooler have to be at their best. The onus is on Rushing to help them get there.
CORNERBACKS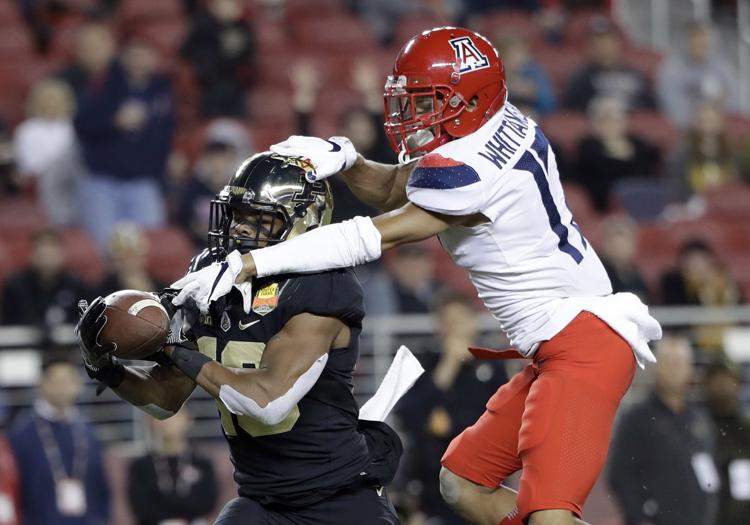 Key returnees: McKenzie Barnes (6-1, 178, SO), Lorenzo Burns (5-10, 181, RS JR), Malik Hausman (6-0, 174, RS SO) Azizi Hearn (6-1, 193, RS SO), Malcolm Holland (5-11, 189, RS SR), Jace Whittaker (5-11, 189, RS SR), Troy Young (6-0, 205, JR)
Key newcomers: Chris Roland* (6-0, 190, FR), Bobby Wolfe (6-2, 170, FR)
(*-midyear enrollee)
The big question: What does it mean to have Whittaker back, and what did Arizona miss while he was out of commission?
Stability. Intelligence. Leadership. Toughness.
Those are some of the attributes Whittaker offers. He doesn't have great length or amazing speed. But he's smart and gritty and possesses a knack for making plays.
Whittaker appeared in only one game in 2018, which was supposed to be his last season. He missed the first two weeks because of a hamstring injury. He returned against Southern Utah. On the first series, he hurt his elbow. He never returned.
Without him, the field cornerback position became a revolving door. Four other players started at that spot. Over the final five weeks, Arizona used four different corner combinations.
Burns started 10 of 12 games on the boundary side. He performed adequately. But there's no question he was a more effective player when he had Whittaker as his partner in 2017. Burns had five interceptions that year. He had none last season.
Whittaker's presence just makes everything fit together better. Burns doesn't have to carry the burden of being the No. 1 corner. The younger players don't have to play before they're ready.
When Burns was injured and graduate transfer Tim Hough left the team before the UCLA game last year, Arizona had to start two true freshman — Barnes and converted safety Christian Young.
(The Wildcats also were missing Khalil Tate and Layth Friekh that night … and lost by one point. That one point turned out to be the difference between making a bowl game and staying home.)
Arizona is adding three freshmen to the mix year — four defensive backs in all, positions subject to change — and they'll benefit from having Whittaker around to show them the way.
Whittaker could have joined the mass exodus from the UA program this offseason. He graduated in December. He could have transferred to another school without having to sit out. Or he could have gone pro.
Instead, Whittaker elected to return, taking advantage of the NCAA's new redshirt rule. (Whittaker would have been granted a fifth year under the old rules given how many games he played last season and when he got hurt. The new rule streamlined the process.)
When he speaks to the media during spring camp, Whittaker probably will cite "unfinished business" when asked why he came back. The last time he spoke, last August, he talked about he great he felt.
Ironically, Whittaker said this in regard to goals for personal improvement: "I wanted to get bigger, stronger, so I could last a little longer through the season."
Despite bulking up to about 190 pounds, Whittaker didn't last. His injury luck was dreadful.
Now Whittaker gets a second chance, and there's every reason to believe he'll return to the form he displayed in 2017, when he started all 13 games, intercepted three passes and broke up 13 others.
Beyond the on-field production, Whittaker is somebody the coaches can trust. That's vitally important, especially with veterans such as Demetrius Flannigan-Fowles and Isaiah Hayes no longer part of the secondary.
Whittaker needs to get his work in between now and the start of the season, but the coaches would be wise to manage his reps. They found out last year what life is like without him.
SAFETIES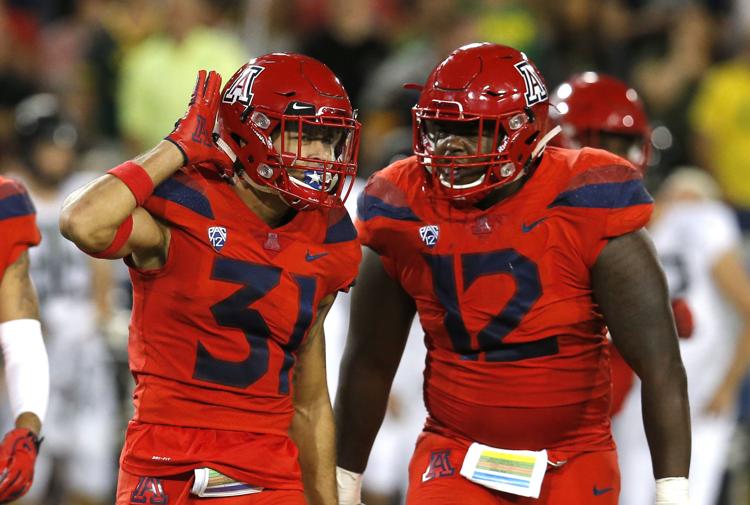 Key returnees: Xavier Bell (6-2, 196, RS SO), Tristan Cooper (6-1, 194, SR), Rhedi Short (6-0, 185, RS SO), Chacho Ulloa (5-11, 194, SR), Jarrius Wallace (6-1, 180, RS JR), Christian Young (6-1, 209, SO), Scottie Young Jr. (5-11, 195, JR)
Key newcomers: Maurice Gaines* (6-2, 193, FR), Jaxen Turner (6-2, 185, FR)
(*-midyear enrollee)
The big question: Do any of Arizona's safeties have star potential, and if so, who?
It might not have felt like it at the time, but Dane Cruikshank had a breakout season in 2017 for Arizona after being moved from cornerback to safety.
Cruikshank compiled 75 tackles, including 5.5 for losses, five pass breakups, three interceptions and a forced fumble. He became a pro prospect and was selected in the fifth round of the 2018 NFL draft, something that hasn't happened often in these parts lately.
(The Pac-12 foolishly did not recognize Cruikshank's star turn. He didn't even merit honorable-mention recognition from the conference.)
Moving Cruikshank from corner to the Spur safety spot was the brainchild of defensive coordinator Marcel Yates. Yates still has a lot to prove to UA fans as a coordinator, but he has a long, impressive history coaching defensive backs. He knows what he's looking for and who fits where.
With Yates taking over as the safeties coach this year, he'll have hands-on involvement with that critical position. He'll be working side by side with cornerbacks coach Demetrice Martin to figure out the secondary's best five.
Entering spring camp, we see three leading candidates for the starting safety spots.
We'll start with Cruikshank's old spot, the Spur. Cooper began the season as Cruikshank's successor before falling out of favor. By the end of the year, he had become one of the defense's steadiest performers.
Cooper accumulated 17 tackles and three pass breakups over the final four games — roughly half his production for the season (36 and six). One play in particular gained Cooper notoriety: a devastating hit on unsuspecting Oregon receiver Dillon Mitchell.
We've always known Cooper could thump. He's extremely physical and slightly crazy. What earned him playing time toward the end of the season was improved technique and newfound consistency. Cooper became a much more fundamentally sound tackler. He also showed he could make plays in space.
Cooper might not have had a chance to regain his starting spot if Dayven Coleman hadn't hurt his knee in Week 3 against Southern Utah. Coleman, who ended up redshirting, is moving to "Mike" linebacker this spring, the Star has learned.
Another 2018 newcomer from Texas, Christian Young, made two starts at a position he wasn't recruited to play — cornerback. The Wildcats were desperate, and the coaches turned to an untested freshman — a clear sign of trust.
Only three UA freshman surpassed the four-game redshirt limit: Young, cornerback McKenzie Barnes and tackle Donovan Laie. That should tell you something about how the staff felt about those players.
In a part-time role, Young amassed 14 tackles, two pass breakups and one fumble recovery. He's an early favorite to start at Bandit or free safety — and a strong candidate to break out in 2019.
Scottie Young Jr. likely will man the other safety spot. He has the most impressive résumé of the players we've discussed here, and his best work might be ahead of him.
Young started nine games as a freshman in 2017. He was involved in an off-field incident that year and was suspended from team activities from most of the following offseason.
After being reinstated in training camp, Young needed time to get in playing shape. He again made nine starts, recording 38 tackles and a team-high three interceptions, one of which he returned for a touchdown.
Young has shown a knack for making plays since the day he arrived on campus. With another year of experience and an uninterrupted offseason of team-supervised training, he should be able to take his game to an even higher level.
SPECIAL TEAMS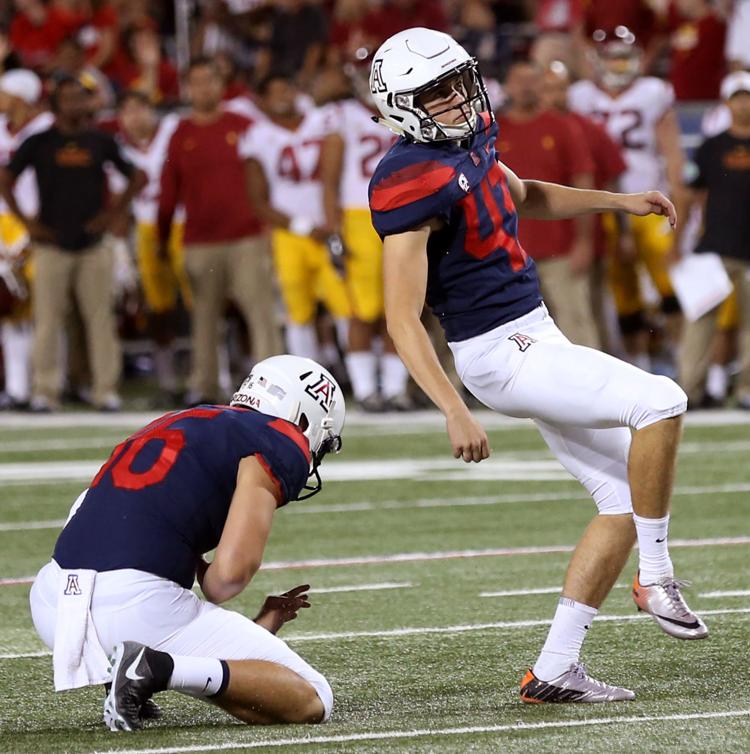 Key returnees: P Matt Aragon (6-5, 220, RS SR), K Lucas Havrisik (6-2, 184, JR), LS Donald Reiter (5-10, 248, RS JR)
Key newcomers: K Nathan Halsell (6-2, 200, FR), LS Seth MacKeller (5-11, 190, FR), P Kyle Ostendorp (6-2, 195, FR), P Cameron Weinberg (6-0, 168, FR)
(*-midyear enrollee)
The big question: Is Havrisik Arizona's best candidate to make first-team All-Pac-12?
Despite the league's declining national profile, it remains stocked with premier talent. It's hard to make first-team all-conference. Heck, UA linebacker Colin Schooler — who did as much for his team as any player in the league — couldn't even make the second team last year.
Havrisik has as good a shot as anyone. He already has proved he can perform at that level as a kickoff specialist. After notching 63 touchbacks in 93 kickoffs as a freshman, Havrisik improved his percentage as a sophomore. His 81.08 percent touchback rate ranked ninth in the country.
Havrisik was supposed to be the Wildcats' primary placekicker last season. He started the season in that capacity, struggled a bit and lost the job.
With Josh Pollack having used up his eligibility, the position is Havrisik's to lose in 2019. Last year's adversity will only make him more prepared for the role.
Havrisik showed he was in a good place mentally when he came off the bench and nailed 49- and 55-yard field goals against Colorado. Havrisik hadn't attempted a field goal in a game in over a month. Instead of pouting over losing his job, he worked to get better.
Havrisik's diligence and determination weren't lost on Kevin Sumlin, who will rely on the junior as more of a leader this season.
Veteran punter Dylan Klumph, long snapper Nick Reinhardt and holder Jake Glatting are gone. At least one of those spots will be manned by a freshman, maybe more.
Havrisik has proved he's capable of the spectacular; his 57-yard field goal against Washington State as a freshman tied the school record.
Havrisik now must prove he can be steady. With so many other special-teams spots in flux, Arizona needs Havrisik to become consistent and reliable.
He has done it as kickoff specialist. He showed late last year that he's capable of doing it as a placekicker.
If he puts it all together, Havrisik will warrant serious consideration for all-conference accolades.