After what happened last season, Arizona couldn't afford to stand pat at quarterback.
The Wildcats had three scholarship QBs. Two suffered season-ending injuries in October. None played consistently well.
Even with freshman Noah Fifita joining the group this week as a midyear enrollee, Jedd Fisch and his staff continued to explore options in the NCAA transfer portal.
After a series of QB dominoes fell, Arizona found its man: Jayden de Laura, who was named Pac-12 Offensive Freshman of the Year in 2021 as a second-year player at Washington State.
De Laura unquestionably upgrades the talent and competition levels in the Wildcats' quarterback room. His addition also raises questions about how that competition will play out and what the room will look like come September.
Below, we attempt to answer some of those questions, with help from Pac-12 Networks analyst Yogi Roth.
What is Arizona getting in de Laura?
A: De Laura brings experience, production and what Roth described as "suddenness" to his new home in Tucson.
A three-star prospect from St. Louis High School in Honolulu, de Laura started 15 of 16 games at WSU. He completed 62.7% of his passes for 3,682 yards with 28 touchdowns and 13 interceptions.
Despite a midseason coaching change, the Cougars went 7-6 last year, including a 6-3 mark in the Pac-12. They defeated the Wildcats 44-18 on Nov. 19, a game in which de Laura threw a career-high four touchdown passes.
Roth recalled recruiting war-room conversations with his former boss at USC, Pete Carroll. If the staff was debating two players, sometimes the decision would come down to this, per Roth:
"If you had to pick a guy and you were playing in the park, would you pick this guy? Is he a baller?"
Roth considers de Laura a baller.
"It's not like he's 6-3, 235," Roth said of de Laura, who's listed at 6 feet tall and 190 pounds. "It's not like everything about him is perfect as a quarterback. But I do think he has got a suddenness to him and unique traits that ... can equal wins.
"He's got the 'it' factor. He's a winner. He's a gamer."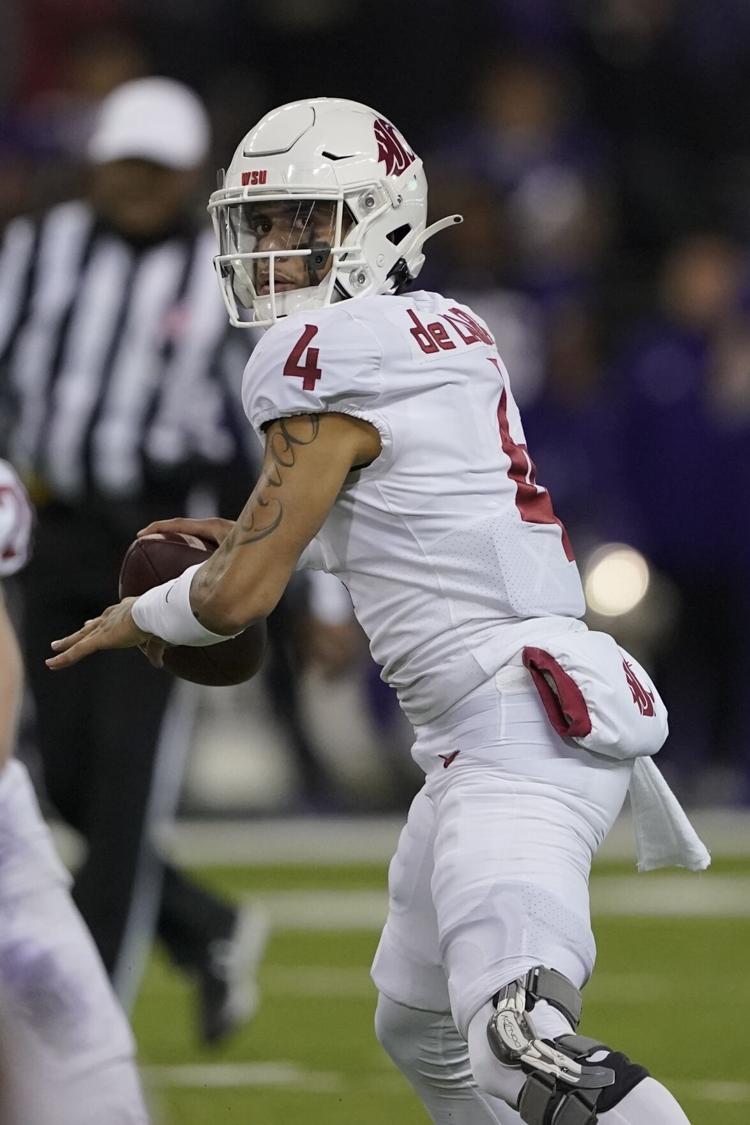 What does the Wildcats' QB room look like now?
A: It's crowded. With the additions of de Laura and Fifita — one of a dozen or so newcomers expected to start classes Wednesday — Arizona has five scholarship quarterbacks on its roster.
Two transferred to the UA in last year's cycle: Gunner Cruz (also via Washington State) and Jordan McCloud.
Cruz won a three-way battle for the job and opened the 2021 season as the starter. He threw for 336 yards in the opener vs. BYU but faltered thereafter.
Fisch then turned to second-year freshman Will Plummer, the lone scholarship holdover from the previous regime. After Plummer made some critical mistakes in his first start against NAU, Fisch handed the reins to McCloud — who, like de Laura, brought experience (17 starts at South Florida) and production (2,770 passing yards, 21-10 TD-INT ratio) to the QB room.
McCloud couldn't get to Tucson until after spring practice, and that put him behind in the competition. Although he helped the offense move the ball in his first start at then-No. 3 Oregon, McCloud threw five interceptions. He cleaned up that part of his game the following week against UCLA but suffered season-ending knee and ankle injuries in the fourth quarter.
Cruz got another opportunity the following week at Colorado, continued to struggle, then suffered a season-ending thumb injury. That left Plummer as the lone healthy QB on scholarship. He started the final six games and improved considerably, posting a 4-2 TD-INT ratio over the final three games and passing for a career-high 346 yards in the finale vs. Arizona State.
Five scholarship quarterbacks are probably one too many. Should we expect more movement?
A: It's more likely than not that at least one veteran QB will transfer. That's just the way of the world in modern college football — especially at quarterback — because of the transfer portal and the one-time exception enabling transfers to play immediately.
It would be trickier for Cruz or McCloud to transfer because they've done so once already. They would need to go to an FCS school or would need to have graduated to be eligible to play right away.
Roth said seeking an escape route shouldn't be the focus for the incumbents. Fisch, who also worked under Carroll in Seattle, has made competition a pillar of his program. Adding de Laura, Roth said, simply ramps up the competition in the QB room.
"Those guys need to embrace that," Roth said. "As Jedd has told them and will again, at that position, you're always trying to get better. Period.
"Don't worry about who we just brought in. None of you are qualified enough to be worrying about other people. Understand your checks. Understand the system. Let it shake out."
Roth said he would give the same advice to Fifita, who was among the first commitments in Arizona's 2022 class and helped recruit several other players, including three of his high school teammates. Roth said the similarly built de Laura could become a mentor for Fifita. Also, the notion that any freshman quarterback will be ready to start is unrealistic in most cases.
"I would be blown away if he said, 'Oh my god, I'm out.' That's not who he is from everything I'm told," Roth said. "The coaching staff's mandate is to make the roster better than it is. Noah should be excited. If I'm him, I'm (messaging) Jayden: 'Hey, let's go throw. When can we get together?'"
Is de Laura a lock to be Arizona's starter?
A: De Laura is the favorite to start, but nothing is guaranteed.
Assuming he returns, McCloud will be entering Year 2 in Fisch's system. The same goes for Plummer, whose game grew exponentially over the second half of the 2021 season.
No one expected Stetson Bennett IV — a former walk-on who at one point transferred to a junior college — to emerge as Georgia's starting quarterback. Yet it was Bennett, and not JT Daniels, the former five-star recruit from Southern California, who sparked the Bulldogs to the national championship Monday night.
Other quarterbacks who cycled through the Georgia program in recent seasons included former Wake Forest starter Jamie Newman and four-star 2019 recruit D'Wan Mathis. Yet it was Bennett holding the title trophy and suckling a cigar at Lucas Oil Stadium in Indianapolis.
"His job was not to beat out those guys," Roth said. "His job was to understand the system and execute it flawlessly when he got on the field.
"This program at Arizona is still very youthful. All of these guys will get a shot. They didn't guarantee anything to anyone."
Every current UA quarterback has multiple years of eligibility left.
What are the biggest challenges de Laura faces?
A: As the returning quarterbacks know all too well, Fisch's pro-style scheme takes time to learn. The QB often plays from under center, something de Laura never did in the run-and-shoot system he operated at Washington State. It also features tight ends and full-field reads.
Roth believes every college quarterback experiences a similar developmental journey. Year 1 is about surviving the transition from high school to college. (De Laura started all four games that WSU played as a true freshman in 2020.) Year 2 is about mastering every element of the offense in which you play — routes, protections, checkdowns, audibles. Year 3 is about understanding and reading defenses.
De Laura is entering Year 3. But as he's also entering a new system, he'll have to revisit all that Year 2 typically entails.
"He's not a finished product. I don't think any quarterback in college is," Roth said. "All areas of his game (need work) — his feet, his timing, his anticipation.
"He's coming from the run-and-shoot. He'll have RPOs (run-pass option plays); they'll still do that. But he will have to go through his progressions. And ... he'll have to continue to grow in his understanding of what he's seeing across from him."
Last year was one of personal growth for de Laura. He was suspended by WSU after being arrested on suspicion of DUI in February. About two months after being reinstated in late May, de Laura announced that he was found not guilty. He posted a lengthy statement expressing regret for his actions and gratitude for the support he subsequently received.
"I promise I will do better in the future," de Laura concluded.
Contact sports reporter Michael Lev at 573-4148 or mlev@tucson.com. On Twitter @michaeljlev