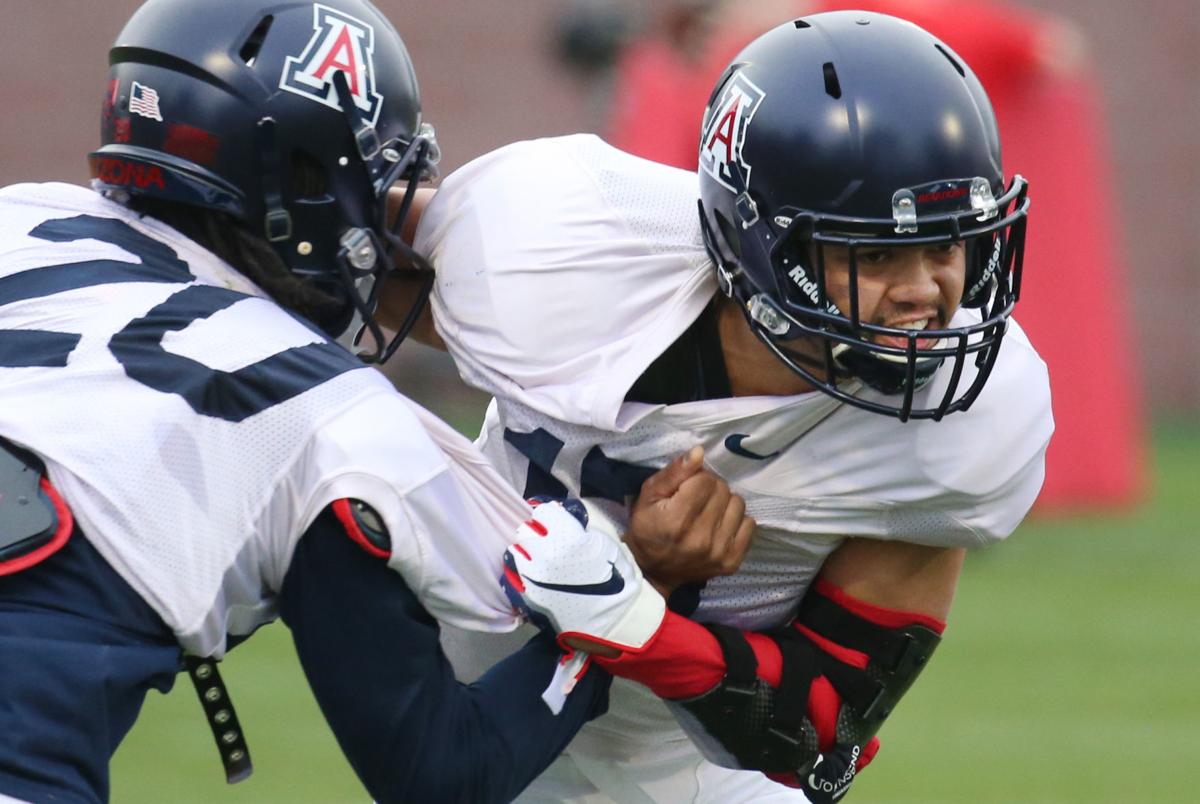 After last season — a lost season in every sense — Jace Whittaker had options.
The veteran cornerback had one more year of eligibility. He could have left Arizona as a graduate transfer, a popular move for players across the country. Or he could have declared for the NFL draft.
The way Whittaker saw it, though, there was only one option: return to the UA to finish what he started.
"When (I) commit to something, I stick with it," Whittaker said after practice Friday. "There was a reason I came here to begin with. Coaches may come and go, but I fell in love with the school. I fell in love with the program and wearing the 'A' on my helmet."
Whittaker didn't expect to still be here last August, when he was training for his senior year. A hamstring injury kept him out for the first two games. He came back for Week 3 against Southern Utah, but on the first series, while making a tackle, Whittaker hurt his left elbow. He would miss the remainder of the season.
"That's football. That's life," Whittaker said. "Things happen unexpectedly. You don't have an answer for everything."
Whittaker suddenly and unexpectedly had a new role: serving as a player-coach for an inexperienced group of corners. Arizona tried desperately to fill Whittaker's spot opposite Lorenzo Burns, cycling through a variety of options who weren't as accomplished as Whittaker.
As a junior, Whittaker compiled 46 tackles, defended 16 passes and logged three interceptions. Athlon Sports projected him as a third-team all-conference performer.
Instead, Whittaker spent the season trying to coach up his teammates. He often would suit up and participate in pregame warmups. It wasn't the same as having him on the field.
"He's a natural leader out there," UA cornerbacks coach Demetrice Martin said. "He's kind of an extension of myself. He's a coach on the field. He gets guys lined up. He knows what offensive plays are about to come because of formations, tendencies, splits and down and distance. That helps the other guys be a little more confident about their job."
Whittaker's replacements — Azizi Hearn, McKenzie Barnes, Christian Young, Troy Young — gained invaluable experience. Although frustrated with his personal plight, Whittaker learned what it means to be a patient and supportive teammate.
"It was just being one of the guys," Whittaker said. "You've gotta … do anything you can to help the guys who are ready to play."
Whittaker tried to answer any questions the younger players had. He tried to clear up any confusion they felt.
"They're still here," Whittaker said. "They survived, and I think they succeeded. Everything they learned, they're using it to their best abilities."
Whittaker is still here, and he couldn't be happier about it. Whittaker, his family and the coaching staff agreed that returning would be his best move. Despite having to wear a brace on his left arm, Whittaker said he's "full go" in practice, able to make tackles and do what he really came here to do.
"It's a lot of mixed emotions right now," Whittaker said. "I feel like I haven't played football in a while. It just feels great to be back running around."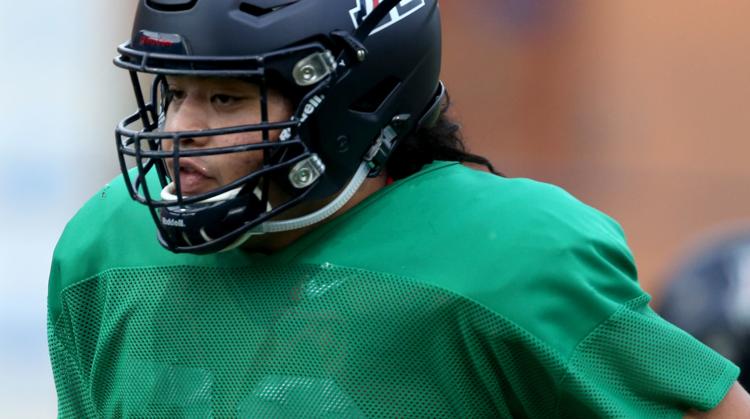 Laie to the League?
As Arizona's defensive line coach, Iona Uiagalelei has a front-row seat to every big-guy battle. When he looks across the line at Donovan Laie, Uiagalelei sees someone who's "going to be playing on Sundays" someday.
Laie is a long way from the NFL. Academically, he's still a freshman. But Laie has the frame (6-5, 318) and game to get on that track.
Laie started every game last season: nine at right tackle, three at left, which has become his permanent home. That's a rare accomplishment for a true freshman at any program. It was partly out of necessity, but it quickly became apparent that Laie belonged among Arizona's first five.
Kyle DeVan, the Wildcats' first-year offensive line coach, knows what it takes to play in the NFL. DeVan appeared in 40 games across four seasons with the Colts, Eagles and Titans. He started at right guard in Super Bowl XLIV.
Asked if Laie has NFL potential, DeVan said: "When you talk about body types and athletic ability and strength, all the parameters the NFL sets, he would meet all those. If he keeps developing … I can definitely see him playing on Sundays.
"We've just gotta get that mentality in him: 'You can kick anyone's butt in this conference on an every-play basis.' I'm excited to work with him for the next three years and see where this thing goes."
DeVan said Laie has "a lot" of natural ability. The challenge is transforming that athleticism into football functionality — teaching him to control his body, move his feet and use his hands the right way every play.
Laie, who came to Arizona as a three-star recruit from Oceanside, California, said he feels more confident entering his second season. It might not have looked like it, but Laie said he felt "kinda confused" at times as a freshman.
"It was a learning experience," Laie said. "It was either a mental or physical learning experience every game."
Laie came to Tucson with an air of confidence. Although it's unusual for offensive linemen to play, let alone start, as true freshmen, Laie said he knew he had a legitimate shot. It was one of the reasons he picked Arizona. Getting to block for Khalil Tate was another.
"I knew I'd have a chance right away," Laie said. "I had a size advantage. So I knew I was going to contribute either as a backup or in the starting lineup."
Despite injuries, inexperience and a lack of depth, Arizona patched together a respectable offensive line under Joe Gilbert, who since has returned to the NFL. The Wildcats led the Pac-12 in total offense and rushing.
Laie had a different take. He said last year's line was just "OK." He foresees bigger and better things from this year's group now that three of them — Laie, Cody Creason and Josh McCauley — have a full year of starting experience. Junior-college transfers Josh Donovan and Paiton Fears also have impressed.
"I feel like we're much better this year," Laie said. "There's a lot to be excited about. It's just another year to improve and hopefully get a Pac-12 championship here."
Extra points
Martin on freshman Christian Roland-Wallace, whom he expects to be a core special-teamer and part of the rotation at cornerback: "He's a different type of cat. He was highly recruited toward the end. He was kind of a hidden gem. It was a task to keep him hidden. Right (before) signing day, there was a lot of activity."
Receiver Stanley Berryhill III and cornerback Malcolm Holland continued to work on the side as they recover from injuries.
The UA hosted a large contingent of visitors, including recruits, current players' parents and class-of-2019 punter Kyle Ostendorp, who's due to arrive in summer.
The team worked out in shorts and shells ahead of a closed scrimmage Saturday morning. Despite not wearing full pads, the Wildcats conducted a gunner drill that had players hooting and hollering.