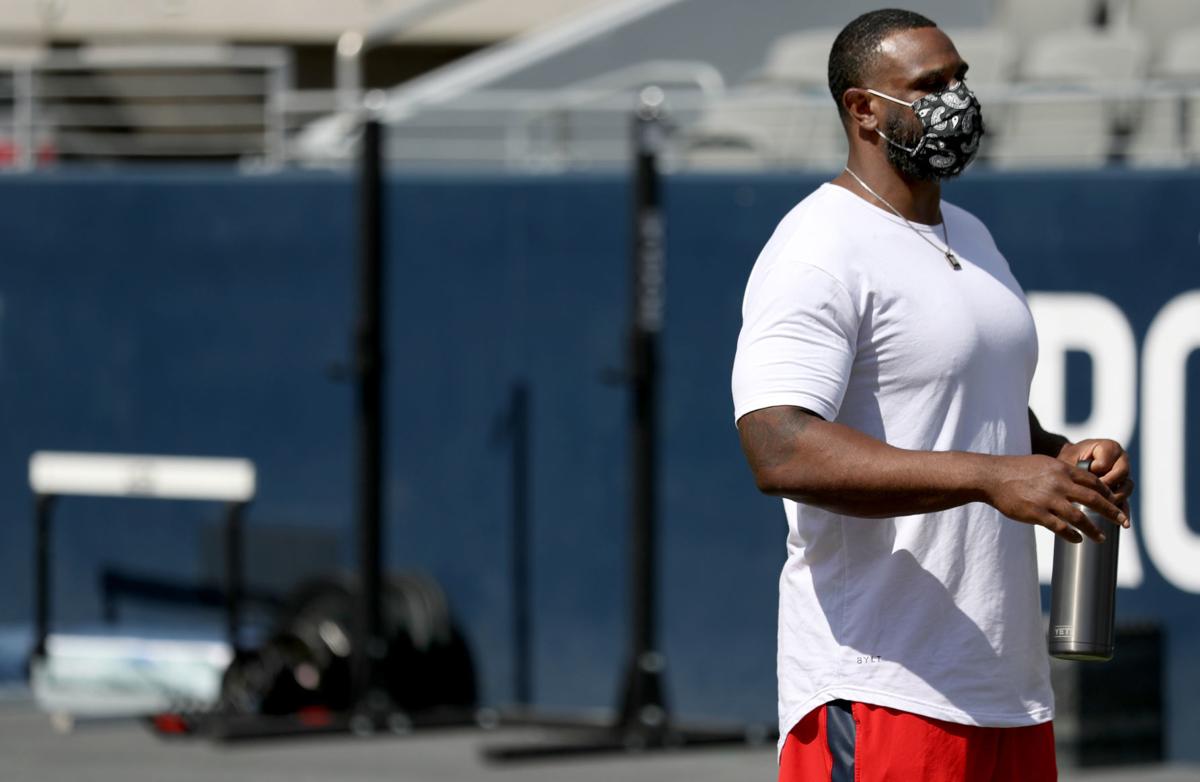 Squat racks and bumper plates rest along the east sideline of Arizona Stadium on a sizzling June afternoon. Each set of weights lies 10 yards from the other.
Soon, football players will be lifting those weights under blue-and-red Arizona Wildcats popup tents and the supervision of the UA's strength and conditioning staff. Upon finishing their workouts, the athletes will spray and wipe the equipment.
This is the new normal the for UA football program and the first — and perhaps most critical — step in the athletic department's COVID-19 reentry plan.
The first phase of voluntary on-campus training is set to begin Monday morning with 19 football players divided into three groups or "pods." If all goes well, additional groups will follow each Monday until the entire squad — about 100 players — is participating in the program.
The athletic department's reentry planning team has been working for months to formulate a comprehensive strategy for safely bringing student-athletes back to campus. As happened throughout the country, Arizona was forced to shut down all sports in mid-March because of the coronavirus pandemic. The members of planning team are cautiously optimistic that they have put the proper procedures in place.
"If we all do our part and take ownership," said Dr. Stephen Paul, an assistant team physician, doctor with UA Campus Health and primary author of a 26-page PowerPoint presentation on reentry protocols, "we're going to be successful."
The plan calls for the final group of players — incoming freshmen and transfers — to begin workouts July 6. That date coincides with the recommendation from the NCAA Division I Football Oversight Committee for the start of interactions between players and coaches for teams scheduled to play in "Week Zero." Arizona is slated to open its season Aug. 29 vs. Hawaii.
UA athletic director Dave Heeke reiterated this week that he's "optimistic" the full college season will be played. But he and Paul acknowledged that the process of getting there is fraught with challenges.
The University of Houston announced Friday that it was suspending all voluntary workouts after six symptomatic student-athletes tested positive for COVID-19. Positive cases have spiked in Arizona and several other states amid efforts to reopen society.
Paul summed up the prevailing sentiment from a conference call with Pac-12 medical experts Friday as follows: "We're dealing with a virus that's six months old, and no one knows anything about it." He said a colleague compared the experience of dealing with the virus in real time to "flying the plane as we're building it."
Paul and Heeke emphasized the importance of being "fluid and flexible" while trying to relaunch UA athletics. That idea is especially applicable to football, one of four sports the Pac-12 Medical Board identified as "high risk." Football has the earliest start date for training, the largest rosters and the most physical contact.
"We're taking on the hardest challenge first," Paul said.
The Star was given a peek behind the curtain as Paul, Arizona's football administrators and its strength staff put the finishing touches on Phase 1 of the reentry plan. What follows is look at how it's expected to unfold.
Multiphase operation
Brian Johnson is used to coordinating workouts for 100-plus athletes in 100-plus-degree heat. He isn't used to doing it in multiple locations.
But that's the reality for Arizona's director of strength and conditioning for football. To keep the pod system intact — which, in theory, will limit the potential for outbreaks — multiple facilities will be utilized as more players arrive on campus and join the workout program.
"That's kind of how we are," Johnson said. "We always have a Plan B."
The first step for returning players is to undergo physicals and testing at the Cole and Jeannie Davis Sports Center. The first group of athletes already has gone through that process. The next group will be tested Tuesday. (All student-athletes will be tested weekly, regardless of whether they show symptoms.)
Testing will take place in the Davis Center end zone, which has been covered with gray matting. The setup also includes multiple sanitizer stations.
The first set of workouts will happen at Arizona Stadium, assuming the air quality is within acceptable parameters. (If not, the workouts will move to the Davis Center.) The groups will train at 6, 8 and 10 a.m. Monday, Wednesday and Friday. Linemen will go first.
After a wellness check, players will enter through Gate 8 and make their way to the field through the loading dock located in the northwest corner of the stadium. Each will be assigned a workout station and a basket containing a towel, a water bottle, a Powerade and hand sanitizer. Everyone is to wear a face covering at all times, including the athletes.
Although Paul's recommendation for exercising is to have 15 feet of separation, the setup at the stadium puts the athletes 30 feet apart. There are seven stations in all.
The first group of 19 players — most hailing from Tucson or having stayed here since the shutdown — will be divided into three clusters of seven, six and six. They will be accompanied by strength coaches and trainers, who also will keep a safe physical distance. Johnson plans to monitor the workouts from either the stands or the midfield logo.
Johnson calls this first phase of workouts "general physical preparation." It will consist of basic lifts and conditioning. Although players have been instructed to work out at home as best they can, Johnson expects some to be in worse shape than others. The ramp-up will be slow and steady after a three-month layoff.
Upon finishing their workouts, the players can pick up a grab-and-go meal near the tunnel leading to Gate 2 on the east side of the stadium. They will have access to the bathrooms in the lobby of the Lowell-Stevens Football Facility. The locker room will remain closed.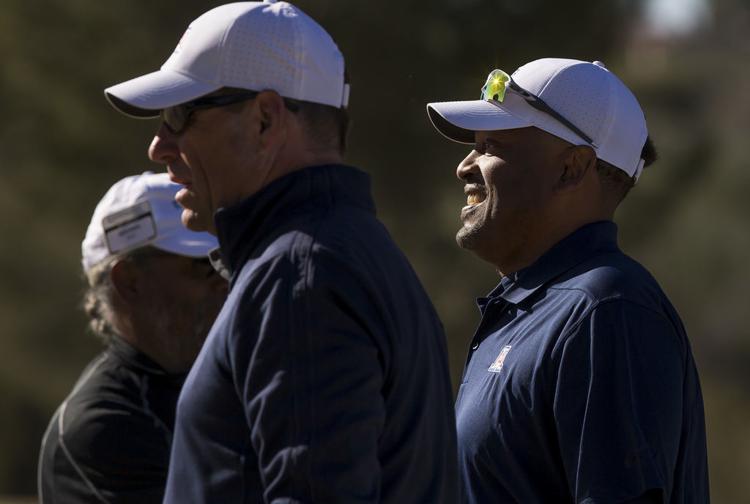 The goal is to have a one-way flow to avoid what Johnson called "cross-contamination." It becomes trickier when more athletes are added to the mix, but the UA has a plan for that too.
When the second group begins workouts, the first group will lift in the weight room and condition at Bear Down Field, which is located just north of LSFF. When the third group starts, the second group will move there and the first group will utilize the Davis Center and the weight room at McKale Center.
Johnson acknowledged that the new policies and procedures "may be in place for a long time" and that it won't be what players are accustomed to. He expects them to buy in regardless.
"We're asking you to be pros, to be resilient, to pay attention to details," Johnson said. "That's no different from what's asked of you normally."
Logistical challenges
Brian DeSpain has been Arizona's director of football operations since August of last year. He returned to his office at LSFF this past Monday. It was one of only a handful of offices that was occupied when a visitor stopped by Friday afternoon.
DeSpain has spent much of this spring focusing on logistics that normally would be considered routine — how to get players to Tucson safely from all over the country. Or, in the case of three Wildcats, from another country.
"With every answer you come up with," DeSpain said, "there are two or three more questions."
DeSpain and Arizona's football leadership — spearheaded by coach Kevin Sumlin and chief of staff Dennis Polian — have spent an inordinate amount of time communicating with parents to allay their concerns. One incoming freshman said the staff has sent emails "almost daily" with the latest updates.
"We have had very in-depth conversations," DeSpain said. "There's obviously people that have more questions and concerns than others.
"Coach Sumlin has been very upfront from the very get-go that we're not going to do anything that somebody is not comfortable with, and it is 100% going to be their choice. We're going to educate and comfort them as much as we can."
Enthusiasm to return to campus and begin the offseason program is high among players and their families, according to UA officials and a handful of parents surveyed by the Star — even with recommended restrictions for those traveling from out of state. The school's suggested guidelines include wearing masks if traveling by plane and limiting stops if traveling by car.
"It just sounds like we're on a loop," DeSpain said, "but the very basics of washing your hands, staying hydrated, avoiding contact with people as much as you possibly can."
Most of Arizona's players aren't from Arizona. Three are from Canada: walk-on quarterback Cameron Fietz and incoming freshmen Leif Magnuson and Paris Shand.
Although Heeke expressed concern that it could take longer for international student-athletes to make it back, DeSpain said "we do not anticipate any issues" with the football team's three Canadian imports. They will be subject to the same seven-day isolation period as the players traveling from the U.S. before beginning workouts.
UA officials are hopeful everyone will arrive on schedule. All 18 newcomers have enrolled in school and are going through new-student orientation online, one of many changes to the academic calendar. Assuming they're able to start July 6, they will have lost about a month of workout time compared to a typical year.
Many lives impacted
As Heeke emphasized this week during an online news conference and in a school-produced video, the June and July workouts are voluntary. Athletes don't have to return if they or their families are worried about their well-being.
So why come back? Why go through all this trouble for something as seemingly unimportant as sport?
It's no secret that football is the biggest revenue driver in NCAA athletics and that many athletic departments would be financially devastated if the 2020 season were canceled. But the UA staffers leading the school's reentry effort see reasons to try that go beyond money.
Many — including stadium workers — derive their livelihoods from college football, Johnson noted. He added that the players, especially the seniors, want to play. For the vast majority, college represents the last time they ever will play football.
"A lot of lives are impacted here," Johnson said.
There's also a social component. Most of the Wildcats have been separated from one another for months. It isn't just the game that they miss.
"They really like football, and they love each other," DeSpain said. "You forget that piece of it. Yeah, they're excited to come back here and play, but a lot of their best friends in the world and the people that they're closest to are on this football team and in this building."
Finally, there's a sense of responsibility. As the first group to return to campus, the football team can pave the way for others. The data collected from testing the players could help the UA reintroduce campus life.
Sumlin's directive to the players and coaches, DeSpain said, echoes those ideas:
"We're going to do this right. We're going to be an example for the university. We're going to show everybody that we can do this, and we can do it well."
Be the first to know
Get local news delivered to your inbox!