The Arizona Wildcats' starting defensive tackles last season, Dereck Boles and PJ Johnson, weighed a combined 641 pounds and teamed up for 66 tackles. They provided bulk and ballast for a defense that had lacked both in recent seasons.
Both are gone now, and replacing them might be the steepest challenge Arizona faces in 2019.
The Wildcats appear to have enough big bodies to form a rotation at the two interior positions, defensive tackle and nose guard. But every one of those players carries a question mark.
Hence the response by defensive line coach Iona Uiagalelei when asked if he has an adequate supply of big men.
"Right now we have enough," Uiagalelei said, "but we can never have enough."
Assuming everyone is healthy and eligible, Arizona should have six players to man those two spots — a good number, per Uiagalelei, who'd like to go three-deep across the defensive front.
The most experienced player in that group is Finton Connolly, a redshirt senior who has appeared in 32 games, including five starts. At 6-5, 305 pounds, Connolly has the requisite frame. Uiagalelei has seen growth in Connolly's game as well.
"Finton's getting a lot smarter in terms of understanding blocking schemes," said Uiagalelei, who's entering his second season at the UA. "He gets it. When we're watching film, he understands where the back is set, how they're going to block us up front. Stuff like that, we didn't get last year.
"It's allowing him to play a lot easier. He's not thinking as much as reacting. Finton's a big, strong kid that can get upfield and hold the double team. That's what we want him to do."
Connolly has been part of a rotation the past three seasons. He never has been asked to do what Arizona might ask him to do this year: play the majority of the snaps for an entire season.
Connolly is one of only two 300-plus-pound defensive linemen on the current roster. The other is junior college transfer Myles Tapusoa, who's listed at 6-1, 330. Tapusoa looked good in Arizona's first two spring practices. He hasn't been spotted during open periods since, out because of what UA coach Kevin Sumlin called "a little injury."
The Wildcats are counting on all of their incoming defensive-line recruits to contribute immediately. The others are JC transfer Trevon Mason and freshman Kane Bradford. Uiagalelei sees both as 3-technique tackles; each is listed at 6-5 and between 270 and 280 pounds. Whether they're ready to play Division I football at a high level remains to be seen.
The other main option for that spot is redshirt junior Jalen Cochran, who played defensive end before Uiagalelei moved him inside this spring.
"He's got a lot of length, and he's athletic," Uiagalelei said. "He can be a great 3-tech."
Cochran is listed at 6-3, 270 pounds. He has shown promise in limited playing time. It's been limited because Cochran hasn't been able to stay healthy.
Cochran missed the entire 2017 season because of a pectoral injury and sat out seven games last year because of an arm injury.
Playing inside, he'll be involved in even more physical entanglements.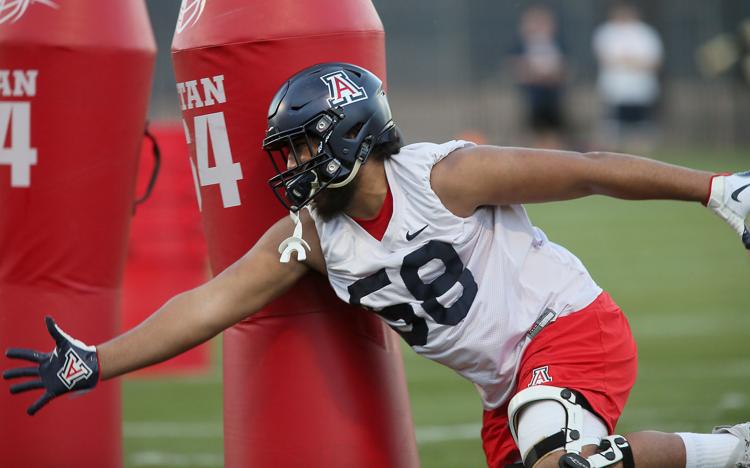 The other returnee is redshirt freshman Nahe Sulunga, who appeared in three games last season. Besides lacking experience, Sulunga lacks size, relatively speaking. He's listed at 6-2, 265 pounds.
Those dimensions are similar to JB Brown's 6-3, 258. Brown, who emerged as a starting defensive end last season, has been shifted inside at times during spring camp. The move makes sense for obvious passing situations, but it isn't a long-term solution against Arizona's run-heavy schedule.
The UA faces four of the top five rushing teams in the Pac-12: Utah, Arizona State, Washington and Oregon. The Wildcats themselves are the other.
All four averaged at least 179.4 rushing yards per game last season. All four averaged even more during conference games.
Even with Boles and Johnson in 2018, Arizona struggled at times against the run. The Wildcats allowed 162.5 rushing yards per game, ranking eighth in the Pac-12.
On two occasions, Arizona couldn't stop the run at the end of games to get the ball back for its offense.
In the 2018 opener, BYU literally ran out the final 3 minutes, 20 seconds. All six plays were rushes. The Cougars won 28-23.
UCLA bled the final 6:28 off the clock in a 31-30 victory on Oct. 20. The Bruins' 12-play, 55-yard drive consisted of 10 rushes, one pass and one kneel-down.
"The guys that we have now are doing a super job of fighting and working hard," Uiagalelei said. "The defensive ends that we brought (inside) are a little more athletic. We're slanting up front and getting those guys in positions where they can use their strengths. We could use a little more weight up there, but we'll be fine."
Pride of ownership
First-year offensive line coach Kyle DeVan said he bought a house as soon as he arrived in Tucson. He believes in the idea of ownership, and he told that to his players — none of whom he recruited — during their first meeting.
"We talked about being owners and renters," DeVan said Wednesday. "If you own a home, you're always going to take care of the home. You rent a home and there's a spill, you're gonna clean it up just enough. I've heard a lot of sports psychologists over the years, and that's one thing that really resonated with me.
"The first day I got here, I bought a house. This is where I want to be. I told those guys, I don't care how you got here, I don't care who recruited you. We're in this together."
Extra points
Uiagalelei on trying to re-establish the Polynesian recruiting pipeline: "Guys coming in, they know the history that we have in Arizona. Their uncles, their relatives played here. Polynesian people, it's a very small, very tight-knit community. Guys are really interested in coming out here."
Arizona again hosted several visitors Wednesday, including three-star offensive lineman Cade Bennett of Scottsdale Notre Dame Preparatory High School.
Cornerback Jace Whittaker returned to practice after missing Monday. Players who were limited included safety Scottie Young Jr., edge rusher Jalen Harris and offensive linemen Bryson Cain and Robert Congel. Tight end Bryce Wolma and receiver Stanley Berryhill III did not participate.
Thomas Aych, the son of inside receivers coach Theron Aych, has joined the team as a walk-on wide receiver.