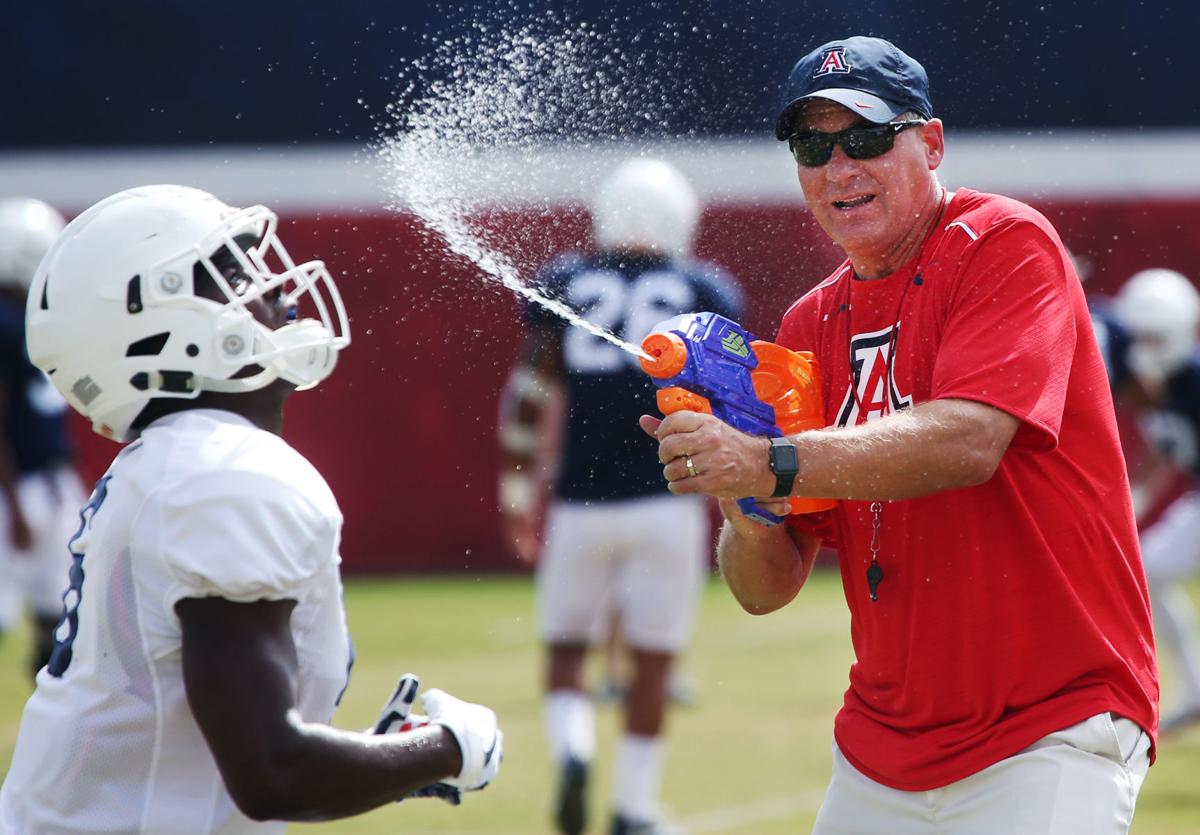 Notes and takeaways from the Arizona Wildcats' media availability after practice Wednesday morning:
* Arizona could play as many as six freshmen at one time on defense this season. How does that make UA coach Rich Rodriguez feel? "It makes you a little nervous from an experience standpoint," he said, "but also excited that there's some talented guys that can help us right away."
* RichRod compared the talent of the current freshman linebackers to the class of 2013, which featured Scooby Wright, Derrick Turituri and DeAndre' Miller.
* The influx of freshmen will have a positive impact on Arizona's special teams, which weren't good in 2016. Rodriguez said the special-teams depth chart has been changing daily.
* Freshman cornerback Tony Wallace has been rotating with the second unit on defense and also is playing on special teams.
* It doesn't appear as if JC transfer Sione Taufahema, who recently returned from knee surgery, will be part of Arizona's defensive-line rotation to start the season. The likely top five at the inside spots are Parker Zellers, Luca Bruno, Dereck Boles, Finton Connolly and Kurtis Brown, with Larry Tharpe swinging between tackle and end.
* Rodriguez said Connolly has "worked himself into the mix." Connolly said the light went on for him this past spring. He has made huge gains in strength and flexibility since enrolling at Arizona.
* Freshman Lucas Havrisik "more than likely" will be Arizona's kickoff specialist, Rodriguez said. He added that Havrisik and veteran Josh Pollack are "kind of tied" for the placekicking job.
* Reaffirming earlier camp talk, Rodriguez said Brian Casteel and Gary Brightwell are the freshman receivers who are furthest along and most likely to contribute this season. Brightwell will be a core special-teamer at the least.
* Rodriguez likes the size and athleticism of freshman receivers Drew Dixon (6-3, 203) and Isaiah Lovett (6-3, 193), but both still are learning and are likely to redshirt.
* The Wildcats are fighting through the dog-days portion of August right now. They're in their fourth week of practice but can see game week on the horizon. "You've just got to keep pressing the sense of urgency, making sure guys understand how important it is to get ready," Rodriguez said. "You don't want to wake up next Saturday and feel like you're unprepared."
* Rodriguez on players watching film in summer: "That's all good. I'd rather have them watch that than 'SpongeBob SquarePants.' "
* NFL scouts representing Washington, Dallas and L.A. (Rams) attended Arizona practice today.