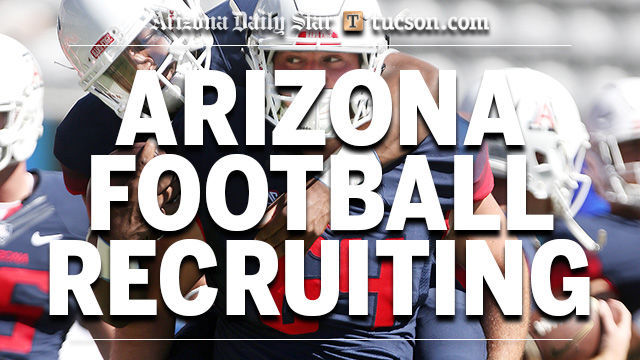 At this point last season, Arizona had filled most of its recruiting class already. Well, at least verbally filled it. At this point, it'd be cliche to mention how many of the UA's committed players backed out before Signing Day. (Spoiler: It was a lot, and most of them went to Oregon.)
But anyway, as Arizona nears in on the start of the season, UA currently has 11 players verbally committed to its 2018 class, with three coming since the start of the month, including the highest-rated player (defensive lineman Josh Walker) and two high-end three-star recruits from Southern California (big defensive tackle Mykee Irving and cornerback McKenzie Barnes). 
Now, the rest of the defense.
Linebacker
Returning in 2018 (current year): Tony Fields II (FR), Colin Schooler (FR), JB Brown (FR), Gavin Robertson (RS FR), Anthony Pandy (FR), Jacob Colacion (RS FR), Carrington Vaughn (RS SO)
Committed: Issaiah Johnson, 3-star, Los Alamitos HS (Los Alamitos, Calif.)
Targets: Jonathan Rose, unrated, Manchester HS (Midlothian, Virginia)
Analysis: Arizona loaded up at linebacker in the 2017 class, and if Fields and Schooler can live up to some of the pre-season hype, this position is in good shape going forward. Still, the Wildcats could use some more depth at the position, as Vaughn is only current player with any playing experience, and he's a walk-on. The Wildcats already have a talented linebacker in Johnson committed, and could add another in the under-the-radar Rose, who is unrated but holds offers from UA, Temple, Charlotte, Old Dominion, East Carolina, Marshall and a couple other schools. 
Cornerback
Returning in 2018 (current year): Jace Whittaker (JR), Lorenzo Burns (RS FR), Tony Wallace (FR), Sammy Morrison (RS SO), Antonio Parks (RS FR), Malik Hausman (FR), Malcolm Holland (RS SO)
Committed: McKenzie Barnes, 3-star, Edison HS (Fresno, Calif.); Jhevon Hill, 3-star, Cajon HS (San Bernardino, Calif.)
Targets: Tyric LeBeauf, 3-star, Long Beach Poly (Long Beach, Calif.); Dallas Taylor-Cortez, 3-star, Chaminade HS (West Hills, Calif.); Chris Mills, 3-star, Judson HS (Converse, Texas); Christian Swint, 3-star, Compton HS (Compton, Calif.); Jemaurian Jones, 3-star, Brookhaven HS (Brookhaven, Miss.)
Analysis: Arizona actually has some interesting young talent at cornerback, though it's mostly unproven at this point. Still, depth isn't as much of a concern as you'd think. The Wildcats have already added two corners to the class — Hill is listed as a safety but Arizona is bringing him in at corner — and will still probably add 1-2 more. Of this group, it won't be Jones, who Arizona strangely offered out of Mississippi — not exactly a recruiting base — and already has 25 offers.
Returning in 2018 (current year): Demetrius Flannigan-Fowles (JR), Isaiah Hayes (SO), Tristan Cooper (SO), Scottie Young (FR), Troy Young (FR), Jarrius Wallace (RS FR), Xavier Bell (FR), Rhedi Short (FR), Chacho Ulloa (SO), Devon Brewer (RS SO), Anthony Mariscal (RS SO)
Committed: Jaiden Dockery, 3-star, Lancaster HS (Lancaster, Texas); Armani Adams, 3-star, Lakewood HS (Saint Petersburg, Fla.)
Targets: Kenny Churchwell, 3-star, Mountain Pointe (Phoenix); Christian Young, 3-star, Foster HS (Richmond, Texas); Bryan Addison, 4-star, Junipero Serra HS (Gardena, Calif.); Isaiah Windmon, 3-star, John Ehret HS (Marrero, La.)
Analysis: As you can see, Arizona is doing just fine in terms of numbers at safety, and that's not even including the two players already committed. In all likelihood, some of these players will transfer due to a lack of playing time (or playing time opportunity), which in turn is probably why the Wildcats are still recruiting a handful of safeties. Of this group, Addison — the No. 1 athlete in California — is not coming to Arizona, neither is Young (22 offers) and it'd be tough to get Windmon (13 offers) out of the South. That leaves Churchwell, a top in-state talent that the Wildcats would have to fight off Arizona State and California (led by former UA assistant Charlie Ragle) to reel in.