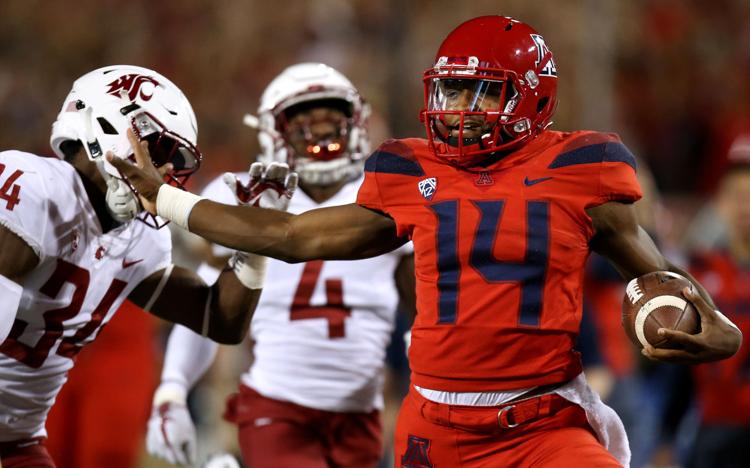 The Arizona Wildcats avenged one of the worst losses in school history Saturday night.
Behind an explosive offense and an opportunistic defense, Arizona upset No. 15 Washington State 58-37 in front of an announced crowd of 42,822 at Arizona Stadium.
Khalil Tate passed for a career-high 275 yards and two touchdowns and rushed for 146 yards and a score. J.J. Taylor rushed for a career-high 152 yards and two TDs.
Arizona lost at Washington State 69-7 last season. The 2017 Wildcats won their fourth in a row to improve to 6-2, 4-1 in the Pac-12. They are now eligible for a postseason bowl game.
The Wildcats had trouble generating a pass rush but intercepted Cougars quarterback Tyler Hilinski four times in the second half, including a 66-yard pick-six by Colin Schooler in the fourth quarter that bumped Arizona's lead to 51-30.
Hilinksi entered for Luke Falk late in the second quarter. It's not clear whether Falk was hurt or pulled for ineffective play.
Arizona visits USC next Saturday. The game time and TV assignment are expected to be announced Sunday.
Washington State is doing everything it can to contain Khalil Tate. J.J. Taylor is making the Cougars pay.
Taylor scored a pair of touchdowns in the third quarter as Arizona leads No. 15 Washington State 37-27 entering the fourth Saturday night at Arizona Stadium.
Taylor had a 62-yard run and a 79-yard TD in the quarter, taking advantage of huge holes up the middle. Up to that point, running room had been scarce for the Wildcats against the Cougars' quick, active front.
Both teams have had trouble with turnovers. Tyler Hilinski – playing in place of Luke Falk – threw three interceptions in the third quarter. Khalil Tate threw a pick and lost a fumble.
Hilinski has accounted for three touchdowns, including two rushing. Tate has completed 8 of 15 passes for 182 yards. He has 99 rushing yards, including an 82-yard run in the second quarter.
Taylor has a career-high 144 yards on nine carries.
---
The Arizona Wildcats lead No. 15 Washington State 23-14 at halftime of their game Saturday night at Arizona Stadium.
Arizona led by 13 late in the half before Cougars backup quarterback Tyler Hilinksi engineered a nine-play, 75-yard touchdown drive. Hilinksi capped it with a 6-yard scramble with 10 seconds remaining. He came in for starter Luke Falk, who exited for undisclosed reasons.
Tyrell Johnson returned the ensuring kickoff to the WSU 40-yard line, getting out of bounds with one second left. Freshman Lucas Havrisik then made a 57-yard field goal, the first of his career.
Khalil Tate has 92 rushing yards – including a career-long 82-yarder – but mainly has helped Arizona move the ball with his arm. With Washington State stacking the box, Tate has completed 7 of 11 passes for a career-high 182 yards and two touchdowns.
The Cougars have held the Wildcats' rushing attack – by far the best in the Pac-12 – in check so far. Aside from Tate's long run, Arizona has 17 yards on 17 carries.
Falk is 13 of 23 for 93 yards. Hilinski is 7 of 8 for 69 yards.
The two teams have combined to go 2 of 15 on third down.
---
Washington State isn't letting Khalil Tate run wild, but the Arizona Wildcats lead the No. 15 Cougars through one quarter anyway.
Behind Tate's passing and a sturdy defense, Arizona leads Washington State 10-7 entering the second quarter Saturday night at Arizona Stadium.
Tate has just 16 yards on six carries. But Tate has completed 5 of 7 passes for 124 yards, including a 48-yard touchdown to tight end Jamie Nunley. It was the first touchdown on Nunley's career.
It appeared the Wildcats would get the ball back with a 10-0 lead early in the quarter. But Shun Brown muffed a punt, and Washington State recovered at the UA 25-yard line. Six plays later, Luke Falk hit Isaiah Johnson-Mack for a 1-yard touchdown.
Falk, who lit up Arizona the past two seasons, is 7 of 14 for 59 yards.
Senior tailback Zach Green got his first career start for Arizona.
Josh Pollack has taken over the punting duties.
---
The Wildcats enter this contest on a three-game win streak behind surging quarterback Khalil Tate who won Pac-12 Player of the Week in three consecutive weeks. 
Washington State has won the last two matchups including the 69-7 smacking in Pullman last season.
What does this game mean for both teams? For the Cougars, they would take one step closer to a Pac-12-North-clinching Apple Cup matchup with Washington. And for Arizona, it would mean the Wildcats essentially enter a three-team race for the Pac-12 South with Arizona State and USC, teams that UA plays later in the season. 
Kickoff is set for 7 p.m. at Arizona Stadium and don't forget to follow the Wildcaster Twitter for live in-game updates.