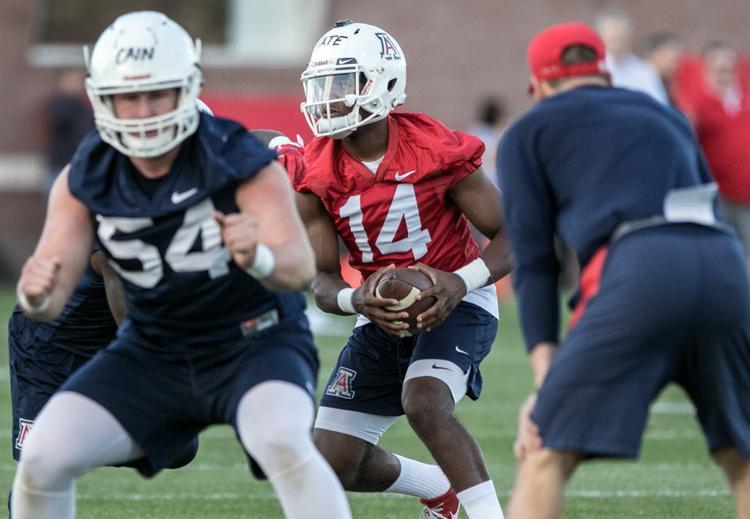 For the first time in a while, Arizona enters training camp with zero questions about the identity of its starting quarterback. Although he still has plenty of room for growth and improvement, Tate is that guy.
As much as Sumlin and new offensive coordinator/QB coach Noel Mazzone will work with Tate to help him become a more advanced and disciplined pocket passer, his aggressive tendencies remain a big part of his makeup. As adept as Tate is at running away from defenders, he'll run over them if necessary.
Tate banged up both of his shoulders last season. But Arizona's QB room looked very different back then. Veteran Brandon Dawkins opened the season as the starter. After Tate took over and took off, the coaching staff still could tap Dawkins in a pinch. Not only did he have college experience, he had college starting experience, and lots of it.
The new staff does not have that luxury. Only one of the four players vying to be Tate's backup has taken a college snap — sophomore Rhett Rodriguez, who played a handful in a pair of early-season blowouts last year. (Had the new rule been in place, Rodriguez would have been classified as a redshirt freshman this year. More on that in a bit.)
Rodriguez and redshirt freshman K'Hari Lane at least were able to go through spring ball, giving them 15 practices to learn the new playbook and apply it on the field. The first official practice — with coaches and footballs — for recently arrived freshmen Kevin Doyle and Jamarye Joiner will be Friday. They have a lot of catching up to do to become viable contenders.
Not that they can't. The newcomers have just as good a chance as the holdovers to ascend to the No. 2 spot behind Tate.
At last week's Pac-12 Media Day, Sumlin gave no indication which direction he was leaning — likely because he doesn't know yet. He did note that the staff remains in an "evaluation period" with most of the roster.
"There will be a Plan B development," Sumlin said when asked about the backup QB situation. "Along those lines, the new redshirt rule will play into that."
Sumlin was extremely enthused about the new rule, which allows a player to participate in up to four games without losing his redshirt. Sumlin said the new rule "has changed how you're going to manage your roster." A story in The Athletic explained how it could be especially advantageous for quarterbacks — giving them a chance to get some game action without it costing a year of eligibility.
Don't be surprised if the battle for the No. 2 job lingers into the regular season. And don't be surprised if the Week 3 game against Southern Utah serves as a trial balloon for the would-be backup or backups.
"We'll see," Sumlin said. "First of all, we've gotta figure out who that is."