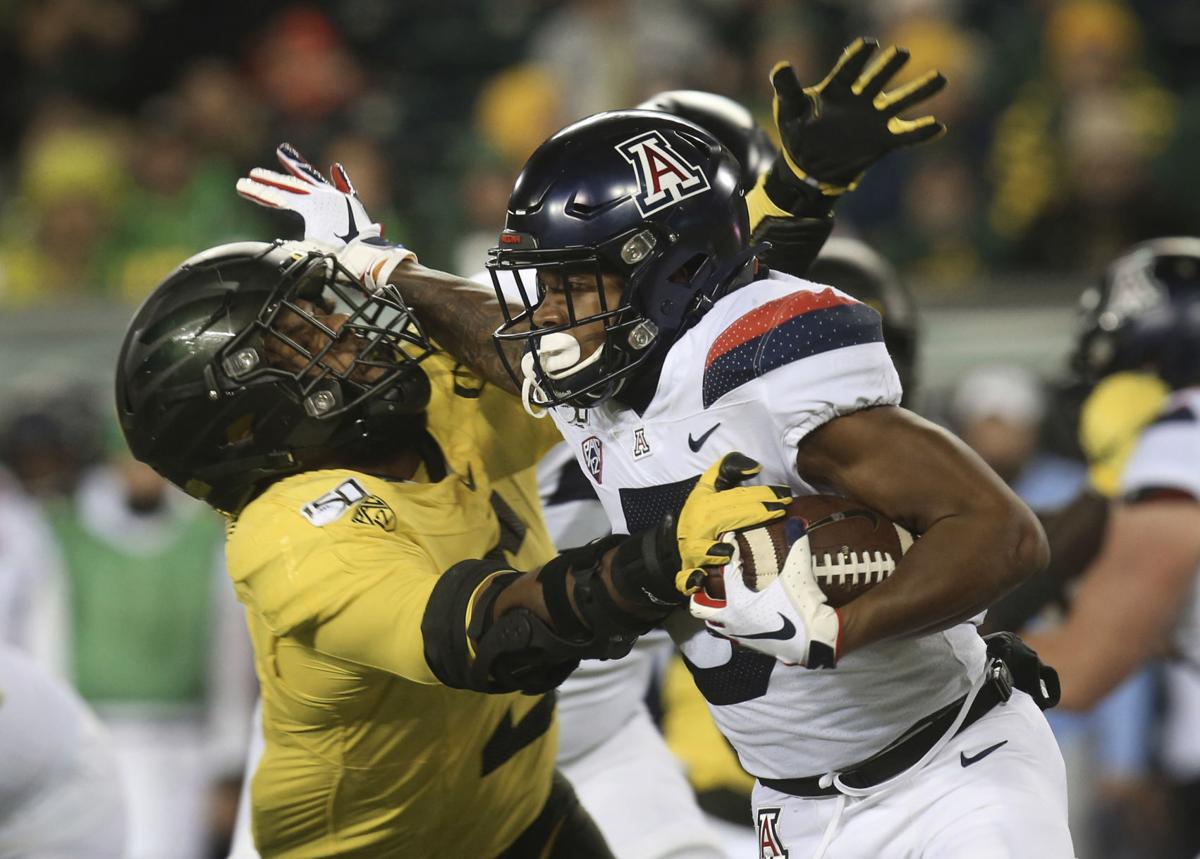 The hands on the clock seemed to sit completely still all day Saturday. I filled my time with client work, housework and mom work and was done by 3 p.m. — only 5 1/2 hours before kickoff. Tick-tock, tick-tock went the torture clock. I was a mixed bag of excitement, anticipation and worry.
Thankfully, my game-day galpal, Nanci Kincaid Tomey, came to my rescue. With decades of coach's wife experience, she dropped words of wisdom in my heart that slid down like the stuffed olives into my martini glass.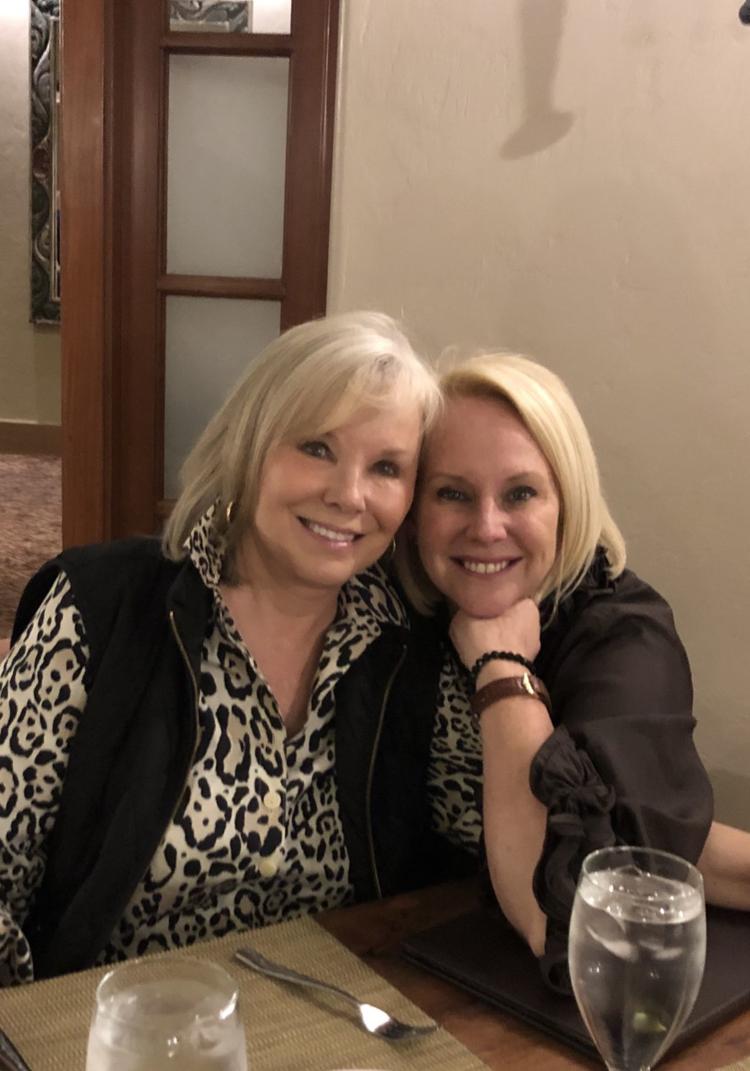 Nanci and I headed to an early pre-game supper and ran into a gaggle of old-fashioned Wildcats loyalists. I got to visit with my fairy godmother and neighbor Sally Drachman and her hubby, Bob Salvatore, and share some time with former Arizona regent Fred Boice and his wife, Ann. She makes a mean apple pie.
The game felt more like swimming with sharks than paddling with fluffy Ducks, but I got fired up by J.J. Taylor's rushing, Jace Whittaker's sack and Scottie Young's interception. The defense had a big chip on its shoulders that translated to smashmouth football. Reminds me of a hard-hitter I know.
---
Grinding and hollering
Arizona's team didn't return home from Eugene until after 4 a.m., and my husband Chuck headed directly from the airport to the office. There's more work to be done: Arizona faces No. 7 Utah on Saturday.
I would like to say that it will be nice to see Andy Ludwig, the Utes' offensive coordinator, but I would be lying. Andy coached for Vanderbilt last year, and Vandy is one of my favorite clients. In his first stint at Utah, Andy was the longest-lasting play-caller — leading the Utes to the most successful season in their history, a 13-0 record capped with a Sugar Bowl win over Alabama. He's a good man, but on Saturday I'll be hollering and booing at him!
Many consider the Utes to be better than No. 6 Oregon. The 9-1 team's offense is among the nation's leaders. Utah's offensive linemen are all over 6 feet 4 inches and 300 pounds. Together, they weigh almost three-quarters of a ton.
When I talked to Chuck about the Utes, he just smiled and said, "It's not the size of the dog in the fight, but the size of the fight in the dog."
---
Growing up on campus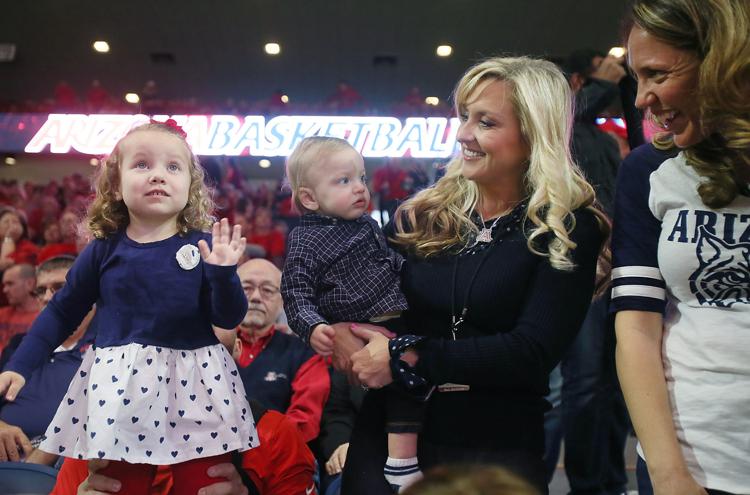 Athletic directors and their staff juggle a very unconventional work schedule. I reached out to several of my colleagues to discuss the challenges of being pulled in thousands of directions and keeping the peace at home.
Jay Jacobs, the former athletic director at Auburn, told me it's "a 24-hour, seven-day-a-week job." Jacobs spent 30-plus years in the Auburn athletic department, including 13 years as AD. He is now at Florida.
"When I was promoted to athletic director, my daughters were 7, 10 and 13 years old. I often worried that I was distracted at home, not home enough or that they were attending too many events on campus," he said.
Jacobs' southern drawl drifted off. Jacobs' daughters, now 21, 24 and 27, remembered it differently. When asked about their experiences of growing up with an AD dad, they said it was beyond amazing. They said Jacobs was inspiring to them as young women. Being around their dad and his athletic administrators, coaches and student-athletes allowed them to witness incredible role models. They said they learned about integrity, work ethic and teamwork — and watched people from all walks of life, different backgrounds and different beliefs playing together as a team.
Mississippi State has 16 sports with 366 student-athletes. Their deputy athletic director and CFO, Jared Benko, explained that "we talk about being family here at MSU, and we truly mean it. One of the best parts about our 'MSU family' is bringing my own family, including my sons, to various sporting events and affording them the opportunity to interact with student-athletes from around the world."
Benko and his wife, Sarah, have two boys, 6-year-old Hudson and 3-year-old Cooper.
"I am very intentional with my schedule in order to maximize my family time and responsibilities at MSU," he said. "It is important to me to start my day by taking Hudson to school. The time we spend together every morning is something I wouldn't trade for anything."
Erika Barnes, Arizona's executive senior associate director and senior woman administrator, told me she is also very strategic about her work and family time. She has a daughter, Tillie (6), and a son, Blake (3).
"Some people go to the park; we go to UA women's soccer," Barnes said.
Barnes is one of Arizona's top lieutenants and is also very active in the NCAA.
"Our athletics leadership understands that our families are an extension of the Wildcat family, thus it's important for us to make our families feel included," she said. Barnes' husband, Andy Barnes, is a former Wildcat All-America golfer and current PGA caddie. Together Andy and Erika are creative, patient and flexible when it comes to their schedules.
"We have built-in consistencies for each other and our kids," she said. "One of those small precious moments is that I take Tillie to the school bus every morning. It's our time together."
I asked Jacobs if he would have done it differently with his time, and he added, "Being a dad during my time at Auburn had so many blessings for me and my family — that to do it differently, I'd have to trade those memories, so no." Benko added, "Being a parent is such a blessing — and yet it is one of the most challenging responsibilities that I have."
Every AD I interviewed stressed the importance of always taking time away — whether it's a moment or a day, "You have to replenish and reconnect or it's not sustainable." Jacobs said.
Men and women who work in college athletics really have hundreds of kids (and grown-ups) to care for, not just the ones at home. It's no wonder being an AD is a calling rather than a career.
---
Wellness Wednesdays
Kudos to Krystal Swindlehurst, Arizona's senior associate AD, for hosting Wellness Wednesdays. The events are dedicated to nurturing a positive and healthy work environment internally and even helping to reduce stress. Progressive companies like Google, Apple and Nike are finding that happy employees create better cultures. Research suggests that simple programs like this can lead to improvements in physical health symptoms, mental health symptoms, health attitudes and health behaviors, not to mention creating and sustaining a place where people love to come to work.
---
Don't forget about us
Saturday marks the Wildcats' final home football game, it's Military Appreciation Night, and it will be Senior Day for a number of Wildcats student-athletes who have played hard, sacrificed countless hours and dedicated themselves to the football program. It's important to have our Wildcat family show their love and support for these young men as we play Arizona's toughest opponent all year. At the end of the day, it's all about the kids, so come on out! I'm excited to see our boys defend their home turf.
Be the first to know
Get local news delivered to your inbox!