"With every game that is played, we have the ability to win or to learn. This week, we will learn," my husband Chuck said to me as he rolled into our house at 8:45 a.m. on Sunday. The Wildcats flew back to Tucson on an all-night charter after losing their season opener at Hawaii.
I felt bad for the guy who had to sit next to Chuck for seven hours.
For those of us watching the game from home, it was certainly an emotional roller coaster with a nail-biting last series that concluded with Khalil Tate making a mad dash for the end zone.
I was proud of Khalil for his valiant effort but alas my heart, along with yours, sank for him and the team as they came up one yard short of scoring. The play jarred my foggy memory of the Tennessee Titans in Super Bowl XXXIV, when Titans' receiver Kevin Dyson was tackled by Rams' linebacker Mike Jones one yard short of the goal line. That one yard could have made the Titans Super Bowl champions.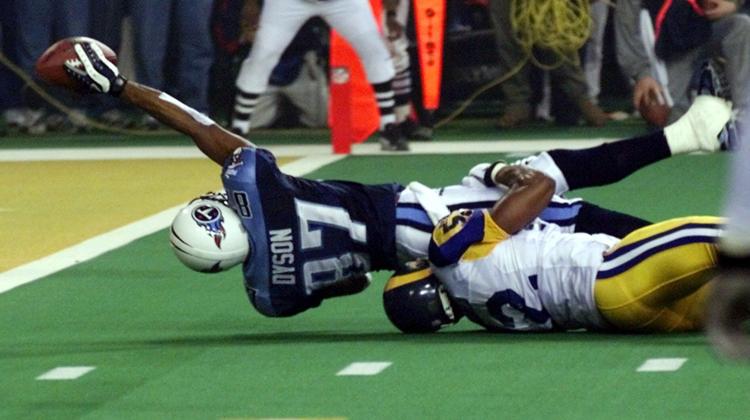 But it wasn't meant to be. Insert deep sigh here.
While Arizona vs. Hawaii wasn't the Super Bowl, every game — whether it's an opponent from the Mountain West Conference in Waikiki or the NFC Champions on the biggest stage in professional sports — brings an intangible intensity to compete and win.
After showering and unpacking, a sleep-deprived Chuck headed back to the Lowell-Stevens Football Facility to watch film and to learn how to help the team get better.
Our daughter Charli and I did the only thing we knew would lift his spirit when he returned: We made chili dogs. Yes, chili dogs. A few Hebrew Nationals slathered in momma's spicy chili infused with love. It's our way into Chuck's broken heart … and belly.
In the headlines
Saturday night, my friend and colleague Adam Schefter from ESPN broke the news that Colts quarterback Andrew Luck was retiring. As Luck walked off the sideline following Saturday's preseason game against the Bears, some Indy fans jeered and booed him for his decision. While I understand their frustration, particularly if you drafted him in fantasy football, their sentiment was both misplaced and disrespectful.
Luck chose to put his mental and physical health above his ability to collect checks or trophies. He chose the path less traveled by many players and inadvertently became a role model for young athletes across the country who may be competing for the wrong reasons.
"I felt stuck in it, and the only way I see out is to no longer play football," Luck said. "It's taken my joy of this game away."
Chuck once told me that one of the most important elements to a player's success was not his or her size or speed but their love of the game. "If they don't love it, they will never sustain the ups, downs, injuries or grind," he said. "And, when you stop loving it, it's time to chase another dream."
An emotional Luck went on to explain, "I'm exhausted — the only way forward is to remove myself from this cycle."
I work with thousands of collegiate student-athletes across the country. They compete for a litany of reasons, from garnering a college education to becoming rich and famous. Some just love it. That's important, because we have witnessed a massive spike in mental health issues on college campuses lately. According to the American Psychological Association, anxiety is the top presenting concern among college students (41.6 percent), followed by depression (36.4 percent). I applaud Luck for setting an incredible example for young athletes from the diver's platform to the dugout. When the joy and love of their sport is gone, it's OK to hang it up.
Staying positive
As a crisis management executive who gets paid to help minimize brand and reputation fallout in professional and collegiate sports, my advice is to "embrace the pause," remember to eat and try to see the positive.
After Arizona's loss to Hawaii there was a tsunami of negative sentiment on social media that went beyond including the knee-jerk reaction to fire coaches.
Seriously? It's one game. A game that with another 36 inches of forward movement has us all elated.
Chuck's not a coach on the team (his title is senior defensive analyst), but he still loves and supports the players, coaches and staff who work tirelessly to compete. He's a competitor and coach at heart, and he wants to win. Over the course of 25 years in the NFL, we witnessed the value of being positive team players.
Today we're all part of Tucson's team, the Wildcats. To quote Jon Gordon, one of our favorite authors, "Positive doesn't mean Pollyanna. We are positive, not because life is easy. We are positive because life can be hard. It's not about ignoring your current reality. It's about facing it while believing the best is yet to come."
Our reality is that together we are building the A, and it takes time. As Tucsonans we have a motto, and it is to Bear Down, not to tear down.
Arizona next plays on Sept. 7, and it would be terrific for the coaches and players to know that they have the best fans — and all of Tucson — behind them. I look forward to fans filling the seats against NAU. Be load and proud, and cheer for the red and blue. Thanks for reading and be sure to follow me on Twitter @carriegcecil for the latest Cecil news and sports headlines.