Each week throughout the football season, we'll take an in-depth look at the Arizona Wildcats from a statistical perspective. Here's the latest edition of Cats Stats.
To run or not to run. It shouldn't be a question.
Arizona Wildcats quarterback Khalil Tate emerged as one of college football's most dynamic runners last season, regardless of position. In roughly nine games, he rushed for 1,411 yards. That total ranked 17th in the nation.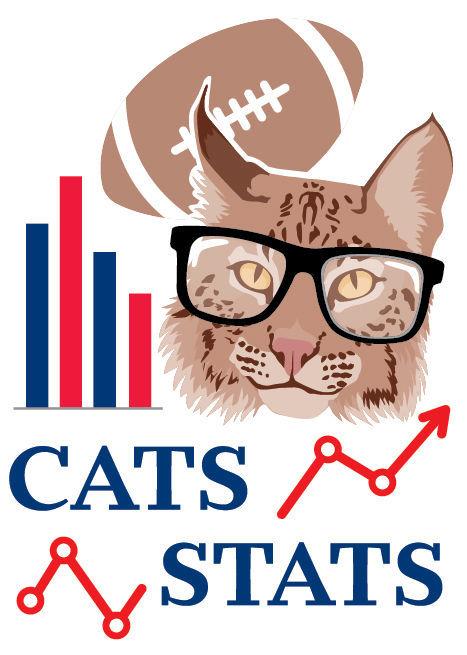 Even when Tate didn't run effectively, the threat made him a more efficient passer. Two of his best passing performances came in the final two games, when he gained only 86 yards on 28 rushes.
Tate's dual-threat ability is what makes him special. When he had only eight rushing attempts in the opener against BYU — and 34 pass attempts — pundits and UA fans were understandably stunned and confused.
First-year Arizona coach Kevin Sumlin since has acknowledged the need to get Tate's legs more involved in the offense; schematic tweaks are expected in Saturday's game at Houston.
Although it wasn't apparent in Week 1 for a variety of reasons — play-calling, game flow, offensive line issues, BYU's defensive plan — Sumlin is smart enough to know how devastating a mobile quarterback can be.
There are countless examples throughout recent college football history. We took a look at seven iconic dual-threat quarterbacks from the past 20 years to determine how much they ran once they became known entities.
Only one of the seven, Texas A&M's Johnny Manziel, had significantly fewer rushing attempts per game in the year after he "blew up." Manziel averaged 15.5 rushes in 2012, 11.1 in '13.
Texas' Vince Young and Louisville's Lamar Jackson each had about two fewer rushing attempts per game in their third seasons compared to their second seasons. Even still, Jackson's 17.8 attempts per game last year were more than any of the other six quarterbacks had in any season.
Florida's Tim Tebow, Baylor's Robert Griffin III and Oregon's Marcus Mariota all had more rushing attempts in their final seasons than in the campaigns that preceded them.
Whether they ran a little more or a little less, none of the quarterbacks stopped running because defenses adjusted to them or they wanted to develop their pocket skills for the NFL. In fact, all seven players — including Virginia Tech's Michael Vick — became first-round draft picks.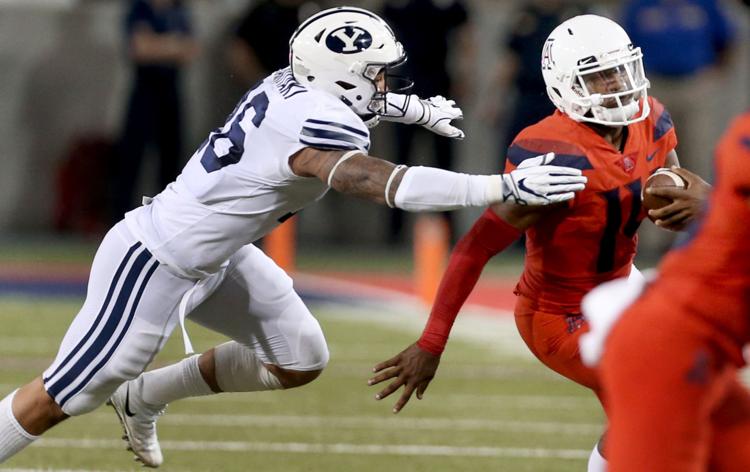 (Two notes before we proceed: 1. For the sake of simplicity, sacks — which count as rushing attempts — were not deducted from the totals; 2. If your school's awesome running quarterback wasn't included in the list, we apologize. It's nothing personal.)
You've probably realized by now that the quarterback whose rushing attempts dipped the most is the one who played for Sumlin. Manziel had 57 fewer rushing attempts the year after he won the Heisman Trophy.
But Manziel became a much more proficient passer. His completion percentage, yards per attempt and efficiency rating all increased. Despite attempting five fewer passes, Manziel threw for 408 more yards and 11 more touchdowns.
Six of the seven quarterbacks we scrutinized improved in at least one key passing stat — completion percentage, yards per attempt or touchdown-to-interception ratio — over the course of their college careers. Every quarterback and situation are different, of course, and they all develop at their own pace and in their own way.
But there's no disputing that the possibility of the quarterback running profoundly affects the defense. Arizona saw it repeatedly last season after Tate's breakout game against Colorado.
"It opens up the run game, because you've gotta control Khalil," UA receiver Tony Ellison said. "And that opens it up for us. Last year we had a lot of one-on-one opportunities."
Tate's critics will point to his last four games as proof that defenses have figured out how to contain him. He rushed for a total of 132 yards, averaging 2.6 yards per attempt. All four were losses for Arizona.
But two of those games — the ones mentioned at the top — easily could have been victories.
Tate started the Arizona State game 10 of 10, and Arizona was leading 24-14 when then-coach Rich Rodriguez inexplicably played it safe at the end of the first half. Tate's first incomplete pass was a Hail Mary. He got hurt on the play, made only a brief appearance in the second half and finished 11 of 13.
In the season-ending Foster Farms Bowl, Purdue refused to let Tate run wild. He rushed for only 58 yards. But he had 20 attempts — his second-highest total of the season — and set career highs with 302 passing yards and five TD passes. The fifth put the Wildcats in the lead with 3:21 left before the Boilermakers rallied.
Even against BYU, as ugly as it seemed, Arizona made it a one-score game with 3:20 remaining. The offense never got the ball back.
One game is far too small a sample to draw any definitive conclusions about the way Tate will be used. Offensive coordinator Noel Mazzone has had dual-threat quarterbacks in the past, and he has taken advantage of their skills.
Brett Hundley averaged nearly 12 rushing attempts per game in three seasons under Mazzone at UCLA (again, we're not deducting sacks). Trevor Knight averaged 9.3 at Texas A&M in 2016.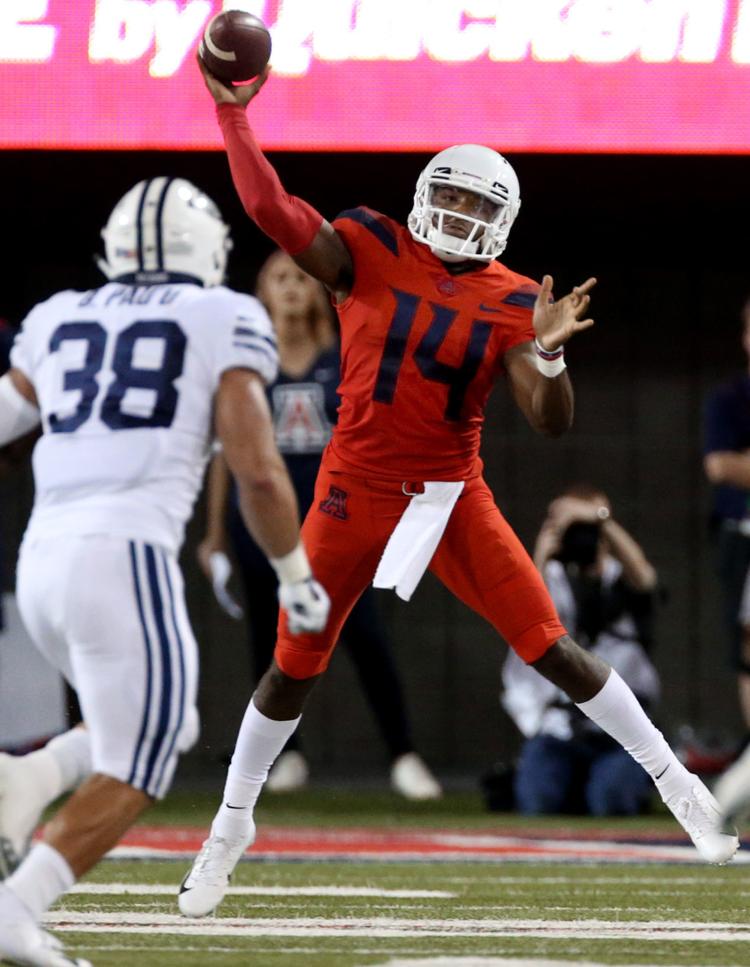 In the eight games and three quarters in which he played last season, Tate averaged 16.6 rushing attempts. Houston coach Major Applewhite is preparing for the full Tate experience. Applewhite said this to local reporters about last year's matchup, when a less-than-100-percent Tate entered in relief in the fourth quarter: "That was a totally different team for the three, 3½ quarters that he was not playing. … The game totally changed when he entered."
That's probably taking it a bit too far. Tate played two series. One produced a field goal; the other ended with an interception. He completed 5 of 8 passes for 41 yards and rushed four times for 24.
Arizona lost 19-16 despite limiting Houston to two points in the second half. Tate wouldn't play again for almost a month. Once he took over the job, the Wildcats won four straight and five of six.
According to Tate, those are the only numbers that matter to him. Asked after the BYU game if he wanted to run more, Tate said: "I wanted to win. That's the overall reason for playing football. Everybody up here wants to win games. … That's the ultimate goal."