Each week throughout the football season, we'll take an in-depth look at the Arizona Wildcats from a statistical perspective. Here's the 2019 debut of "Cats Stats."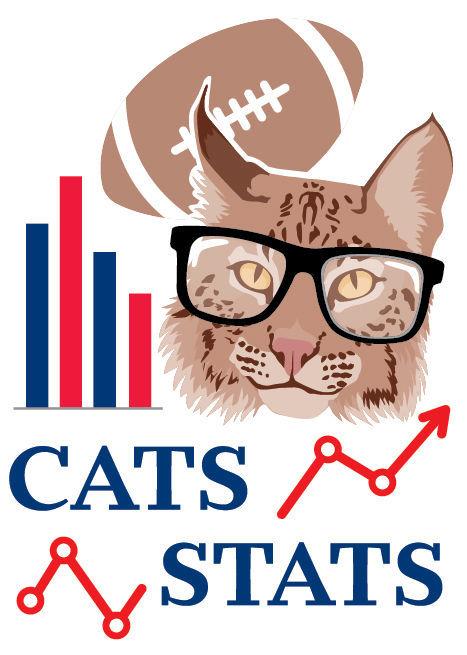 More data is available to football teams and die-hard fans than ever before. It can be a lot to digest.
We're all about keeping it simple here with our weekly, in-season Cats Stats; after all, our research "department" majored in journalism.
We also firmly believe in this principle: Some statistics matter more than others.
So in breaking down the numbers that should matter most for the 2019 Arizona Wildcats — who open the season Saturday at Hawaii — we're sticking to the basics. You won't find any references to VORP or wRC+ around here. (Yes, those are baseball terms … we know.)
Anyway, here are six stats we'll be tracking throughout the fall:
• Khalil Tate's rushing attempts. No Wildcat faces more scrutiny this season. No aspect of his game will be more closely monitored.
As we all know, Tate's rushing numbers plummeted last season. What happened in 2018 — and why — has been discussed ad nauseam. Tate and UA coach Kevin Sumlin cited injuries as the main culprit. Tate is healthy now and eager to change the narrative. The proof will lie in the numbers.
Tate appeared in 11 games each of the past two seasons. His rushing attempts fell by more than half last year, from 153 to 74.
It is highly unlikely Tate will match or approach the former. Rich Rodriguez utilized Tate in a way Noel Mazzone never will. Tate had 13 or more rushing attempts in every game in which he played the majority of the snaps in 2017. He had more than nine rushes only once last season.
Is there a sweet spot somewhere in between?
"I don't think so," Mazzone said, adding that Tate needs to "let the game come to him."
Every game is different, of course, and a lot depends on whether Tate can stay healthy. An average of 9-10 carries per game seems reasonable. If he's in that range, it'll probably be a good sign for the Wildcats.
• Tate's completion percentage. While Tate's touchdown-to-interception ratio improved from 14-9 to 26-8, his completion rate dropped from 62% to 56.3. The latter ranked last among qualifying Pac-12 quarterbacks.
Tate made up for it by making a bunch of big plays; his average of 8.4 yards per pass attempt ranked third in the conference behind Stanford's KJ Costello and Washington's Jake Browning. But as Mazzone said in spring, Tate needs to become less reliant on "pizzazz plays."
Tate worked hard in the offseason to tighten his mechanics and broaden his understanding of Mazzone's offense. How that translates into game action — where Tate relies heavily on his instincts, often to Arizona's benefit — remains to be seen.
Tate's biggest challenge is becoming more efficient when the opposition knows he's going to throw. Last season he posted his worst completion percentage — 48.9 — on third downs, according to ESPN.com. That figure fell to 40.7 when the Wildcats needed to gain 6 or more yards.
One way Tate can raise that number is by relying more on his running backs in those situations. All of Arizona's backs can catch the ball out of the backfield; J.J. Taylor is particularly adept at it. UA backs combined for 20 receptions last season. That isn't enough.
Arizona ranked 11th in the Pac-12 with a touchdown rate of 51.1% when it penetrated the opposition's 20-yard line. Correspondingly, the Wildcats ranked second in the league with 27 field-goal attempts.
The UA's TD percentage was especially low in the UCLA and Arizona State games: 36.4%. Arizona scored touchdowns on only 4 of 11 trips into the red zone in those games. The Wildcats lost each by one point.
How can Arizona become more efficient? Upping the aforementioned completion percentage would be a start. Tate and Rhett Rodriguez combined to complete only 45.5% of their passes in the red zone last season.
Utilizing Tate's running ability more — especially via zone-read plays — also would help. As would deploying bigger backs than Taylor near the goal line. Arizona has two 200-plus-pound options in Gary Brightwell and Nathan Tilford.
One more note on the red zone: The figure you want to pay attention to is touchdown percentage, not scoring percentage. The latter — which remains the default stat in most places, for some reason — includes field goals, which typically are not the desired outcome for the offense.
• Sacks. There are many ways to measure the effectiveness of a pass rush, and we'll reveal one of them in a moment. The simplest is sacks. And the simple truth is: Arizona didn't produce enough last season.
The Wildcats had 23 sacks, fourth fewest in the Pac-12. Their per-game rate fell from 2.38 in 2017 to 1.92. Their season co-leaders, Colin Schooler and JB Brown, had 3.5 apiece. Kylan Wilborn had more in one game the previous year.
That figure undoubtedly contributed to Arizona's stop rate on third downs of 41.1%, which ranked ninth in the Pac-12. That figure, it should be noted, was down from 46.7 in 2017 and 52.6 in '16.
There are reasons for optimism in '19. Brown and fellow edge rusher Jalen Harris could be on the brink of breakout seasons. The depth up front also has been upgraded, with Wilborn and another former starter, Justin Belknap, leading an experienced second unit.
• Takeaways. This is another statistic that works hand in hand with sacks and sack rate. The more pressure you can put on the quarterback, the more likely he is to make a mistake.
Arizona had 15 takeaways last season. Only two Pac-12 teams, USC (10) and Oregon State (eight), had fewer. None had a winning record.
The Wildcats had 25 takeaways the previous season, albeit in one more game. Their per-game rate in 2017 was 1.92; last year it was 1.25.
Most analytical experts will tell you that luck plays a role when it comes to turnovers. Bill Connelly, who's now with ESPN, includes "adjusted turnover margin" among his five most important stats in college football.
Arizona was an unlucky team in that regard last season, per Connelly's analysis in the Athlon Sports preview annual:
"Based on national averages for fumble recovery rates and the ratio of interceptions to passes broken up, UA's turnover margin should have been about plus-0.6. Instead, it was minus-4. That 4.6-turnover difference was the second-most unlucky in the Pac-12."
The luckiest team in the Pac, per Connelly, was ASU at plus-9.6.
• Record in one-score games. The football intelligentsia will tell you that a team's record in close games from the previous season often portends how it will fare the following season. This is especially true in the NFL, where the difference between the best and worst teams is minuscule.
If a team wins an unusually high number of one-score games — which, for our purposes, we're defining as a margin of eight or fewer points — it's more likely than not to regress to the mean the following season and have a worse record. The reverse also holds true.
Arizona went 2-4 in one-score games last season. Those four losses came by a combined 11 points.
We've detailed some of the factors that contributed to those defeats. One we didn't mention was missed kicks; Arizona tied for the "lead" in the Pac-12 with a combined 11 misses between field goals and extra points last season.
Winning close games often comes down to details. The best-coached teams generally take care of those.
Before coming to Arizona, Sumlin posted a 27-20 record in one-score games. His two worst marks came last year and in 2010, when his Houston team went 0-3 in close games and 5-7 overall. Those are the only losing seasons in Sumlin's 11 years as a head coach.