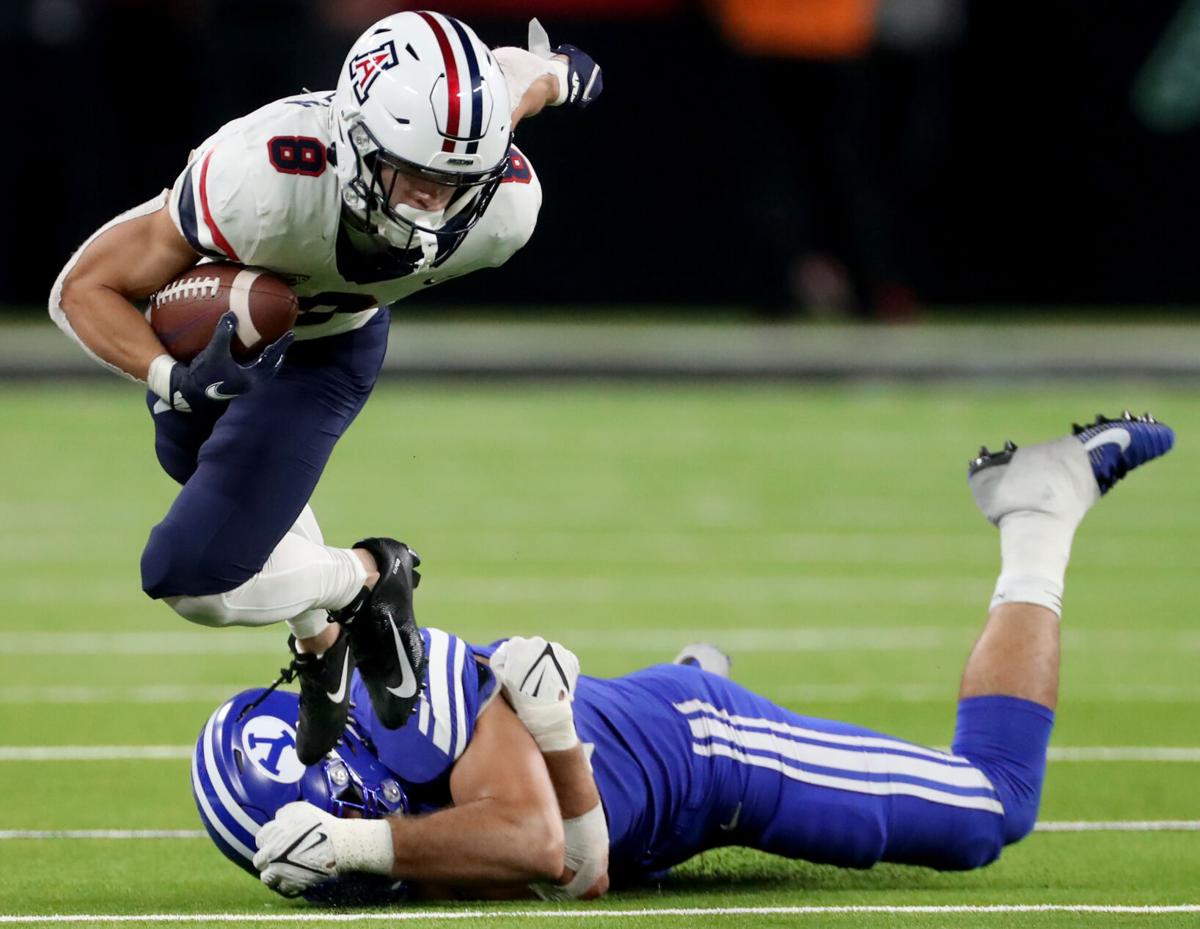 The Arizona Wildcats are one-third of the way through their season. The rest of it could go in any number of directions.
We could do the same here at "Cats Stats," but we know you're busy. You come here for the good stuff. So let's get right to it.
Below are four sets of numbers that, in way or another, have influenced Arizona's first four games. As the UA (0-4) prepares to host UCLA (3-2) on Saturday, let's dive in and see what they're all about.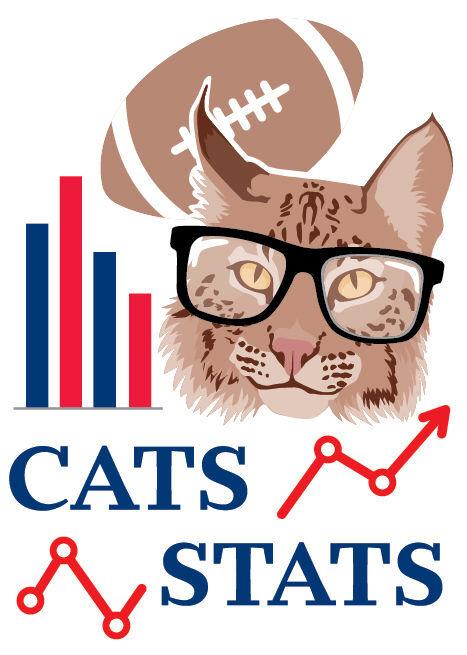 1. Not the bomb
The Wildcats' offensive issues have been well-documented. They haven't scored 20 points in a game since Week 2 of 2020.
An element that's been missing — and underdiscussed — is Arizona's lack of a deep passing attack.
Quarterbacks Jordan McCloud, Gunner Cruz and Will Plummer have combined to complete only 3 of 17 passes thrown 20 or more yards down the field, according to Pro Football Focus. Here's the breakdown for each QB:
McCloud: 1 of 3, 35 yards, 1 interception
Cruz: 0-4, 1 interception
Plummer: 2-10-103, 1 touchdown
No one expects a high completion percentage on downfield passes; the longer the throw, the lower the chance of success.
But 17.6% is substandard, as is the accompanying 1-2 TD-INT ratio. To put those numbers in context, here's how quarterback on five other Pac-12 teams have fared on passes of 20-plus yards:
UCLA's Dorian Thompson-Robinson: 6 of 21 (28.6%), 277 yards, 3 TD, 0 INT
Arizona's State's Jayden Daniels: 7 of 13 (53.8%), 295 yards, 2 TD, 0 INT
Oregon Anthony Brown 4 of 15 (26.7%), 121 yards, 1 TD, 0 INT
USC's Kedon Slovis/Jaxson Dart: 18 of 37 (48.6%), 552 yards, 6 TD, 2 INT
Cal's Chase Garbers: 12 of 32 (37.5%), 460 yards, 2 TD, 2 INT
Two items worth noting from that subset:
While Thompson-Robinson has a relatively low completion rate, he has zero turnover-worthy plays on pass attempts of 20-plus yards, per PFF.
Daniels' numbers include a 3-3-149-1-0 line against UCLA's banged-up secondary last week.
For Arizona, this might be one of those crawl-before-you-can-walk scenarios. Simply gaining first downs was a positive step against Oregon.
But at some point, the Wildcats need to connect on some deeper throws. Otherwise, safeties will creep closer and closer to the line of scrimmage to defend a rushing attack that might be Arizona's best mode of travel.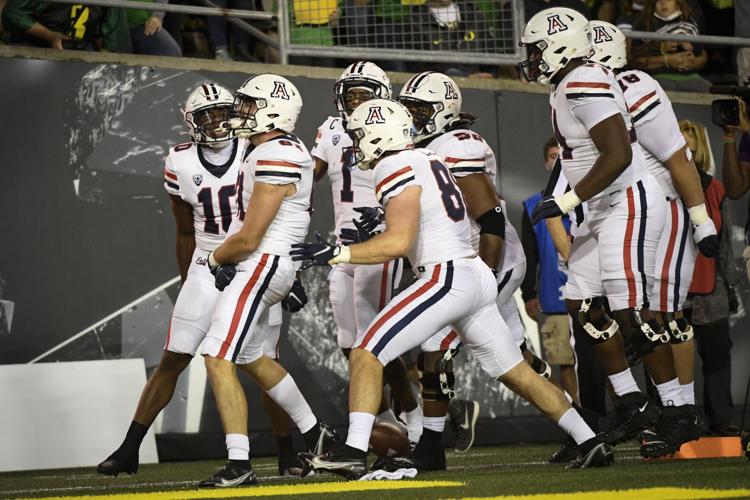 2. Running a reverse
Jedd Fisch wisely flipped the play-calling script against Oregon.
The Wildcats had 53 rushing attempts and 35 passing attempts against the Ducks. Adjusting for sacks, those numbers were 52 and 36.
In the first three games, after adjusting for sacks, Arizona had 72 rushing attempts and 135 passing attempts.
Fisch and others cited game flow as the main reason the Wildcats passed so much in the first three games. They were down early and often, especially against San Diego State, and had little other choice.
But Arizona trailed the entire game against Oregon and never abandoned the run. To Fisch's credit, he realized that the run-pass mix was off in the first three games and adjusted accordingly.
The Wildcats' effectiveness on the ground against the Ducks obviously played a role. The offensive line improved immensely, helping Arizona rush for a season-high 202 yards. Its per-game average heading to Eugene was a mere 79 yards.
There's a chicken-and-egg element to that, though: Did the running production improve because the line blocked better? Or did Fisch's commitment to the run enable the line to find its groove?
We asked offensive coordinator Brennan Carroll, who also coaches the line, why his group performed so much better against Oregon.
"We were a little more balanced," Carroll said. "Running the ball helps in pass protection. Being able to run the ball gives you the balance so that the defensive line and linebackers can't just tee off on the snap. That was huge for us."
The last time Arizona had 50 or more rushing attempts in a game was Sept. 14, 2019, against Texas Tech. The Wildcats rushed 61 times for 314 yards that night, including an epic 13-play, 99-yard touchdown drive that consisted entirely of running plays.
3. Reduced allowance
Under first-year defensive coordinator Don Brown, Arizona is surrendering 364 yards per game. How big a deal is that?
Well, the last time the Wildcats allowed less than 400 yards per game over an entire season was 2010. They threatened the 400 mark in 2013 (401.1). They've been closer to 500 than 400 in most years.
But a valid question remains unanswered: How real is Arizona's defensive improvement?
Yards allowed per game is an important statistic, but it isn't always the most accurate measure of effectiveness. Smart football minds are more apt to cite yards per play.
The Wildcats have improved in that area as well. They have allowed 5.78 yards per play, down nearly a full yard from last year (6.74). The last time they were under 6 yards for a full season was 2018 (5.73).
Yielding 5.78 yards per play isn't great. That figure ranks 89th nationally and ninth in the Pac-12. (UCLA is last in the league at 5.96.)
It'll be interesting to see how these numbers evolve if/when opponents start passing the ball more. Largely because of game flow, Arizona has faced only 88 pass attempts thus far – the fewest in the nation. The Wildcats have faced the second fewest on a per-game basis (22.0).
4. Return on investment
Is Arizona losing yards by not fair-catching more kickoffs, or does it just seem that way?
The Wildcats rank fifth in the Pac-12 in kickoff-return average at 21.6 yards a pop, which isn't bad. The question is whether they'd be better off fair-catching more kicks that are landing near the goal line. By NCAA rule, if the receiving team fair-catches any kickoff that comes down inside the 25-yard line, the ball is placed at the 25.
To make that determination, we reviewed the 13 kickoffs Arizona has returned. (We excluded the two returns on free kicks following safeties as those are booted from the 20-yard line as opposed to the 35.)
Here's where the Wildcats started those possessions:
Inside the 25: 6 times
At the 25: 2
Beyond the 25: 5
Best starting field position: 33-yard line (twice)
Average starting field position: 22.6
If you round that last figure up, Arizona is losing about 2 yards on average each time it returns a kickoff that could be fair-caught. The question is whether the risks – which include penalties or turnovers – outweigh the potential rewards.
The Wildcats have dynamic players on their kickoff-return team, led by speedster Tayvian Cunningham. He returned six kickoffs for touchdowns in junior college. He has yet to break one at Arizona. But you can't hit a home run if you don't swing the bat. The 25-yard line is the best-case scenario with a fair catch.
Fisch said several factors go into whether a kickoff should be returned, including the opponent's tendencies and whether the Wildcats have a perceived speed advantage. He added that it's essential to return a certain number of kickoffs to set up the type of trick play that would have worked at Oregon if it had been executed correctly.
Given the minimal disparity in field position as noted above — plus Arizona's need for explosive plays as alluded to in item No. 1 — taking the ball out seems like a chance worth taking more often than not.
Contact sports reporter Michael Lev at 573-4148 or mlev@tucson.com. On Twitter @michaeljlev